SUP's Most Inspirational Performances in 2017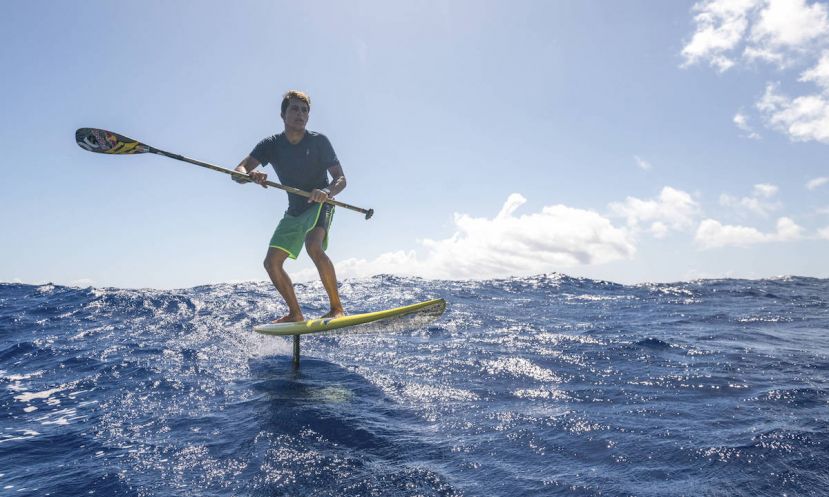 Kai Lenny SUP foiling through the Hawaiian Islands. | Photo: Red Bull
SAN DIEGO, California - Each year in any sport there are a number of athletes and performances that stand apart from the others. Whether it's a comeback from behind, world record or dominating performance these achievements don't go unnoticed. In 2017 there were incredible performances and feats that we didn't know were possible. Here we list the top 10 most inspirational athletes and performances of 2017.
1. Chris Bertish's Transatlantic Crossing
Against all odds he did it. In early March 2017, Chris Bertish completed a 93-day, solo and unsupported expedition across the Atlantic Ocean on a stand up paddle board. His journey began in December of 2016 in Morocco and Bertish paddled for 93 days straight in the open ocean, all alone with nothing but the board under his feet and the motivation to keep paddling "to inspire the world and make people think about their own limits and what's Possible, while simultaneously changing the lives of millions."
Chris Bertish paddled over 4050 nautical miles, took more than 2 million strokes and raised more than R6,500,000 for charity. He claimed 3 new World Records and inspired hundreds of thousands (if not more) and he has helped (and will continue to help) kids around the world by partnering with The Lunchbox Fund, Operation Smile, and Signature of Hope Trust.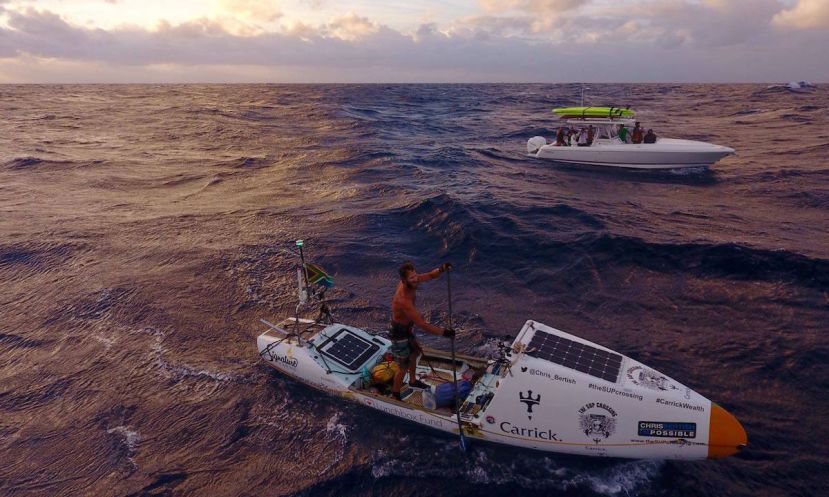 First contact just off the coast of Antigua. | Photo via: Chris Bertish Facebook
Read more about this awesome performance HERE.
2. Kai Lenny's State-Wide Beach Clean Up
Six-time stand up paddle (SUP) World Champion, Kai Lenny (Naish) completed a challenging downwind journey across the Hawaiian Islands in an effort to raise awareness around the rising issue of plastic pollution. Lenny partnered with Sustainable Coastlines Hawaii and the 5 Gyres Institute to lead the first-ever statewide beach cleanup across the Hawaiian Islands. Using various water crafts (a Naish Hydrofoil, kite foiling, stand up paddling and a sail boat), Lenny traveled the 200 nautical miles through the major Hawaiian Island channels to attend beach cleanups and empower communities around oceanic pollution.
Lenny began his journey on the northern end of the Big Island of Hawaii at Polulu Valley and foiled his way across the ʻAlenuihāhā Channel and landed at the famous Kite Beach where another cleanup took place. It was then from Maui to Lanai, Lanai to Molokai, and then Molokai to Oahu, where Lenny even broke his own personal record time for crossing the infamous Kaiwi channel by just over 40 minutes! The final stretch was then from Oahu to Kauai where the crew would launch a sailboat and test the waters along the way for plastic pollution levels.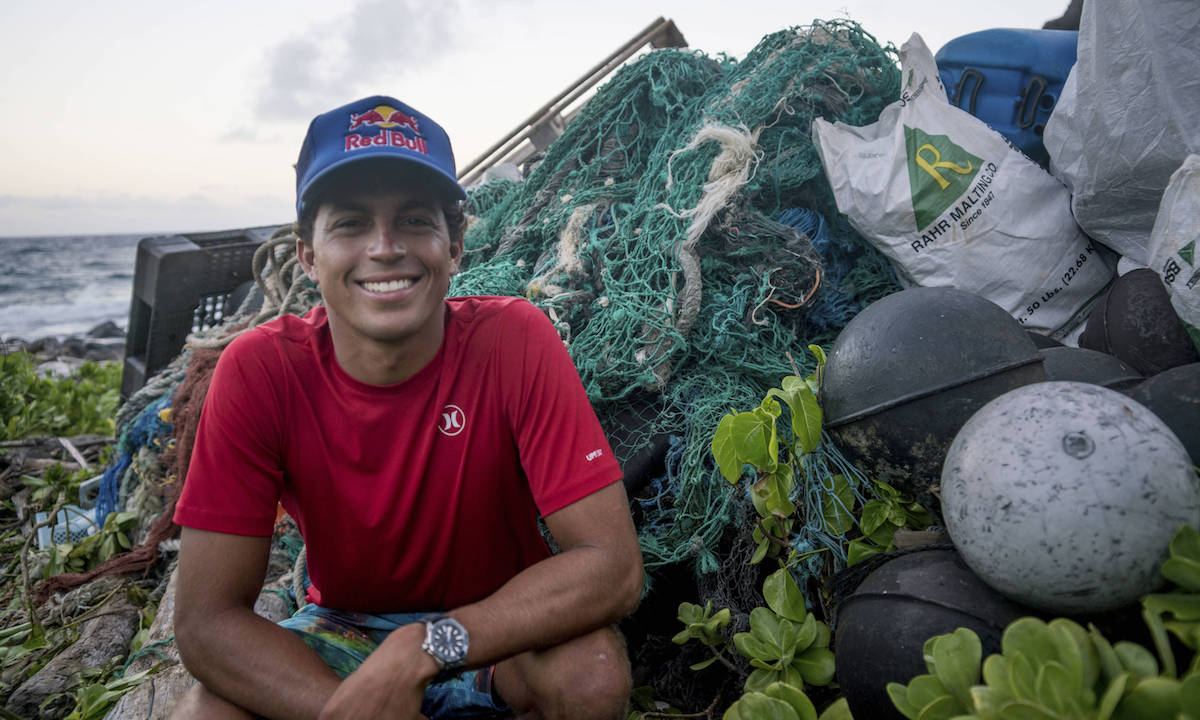 Kai Lenny. | Photo: Red Bull
Read more about this awesome performance HERE.
3. Seychelle Smashes Record at Chattajack
SIC Maui's Seychelle had a record-breaking performance at the 2017 Chattajack race in Chattanooga, Tennessee, and it was no easy feat. Competitors were up against Mother Nature at her strongest, facing temperatures below 50, aggressive bone-chilling winds, and almost non-stop rain throughout the race. A quarter of the competition did not finish, many due to the near-freezing temperatures. Despite the mental and physical strain of endurance racing in these conditions, Seychelle was unstoppable in her pursuit of gold. Crossing the finish line of the 31-mile race in 5:30:10, she not only earned herself a first place finish, but also picked up a course record in the Women's 14' SUP division.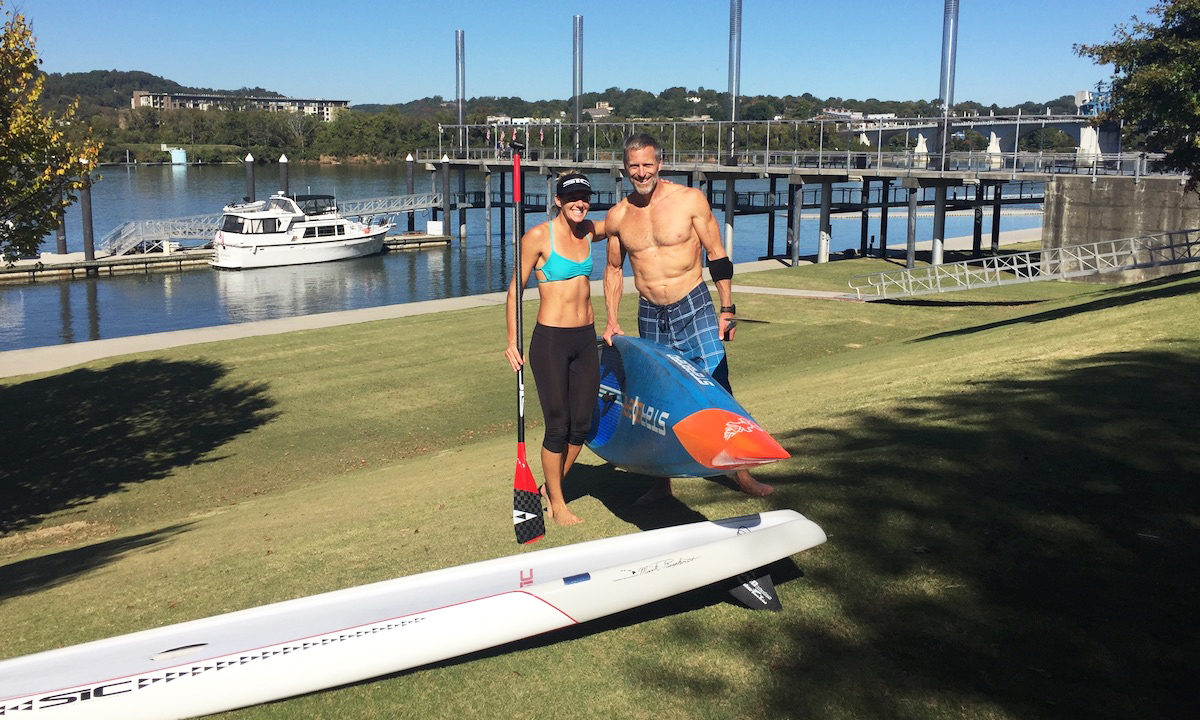 Seychelle with Larry Cain at the 2017 Chattajack event. | Photo Courtesy: Seychelle
4. Annabel Anderson Secures 5th Carolina Cup
New Zealand's Annabel Anderson was fighting to win her 5th consecutive Carolina Cup in 2017 and she did just that. Anderson paddled the ruthless Graveyard course with strength and determination and once again proved why she's the best in the world and cemented her historic 5th consecutive win at the Carolina Cup.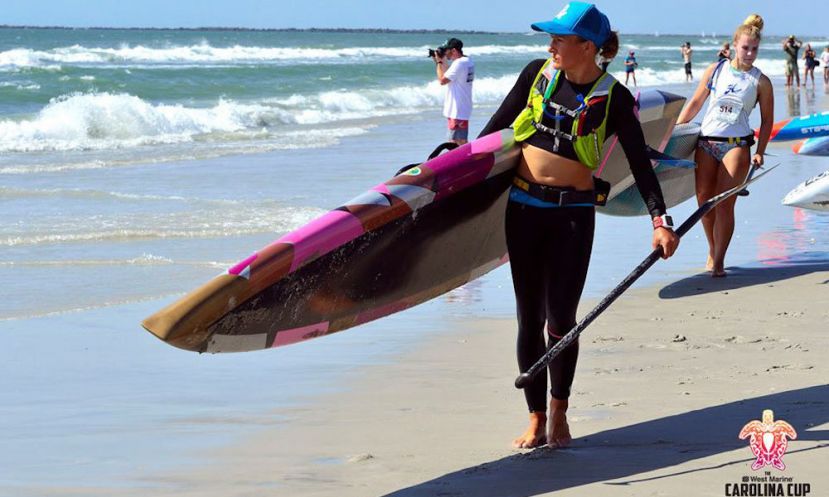 Annabel Anderson of New Zealand, strategizing her launch of the 2017 Graveyard Race at West Marine Carolina Cup | Photo Courtesy of Laura Glantz
Read more about this awesome performance HERE.
5. Casper Steinfath Dominates in 10-15 ft Surf
The World's best male stand up paddle boarders all gathered in San Francisco on October 20, 2017 for one of the biggest races of the year: the Red Bull Heavy Water. The conditions were gnarly to say the least. Waves were in the 10-15ft range and the weather provided somewhat rough and stormy conditions with overcast skies, winds and texture on the water, to make the challenge even harder.
Naish's Casper Steinfath handled these conditions like a champ and led for the majority of the race and paddled across the finish line winning the biggest payout in SUP history, a total of $20,000. In an event where many of the athletes weren't even able to make it through the waves and called it quits, Casper rose to the challenge and showed true grit.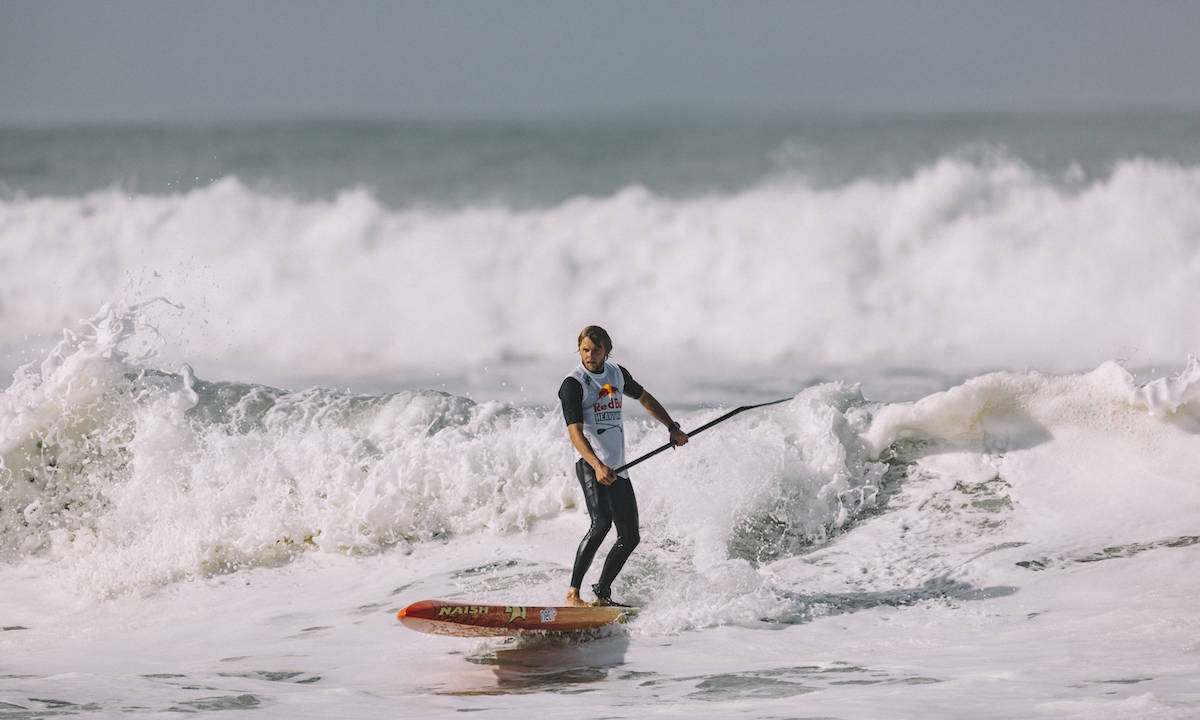 Casper Steinfath navigating through heavy conditions at the Red Bull Heavy Water. | Photo: Red Bull
Learn more about this awesome performance HERE.
6. Mo Freitas' ISA Come-From-Behind Victory
Hawaii's Mo Freitas earned his first-ever ISA Gold Medal to become World Champion in the SUP Technical Race at the 2017 ISA World SUP and Paddleboard Championship in Vorupør, Denmark. Freitas got off to a rough start in the race after falling rounding a buoy on the second lap, moving him out of the lead pack. With what seemed like an insurmountable gap between Freitas and the leaders, Freitas quickly caught back up to salvage his chance of winning Gold.
Freitas trailed his teammate Connor Baxter (Starboard) and Denmark's Casper Steinfath (Naish) on the final straight away to the beach and in a show of inspiring strength and endurance, he surpassed Steinfath to simultaneously cross the finish line with Baxter. The finish was too close to call, and after moments of replay review it was determined that Freitas had beaten Baxter by two tenths of a second, with Baxter taking the Silver and Steinfath taking the Bronze.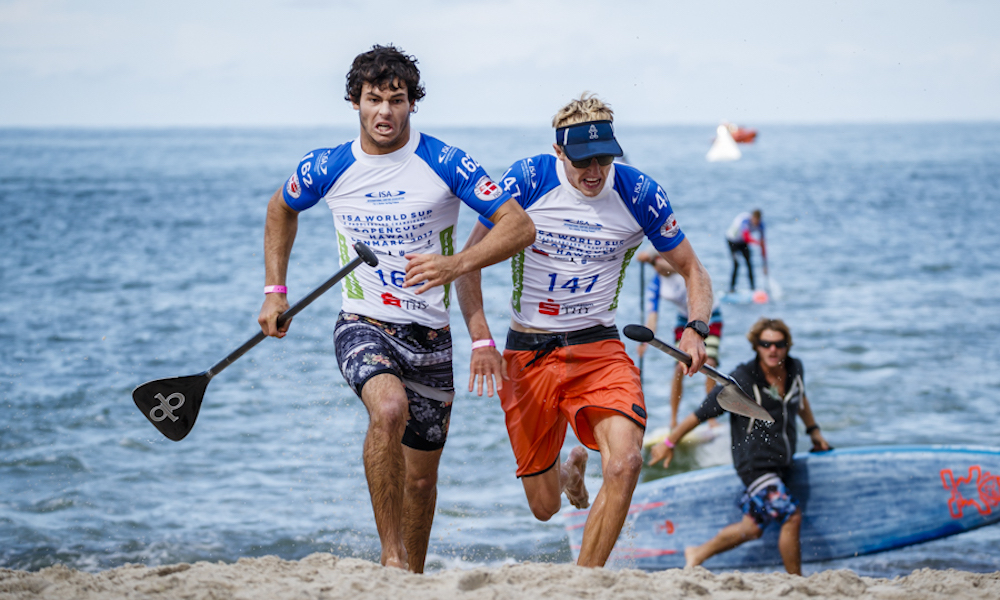 Mo Freitas with the come-from-behind victory. | Photo: ISA / Ben Reed
Read more about this awesome performance HERE.
7. Hasulyo Brothers' ISA Podium Dominance
The Men's SUP and Paddleboard Distance Races in Copenhagen, Denmark were exciting to say the least. The Hungarian brother duo, Bruno and Daniel Hasulyo, set the pace along with SUP superstar Connor Baxter from Hawaii. On the third of four laps Baxter made a move to pull away from the group, but the lead was short lived as Bruno Hasulyo was able to close the gap. Baxter and Hasulyo exchanged leads until the final buoy turn where Baxter fumbled his footing, allowing Hasulyo to build a solid 10-meter lead. Hasulyo powered through the finish line, earning Hungary's first Gold Medal in their country's first appearance in the event. Bruno Hasulyo's brother, Daniel, came across the finish line behind Baxter with the Bronze Medal, historically placing another Hungarian on the podium. A dominating performance from the Hungarian siblings.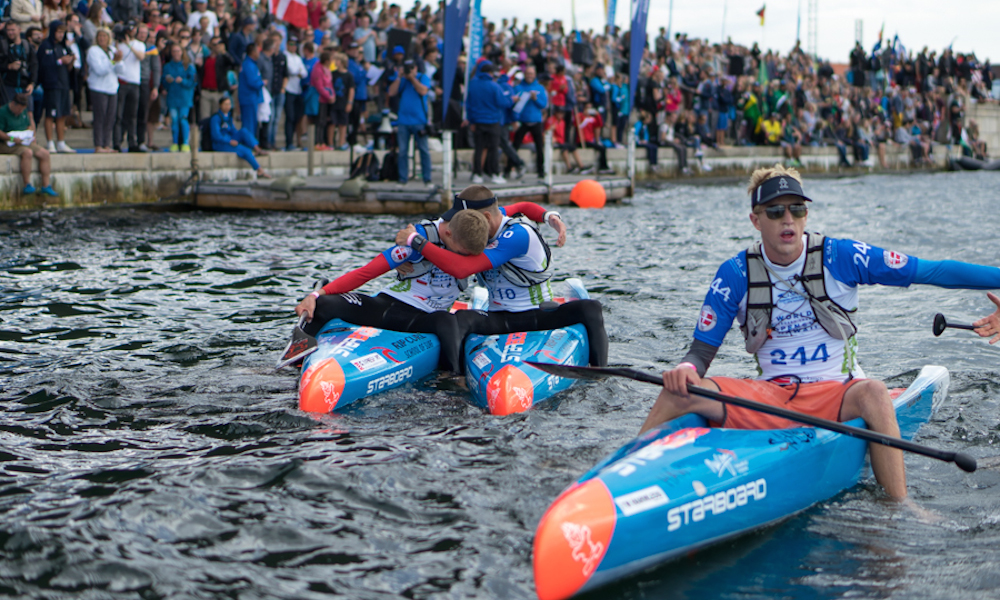 The Hasulyo brothers embrace in a hug after nabbing the Gold and Bronze medals at the 2017 ISA World SUP Championship. | Photo: ISA / Sean Evans
Read more about this awesome performance HERE.
8. Lizzie Carr Becomes 1st Female to Cross English Channel
Lizzie Carr made history in 2017 as the first female to stand up paddle board across the English Channel solo. Carr paddled the 24-mile channel for over seven hours on an inflatable SUP by Red Paddle and along the way collected water samples for micro plastic analysis for her efforts surrounding #Plastic Patrol.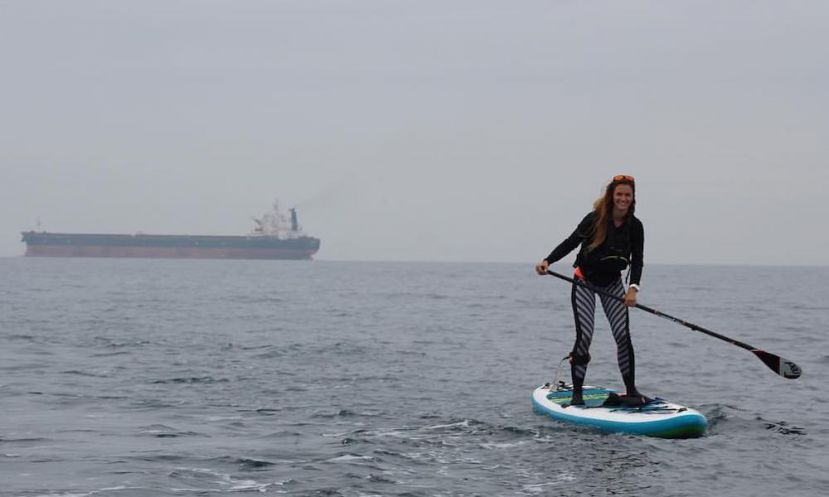 Lizzie Carr paddling across the English Channel. | Photo Courtesy: Lizzie Carr Facebook
Read more about this awesome performance HERE.
9. Manca Notar Wins Gold for Slovenia
Slovenia's Manca Notar put on a dominating performance, beating the rest of the field by a decisive three-second margin in the sprint races at the ISA World SUP Championship in Denmark. Notar, who most-always paddles alone at home knew she had good times but was pleasantly surprised when she landed with the best time!
Notar's Gold Medal exemplifies the growing reach of the sport in non-traditional SUP nations, just a day after Hungary's Bruno Hasulyo won the first ISA SUP Gold Medal ever for a land-locked nation in the Men's Distance Race. With just over 40 kilometers of coast in Slovenia, Notar's performance symbolizes another significant leap forward for developing SUP nations.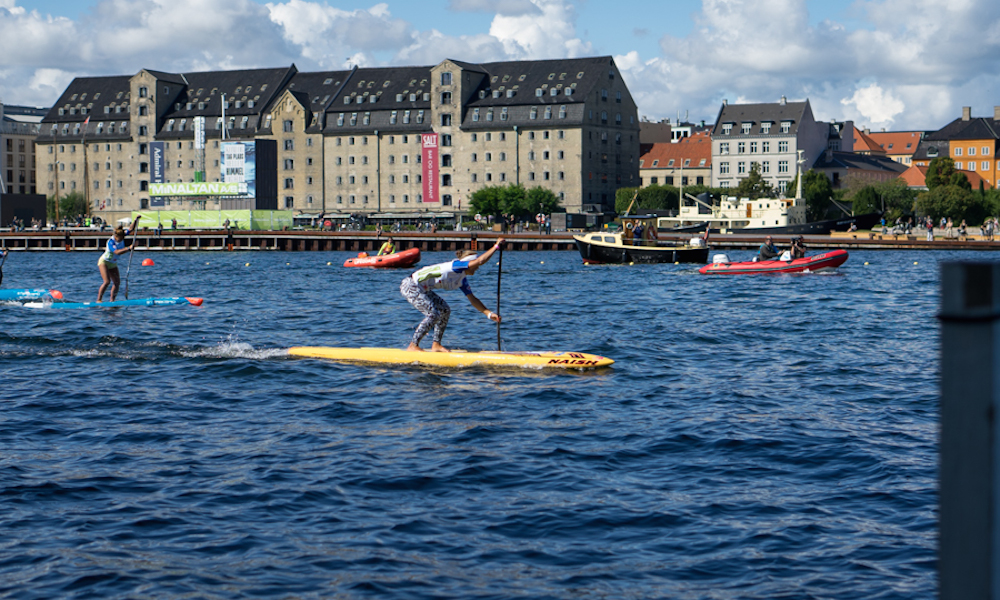 Manca Notar sprinting for Gold. | Photo: ISA / Sean Evans
Read more about this awesome performance HERE.
10. Fiona Wylde Catches Wave of the Event at Sunset Beach
Starboard athlete Fiona Wylde from Oregon put on the performance of a lifetime out at the Sunset Beach Pro early in the year stunning both judges and audience alike with her wave selection, positioning and surfing. Wylde picked off one of the most beautiful waves of the day just as it seemed as though conditions might be slowing just a little bit. Wylde drove down the line and completed a series of critical turns to secure the single highest wave score of the event , a 9.57 - an incredible performance from the young talent and Racing World Champion from Oregon.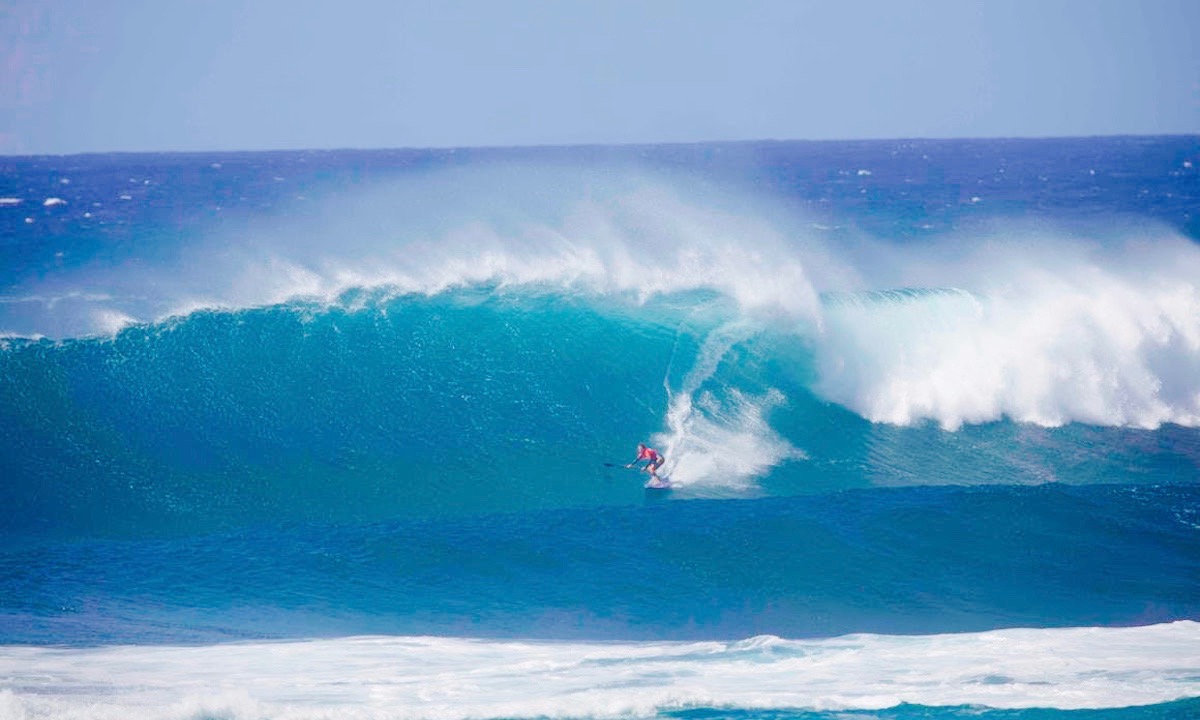 Fiona Wylde on the wave of the year. | Photo Courtesy: APP World Tour
Read more about this awesome performance HERE.
As noted above, there were so many incredible performances in 2017, there's just too many to list. Whether in competition or for charity these performances were the top 10 that stood out above the rest. Which performance did you think was the most inspirational of 2017? Share your thoughts with us in the comments below.
© Supconnect.com Copyrighted Exclusive Content
Last modified onFriday, 22 December 2017 09:53

Submit your news, events, and all SUP info, so we can keep promoting and driving the great lifestyle of stand up paddling, building its community, and introducing people to healthier living.
Website: supconnect.com
Email

This email address is being protected from spambots. You need JavaScript enabled to view it.