5 Places to Paddle in Cold Weather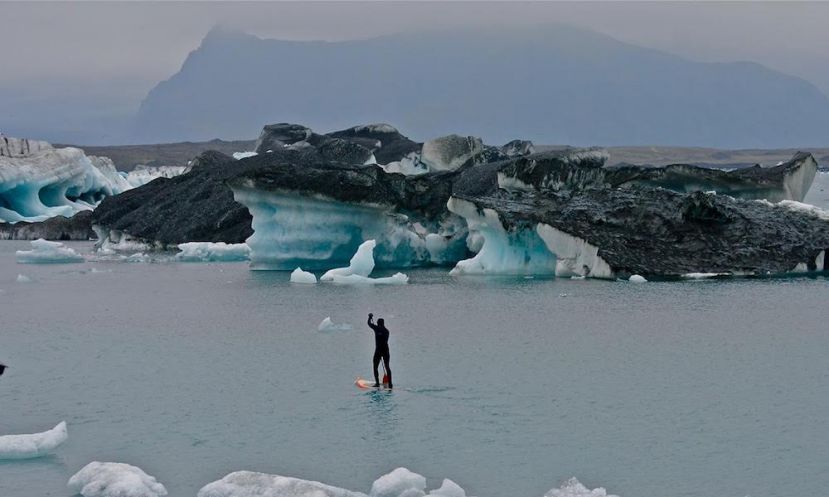 Iceland -- the beauty is worth the chill. Watch more in the video below. | Photo: Jim Brewer
SAN DIEGO, California - When thinking of stand up paddling many imagine the warm, clear waters of somewhere tropical like Hawaii, Tahiti, or Florida as the perfect, most beautiful places to get on a SUP and explore. While there is no doubt that the places listed above are dreamy, there are places farther away from the equator that require a bit more than wearing just a bikini or board shorts but are still breathtakingly beautiful when paddling around. Here are five places to paddle in colder climates that are worth that extra layer or two of clothing and braving the cold.
1. Alaska
Want to paddle next to a glacier? Head to Alaska...
Alaska is one of the most beautiful places in the world and is a place filled with everything standup paddlers love: nature, adventure, beauty and of course, water. Alaska has river paddling and ocean paddling, both of which offer spectacular views and scenery. There are opportunities to paddle among icebergs, near glaciers and to experience the beauty of Alaska from a different perspective. Over the past few summers the rise of standup paddling has made its way up north to Alaska and local businesses have added SUP rentals and there are even SUP specific tours done every year offered by SURFit Adventures.
See more on paddle boarding Alaska HERE.
2. Oregon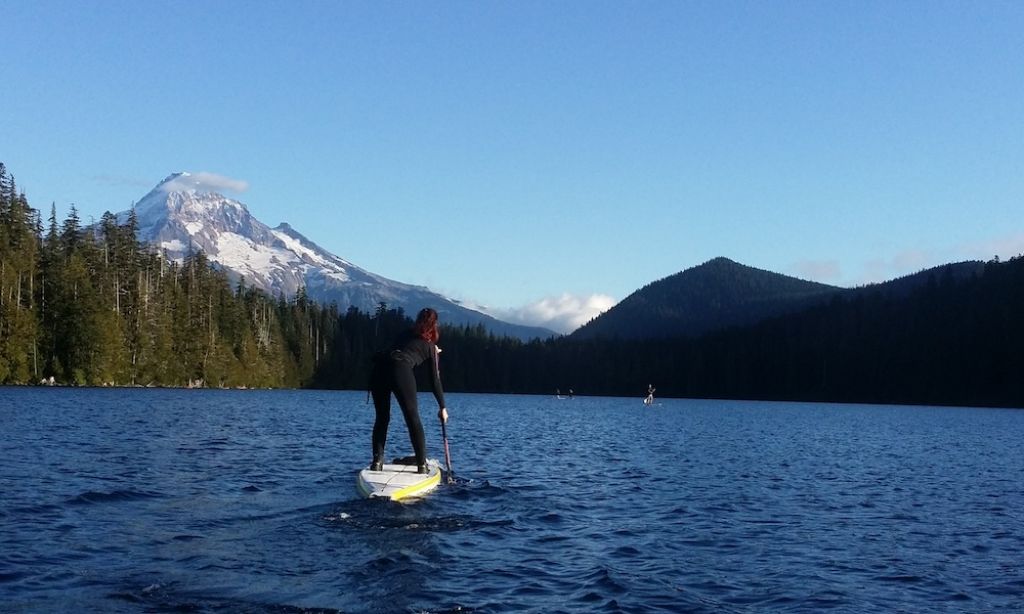 Beverly Downen paddling on Lost Lake in Oregon. | Photo: Brett Downen
If you've been to Oregon you know that it's absolutely beautiful. While Oregon isn't as cold as the other locations named on this list, it definitely gets pretty chilly and requires layering up. Oregon has a ton of areas to paddle, both coastal and inland areas. According to SUP photographer and whitewater paddler Paul Clark, "much of Oregon's best whitewater paddling is in the winter when the "green side" of the state west of the Cascades are flush with rain. Afterwards, snow melt in the mountains across the western states makes for amazing river runs, cold and adventurous."
See more on paddle boarding Oregon HERE.
3. Canada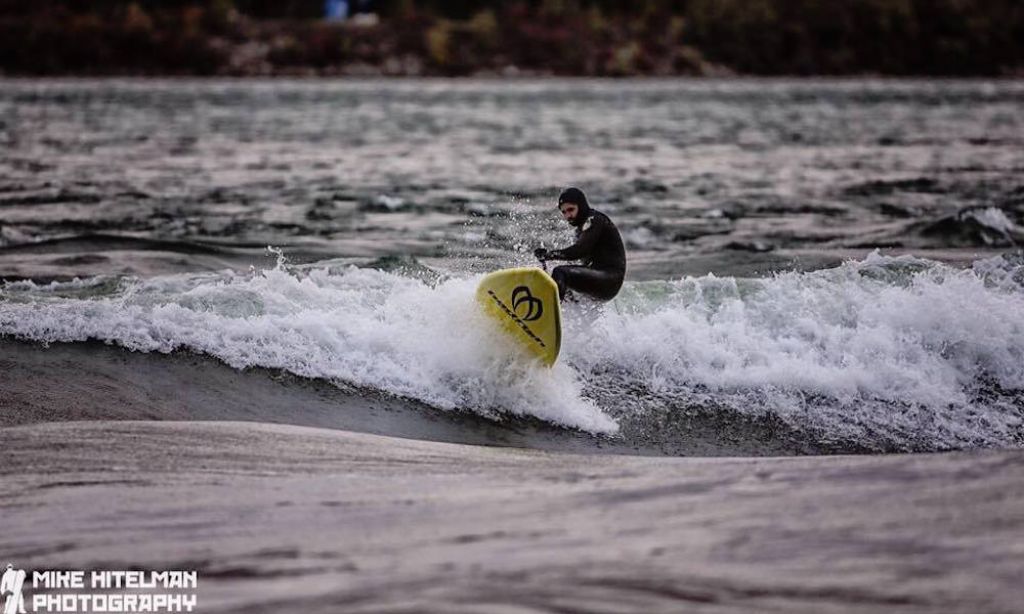 Igor Goni enjoying a nice 'warm' day in Montreal, Canada. | Photo: Mike Hitelman
Canada is massive and as such, hosts a number of areas that are beautiful to paddle even though it may literally be freezing. Supconnect contributor Igor Goni has been living in Canada for several years and has been paddling all over the country in summers and winters. According to Goni, "the whole Canadian East offers countless quality spots for those willing to embrace the cold. Every corner has a potential to become a good spot with the right conditions provided. And if one spot is not working, for sure there is another one firing up right around the corner." Igor also considers the Canadian West another paddling gem by adding "there are countless spots around every corner, some accessible, others in the middle of nowhere that will have you wondering why would you took so long to dare going there. With a rough backcountry and a ragged coastline bathed by pine trees, just sitting in the lineup contemplating the shore becomes a spectacle worth to experience."
See more on paddle boarding Canada HERE.
4. Iceland
The name says it all. Ice-land. It is definitely cold in Iceland but boy is it a beautiful place with endless opportunities for adventure and exploration. Iceland is still relatively unexplored by stand up paddlers and only a handful of paddlers have gone that far north to explore the area but all who have gone claim it's one of the most amazing places on this planet. In 2011, Starboard's Jim Brewer, Peter Trow, Matt Becker, Joe Rowan and Sam George traveled up to Iceland and the video above shows a peak at their trip and just how beautiful it was. Another stand up paddler to have traveled to Iceland is Boardworks SUP athlete Slater Trout and he says that "Iceland has shown me places I didn't think existed on earth."
See more on paddle boarding Iceland HERE.
5. Lofoten Islands, Norway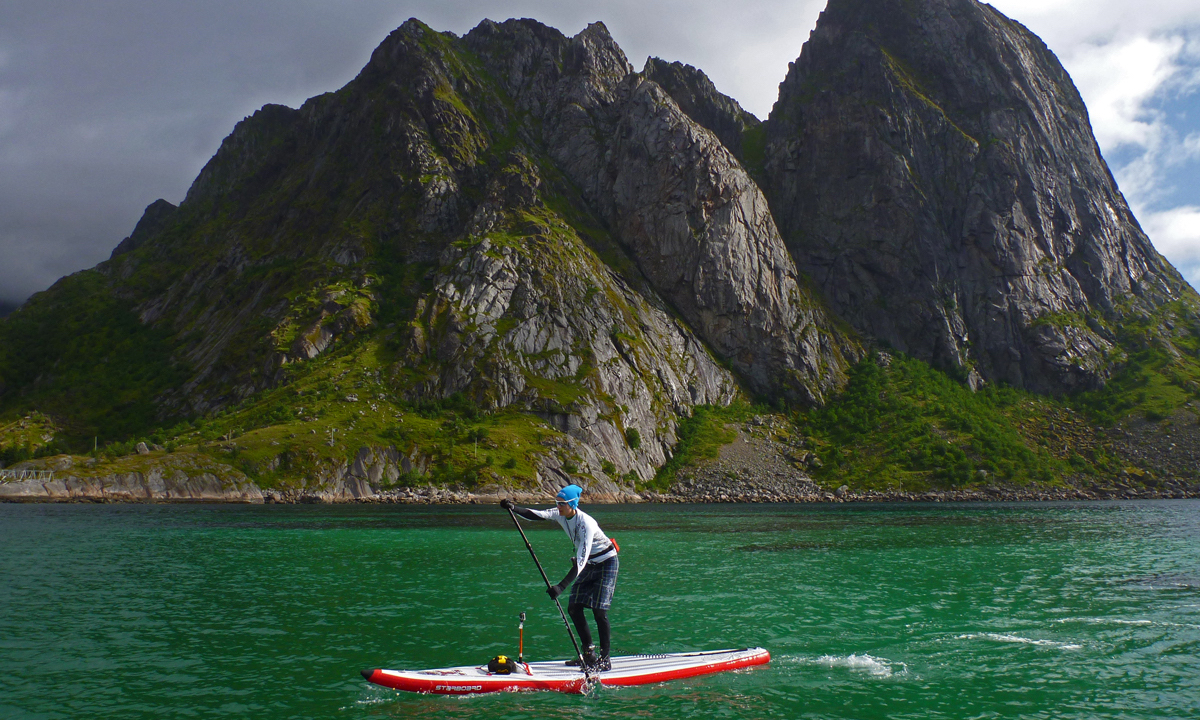 Emil Ullevålseter Martinsen in the area of Hamnøya and Reine, one of the most beautiful places in Lofoten. | Photo courtesy: Knut Sørby
Don't let the greenery fool you. The Lofoten Islands in Norway are colder than they appear as they are located North of the Arctic Circle. This wintry SUP destination is an amazing place to stand up paddle as the sights and beauty surrounding you are stunningly beautiful. SUP is slowly rising in popularity in Norway and while the weather can be fickle at times you can catch a good day and see Norway like you've never seen it before!
See more on paddle boarding Norway HERE.
As wisely noted by Paul Clark, "paddling in cold environments regardless of the length of time exposed, whether it be for a training sprint or multi-day tour, requires more gear and attention to details. It can be fun or down right miserable. Gear is brittle and may not dry. Hypothermia is a lurking predator as dangerous as any bear. If anybody is looking to go beyond their fair-weather enthusiasm, start with a brief journey in the cold. Test your systems and test your tolerance to the conditions. And always have a spare pair of hand warmers."
Do you have a place not listed above that you think should be added to this list? Share your thoughts with us in the comments below!
© Supconnect.com Copyrighted Exclusive Content
Last modified onTuesday, 08 February 2022 15:01

Allie Beucler is orginally from Kona, Big Island and, as an islander, her life has been in the water – ocean more precisely. She has been a sponsored competitive surfer, represented the NSSA College National Champions while surfing for San Diego State University, and today remains deeply connected to the watersports lifestyle. Brown is both a shortboarder and a paddleboarder, loving to take out her inflatable SUP for a ride. With a journalism degree from San Diego State University and her passion for the water life, she brings an excellent combination of skill and passion to Supconnect.
Email

This email address is being protected from spambots. You need JavaScript enabled to view it.