How to Practice Paddleboarding Safely When You Have Diabetes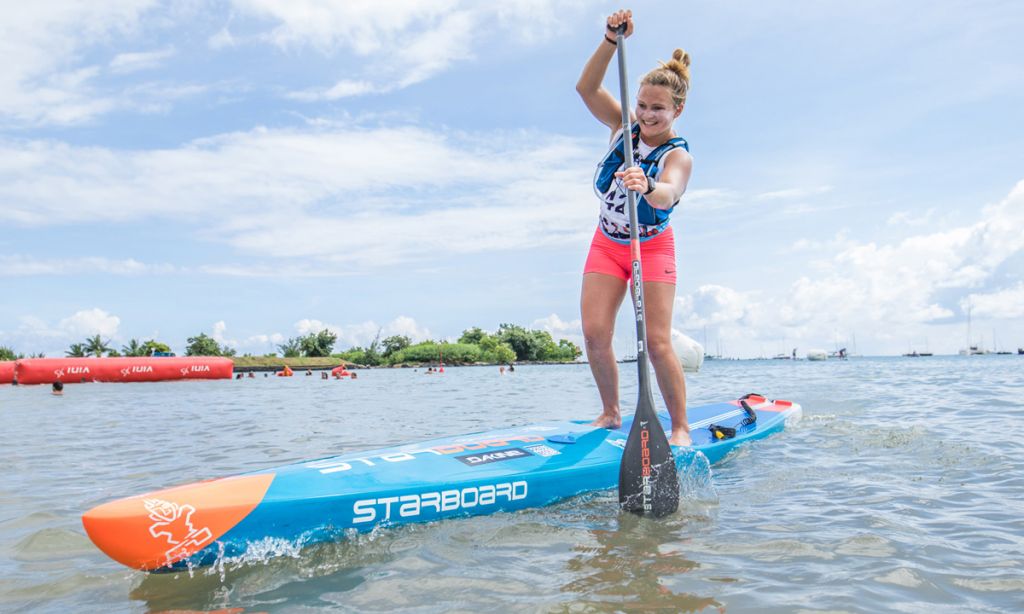 World Champion Fiona Wylde. | Photo: Georgia Schofield / Starboard
After becoming the Association of Paddle Professional's Overall World Champion of 2017, Fiona Wylde has proven that even people with diabetes can overcome challenges posed by the disease and reach the pinnacle of the fast-growing sport of stand up paddleboarding (SUP). If you have diabetes, SUP is emerging as a great sport that you can enjoy without fear and even excel at it if you have what it takes. However, just like any other physical activity that involves aerobic, sprint, or resistance training, SUP can be risky to your health as a result of varying blood glucose responses, and it is up to you to manage those risks so that you can keep having fun and maintain your performance at the highest levels possible.
Take care of your feet
Foot problems are common in diabetes patients, and since you need healthy feet for SUP, you must take excellent care of them. Over time, diabetes can cause nerve damage in your feet resulting in tingling, pain, and loss of feeling in some cases. Diabetes may also reduce blood flow to your feet, making it hard for cuts, sores, and infections to heal. In some cases, the infection may lead to gangrene forcing you to have a toe, foot, or part of your leg amputated. Thankfully, there are many measures you can take to avoid these problems, starting with checking your feet regularly for cuts, scratches, blisters, and calluses, especially after a day of SUP. This will help you spot problems early when they're still easy to treat. Keep your feet clean at all times and wear shoes that are comfortable and perfectly fitting. A foot massage from your significant other after a day of SUP can also reduce inflammation and promote circulation.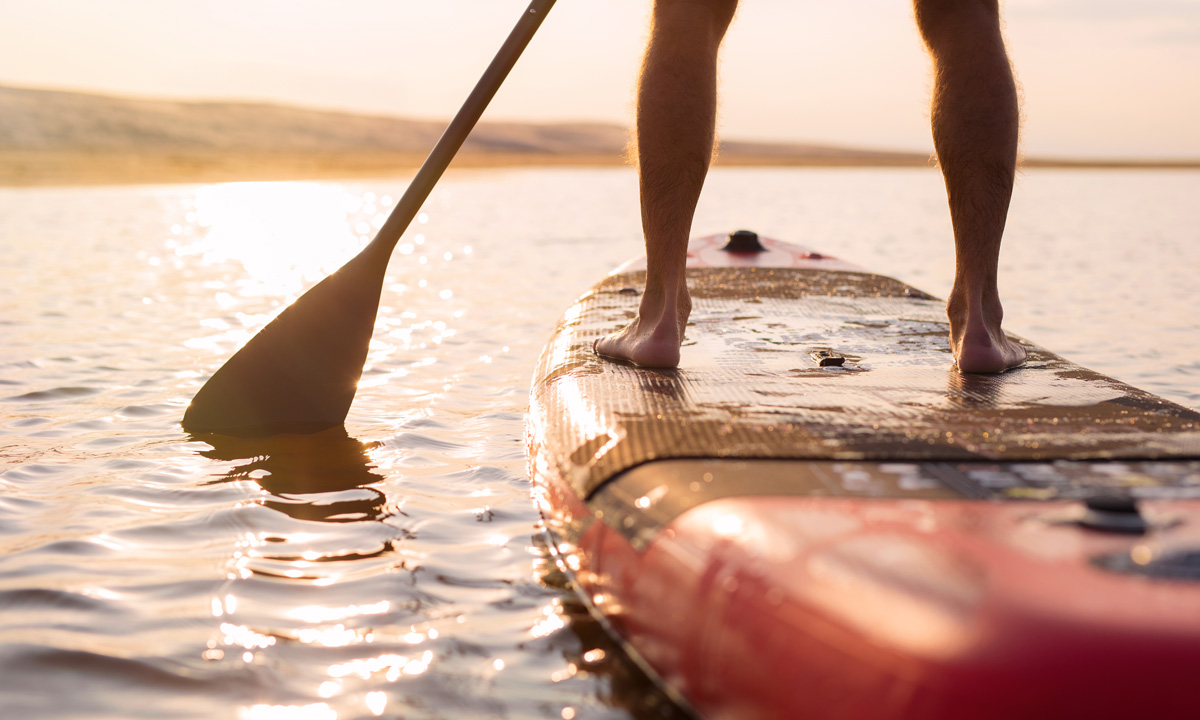 Photo: Shutterstock
Make diet and insulin adjustments
You can prevent both hyperglycemia and hypoglycemia during and after SUP through strategic carbohydrate intake and adjusting your dosage and timing of insulin. If your pumped or injected insulin levels are low when you begin SUP, you may need only 10 to 15 grams of carbs to prevent hypoglycemia. If you're getting on your board within two or three hours of bolus insulin, you may need around 50 grams of carbs per hour of SUP. Consult your doctor to ensure that you're taking the correct amount of carbs based on your unique needs. After a few hours of SUP, the carbohydrate levels in your muscles build back up slowly which makes you more sensitive to insulin, contributing to hypoglycemia up to two days later. To avoid this, make sure you're eating adequate amounts of carbs along with insulin before, during, and after SUP.
In addition to eating carbs to maintain blood sugar levels during exercise, you may need to also lower your basal and bolus insulin doses to decrease your hypoglycemia risk. Consult your doctor about your individual needs before you make such adjustments. In some cases, you may need up to a 20 percent reduction both before and after SUP. If you use an insulin pump, you may need to suspend or reduce basal insulin infusion 60 minutes before SUP to prevent hypoglycemia. Regardless of your regimen changes, be sure to track your blood sugar frequently and make necessary adjustments to stay in your target range.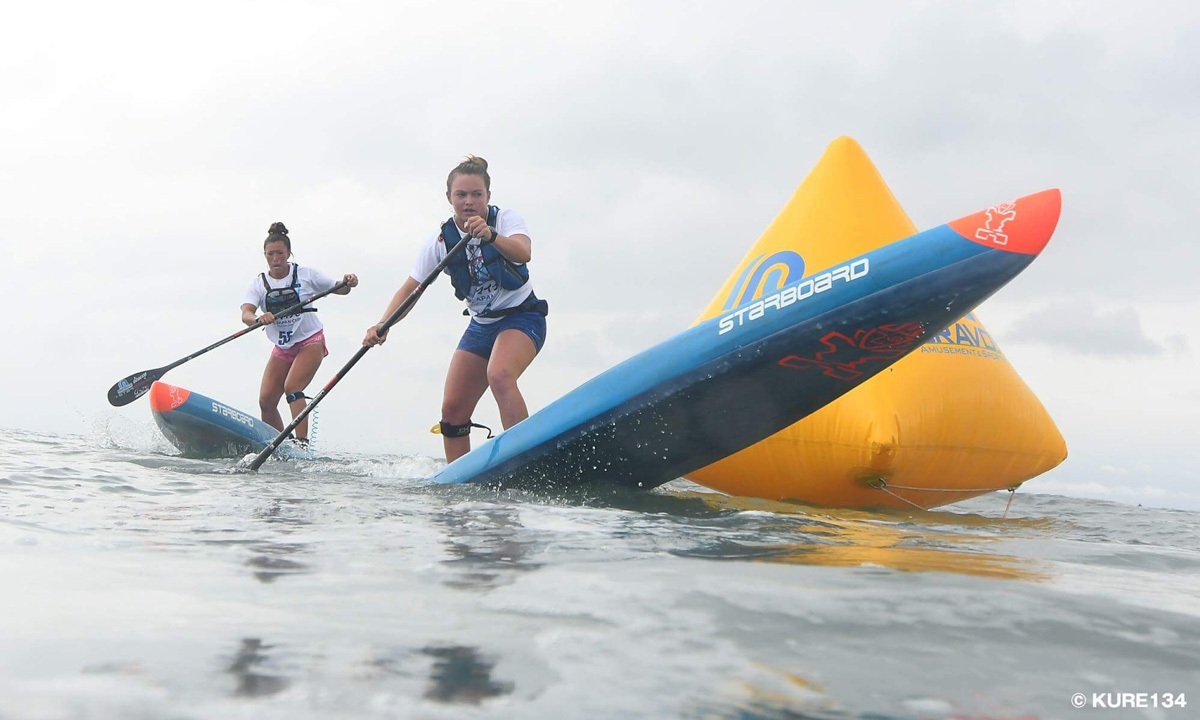 Fiona Wylde racing in Japan. | Photo courtesy: Kure134 / Starboard
Diabetes may be challenging to live with at times, but it shouldn't prevent you from experiencing the joy and sense of freedom that SUP provides. By being prepared and working with your care team to create an effective diabetes management plan, you can engage in SUP without risking your well-being, whether you're doing it for fun or competitively.
Last modified onThursday, 09 July 2020 18:16

Jennifer Dawson is an experience freelance writer who specializes in food and nutrition. Working in fitness marketing previously gave her a good feel for the industry and since going freelance she has been able to explore her preferred topic areas such as diet, nutrition and food. Outside of work, Jen enjoys traveling, swimming and spending time with her young family.
Email

This email address is being protected from spambots. You need JavaScript enabled to view it.