How To Help A Special Needs Child Enjoy Paddle Boarding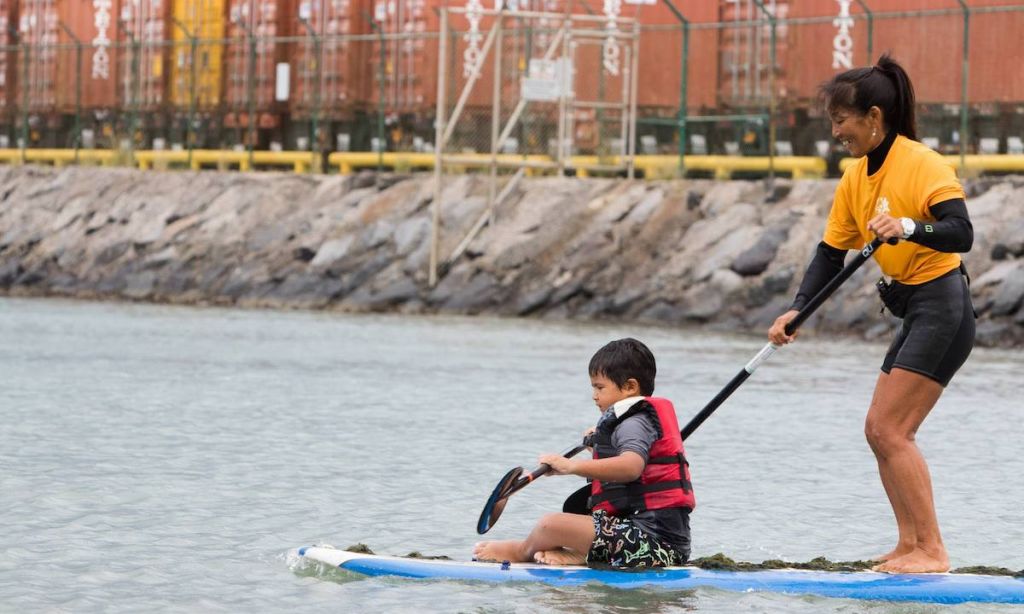 Photo courtesy: Paddle Imua
All photos courtesy of Paddle Imua's Imua Keiki O Ke Kai events.
SUP, or stand up paddleboarding, is a great activity for children with special needs, provided that they receive encouragement and support from parents, SUP instructors, or other caregivers. Since one in six American kids have special needs according to the CDC, and these children need healthy physical activity just like other kids do, getting them started with SUP-ing is a natural choice. These tips will make it simpler for parents and caregivers to master, and truly enjoy, stand up paddleboarding.
Special needs kids should learn in small groups
Professional paddlers Jeremy Riggs (left) and Josh Riccio (right) giving lessons at the 2018 Imua Keiki O Ke Kai. | Photo: Paddle Imua
The good news is that many SUP instructors offer lessons for children and these lessons may be available in your community. One-on-one lessons are good choices for kids with special needs, but learning in small groups is also a sensible option that may cost a little less. Special needs children should not be taught in large groups, where instructors have many things to do, and a lot of kids to look after.
One-on-one lessons or lessons in smaller groups allow kids with learning challenges to get the attention that they need and deserve. When a child is able to spend quality time with an instructor, it's extremely beneficial, as the child will be able to build rapport with an instructor. After all, kids enjoy playing with toys or equipment that are age-appropriate and encourage them to be active, so learning how to stand on paddleboards and move through the water should be lots of fun for them.
Talk to your child's instructor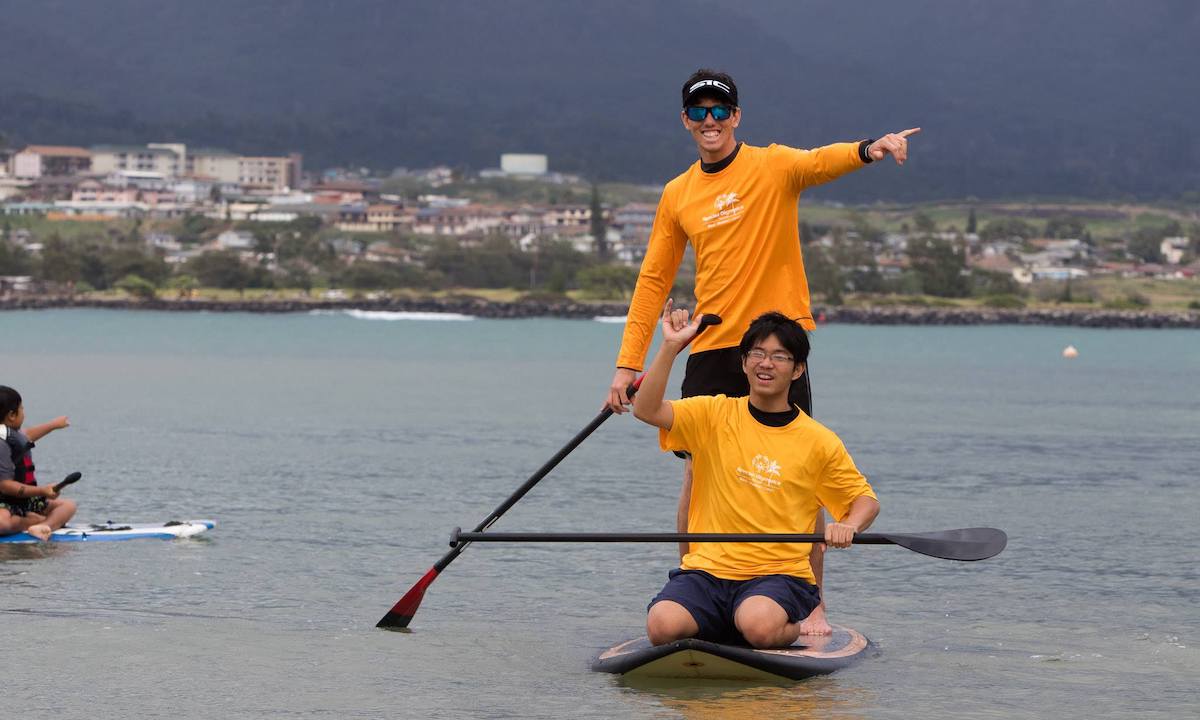 SIC Maui's Kody Kerbox helping bring a smile to this kids face. | Photo courtesy: Paddle Imua
Kids with special needs vary widely, from those with Attention Deficit Hyperactivity Disorder (ADHD) to those on the autism spectrum, so discussing a child's specific needs with an instructor before a lesson begins is a smart strategy. Be sure to let an instructor know the best way to communicate with your child during the SUP lessons. This will be an excellent way to advocate for your son or daughter, making sure they get the most out of the experience.
If you want to teach your child yourself, be sure to be as patient as possible, and make sure that your child knows how to swim before you begin the SUP lessons. If swimming lessons are needed, take care of that first. Many children with special needs thrive during swimming lessons, as the lessons help them to become stronger and boost flexibility.
Teaching water safety is vital
Paddle boarding is awesome for everyone! | Photos courtesy: Paddle Imua
A child who can swim will always be safer in the water, even when an adult is present to handle an emergency, so the swimming lessons mentioned earlier are important, but so is teaching other aspects of water safety. Kids aged 12 and under should wear lifejackets while they do stand up paddleboarding. A child under 50 pounds will need a life jacket that features a strap at the crotch that holds the garment snugly in place. Water shoes will also help kids to avoid cutting their feet on hazards, such as jutting rocks.
When you arrange lessons with caring instructors, make sure that your child's special needs are considered by the teacher, ensure that your son or daughter knows how to swim, and get your child the right safety gear, SUP fun will await. However, you shouldn't push your child beyond his or her limits. If your child seems to be getting fatigued or clearly isn't enjoying the activity, keep a SUP session short. Slowly build your child's skills and strength, so he or she can enjoy SUP-ing for a lifetime.
For more SUP Tips, click HERE.
Last modified onTuesday, 22 August 2023 16:50

Jennifer Dawson is an experience freelance writer who specializes in food and nutrition. Working in fitness marketing previously gave her a good feel for the industry and since going freelance she has been able to explore her preferred topic areas such as diet, nutrition and food. Outside of work, Jen enjoys traveling, swimming and spending time with her young family.
Email

This email address is being protected from spambots. You need JavaScript enabled to view it.