Paddle Boarding Oregon, U.S.A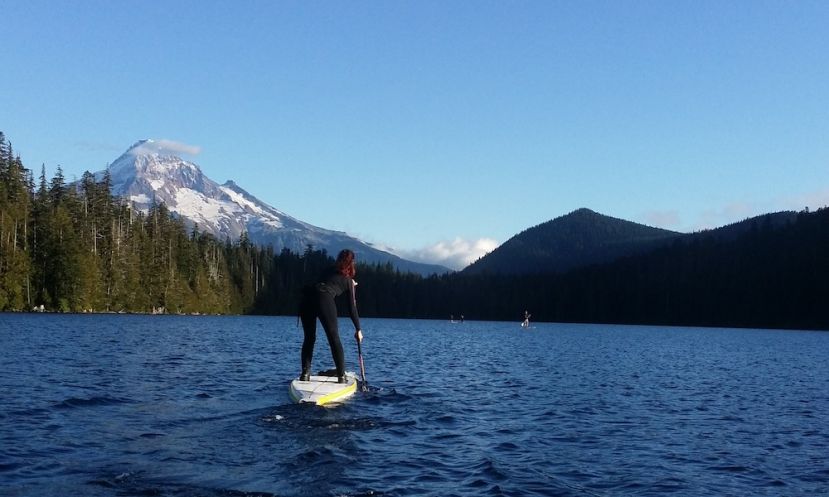 Beverly Downen paddling on Lost Lake. | Photo: Brett Downen
OREGON, United States - Located in the heart of the beautiful Pacific Northwest, Oregon boasts a large collection of bodies of water and a myriad of environmental conditions to accompany them. Sun, wind, rain (so much rain!), Oregon's topography manages to pull them all together some days, and sometimes all at the same time! What this means to a paddler is that flexibility in destinations, and knowing where the hidden gems are located, can make the difference between a picturesque day paddle and a grueling seven mile upwind grind back to your vehicle. Luckily, there's plenty of hidden gems in Oregon as well as awesome hot spots in plain sight to choose from for much of the year. Just prepare to be rained on too.
HIGHLIGHTS
The Gorge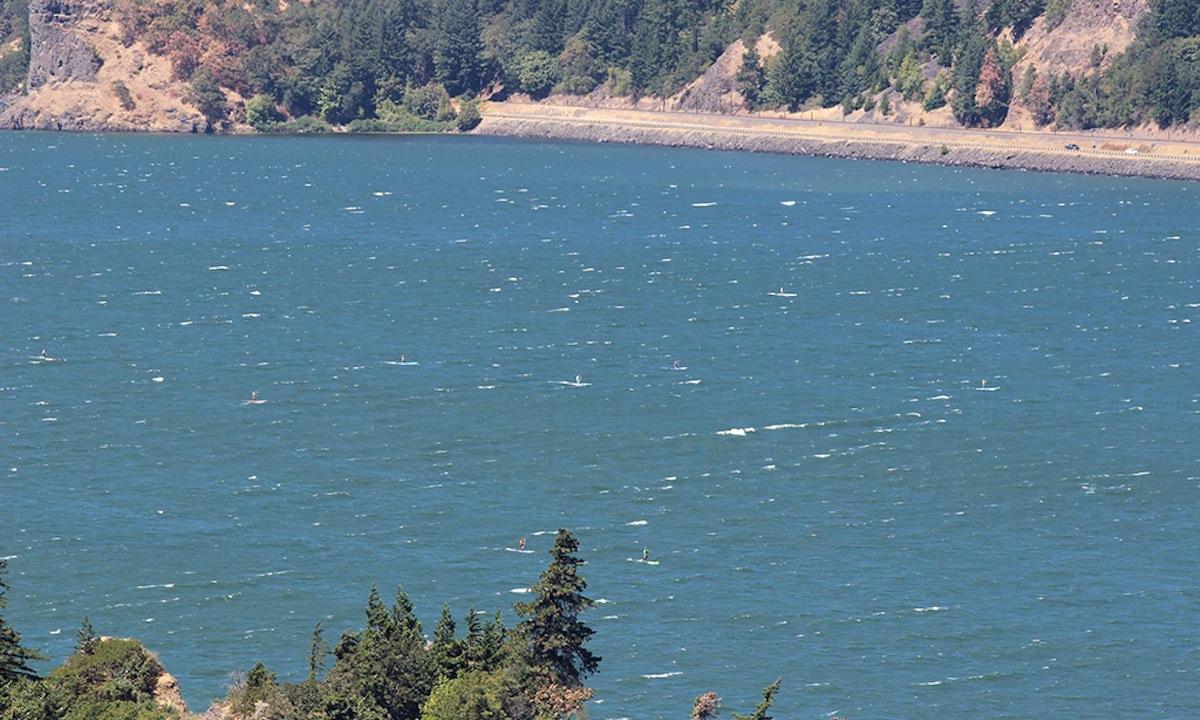 The Gorge. | Photo: Karen Parkkonen
The Columbia River Gorge, located an hours drive east of downtown Portland, is not only one of Oregon's most popular SUP destinations, it's one of the top downwinding destinations in the world. The Gorge has strong, predictable winds that blow across the surface of the expansive Columbia River and this natural event creates incredible downwinding conditions. 30-40 mile per hour winds are not uncommon. Those winds blow in the exact opposite direction of the current most of the year, and this makes for surprisingly large river waves perfect for some of the most challenging downwinding outside of the Hawaiian islands. The "Viento Downwinder" is probably the most popular put in spot for an exciting seven mile journey to Hood River. Big Winds, the premiere water sports shop in downtown Hood River, offers a downwinding shuttle service to Viento State Park during the summer months.
The Coast
Pictured: Beverly Downen paddling along the Nehalam Bay. | Photos: Brett Downen
The Oregon coast is one of the most scenic strips of natural beauty in North America. Ocean conditions are unpredictable most times of the year with strong prevailing onshore winds, plus wintertime storms cranking out of Alaska pushing cold water and monster swells along the way. Thirty foot swells are not uncommon in the winter months. Still, in the right conditions on the right day, the Oregon coast has a decent collection of SUP worthy spots to surf or explore.
Another bonus to the Oregon coast is the relatively consistent and moderate temperatures year round. While the inland areas are experiencing winter conditions like snow and ice, the coastline manages to stay above 38 fahrenheit and is typically in the low 40's or mid 50's in the winter months.
The Lakes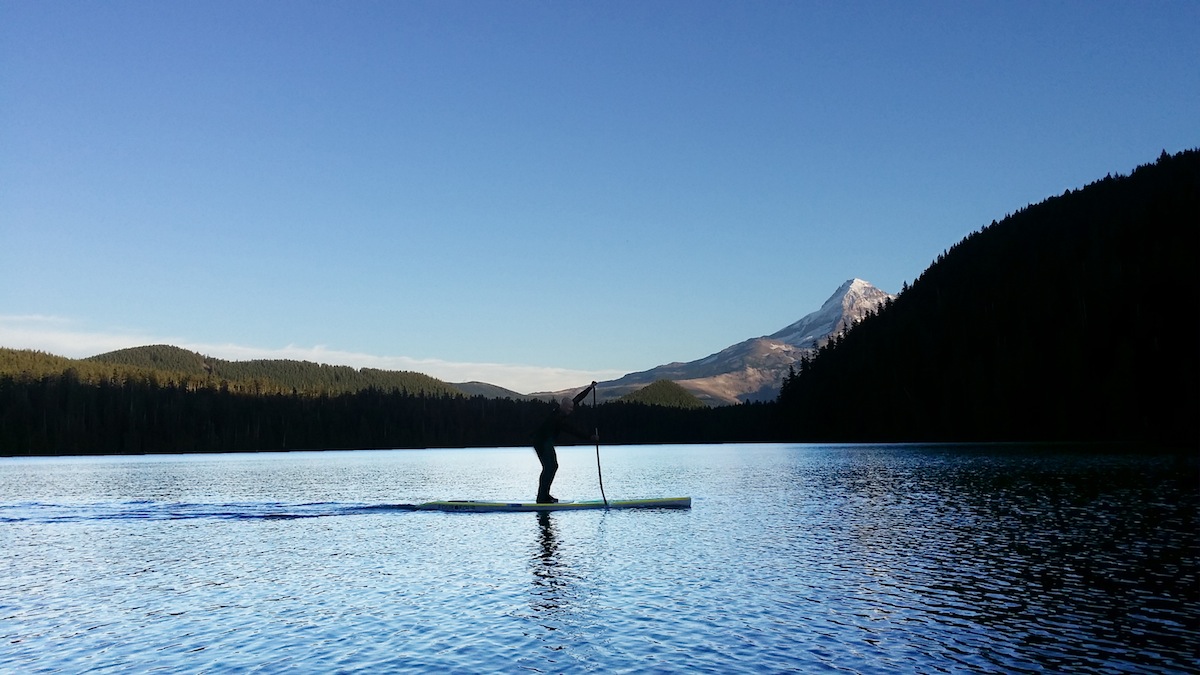 Beverly Downen at Lost Lake. | Photo: Brett Downen
The lakes hidden below picturesque Mt. Hood are the hidden gems of Oregon. There is a sizable collection of lake destinations surrounding the most popular mountain in the state and most of them with stunning panoramic backdrops. Lost Lake, Trillium Lake, Timothy Lake, and many more, with crystal clear glacial water and surrounded by splendid forests all the way to the waters edge.
Portland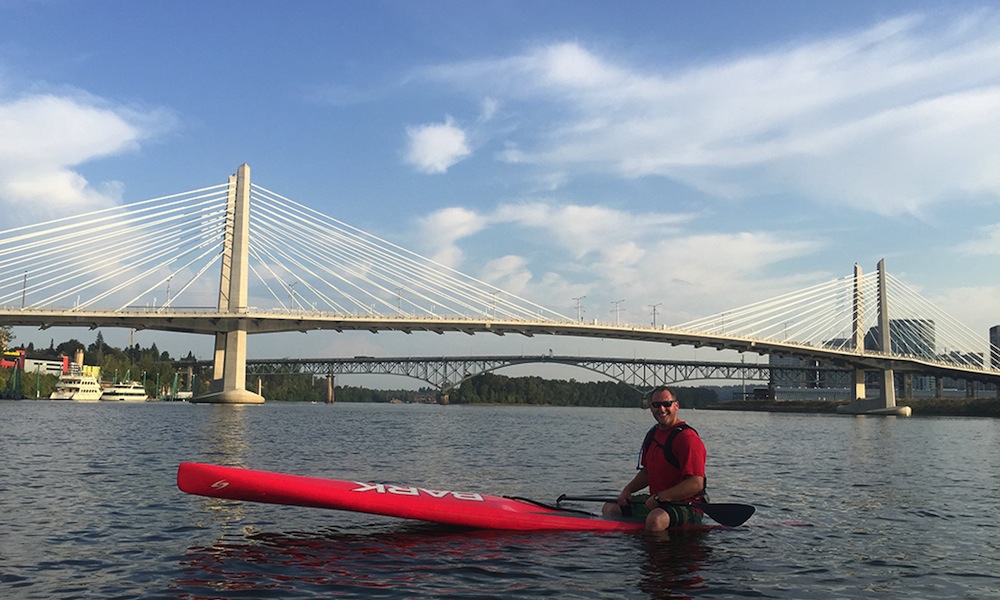 Brett Murray takes a rest on the Willametter River. | Photo: Brett Downen
Not only is Portland the largest city in Oregon, it is also located near several waterways and lakes. The Willamette River bisects the heart of downtown Portland and is a local favorite due to its convenience to the downtown area, its relatively calm conditions much of the year, and its access to events like the Rose Festival, the Portland Jazz Festival, and many other annual events all of which can be experienced for free from atop a SUP. There are also plenty of SUP destinations just a short drive from downtown Portland that will appeal to all types of SUP riders including river rapid riders, downwinders, racers, and your everyday casual paddlers.
Bend

Somewhere in Bend. | Photo: bendrealestate.com
Bend is known in Oregon as the outdoor sports destination for all kinds of world class sports including rock climbing (Smith Rock), skiing and snowboarding (Mt Bachelor), white water rafting (Deschutes River), and now also paddle boarding. Much of SUP life around Bend is spent in the Deschutes River near downtown Bend but there's also a smattering of wonderful high desert lakes to explore, and don't forget the chance to shoot some rapids on the Deschutes with a sturdy inflatable SUP!
SEASONS

Along the shore of the Willametter River. | Photo: Brett Downen

There are two seasons in Oregon: Summer and Rain. Summer is generally viewed by the SUP community as the better of the two seasons! Aside from the obvious sun and warmth sometimes associated with Oregon summers, hot desert air to the east is also the culprit for inspiring those high winds to blast through the Columbia River Gorge and provide ocean-worthy swells for paddle boarders downwinding pleasure.
Spring is an interesting season and is most often known in Portland as the slightly-lighter-rain-than-winter months. This is the time of the year when it makes more sense to stage pickup vehicles downriver and SUP ten mile one way journeys because there's just no fighting the current in the Springtime with all that rain water making the rivers flow.

Autumn is widely considered booty season. No, not because we're all frisky before we hibernate for winter. This is when the water temp drops twenty degrees and many local paddlers are known to sport booties on their feet so the water splash doesn't numb them halfway into the paddle. 2mm Farmer John style wetsuits are also pulled out of the closet by late October to help extend the paddling season in relative comfort.

Winter is a lonelier SUP time in Oregon. With snow and ice underfoot in the inland areas, there may be a couple desperate paddle boarders on the mostly abandoned rivers and lakes. This is also a good time to explore the relatively moderate temperatures of the coastline, explore a protected inlet or bay, or SUP surf as conditions allow.
Click here to see more SUP Destinations.
HOT SPOTS

Viento State Park
Pictured: (left) Russel Pert and Chris Anderson on the Gorge. (right) Russell Pert enjoying the windy Gorge. | Photos: Brett Downen
If you came to downwind in a premier arena, the Viento Run is your first choice. Located seven miles west of Hood River, this strip of river is known for the strongest winds in the summer months. It doesn't take long on a good day before you're back at the event site in Hood River booking the shuttle for another run on the Columbia River!
Lost Lake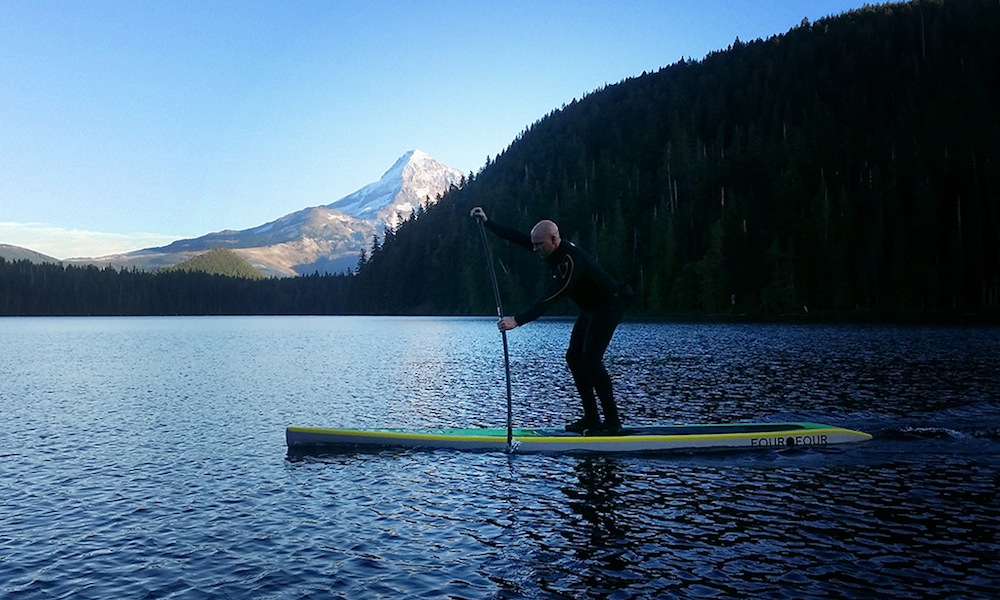 Lost Lake, a paddlers paradise. | Photos: Brett Downen
There's disagreement between locals on which lake really has the most picturesque panorama views, Trillium Lake or Lost Lake. Most votes would likely go to Trillium Lake until you throw a paddle board in the equation, then it's Lost Lake on any day. It's got far more surface area to play in than Trillium Lake and there is not a single square foot of lake that doesn't have the best view imaginable of Mt. Hood. Plus, according to the Atlas of Oregon Lakes, the glacial water is crystal clear and hovers around 68 degrees fahrenheit in the summer months. One additional feature of Lost Lake that many paddle boarders will appreciate is that motorized boats are not allowed on the lake, so no loud engines, no speeding watercraft, and no diesel gas smells in the air!
Timothy Lake
Beverly Downen enjoys Timothy Lake. | Photos: Brett Downen
Another fun lake destination near Mt. Hood is Timothy Lake. Located 60 miles from downtown Portland on the southeast slope of Mt. Hood, Timothy Lake has a surface area of 2.1 miles, so there's plenty of space to play and explore. It has plenty of campsites surrounding its moderately warmer waters in the summer months and is a wonderful destination for a camping weekend.
Willamette River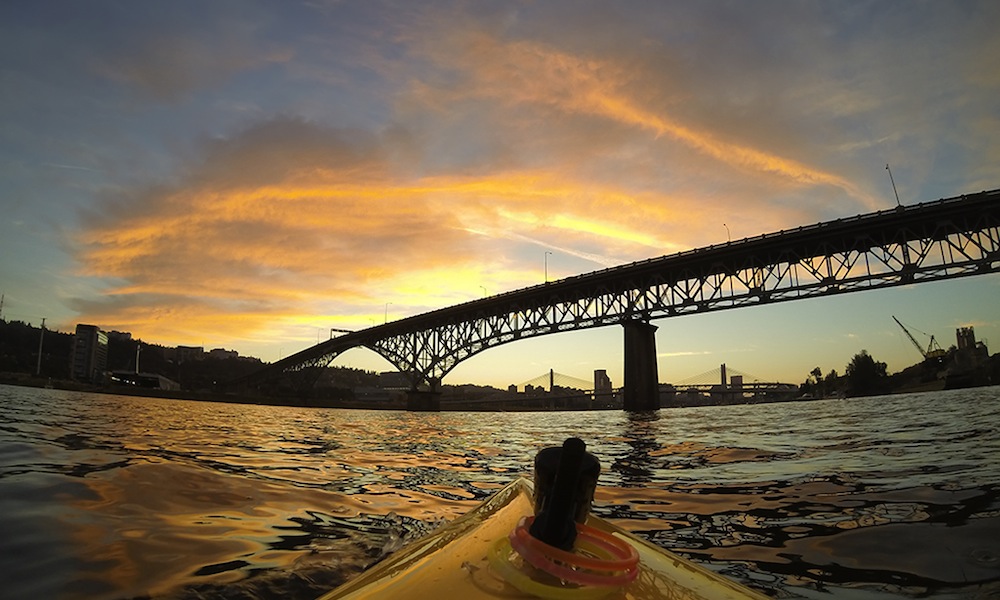 4th of July evening paddle on the Willamette River. | Photo: Brett Downen
While Wikipedia states the Willamette River is 187 miles long, the twenty miles or so surrounding Portland is probably the most popular strip of the river for most all water sports activities including SUP, kayaking, wake boarding, you name it. The vast majority of flatwater SUP activity occurs just east of downtown Portland where the water tends to be warm and accessible in the summer months. There are several put ins just east of downtown Portland and this definitely contributes to the popularity of this river strip. Sellwood Park and Willamette Park provide boat ramps and plenty of parking. Closer to downtown is a publicly accessible boat ramp just west of the OMSI.
Group night paddles have become a regular activity in the past two summers. Portland's traditional outdoor summer events provide fun destinations for bold SUP night travelers just a couple miles downriver. The 4th of July fireworks show is especially impressive from atop a floating paddle board just yards from the boat launching the rockets into the sky.
Ross Island
Ross Island is located in the middle of the Willamette River just east of downtown Portland and tends to be the local social epicenter for all sorts of watercraft from recreational boaters, kayakers, outrigger canoes, and paddle boarders. While there are only two small beaches on the island (most of the island is a wildlife preserve and inaccessible except the beaches), paddle boarders congregate and play all around Ross Island. Many also put in from Willamette Park or Sellwood Park and paddle the "Ross Island Loop", a popular 5 mile workout route around the island.

Ross Island paddling. | Photos: Brett Downen
Other Paddlers
There are two places in Oregon to find experienced and knowledgeable paddle boarders, Portland and Hood River. Both cities thrive on active, outdoor lifestyles and both have plenty of friendly paddle boarders willing to steer you in the right direction for fun adventures and local destinations. In Portland, start at Gorge Performance (gorgeperformance.com), the local surf shop with friendly and knowledgeable staff always willing to get you in some local water. In Hood River, Big Winds (bigwinds.com), which was recently named Supconnect Shop of the Year for 2015, staff will also get you set up and on the river in the right conditions for your skills and desires. Also stop by the "Event Site" beach, the primary put in location in Hood River, to greet more river enthusiasts than you'd possibly imagine meeting in a lifetime.
To see more paddle boarding destinations, click here.
© Supconnect Copyrighted Exclusive Content
Last modified onWednesday, 04 November 2020 17:13

Brett is a family man and working stiff who also happens to spend as much time on the water as possible. A lifelong surfer and now paddleboarder, his growing collection of boards has made him consider opening a board rental business out of his garage. Brett lives in Portland, Oregon and considers all bodies of water, from the Pacific Ocean to the Columbia River Gorge and all lakes and rivers in between, his playground. You'll find his latest SUP adventures and a list of Northwest destinations on his website dedicated to SUPing around Portland at suppdx.com.
Website: suppdx.com
Email

This email address is being protected from spambots. You need JavaScript enabled to view it.