5 Reasons Tahiti Is The Perfect Place To Paddle Board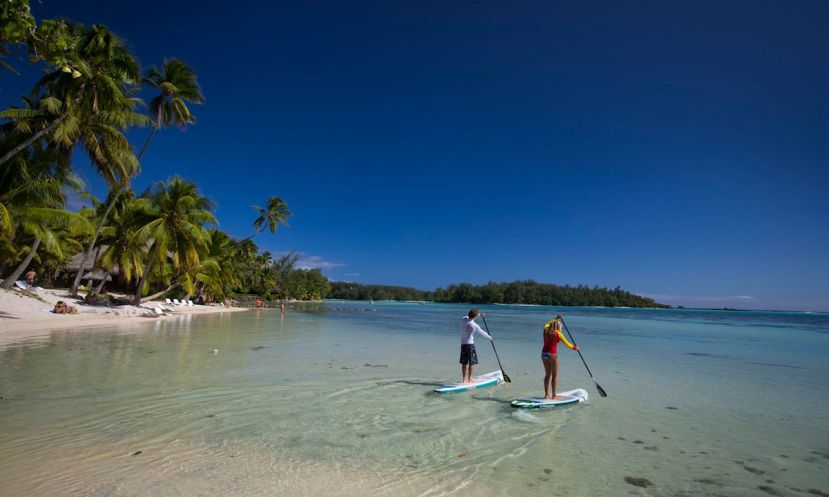 Sean Poynter and Izzi Gomez of team Starboard in Tahiti. | Photo: Ben Thouard
SAN DIEGO, California - We all dream of an exotic vacation packed with relaxation, sunshine, and the warm water of the tropics. We see photos of crystal-clear water with beautiful mountainous backdrops and think to ourselves what it would be like to be in a place that perfect. Tahiti is a place where these dreams and thoughts are a reality. We here at Supconnect agree that Tahiti stands out as one of the ideal places to paddle board. Here are five reasons why:
1. Location / Scenery
Tahiti is located in French Polynesia, a group of 118 islands and atolls located in the South Pacific. Tahiti is located in the archipelago of the Society Islands and is the largest and most populated island in the Windward group of French Polynesia. Tahiti is home to almost 200,000 inhabitants and is one of the most beautiful places on Earth, making it one of the many reasons it is the perfect place to stand up paddle board.
The scenery in Tahiti is jaw-dropping and the beauty that surrounds the island is a sight that truly is unimaginable until you actually go there. From shore, the view of the ocean and surrounding islands show its crystal clear waters and reefs and from the ocean, the views of the lush green mountains and valleys are absolutely breathtaking.
Pictured: (left) SIC Maui's Morgan Hoesterey in Tahiti. (right) Caren Forbes of Starboard SUP. | Photo: Ben Thouard
2. Variety
No matter what kind of paddler you are or what skill level you're at, Tahiti has something for you. If you feel like flat water paddling, no problem! Almost the entire island of Tahiti is surrounded by a lagoon with the reefs being hundreds of yards out of the shore, keeping the waters in-between very calm and easy for paddling.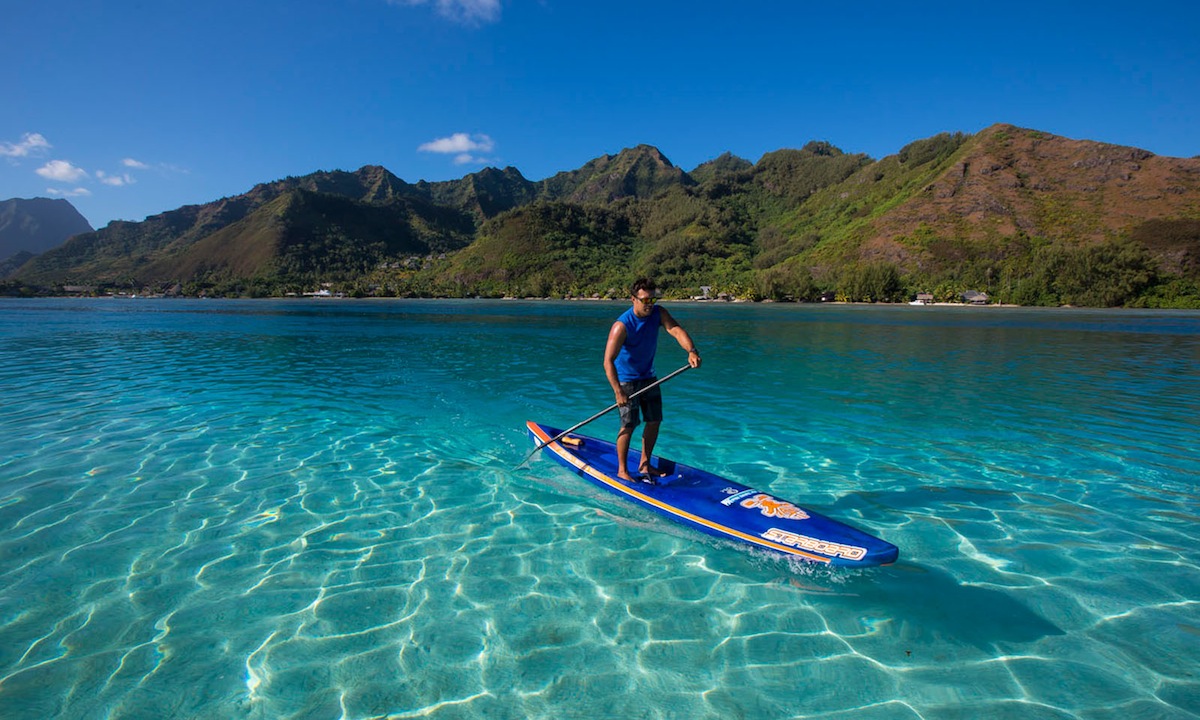 Tahiti's own Tama Audibert. | Photo: Ben Thouard
Pictured: (left) Tahiti's champion va'a paddler Hinatea can regularly be seen paddle boarding. (right) Laird Hamilton on a beauty. | Photos: Ben Thouard
Feel like a surf? No worries! Tahiti is known for it's world famous surf breaks such as Teahupo'o, Taapuna and Papara, and the surfing there is truly world-class. Tahiti is even one of SUP Surfing Pro Sean Poynter's favorite places in the world for surfing and it has hosted the Stand Up World Tour event there too. If you're a downwind guy or gal, Tahiti has some pretty epic downwinders to choose from, one being the beautiful downwinder from Tahiti to neighboring island Moorea. The options are legitimately endless.
3. Weather
Oh, the weather. Can you say perfect? Well, maybe not perfect but it sure is close. The temperatures in Tahiti hover around 80°F year round and with the sunshine and ocean breezes, you're pretty comfortable wearing board shorts and sun dresses day or night.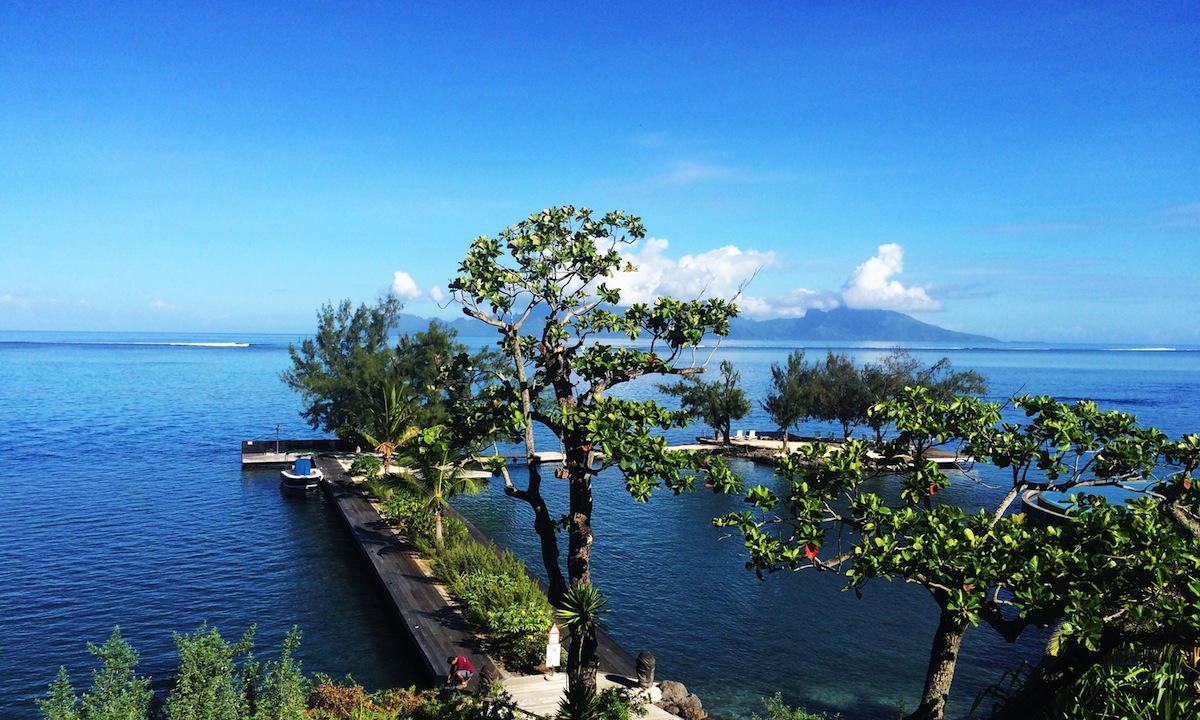 A view from the Manava Resort in Punaauia, Tahiti. | Photo: Allie Brown
Since Tahiti is relatively close to the equator and sitting pretty in the tropics, realistically there are pretty much only two seasons: wet season and dry season. November through April is considered the wet and humid season where rainfall is common in-between rays of sunshine. If you aren't afraid of a little rain here and there and a bit of humidity, this is a great time to visit as November through April is considered Tahiti's "off season" and when you're likely to find cheaper flight and hotel fares.
May through October is "peak season" in Tahiti and the climate is a bit cooler and drier than in the wet season. Rainfall is sparse and the temperatures range from the low 80's during the day and are in the 70s at night.
Pictured: (left) Zane Schweitzer enjoying the "dry season" in Tahiti. | Photo: Ben Thouard / (Right) Even in the "wet season" the beauty of Tahiti is exquisite. | Photo: Allie Brown
See more photos of Tahiti here.
4. Ocean
The ocean in Tahiti is so spectacular that it's a reason in of itself of why Tahiti is one of the best places to stand up paddle. The ocean temperatures stay close to 80°F year round and feel perfect to the touch in rain or shine, day or night.
The visibility and clarity in the ocean surrounding Tahiti is undeniably perfect. The greens and blues that are visible from the shore and above are dazzling and create quite the invitation to come in and get wet. The ocean here is so serene that it's no wonder why Tahiti is a destination for honeymooners, photographers, bikini companies and many more to come from all over the world to visit and get a taste of the perfection.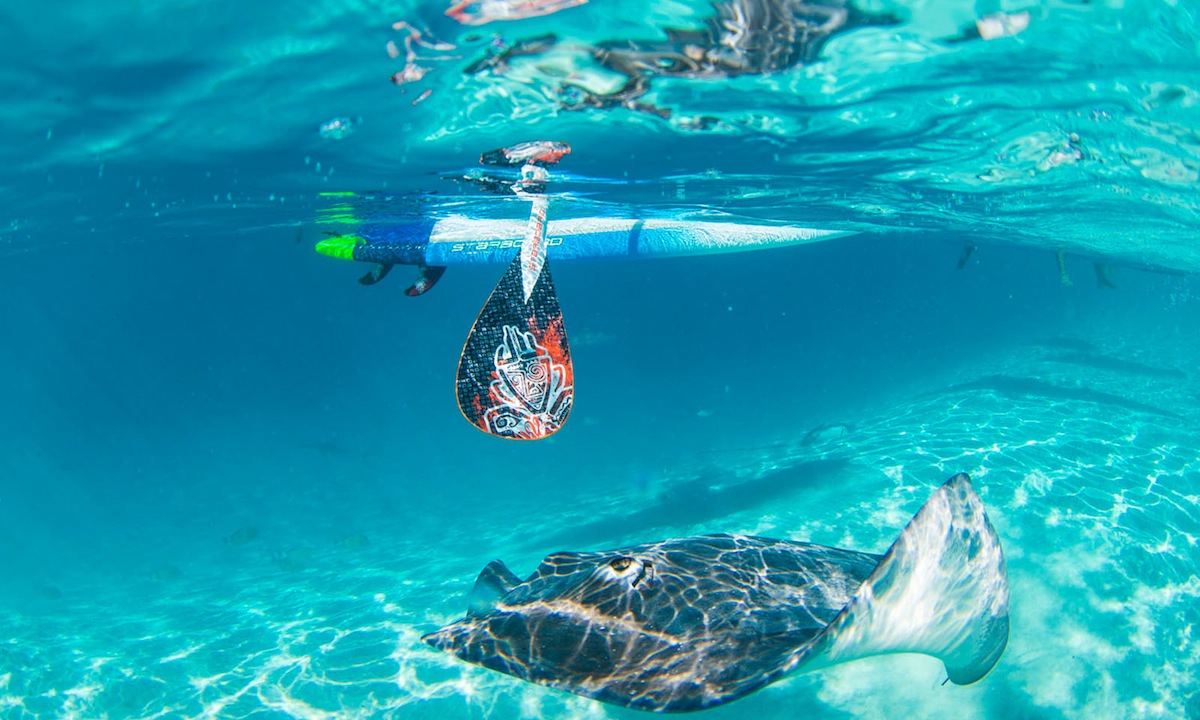 Crystal clear waters in Tahiti. | Photo: Ben Thouard
5. Other Paddlers
One great thing about stand up paddling in Tahiti is that you are surrounded by paddlers, and talented ones at that. Seeing as the national sport of Tahiti is va'a or outrigger canoe paddling, it's in the Tahitian blood to paddle. With the rise of stand up paddling, Tahiti quickly adopted the sport and it is becoming another popular sport for Tahitian paddlers. Tahiti has even been producing some of the top athletes in our sport, SIC Maui's Georges Cronsteadt and Starboard SUP's Tama Audibert, who are elite stand up paddle racers and Poenaiki Raioha who is an up-and-coming SUP racer and SUP surf star.
Pictured: (left) A va'a paddler enjoying an early morning paddle. (right) Georges Cronsteadt is lucky enough to call Tahiti home. | Photos: Allie Brown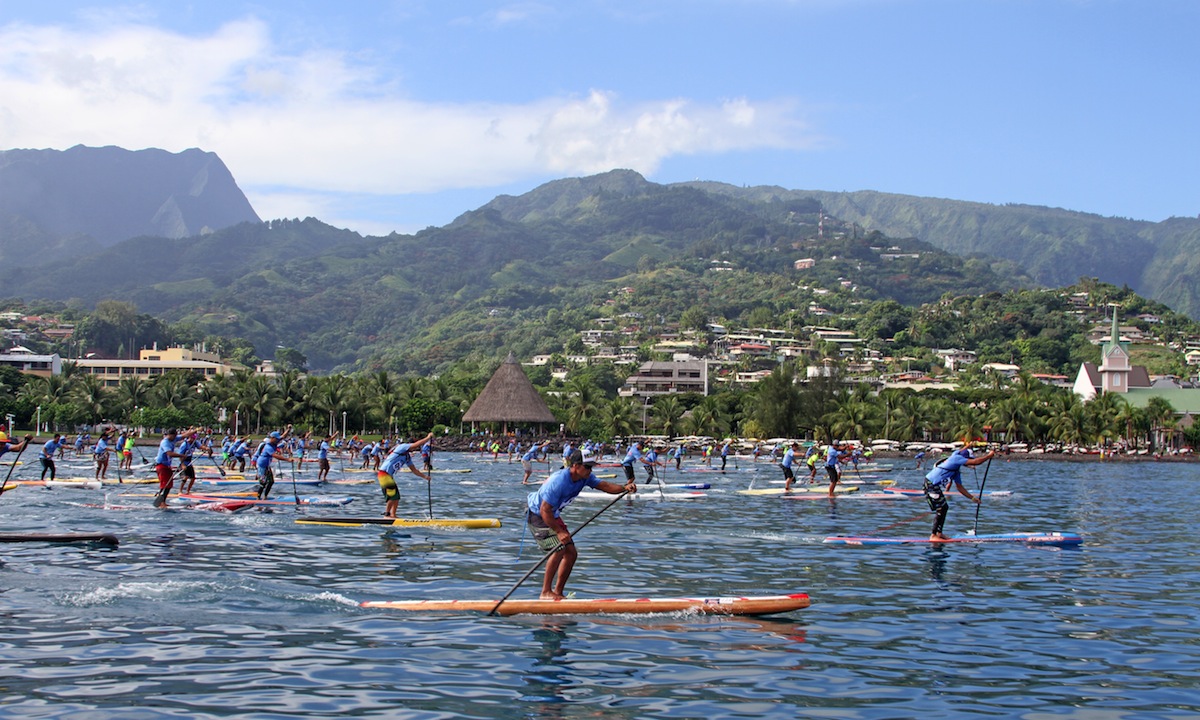 The start at the 2015 Air France Paddle Festival. | Photo: Allie Brown
Tahiti is also home to what is becoming the largest stand up paddle race event in the South Pacific, the Air France Paddle Festival. This year in only it's third year, the Air France Paddle Festival had hundreds of participants and beach goers all gathered in support of the sport. Tahiti has also been home to stand up paddle surfing events on the Stand Up World Tour.
The people of Tahiti are very warm and welcoming and if you didn't bring your gear with you, there are tons of options for you to find and rent gear. Whether it be the hotels on hand like the Manava Resort or rental places like Cronsteadt Liquid Equpiments and Starboard T10, you can easily get the gear you want or need.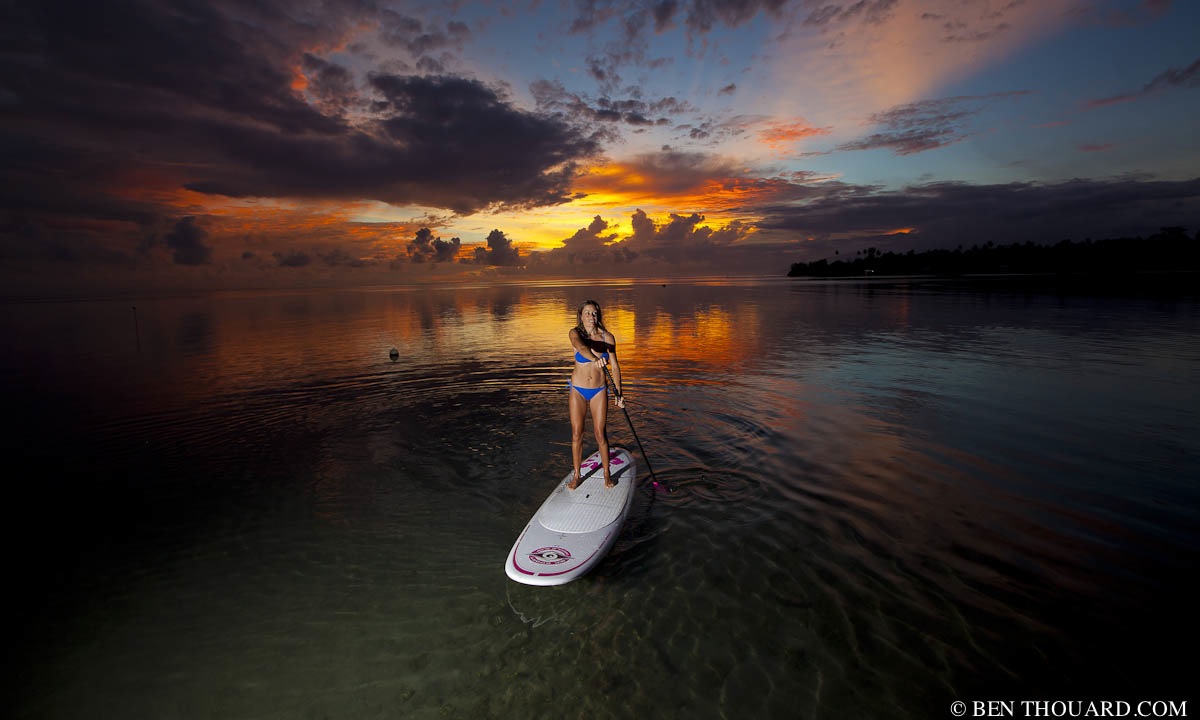 Carine Camboulives cruising under a beautiful Tahitian sunset on her BIC SUP. | Photo: Ben Thouard
So, with these five items listed above, we've come to the conclusion that Tahiti is the perfect place to stand up paddle board. It's beautiful, warm, the ocean is to die for, there are a ton of different SUP disciplines to be done, and there are plenty of other paddlers around to share smiles and stoke with.
If Tahiti wasn't on you're SUP Bucket List before, you might want to get it on there and get there quick because once you go you won't ever want to leave.
© Supconnect Copyrighted Exclusive Content
Last modified onWednesday, 06 May 2020 16:43

Allie Brown is orginally from Kona, Big Island and, as an islander, her life has been in the water – ocean more precisely. She has been a sponsored competitive surfer, represented the NSSA College National Champions while surfing for San Diego State University, and today remains deeply connected to the watersports lifestyle. Brown is both a shortboarder and a paddleboarder, loving to take out her inflatable SUP for a ride. With a journalism degree from San Diego State University and her passion for the water life, she brings an excellent combination of skill and passion to Supconnect. Twitter: @alliebrown808 / Supconnect Profile
Email

This email address is being protected from spambots. You need JavaScript enabled to view it.