5 Reasons To Take Your Yoga Off The Mat And Onto A Paddleboard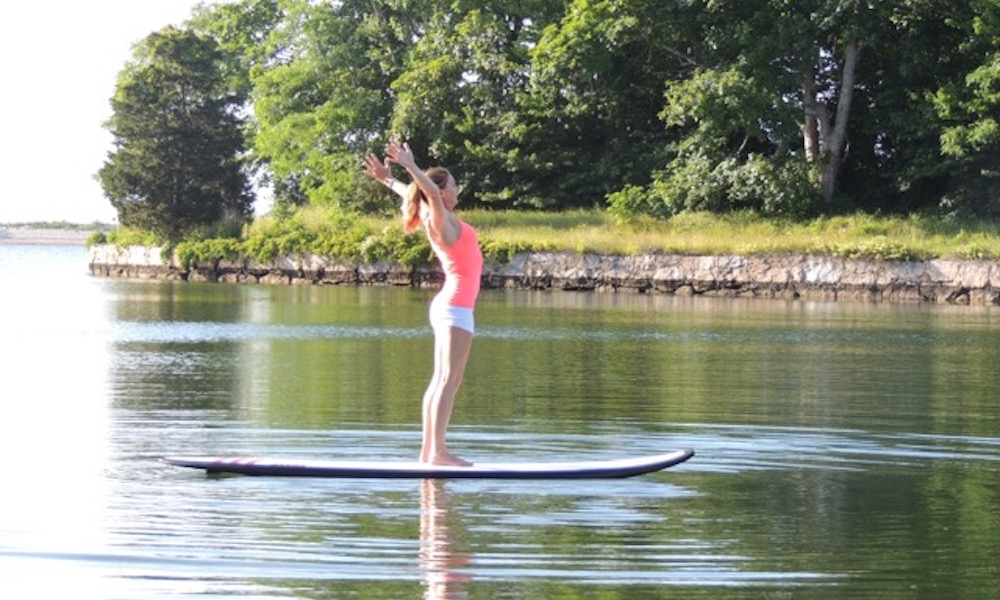 Mountain pose. | Photo: Jimmy Ski
SAN DIEGO, California - If you enjoy yoga and being out on the water you will love stand-up paddleboard yoga. You will of course need a paddleboard and paddle — look for a wider board which will help you with your balance. You will also want to look for calm and protected water, and make sure you have a willingness to get wet (yes you will probably fall in).
SUP Yoga is far more challenging than regular yoga on your mat, because your board is unstable and sensitive to even the slightest movement. Paddling out to your chosen spot is the perfect warm up for your body before you begin. I recommend spending your first few minutes seated comfortably with your legs crossed in Sukasana, focusing on your breath and drawing in the smells and sounds of nature. From there it's ideal to start with a few seated stretches, before going into your first Downward Dog. Make each movement slow and purposeful as you transition from pose to pose. You will find through plenty of trial and error that the standing and balancing poses become your greatest challenge. Prepare to be thrilled, challenged and quickly become addicted. And please, don't forget your sunblock!
With warmer weather on the horizon, here are five great reasons to think about taking your yoga practice off the mat and onto a paddleboard:
1. To become one with nature.
Any time you can combine yoga and nature, something magical happens. And being on the water is no exception! The sky above you and the water below brings the feeling of serenity and calm to your yoga practice. The sounds of nature and water make for the perfect yoga music. In Mountain Pose (Tadasana), you can feel a unique sense of being grounded — with water instead of the earth beneath your feet.

2. To reignite your passion for familiar yoga poses.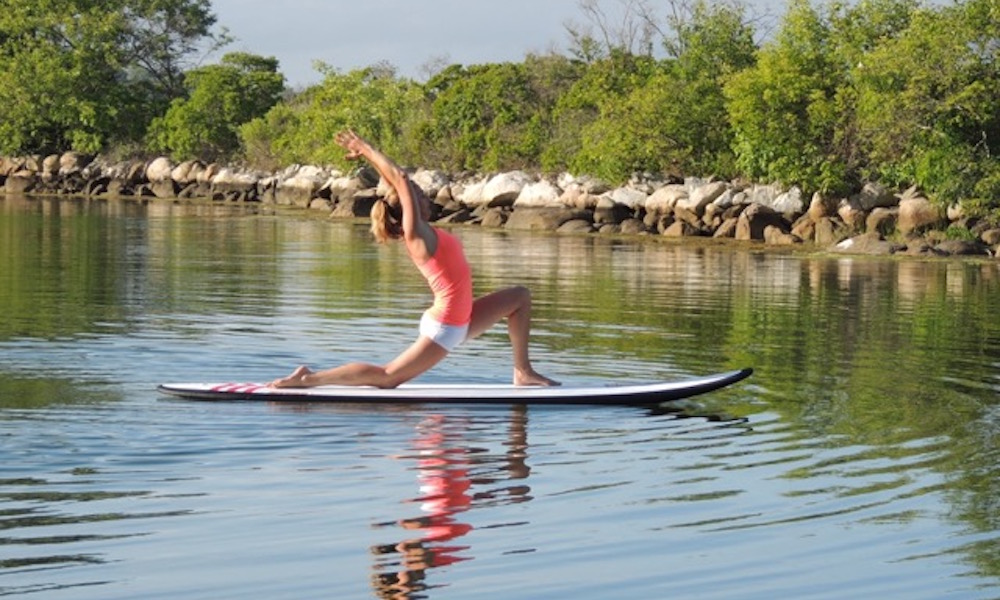 Low Lunge pose. | Photo: Jimmy Ski
You will rediscover each yoga pose all over again — often poses that are simple on the mat can fare more challenging on the SUP. Balancing postures like Tree Pose may even feel impossible at the beginning, but it is amazing to be humbled and challenged once again in your yoga practice. Here in a Low Lunge (Anjaneyasana), a basic posture is revisited with the new added challenge of balance and coordination.
CLICK HERE to see more SUP Yoga.
3. To increase your strength.
Your strength will improve with a SUP yoga practice as so many of your muscles are engaged for each pose. Your core muscles will work especially hard to help keep you stable. In Wheel Pose (Urdhva Dhanurasana), I am often surprised at how tired I feel after my practice.
Wheel Pose. | Photo: Jimmy Ski
4. To help you be more in the present.
Your focus and concentration will reach new levels as you try more difficult poses like this (below) Crow Pose (Bakasana), as there is no room for distractions — they often end in a splash! Movement needs to become precise as you work to flow into each new asana smoothly, without "rocking the boat" so to speak.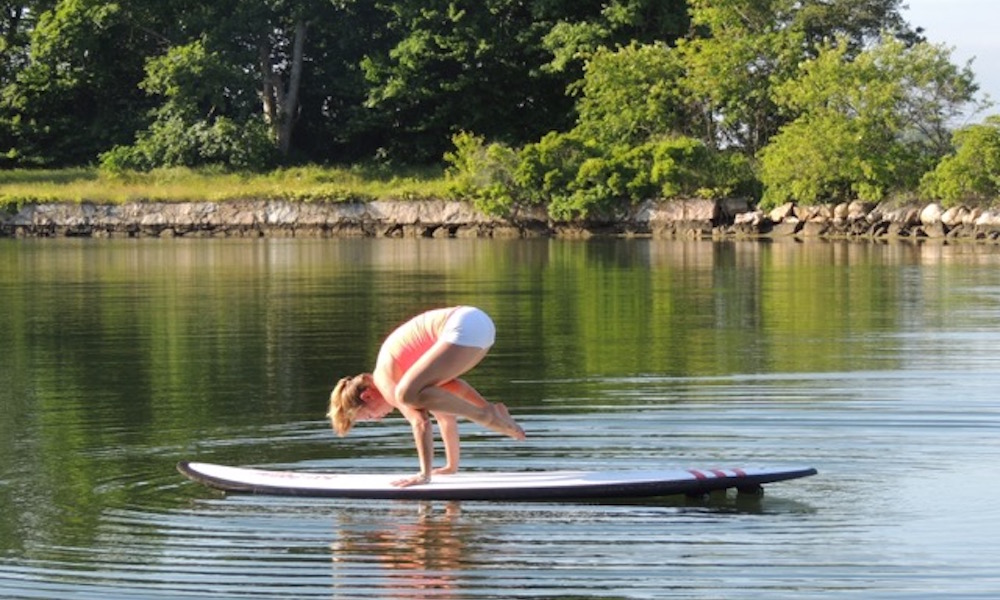 Crow Pose. | Photo: Jimmy Ski
5. To be amazed.
Every time I make my way into a Headstand (Sirsasana), I am amazed by the beauty of looking across the water upside-down — it never gets old. And of course there's nothing like finishing your practice with Savasana, with the gently rippling water and your fingertips. It's pure magic!
Headstand pose. | Photo: Jimmy Ski
To see more SUP Yoga tips and tricks, click HERE.
To learn more about Tiggy Ski, check out her Facebook page HERE and website below.
Last modified onThursday, 15 April 2021 14:41

Tiggy Ski has a passion for Health and Wellness. She is a Certified Holistic Health Coach, Detox Specialist, ERYT Yoga Instructor, PYA Pilates Instructor, Aerial and SUP Yoga Instructor. Having gone though her own health journey she learned how important it is for people to get back in tune with their bodies. Working as an health and fitness coach Tiggy loves helping people get back on track to improve their health and happiness. Check her out on Facebook and Instagram!
Website: www.tiggyhealth.com
Email

This email address is being protected from spambots. You need JavaScript enabled to view it.