8 Tips to Camp with a Paddleboard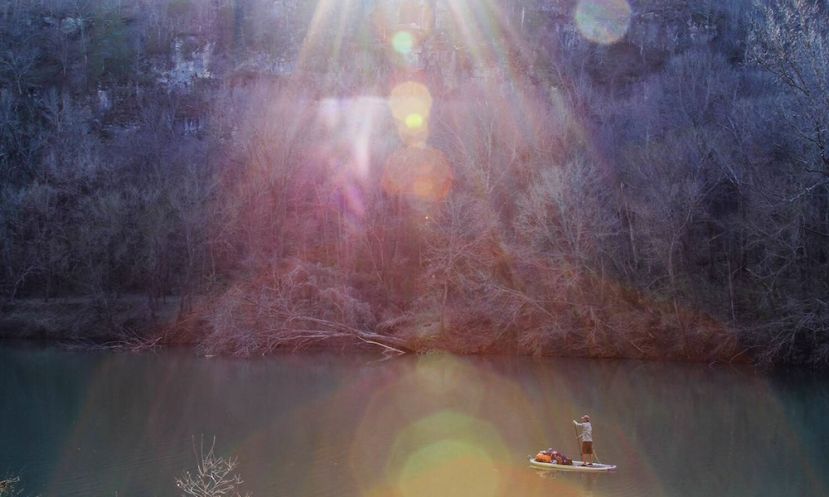 Gabriel Gray enjoying the pure beauty of nature during his expedition on the Buffalo National River. | Photo: Jackson Berger
PANAMA CITY BEACH, Florida - I have been Leading SUP expeditions for a while now and actually started teaching, Intro to SUP Expedition classes. I love helping paddlers break out of their normal routine and experience this side of the sport. The more they get out and enjoy the outdoors paddling on their local lakes and rivers the more they will want to protect those waterways. This is just a small insight into SUP camping, hopefully these tips will help you out if you're interested in trying SUP camping.
1. Location and time of year
This is the first step in planning for your SUP camping adventure and one of the most important. What type of waters are you paddling, open water, boundary waters, rivers etc..? What time of year are you paddling, winter, spring, summer or fall? Knowing this will help you with decisions in mapping, permits, and gear selection for the trip.
2. Board selection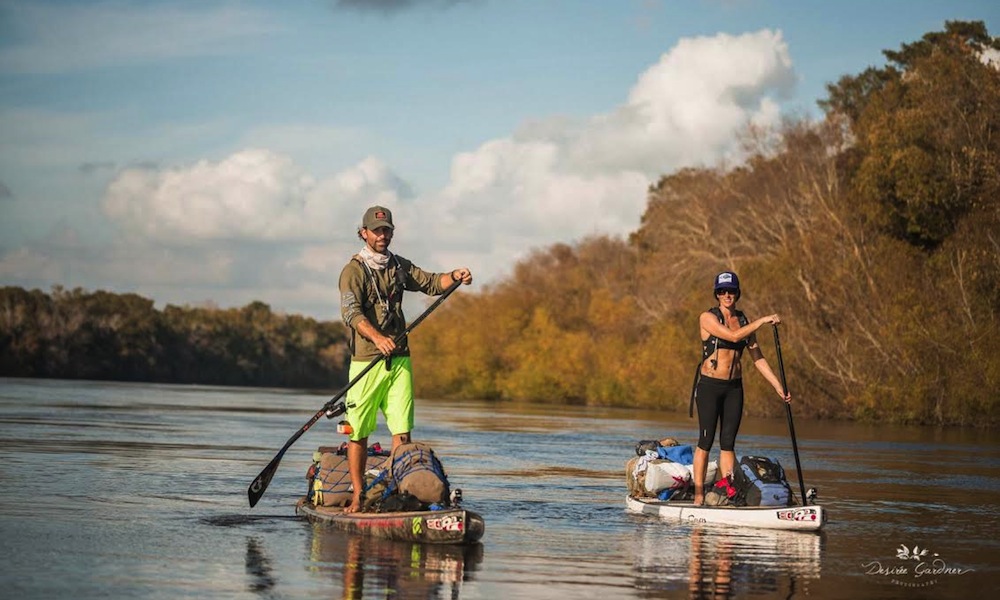 Be sure to choose the correct board for the waters and destination of where you will be paddling. | Photo: Desirée Gardner

There are many choices for this category, board size, volume, and material (styrene polymer, epoxy, blow molded and inflatable) all depends again on the waters being traveled. A wrong and uneducated choice in this department will ruin a SUP camping trip. You should have a board big enough and with enough volume to carry your gear and yourself effectively. Your SUP selection should have front and back deck plugs for gear placement and correct weight distribution. If the trip is on a river with shallow shoals, rapids and rocks think about using an inflatable, styrene polymer or a blow molded board. I will have more on this category and a better overview in another article including fin selection.
3. What to take
Remember you're not in a canoe so space is limited and packing light and tight is your best choice. I recommend making a check list for your trip. I have a list I use for every trip and I add and subtract from it regularly after each trip.
A check list should include the following:
Float plan
Camping gear (tent, sleeping bag etc...)
Cookware and fuel
Food menu for each day
Clothing
Safety gear
SUP gear
Maps and permits
Dry bags and miscellaneous items.
Once you've put together your list and all your gear, go through it all and try to remove unnecessary items. We all seem to add things we don't really need and tend to over pack. As you're doing this, visually inspect everything for damage so you can fix it before hand or replace the item.
4. Packing and test fitting your board
When you're packing keep in mind this is a SUP camping trip and everything on your board will be getting soaked, so you want a very good dry bag system. I recommend Watershed drybags. I usually carry two to three main dry bags with me on all my trips and they vary in size. I have a packing system for each bag which keeps similar items together camping/clothes, cooking/food and an easy access day bag. Inside each bag items will be separated in smaller bags so it's easier to find them. This process will be different for everyone and will change often until you get it dialed in. Remember, you may also have to carry these items to portage around things so you want to make as few trips as possible, especially if you have to hike out of an area.
I also highly recommend test fitting your board before hand in your back yard. I know a lot of people think this is unnecessary but it's better to know beforehand instead of at the launch site. When test fitting your board, think about weight distribution — it's similar to packing your backpack — you don't want it to be top heavy. Pack your board with equal weight in the front and rear as best as possible for waterways with no whitewater. If you know there will be whitewater, I like to pack my gear in the front.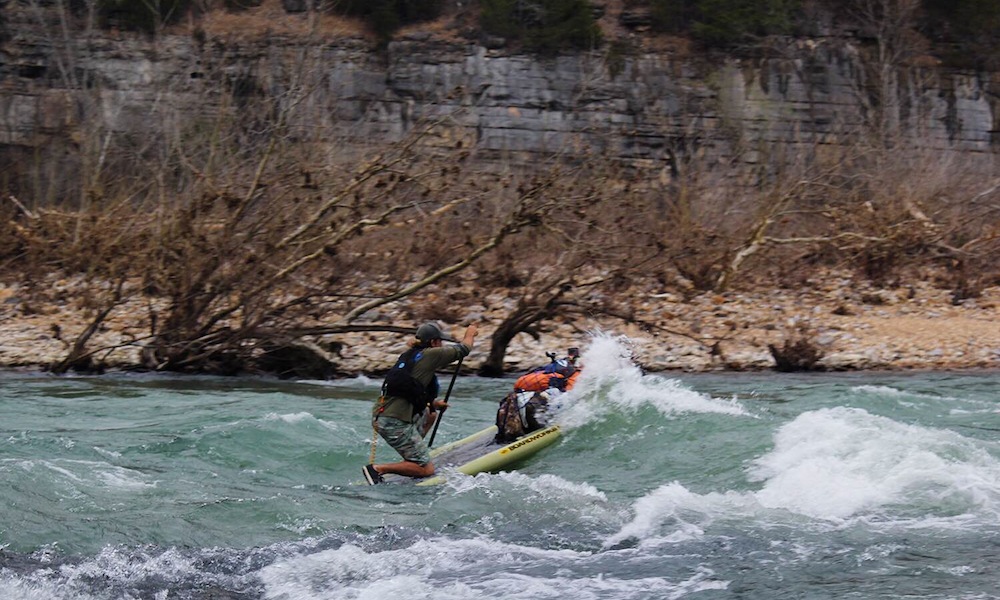 Gabriel Gray choosing to place his gear on the nose of the board when paddling in whitewater. | Photo: Jackson Berger
You also need to think of how you're going to tie your gear down. Whether it's with bungees, bungee cargo net, rope, or webbing, you want it tight enough so you don't lose anything in case of a capsize. You also want to make this step easy and uncomplicated in case of emergencies and portages for a quick release and access.
To see more SUP Tips, click HERE.
5. Weather and Safety
Anytime you go on the water or on a camping trip you should know how to read the weather, water and have a good safety plan aka "Float Plan" and leave it with family and friends. Have the proper safety gear and know how to and be proficient in using it. If you're camping on a river or along the ocean camp off the water's edge. Always paddle with a buddy especially when doing overnight trips.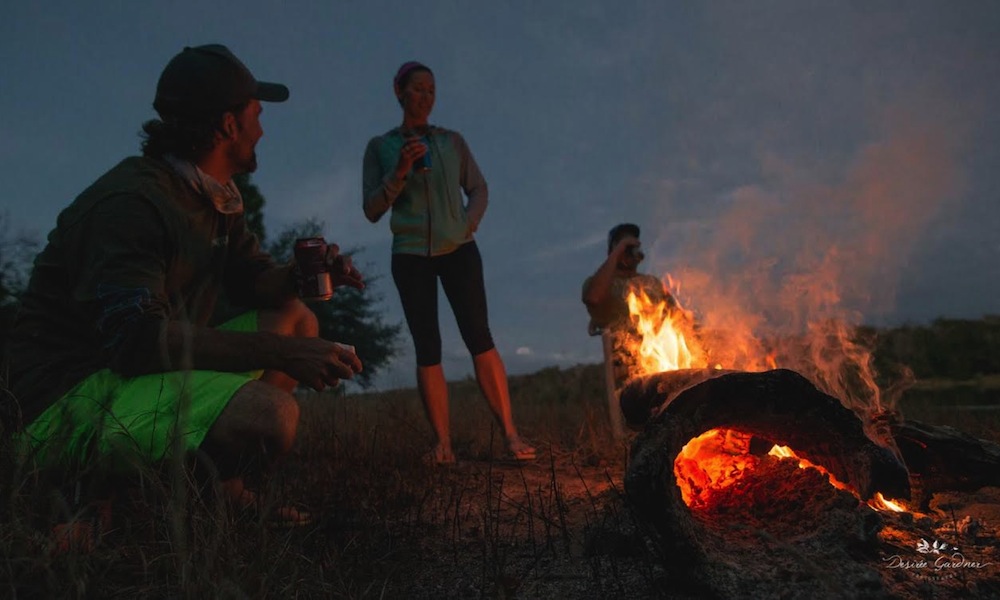 Gabriel Gray enjoying the simplicity of camping with friends while on a SUP trip down the Apalachicola River. | Photo: Desirée Gardner
6. Mapping
Once you find out the location for your trip be sure to order a good map for the area. With this step you'll map out locations of interest, mileage, put-in and take-out points, camping spots and safety check points. Don't bite off more than you can handle with mileage. Add in a day or two just in case something happens or you want to explore in one spot a little longer.
Make sure to map out your trip and know where places to avoid and safe places are located. | Photos: Jackson Berger
7. Nutrition and Hydration
Make a meal plan for each day and carry the proper water filtration. Remember paddling 10+ miles a day equals a lot of calories being burned. There are a lot of articles on camping meal plans on the web that you can look up to get a few examples. For water filtration, I always carry a virus filter which eliminates all bacteria, and if it's really bad water I'll also boil it.
There is a lot that goes into SUP camping and expedition paddling. Start small with a 1 or 2 night trip and work your way up from there, if you can attend a class, do it it's worth the money and time. When doing a SUP camping trip or expedition always remember to practice leave no trace camping, have fun but always be prepared and ready for anything to happen. I teach 3 SUP camping classes a year check out www.grayoutdoors.com for more info!
8. Additional tips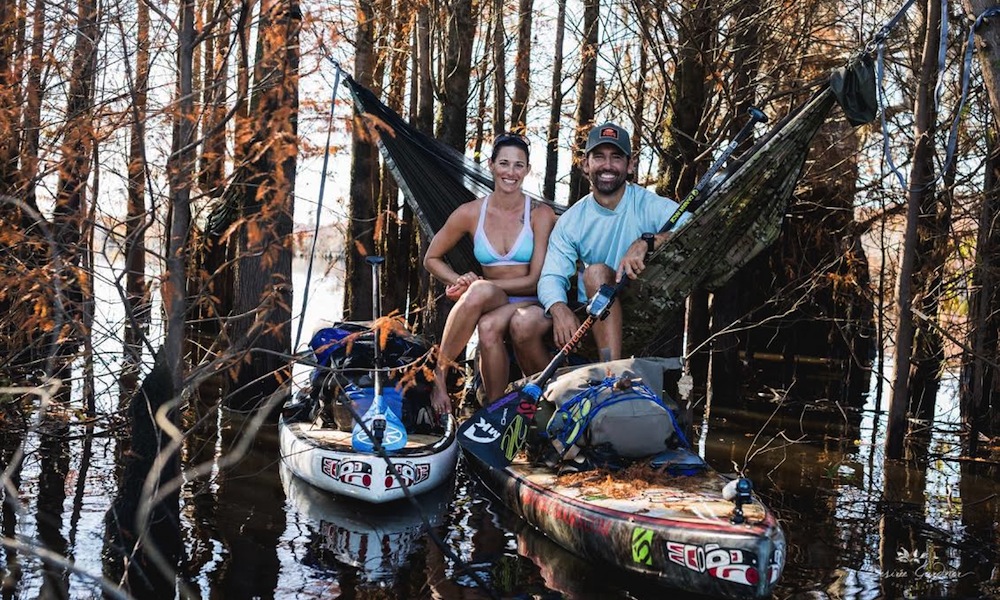 Boardworks SUP ambassadors Jessica Cichra and Gabriel Gray during their expedition on the Apalachicola River. | Photo: Desirée Gardner
Bring a spare paddle (3piece or 2 piece) and keep it within reach and secured.
Make sure you have a proper fitting PFD and quick release leash.
Have a good first aid kit, maps, permits, and sunscreen, bug repellant, flash light and knife within reach in a waterproof bag with easy access.
You never know when bad weather will pop up so keep your rain gear out and ready where it's easy to grab.
Bring spare fin, board repair materials and parts.
Always leave it better than you found it.

To see more from Gabriel Gray, click HERE.
RELATED
Last modified onFriday, 14 August 2020 08:51

Panama City Beach, Florida - Gabriel Gray is a river SUP extraordinaire. Born and raised on a farm in North Florida, most of his teenage years were influenced by the Wassica River and the Gulf of Mexico; He developed an early passion and respect for Mother Nature and the ocean at an early age learning to survive off of the land around him. Once he found the sport of SUP he integrated his two passions which was super easy and started expedition paddling to help spread awareness for what he grew up loving as a kid, the outdoors and Mother Nature.
Website: www.grayoutdoors.com/
Email

This email address is being protected from spambots. You need JavaScript enabled to view it.