5 Ways SUP Yoga Can Enrich Your Daily Life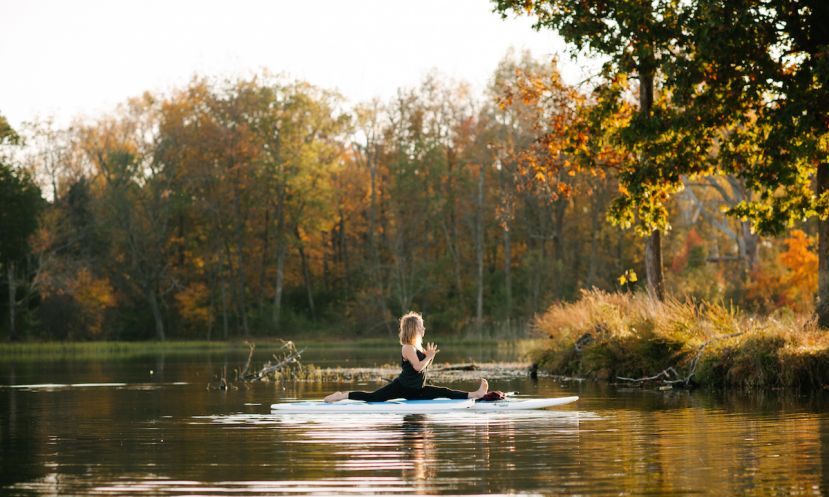 Photo: Aubrey Renee
SAN DIEGO, California - SUP Yoga is on the rise and the crossover of the two sports (stand up paddling and yoga) is reaching the masses. Here, Aubrey Renee, a lover of SUP Yoga and stand up paddling shares five ways that SUP Yoga can enrich your daily life. Take a look:
1. It invites stillness into busy lives.
I've always been mesmerized by the rise and fall of the ocean, the stillness of a lake at sunset, and the rush of the river as it winds through the mountain valleys. When the tides in my own life get rough, I find myself grabbing my board and walking back toward the waters. It's both a pilgrimage to quieter moments and a practice in learning comfort in the face of chaos. Whether floating on my back in savasana ("corpse pose") or flowing through sun salutations that invite mindful movements, water both challenges and supports. For those of us that are not naturally good at stepping away from the noise of modern life, being in the middle of water with no phones or to-do lists nearby forces us to breathe a bit deeper.
2. It encourages you to go with the flow.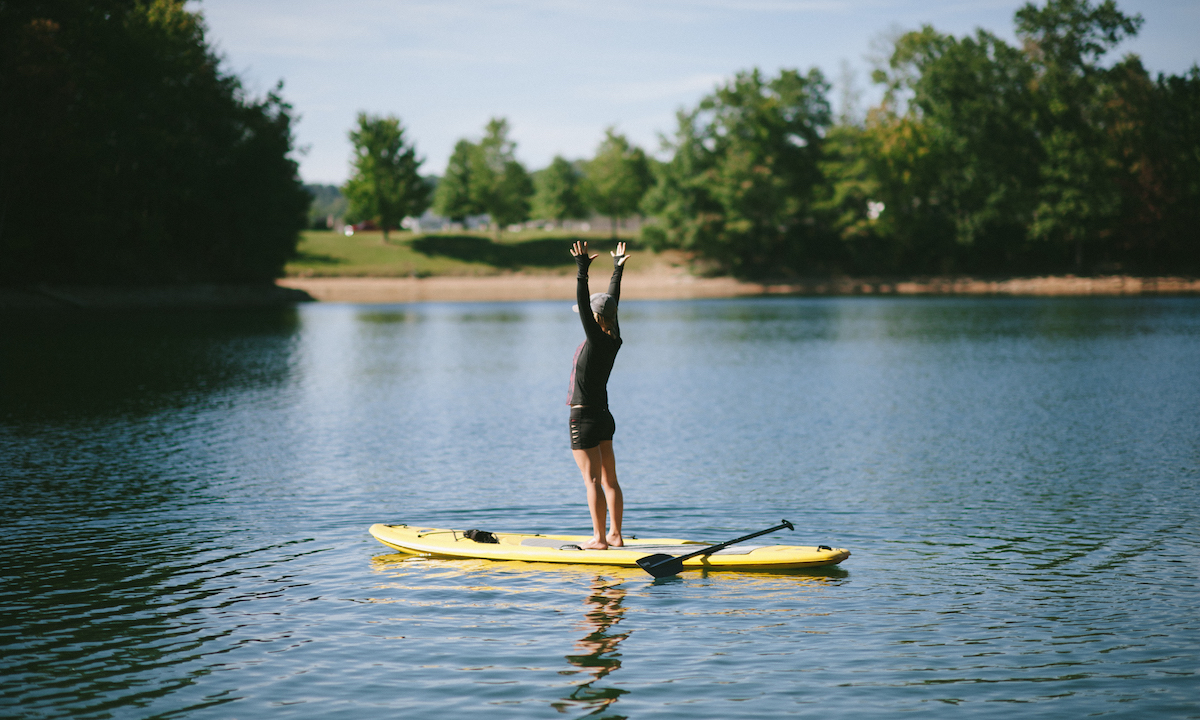 Photo: Aubrey Renee
Just like the waves in the open ocean, our thoughts arise, pass through us, and continue on. We become paralyzed by fear when we try to hold on to our thoughts. We become anxious when we think we can prevent them. SUP yoga allows us to practice in the physical space what we wish to create within our lives. There is an essence of grounding down that is necessary to not fall off your board when making difficult (or even simple) transitions, but just as important is the ability to meet the movements of the water and allow them move through you. If we brace ourselves completely against the rise and fall from below, we will miss the beauty of becoming one with the waters. Allowing our joints to stay fluid when practicing SUP yoga allows stability in the ebb and flow that carries us.
3. It teaches balance, not perfection.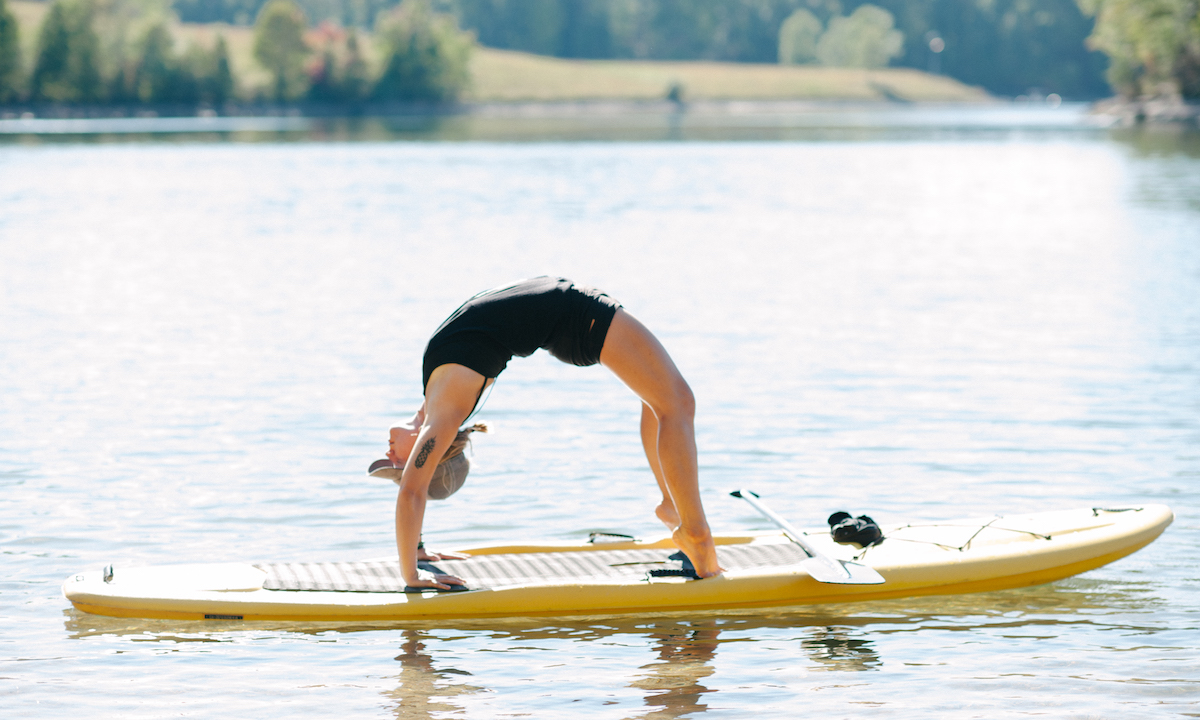 Aubrey doing the full wheel pose on her Pelican SUP. | Photo: Aubrey Renee
SUP yoga encourages you to stop thinking about how your pose looks, and invites you to feel what is happening within your body. You are required to engage out of necessity (not falling off the board!) instead of when your yoga teacher tells you that you should. Just like in life, there's no way of being certain how the water will move so we must be willing to get a little messy, adjust our sails (or our downward dogs), and breathe into what comes.
4. It takes you into the natural world.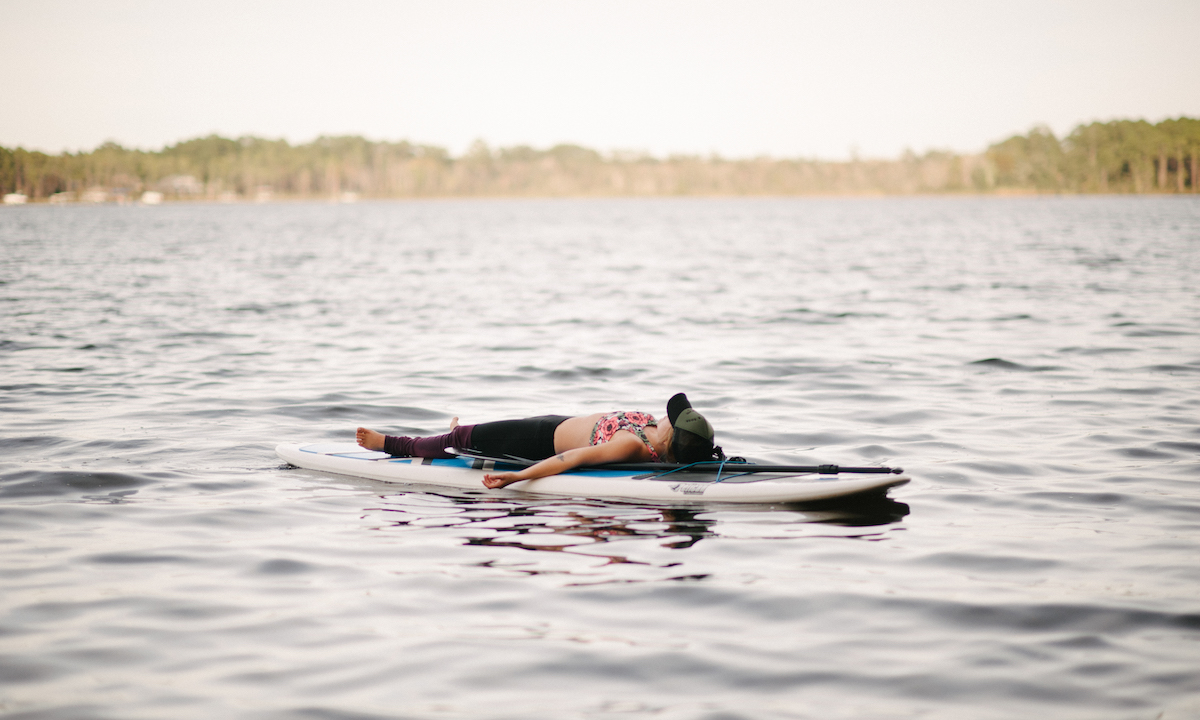 Corpse Pose on the Pelican SUP. | Photo: Aubrey Renee
SUP yoga opens your eyes to the world as a sacred place to both respect and in which to play. From my tree pose, I've seen the willows that spot the shoreline dance in the breeze, turtles watch me from nearby logs, and dolphins leap from the water in the distance. I've battled against the wind until I was certain my arms would never bust out a crow pose again and other times I've back-bended in complete stillness. Being in nature wakes you up. Studies have suggested that nature is more powerful than caffeine when you're feeling low on energy. SUP yoga is just one more way to enjoy the outdoors from a totally unique perspective. This practice is unpredictable and I'm never quite certain what challenges or bliss I will meet, but I always walk away feeling a bit more alive and with a deeper respect for the natural world.
5. It cultivates play.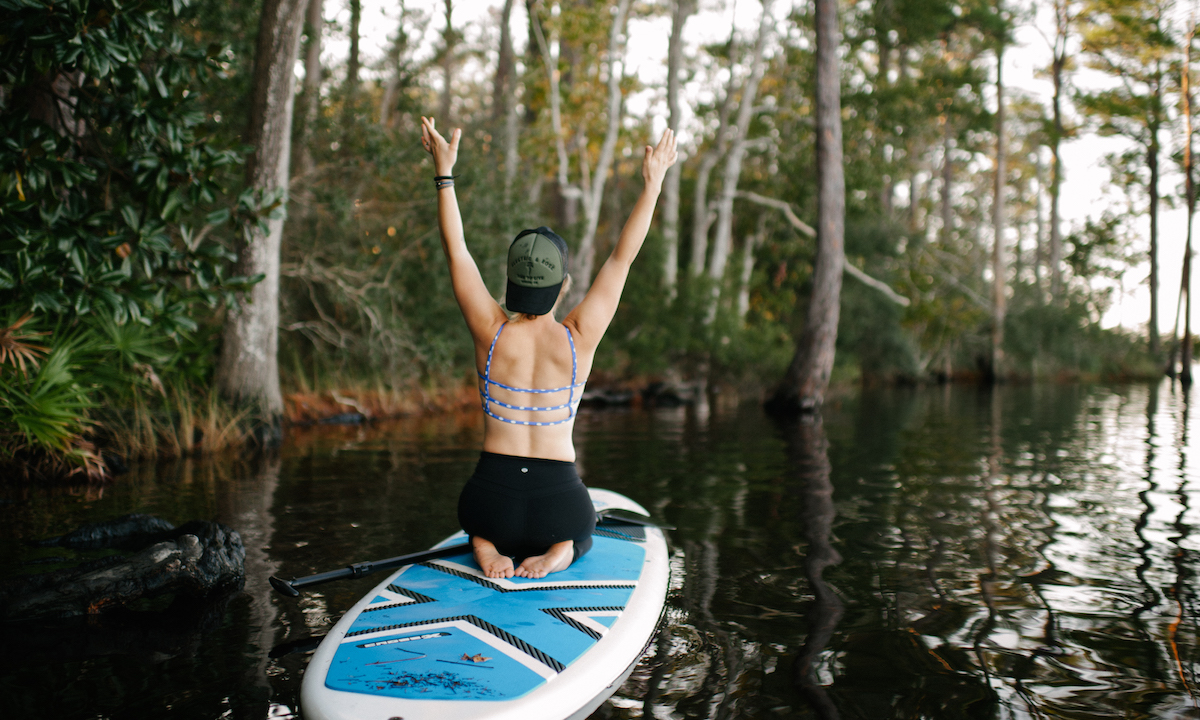 Exploring nature on the Pelican Cross-X SUP. | Photo: Aubrey Renee
Play as an adult is vital because it reminds us that we are alive when we get sucked into the day to day monotony of life. It's both a relaxation and a stimulation that is much needed to feel balanced and happy. When I'm stuck in front of my computer working for too long, my soul begins to crave the messy wildness of playing in the outdoors. One of my favorite things about doing yoga on a board on top of water is the ridiculousness of it all. It does not make sense to my rational mind (or rational friends!), yet there is a magic to doing something simply because it feels good and not because it makes logical sense. The movement of the water encourages me to not take myself, or my yoga practice, too seriously. With no end goal, you are left to simply experience what comes.
I promise, if you let it, SUP yoga will connect you more with what is around you, grant you a bit more stillness in your life, and wake up your spirit to play!
To see more SUP Yoga Tips and How To's Click HERE.
© Supconnect Exclusive Copyrighted Content
Last modified onTuesday, 14 September 2021 16:01

Aubrey is a deep breather, writer, and advocate for nature & wellness. Her love of the water and yoga has made her an avid SUP yoga practicioner. You'll most likely find her in a tent in the woods or practicing yoga on her Pelican International board.
Website: www.aubreyrenee.com/
Email

This email address is being protected from spambots. You need JavaScript enabled to view it.