The Benefit Of Training Indoors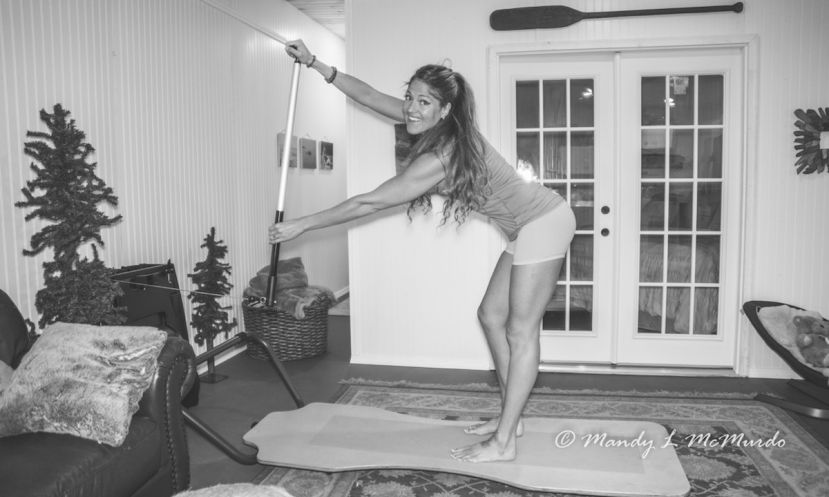 Jodelle Fitzwater getting fit indoors. | Photo: Mandy McMurdo
Indoors, you say? Boring.
SUP and outdoor enthusiasts have a hard time staring at walls and going nowhere. We are outdoorsy people. We heed the call of the wild. We embrace fresh air with gusto, and seize the early morning glassy waters of sunrise. We don't belong indoors. We can't even sit behind desks without staring at a screensaver of some sort of outdoor scenery. Yet, sadly, even in the sunny summer months, we can't always get out on the water.
Between wind, weather, chop, swell, super muggy hot temps like here in Missouri, no babysitter, working too many hours and missing daylight, and a plethora of other reasons, sometimes the day just doesn't allow for getting on the water. So, while we can accept the fact that indoor SUP training definitely is not as stress-relieving and euphoric as actually being on the water, it does have quite a few benefits. And when done appropriately, can be affordable AND highly effective.
This is where my new favorite way to train indoors come into play: Vasa SUP Ergometer combined with the Juvo Board. I have found these two devices when used together, give me the most realistic feel to being out on the water, indoors. Let's talk the benefits of each and the benefits of combining the two together!
The Vasa SUP Ergometer
First things first. What is it? The Vasa SUP Ergometer uses an air fan flywheel resistance, like a rowing machine does. Like all air fan flywheel Ergs, the harder you pull or push, the more air resistance you will experience, especially at higher damper door settings. Unlike treadmills and ellipticals that require electricity to move, this device only works when you do, and the harder you push, the harder it gets. Originally developed as "secret weapon" for elite swimmers to mimic the movement of training in the water, the Vasa SUP Erg offers indoor training for not only swimmers, but surf and SUP athletes, kayakers, and more. Plus it takes up very little space by attaching easily and simply to any wall. My set-up took a total of 8 minutes, and I was ready to stroke.
Benefit #1
If SUP is truly your thing and you want to be the best you can at it, then it would "stand" to reason that having a product with the precise resistance that the water provides would be ideal for helping improve your stroke. This space-saving Erg does just that and more. You want to improve the strength and power of your strokes? As you paddle, the onboard Power Meter showcases your power output through your stroke, as well as your strokes per minute, and allows you to adjust the resistance as you pull your paddle through the imaginary Norwegian Fjords (at least that's what I'm usually day-dreaming about when on mine). The Vasa SUP Erg is the most realistic feel when it comes to "catch, power, and recover" stroking through the water that I have ever felt indoors.
Benefit #2
DOMS. Delayed Onset Muscle Soreness that is. As a self-proclaimed mermaid, I find I'm easily distracted by Blue Herons flying by, turtles popping up around me, the sun on my skin, and the wind in my hair. My love of nature causes me stop and smell the roses, listen to the wind, watch a falling leaf. But inside? That's a different story. That's where I put on my big girl panties (a.k.a workout pants), and deal with the fact that I have to be indoors so I might as well make the most of time, training hard. No nature to distract me. Just me and walls. I power it out and I can put it out when that is my sole focus! How? And in comes the "next-day DOMS". Which I love. Sore obliques, upper back muscles, triceps, and even hip flexors tell me I'm getting stronger, and will be able to paddle longer the next time I get to venture out.
Benefit #3
I can do more than SUP. The possibilities of the Vasa SUP Erg are as endless as the waterways of the world. My indoor workouts aren't just centered around paddling. After some paddle drills (see below) I engage my center with some pilates moves using the resistance handles. How about some HIIT training? I grab one strap and start a slew of wood-choppers tabata-style, with 8 rounds of 20 seconds on, 10 seconds off. And perhaps on certain days, instead of "SUPing through the Fjords" in my mind, I can opt to change it up and do "outrigger paddling in Hawaii or through the Amazon" by using the SUP Erg from a seated position on my Juvo Board.
Benefit #4
Progression not perfection. With the SUP erg and its ability to adjust varying levels of resistance, I may start out as a beginner, very calmly learning my technique in level one, and over time progress to harder and harder levels of resistance, increasing my endurance, my performance, and my technique. A recent study in May issue of the Journal of Science and Medicine on Sport demonstrates from a rowing aspect, just how powerful ergometers are in enhancing dynamic conditioning for competition success!
Now the benefits of the Juvo Board in combination with the Vasa SUP Erg. www.juvoboard.com
Juvo Board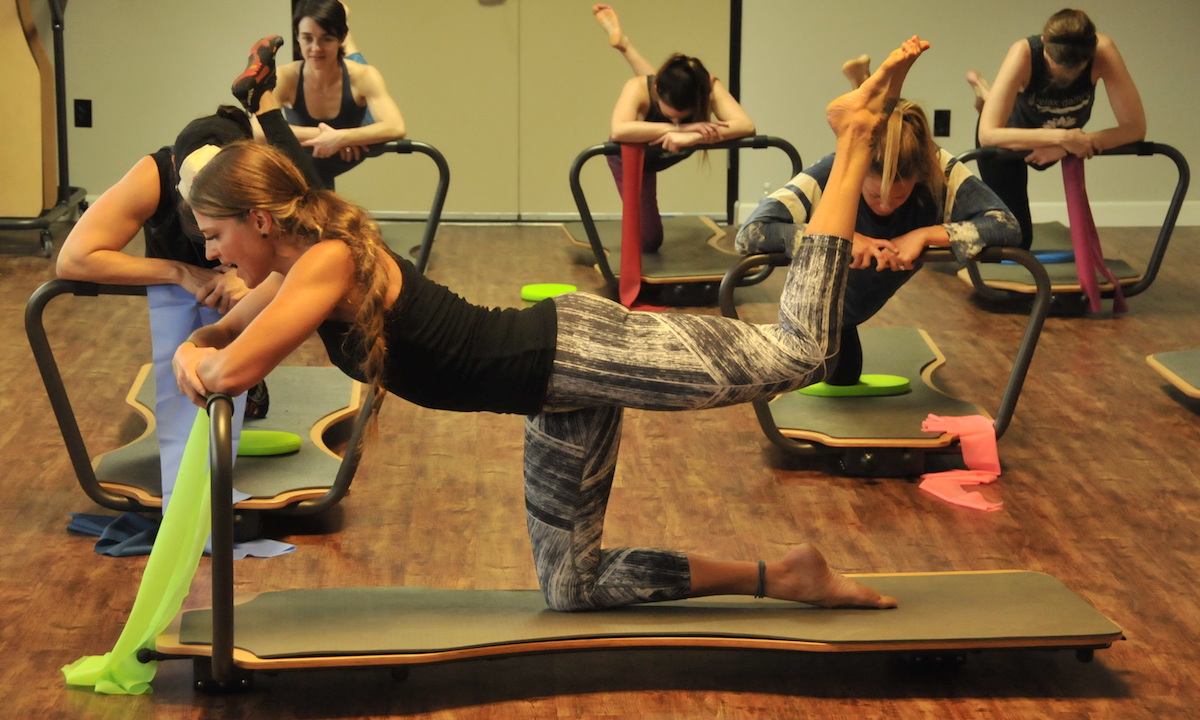 Jodelle Fitzwater using the Juvo Board during a fitness class. | Photo via: Jodelle Fitzwater
What is the Juvo Board? First, the Juvo Board is a revolutionary new exercise device and the first of its kind to offer two positions for unlimited workouts. Juvo Balance position is an unstable, balanced surface that simulates that of being on your SUP on the water, AND Juvo Elevate position, an incline surface that brings the floor to the individual who struggles with exercises done on the floor. The incline surface assists with and makes possible many exercises that may have previously been unattainable. By bringing instability into a workout you recruit more intrinsic, stabilizer muscles to increase overall strength and performance overtime. Furthermore, by bringing in an incline/decline surface, the user has the opportunity to work with the help of gravity, or work against gravity allowing for more load and effort on the body. The product was developed with the philosophy of "assist to attain" since "Juvo" is Latin for, "Assist, support, help".
Let's look at some examples of how the Juvo Board assists your SUP workouts.
Benefit #1 - Juvo Balance.
The Juvo Balance position is where the board is positioned on its two rockers offering a surface for those intimidated with trying SUP to simply get the feel of it on land beforehand. If you are a SUP instructor, use the Juvo Board to help work balance and technique before ever setting foot on the water. Also, for those into SUP fitness and SUP yoga, take the simplest of workouts/poses and attempt it on an unstable surface and it then becomes one of the most challenging! Juvo Balance makes it possible to practice your SUP workouts even when the nice weather ends.
Benefit #2 - Juvo Elevate.
The Juvo Elevate position is where the board is positioned on its movable barre and elevates the mat to you. Can't do Downward Dog in yoga because it hurts your shoulders? Now you can. The elevation assists bringing the majority of the weight into your lower body, so you can perfect your form and build strength and stamina before progressing onto the floor. As you progress, try your Down Dog facing "downward" on the board working against the pull of gravity, building immense upper body strength.
Benefit #3 - Do more with less.
One surface, many options. Like the Vasa SUP Erg. It's not just about SUP. The Juvo Board can assist you with virtually any kind of fitness you can think of. From Kickboxing on an unstable surface to work your core so much more, to pilates hip thrusters with your feet elevated on the barre, to using it as an incline bench for chest press, and even improving your golf swing with instability! There's endless ways the Juvo Board will assist you in attaining your ideal level of fitness!
By combining these two fantastic products, SUP enthusiasts of all kinds, can train (or simply just keep their stroke fresh) 365 days a year and even more so:
perfect your stroke while watching tutorials and youtube videos indoors
keep track with your Power Meter for strokes per minute apart from wind, waves, and weather
change the resistance to improve your pull indoors, building more pull for outdoors as you progress
be indoors where you have the option to video record yourself so you can see any issues you might be having
allow for continued race training when the weather is not conducive
practice SUP Yoga and other forms of fitness before hitting the water
Train on your own time, in your own home and gain benefits in as little as 4 minutes a day (try the Tabata Paddle Drill below).
To learn more about the Vasa SUP Ergometer, click HERE and to get $50 off your very own SUP Erg, enter code: BONUS-JODELLE My gift to you for making to the end of this article).
To learn more about the Juvo Board, click HERE www.juvoboard.com and watch videos as to how the Juvo Board will work for you or for your studio! And here's a workout to try on your SUP Erg and Juvo Board once you get all set up!
Tabata SUP Workout
20 seconds of work, 10 seconds of rest... 8 rounds total for each exercise.
Tabata #1 - Paddle all on the right side, as hard as possible
Tabata #2 - Paddle all on the left side, as hard as possible
Tabata #3 - Holding the SUP Erg Paddle in both hands, turn towards the right side of Juvo Board with feet wide and begin a woodchopper movement.
Tabata #4 - Holding the SUP Erg Paddle in both hands, turn towards the left side of Juvo Board with feet wide and begin a woodchopper movement.
Finish with 5-10 minute cool down paddle.
Training indoors pays off, not to mention helps you appreciate training outdoors all the more!
To see more SUP Fitness tips and tricks from Jodelle, click HERE.
Last modified onFriday, 25 September 2020 12:11

Branson West, Missouri - Jodelle Fitzwater has been a yoga instructor for over 15 years, and a SUP instructor for over 5 years. She's a BiC SUP Pro Stand Up Paddle Ambassador, SUP TV Fitness & Yoga Host, Certified PaddleFit Instructor, ACSM Certified Personal Trainer, and Certified Nutrition Coach. Oh, yea, and self-proclaimed mermaid.
Website: www.getfitwithjodelle.com/