Should You Paddle Board With A Cold?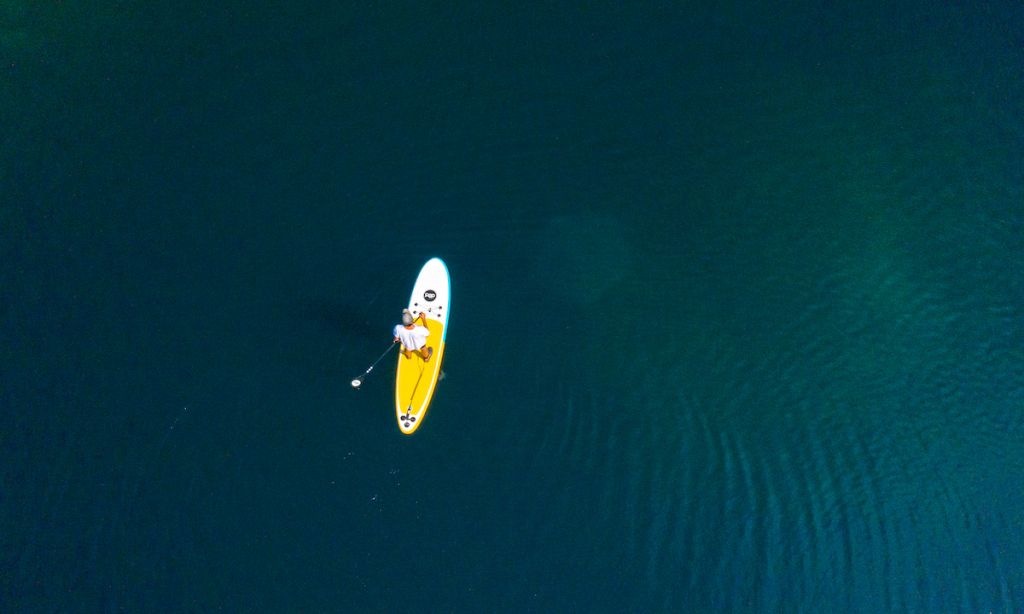 Photo: Shutterstock
"If it's above the neck, you can still put your body to the test. If it's below the neck, let your body rest."
Cold and flu season is not a fun one, and if you have survived the season "flu-free", consider yourself blessed. And if you are caught right in the midst of a cold or flu, you might wonder: "Should I work out? Should I train?"
From an athletic standpoint, we have heard the phrase above, noting that if your sickness is more of the "head phase" you are most likely fine to do your normal workout (just keep a few hundred tissues handy), yet if it's more of that "chesty-mucusy-I-want-to-crawl-into-a-hospital-ward" virus that's going around, obviously it's best to keep yourself relaxed and resting.
Yet, recently while I myself was plagued with a chesty cold, I decided to go for a paddle. I paddled out leisurely in the sunshine on a 60 degree day with calm wind and water, and I attribute the salty, sea air to part of my healing, and why I recovered so much more quickly.
So is paddling something you can still do amidst the cold and flu?
Photo: Shutterstock
Here's some things to consider:
In a recent article, I coined stand up paddling to what I call, "Active Relaxation." You are still activating most all the muscles of your body, yet you can paddle leisurely without overdoing it. Most all of us will agree that there definitely is an element of relaxation when you are on the water, no matter how hard or gentle you are stroking. This act of activating all the muscles, enhances and turns on circulation, bringing blood flow to the areas of the body that are affected by the bug or virus and speeds up immune function, without taxing the body.
And if you are paddling in the sunshine, Vitamin D is on your side and is one of the most powerful ways to enhance immunity. There's a reason winter is "cold and flu" season and summer isn't. Generally people are outside less in the winter, and Vitamin D levels plummet, increasing your chances of catching your co-worker's germs. That is why it is all the more imperative to avoid making SUP a "fair-weather" sport, and get out there even in the chilly winter months, especially when the sun is out! (Unless your body of water is frozen. Then, just get outside and daydream about paddling.)
Fresh air is another short-lived encounter with many of us in the winter months. With cold temps we tend to hibernate indoors with stale, stagnant, recycled air, that also tends to recycle germs. The dryer air inside can also set up a breeding ground for bacteria when our mucosal linings dry out and can't find the bad guys we are exposed to. Fresh, outdoor air, even if it's chilly, can be a wonderful healer for sinus, the throat, and for oxygenating the cells in general.
When feeling under the weather a bit of Vitamin D can go a long way. | Photo: Shutterstock
And what was that thing mom used to say, "Don't go out into the cold when you are sick"? Mom may have not been wrong about much, but she was wrong about this one. New research cites that cold exposure, such as SUPing in the winter months, may actually ENHANCE immune function. The study noted marked changes in the expression of immune cells that fight off viruses and pathogens such as T-helper cells and Natural Killer cells (think: little ninjas inside your body that fight for you daily). So hopping on the water, or even splashing some of that frigid water on you, may actually speed up recovery rather than lead you to feel worse.
And don't even get me started on the benefits of grounding and getting out in nature, where our human existence began and was meant to be, rather than an indoor-hibernation-nation.
Should you work out with a virus or nasty cough and cold? I would skip the weights, but I wouldn't skip the water. Whether you're goal is to avoid getting sick, or to quickly recover from the bugs you have, your immune system and your mood will always benefit from paddling out.
For more paddle boarding tips click HERE.
Last modified onFriday, 13 November 2020 09:08

Branson West, Missouri - Jodelle Fitzwater has been a yoga instructor for over 15 years, and a SUP instructor for over 5 years. She's a BiC SUP Pro Stand Up Paddle Ambassador, SUP TV Fitness & Yoga Host, Certified PaddleFit Instructor, ACSM Certified Personal Trainer, and Certified Nutrition Coach. Oh, yea, and self-proclaimed mermaid.
Website: www.getfitwithjodelle.com/