Paddle Boarding Tampa, Florida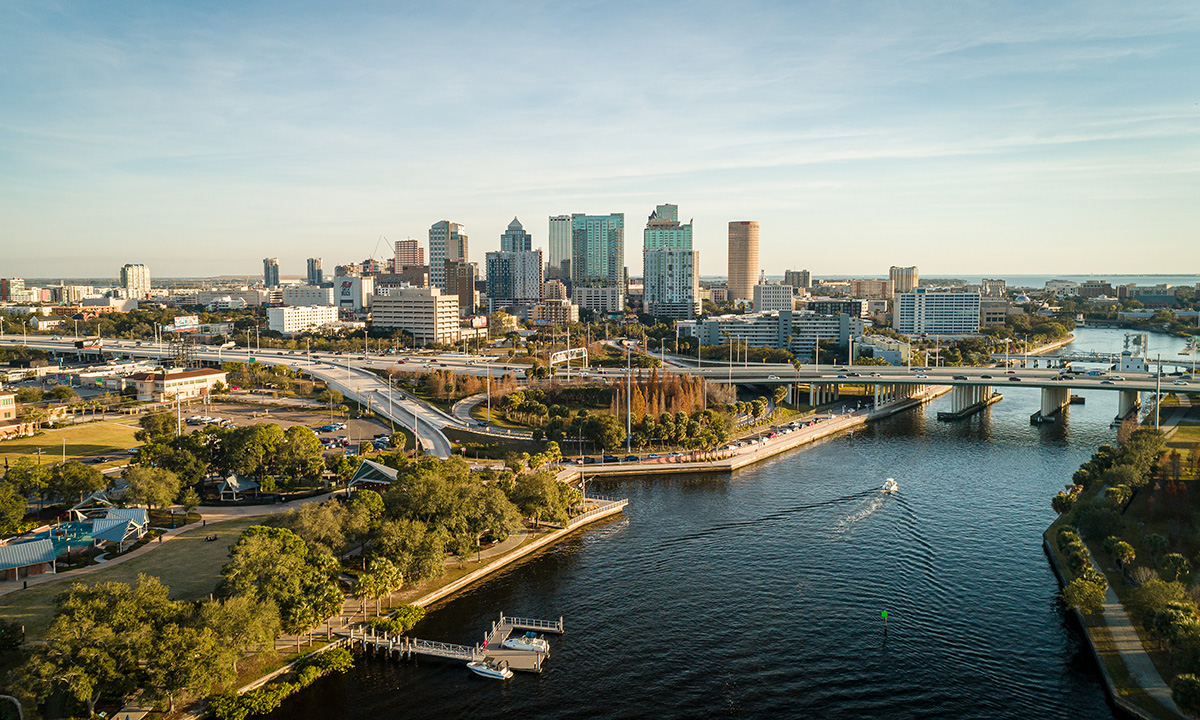 Grandious aerial view over the Hillsborough river leading to downtown Tampa. | Photo: Shutterstock
From NHL National Champions and Superbowl hosts, Tampa has become one of fastest growing cities in the US the past few years. Built around the beautiful Caribbean Gulf and the shores of Clearwater, St Petersburg and the famous Treasure Island, Tampa Bay has become the ultimate watersports hotspot. With sheltered bayside causeways and keys to protect you from big waves, Tampa is the Floridian SUP paradise!
While paddle boarding has grown to tremendous new heights as the perfect lake and seaside activity, your SUP fanatics are always on the hunt for new hotspots to test out their boards! Check out our seasonal recommendations and our top 5 paddle board zones we think you'll love in the Tampa Bay area!
Best Seasons for Paddle Boarders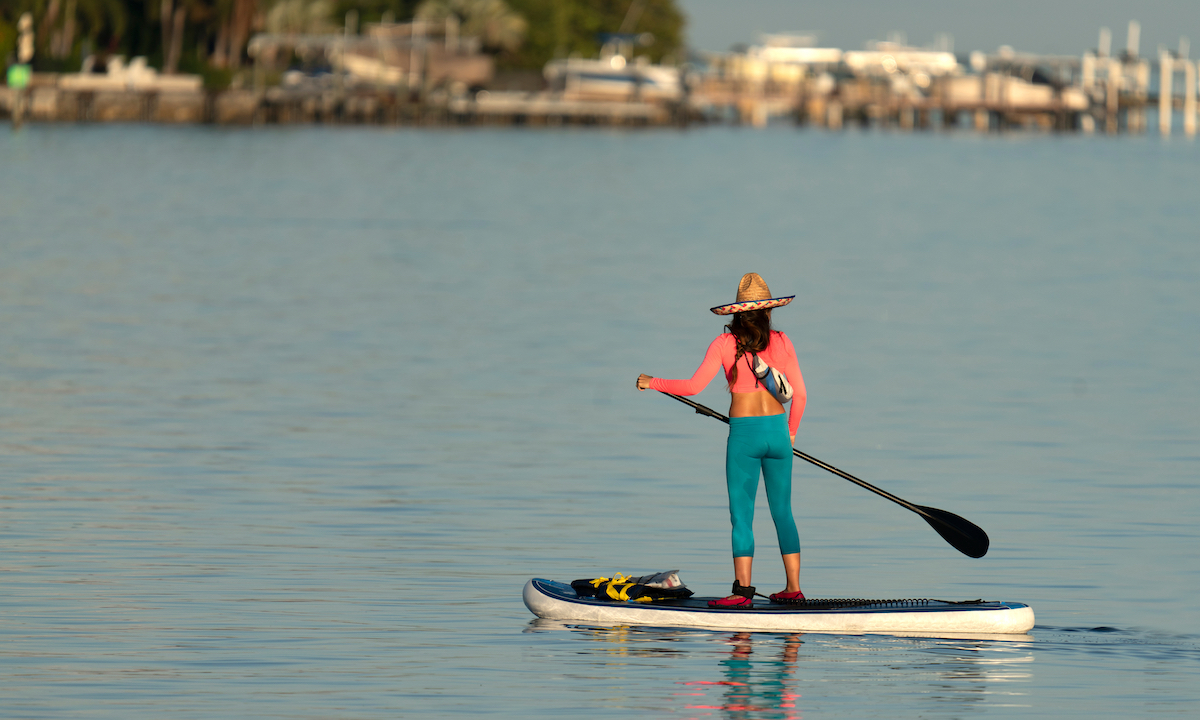 Paddling Tampa Bay. | Photo: Shutterstock

While we are all familiar with the Floridian heat and humidity, the beauty of being on the water is you can take a leap and cool right off! Here's our top suggestions and information on what seasons are like in the Tampa Bay area for paddle boarders.
Winter: While the winter months (Nov-Feb) remain a little cooler in the bay area, you can often find some SUP locations isolated and abandoned during this time of year, making it the perfect getaway for the day or weekend!
Spring: March-Mid May in Tampa is without a doubt the most comfortable, sitting between 68-80 degrees, minimal humidity and wind by the coast, it's the ideal time to hit the road and find your perfect hotspot. Prior to the arrival of tourists and travelers, until the end of May you can practically guarantee an idyllic trip.
Summer: Summer (June-Sep) in Florida is without a doubt the busiest time of year for paddle board enthusiasts hunting for their next destination. Rentals are at maximum capacity and the beaches are rammed. The best thing to do is try and find a quiet location off the beaten track and keep your secret safe!
Fall: Like May in the Spring, September can also be very very hot and sticky. However, October and November, before the winter months start to settle in, can be the nicest time of year to find your SUP location. With minimal tourists, domestic travelers returning home and rentals quietening down, Fall is nothing less than perfect.
Best Paddle Board Hot Spots in the Tampa Area
#1 Caladesi Island State Park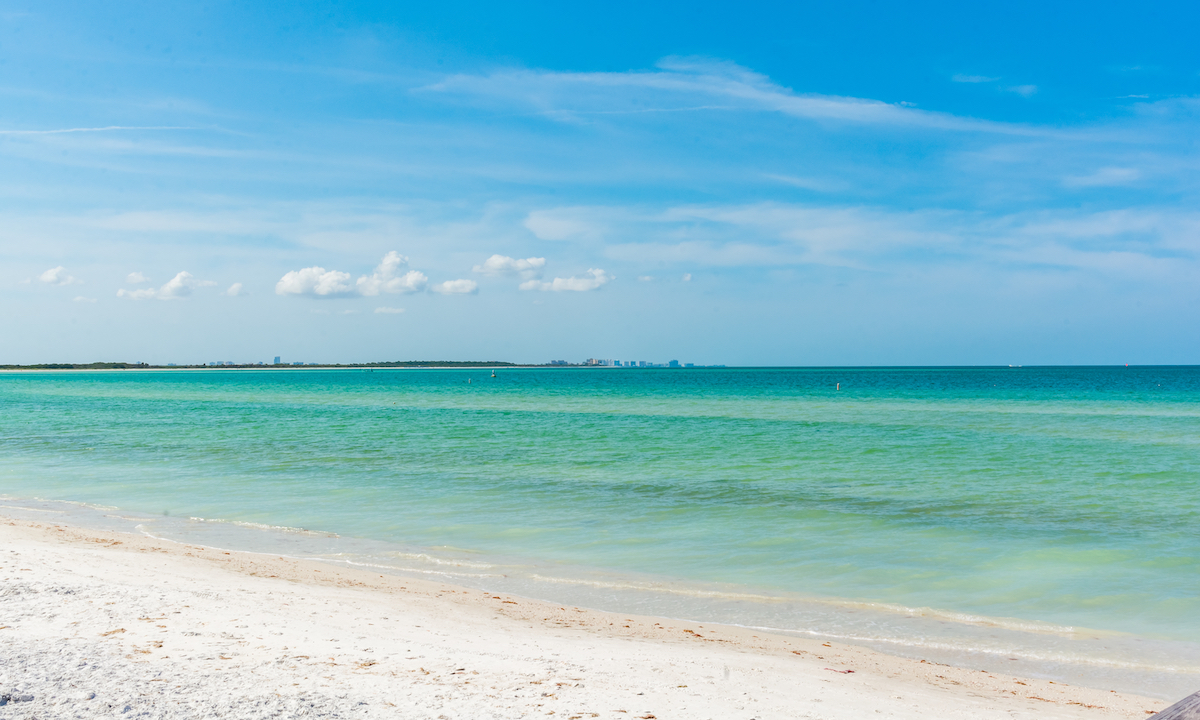 Caladesi Island is stunning! | Photo: Shutterstock
Caladesi Island is nothing shy of paradise. If you haven't ventured over to the idyllic beachside island, then it's a bucket list must! Featuring stunning white sandy beaches and shallow water, this island spit features a gulf side and an ocean side waterway for paddle boarding. With crystal clear blue water and small to minimal waves, Caladesi island is a SUP rider favorite for beginners, or regular paddleboarders.
The Ocean side can from time to time generate perfect breaking waves designed for those looking to surf their SUPs as well. Gator free of course, and only 15 minutes across the bridge from Clearwater itself, the North side State Park is the spot you're after. Late afternoons are the prime time to watch the sun set over the Gulf from on the water.
#2 Withlacoochee & Rainbow Rivers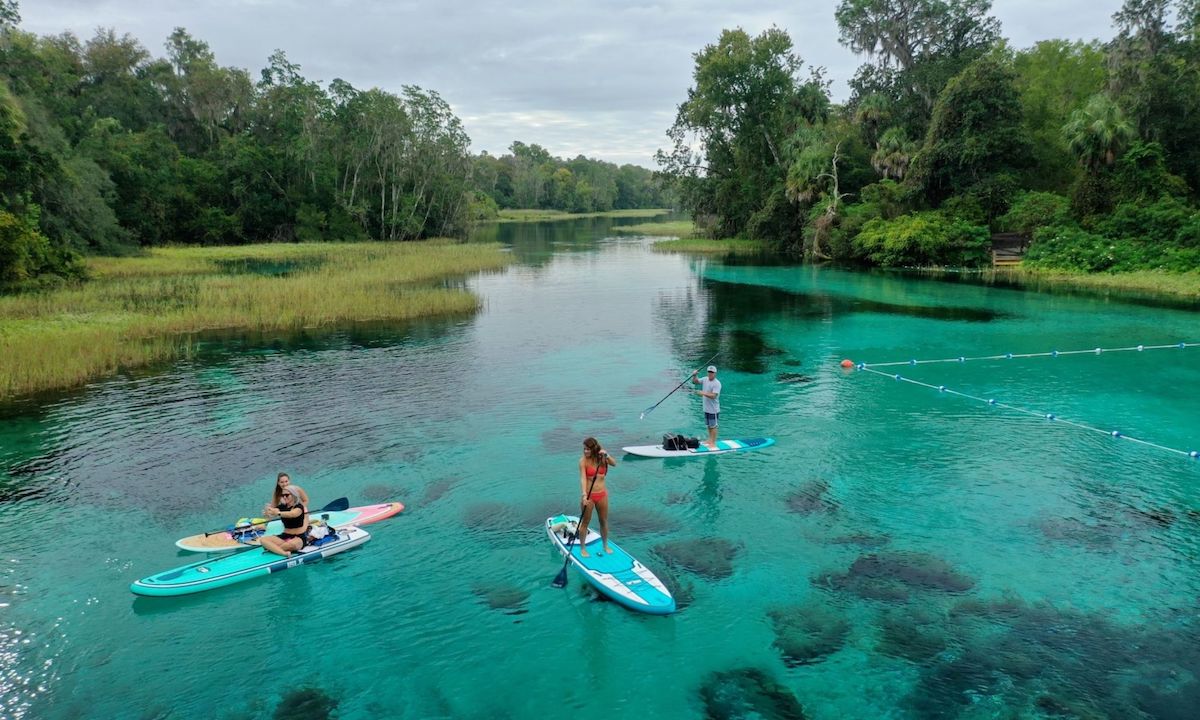 A stunning view of the Rainbow River. | Photo courtesy: Andrew Watson
Not often can you venture inland in South Florida and find a Gator free river and lake. Although a bit more of a trek north of the Tampa bay area about 90 minutes, hit the road early and spend the day exploring the beautiful nature reserve of Withlacoochee. Perfect and refreshing rivers and bends, this paddleboard zone is perfect.
Paddle amongst the draping willows of the river banks and take a dive into the cool fresh water. Featuring canoe, kayak and SUP rentals, the rainbow River makes for the ideal day-trip adventure for paddle board lovers.
#3 Fort De Soto Park & Shell Key Preserve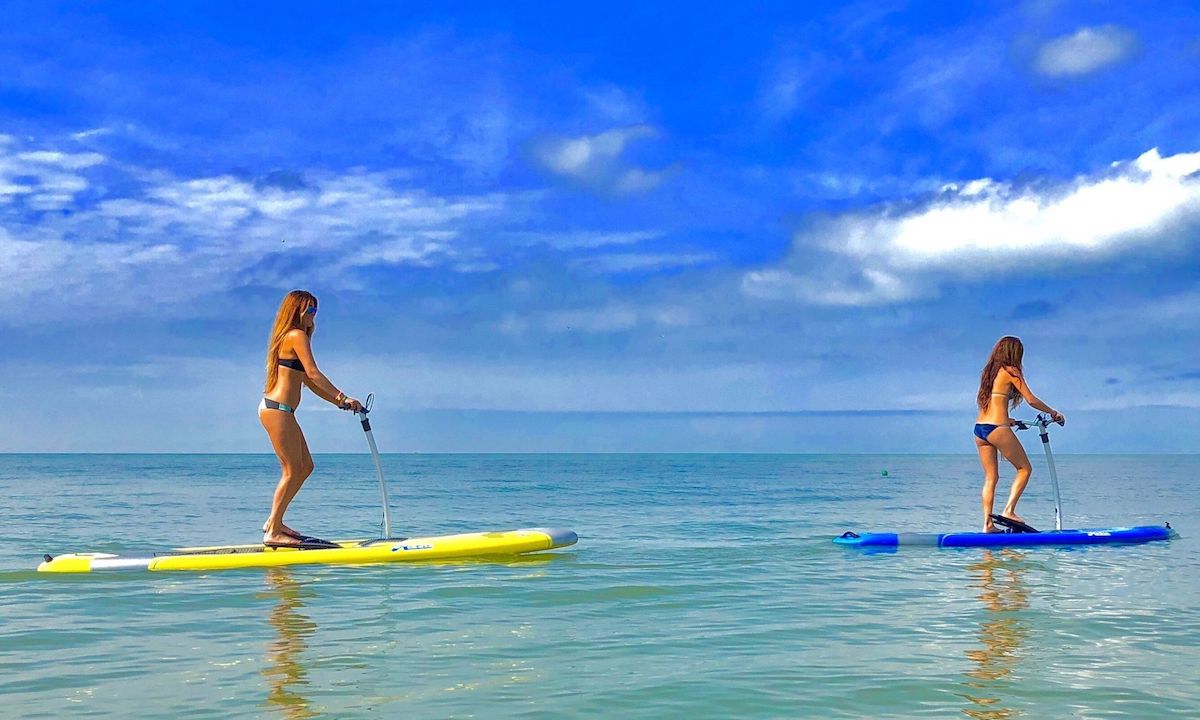 Fort de Soto. | Photo courtesy: Andrew Watson
A protected nature reserve off the coast of St Petersburg, Fort De Soto Park is a brilliant area for those looking to paddle in very shallow and calm conditions. With wonderful white sandy beaches and an abundance of wildlife, this nature reserve bends and curves into little pockets of beauty. Protected on the bay side from the Gulf Winds, this little area is easy access across Pinellas Bay Way bridge and a great hide out for half the day. A little less populated for rentals and beach clubs, it's a great place to take your own board and paddle through the key.
#4 Little Manatee River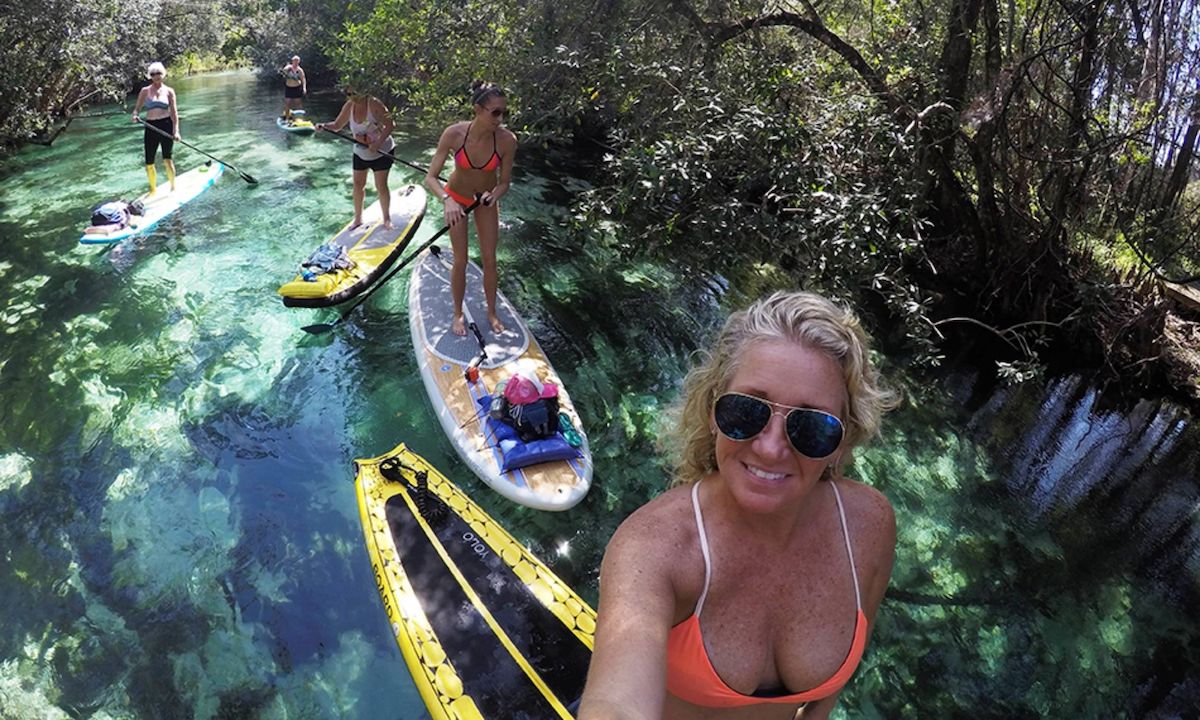 Little Manatee River. | Photo courtesy: Andrew Watson
Residing about 20 minutes south of downtown Tampa, you'll arrive at a protected nature reserve called Little Manatee State Park. In other words…Manatee Paradise!
Dug into the side of the western coastline lies a perfect winding river of shallow fresh water causeways that are simply perfect for SUP boarding. Engulf yourself amongst the wildlife, from manatees, wonderful fish and even rare bird species. Popular with locals as a hidden paradise, its limited volume means it's never overcrowded so you can enjoy a paddle on the glassy surface for as long as you like!
#5 Weedon Island Preserve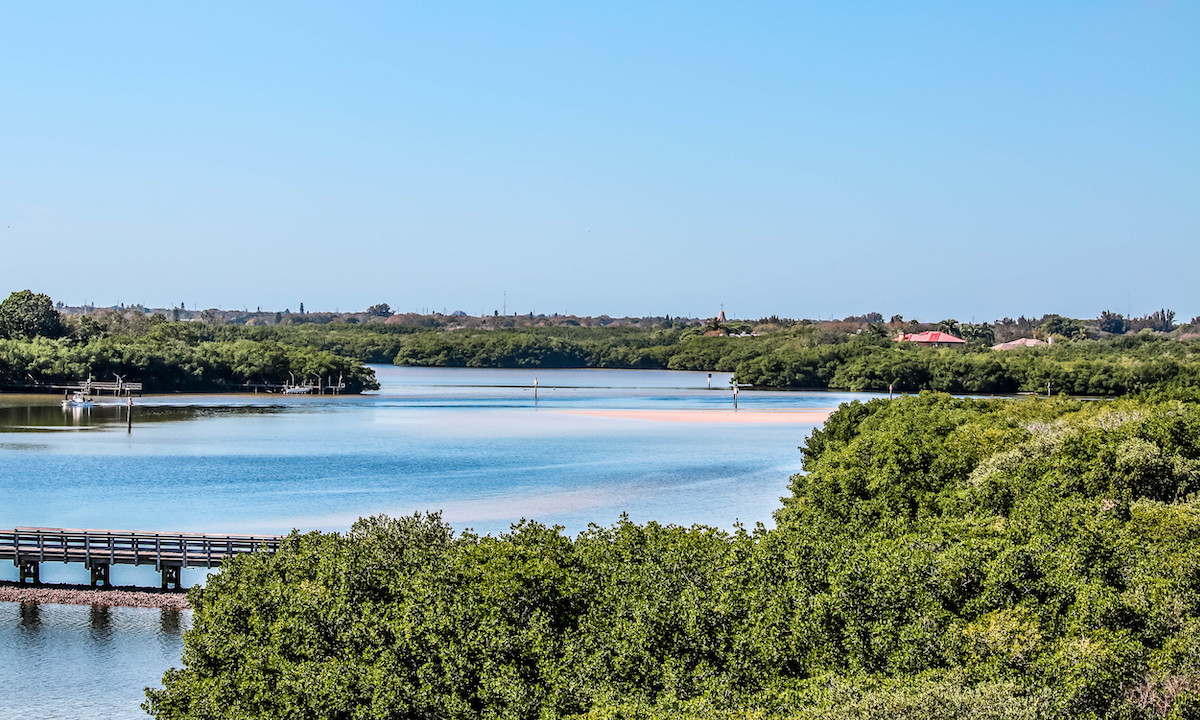 Weedon Island Preserve. | Photo: Shutterstock
As we near the tail end of our top recommendations, it wouldn't be just to leave out the iconic Weedon Island nature preserve (15 minutes from St Petersburg). If there's one thing we know, it's that the St Pete area brings nothing shy of SUP paradise. Sweetwater kayak and SUP rentals are an on-site location for those looking for timely or daily rentals.
With small narrow causeways and beautiful stacks of nature to paddle around, Weedon Island features a few exclusive kayak rentals in the area to keep the geological paradise calm and quiet. A strong recommendation for all visitors looking to explore St Pete and enjoy an hour on the water.
Other Paddle Boarders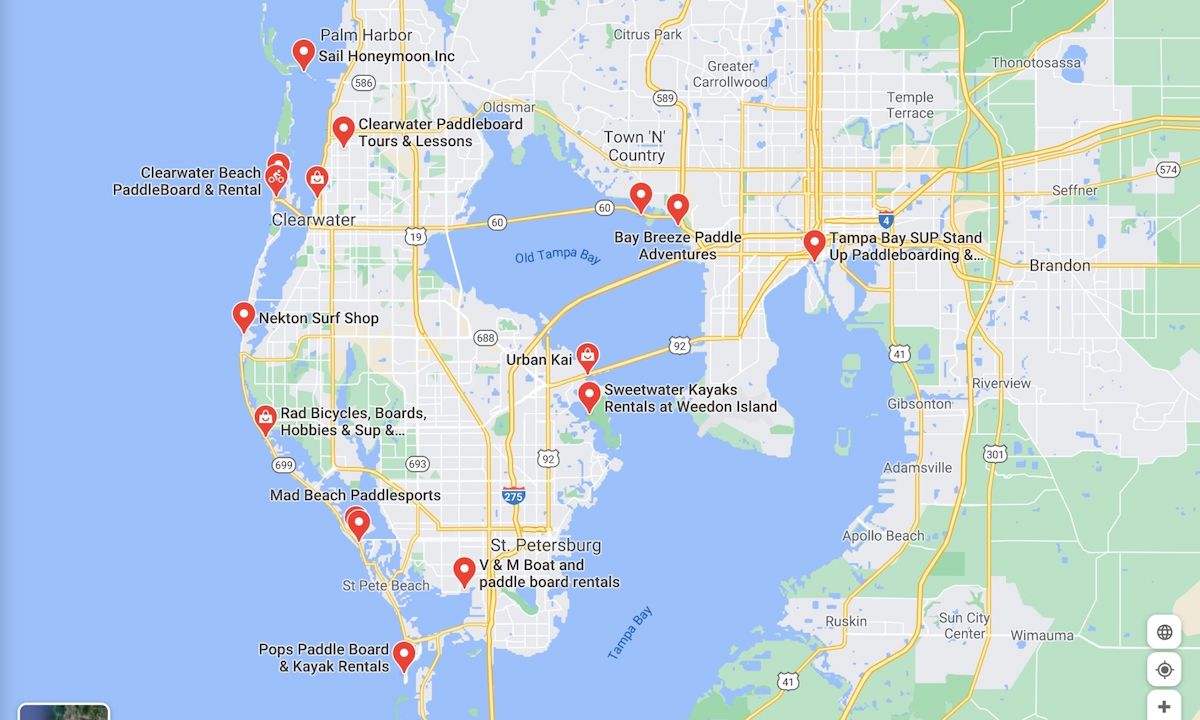 Tampa's city limits have been a true hub for paddle boarders the past few years with hourly or day rental locations in your typical hotspot areas. The best part about Tampa's SUP community, is while the majority of the tourists remain closer to primarily beaches, these SUP locations that are a little off the beaten track, will remain primarily local knowledge. Other rental locations include Tampa Bay SUP, WhatSUP Paddle Sports and Urban Kai. Clearwater remains a true hotspot, with a paddle board rental stop every few hundred meters.
However, Tampa does have a cool community of SUP rider clubs for those looking to meet new people and learn or hang out on their SUP's! Our favorites include, Upper Tampa Bay Paddle Group, Bay Breeze Paddle Board adventures, SOG Paddle Club and Water Monkey. All-inclusive tours, lessons and day rentals, join the club and hang out with others looking to share the same joy!
Looking to Buy?
For those looking to make their first SUP purchase, check out Electric Boarding Co's SUP collection and get on the phone with an expert to find yourself the best inflatable or composite SUP! Real experts and avid water sports lovers, the guys and girls at EBC will help you find the perfect stand up paddle board.
Other store locations include:
Urban Kai Paddle Board Sports -
Water Monkey (rentals, tours and purchases) -
Sun Coast Surf Shop -
Last modified onTuesday, 16 February 2021 15:29
British, living in Tampa FL, ex-professional tennis player and Founder of Electric Boarding Company. Avid windsurfer and have windsurfed all over the World, and my love for paddle boarding began a few years ago when I moved to Tampa in 2018. We used to spend our weekends exploring rivers, lakes and the coast as far south as Naples looking for new attractive locations to get on the water.
Website: https://electricboardingco.com/
Email

This email address is being protected from spambots. You need JavaScript enabled to view it.