Athlete Review: Vail Whitewater SUP Race Series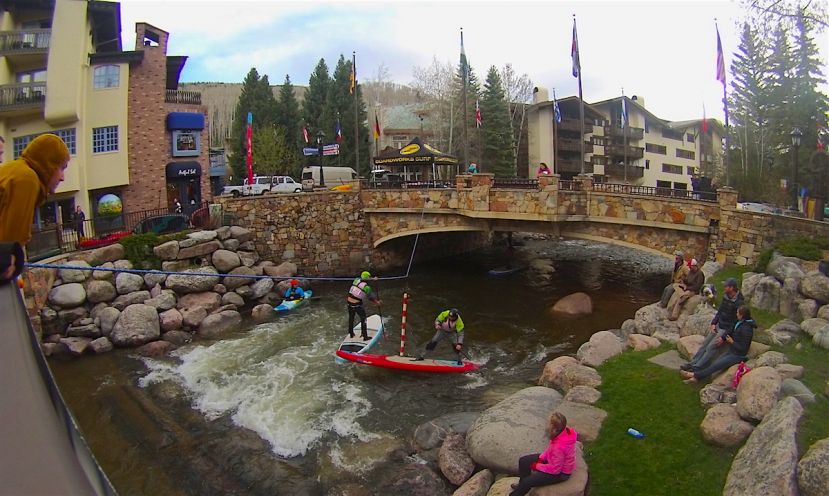 Photo: Alex Mauer
VAIL, Colorado - The Vail Whitewater Race Series is a Tuesday night race series put on by Alpine Quest Sports. Every week the top competitors receive points for how well they finish. At the end of the series the competitors with the most points will win the race series. For more info click HERE. Driving up to the event I wasn't sure what to expect. To be honest I didn't expect much. I just went because I wanted to get a little more racing in the season. Here is a breakdown of my experience with the series.
Number of Competitors
Because the three series is on a weeknight, I didn't expect much of a turnout. To much of my surprise there was a lot more competitors than I originally thought there would be. The level of skill among competitors with Stout as well.
Race Organization
The race organizers did a really nice job organizing the race. The format of the race was really neat. All competitors ran a time trial for their first run. The organizers took that time and then separated competitors into individual heats. Through those heats the winning competitor moved onto the next round until the finals. The race organizers kept things moving really smooth throughout the whole competition.
The Venue
This race series is held in the same venue as the GoPro Mountain Games. It's really nice to be able to compete in that venue to get some practice for bigger competition. I always wondered why Vail locals always finish so well in the GoPro Mountain Games and now I know that they owe a lot of their success to this Vail Whitewater race series.
Overall, I had a really enjoyable time. The race was awesome and all the race competitors were super friendly. I was so stoked to take home a third-place finish amongst all the great competitors. I cannot wait until the following weeks to compete and try to win the whole race series.
To see more from Alex Mauer, click HERE.
Last modified onFriday, 20 May 2016 11:51

Alex Mauer is a long-time Colorado resident who since the age of 12 has been riding the local river waves. More recently, he has enjoyed the wonders of stand up paddling and has become one of its most passionate advocates and representatives. Mauer is one of Supconnect's most active contributors and an avid representative of the sport in his area. He can be reached and befriended via his profile page on Supconnect.
Website: /Mauer