The Ultimate Crossing: Bart De Zwart's World SUP Excursion

Expedition, big wave, and long distance paddler Bart de Zwart has set off on a world-wide SUP excursion where he intends to visit the corners of the world to explore unseen places one normally wouldn't see or hear of, and he is exploring all of these places while on his SUP. As a part of the Starboard SUP Dream Team, Bart has had the chance to travel the world and experience many different cultures and places so this adventure will be one to add to the books.
Bart and photographer-friend Franz Orsi have just set off on their adventure and have given an update after their first stop on a tiny island called Yap, belonging to Micronesia. Read Zwart's recap of his trip and time in Yap so far…
YAP, Micronesia - After working with Photographer Franz Orsi in Japan and Europe we decided to do another exciting new project: The Sup World Adventure. The concept is simple; We buy an around-the-world ticket and visit the corners of the world to explore with a SUP, the people who live with, in/or on the water. Ocean, river, sea and lake. We wanted to see the communities you don't hear or see much about. So, in the next few weeks we will be traveling to remote places. The first stop is Yap, a remote small island in the Pacific belonging to Micronesia. An island where only 2 planes a week land!
Our around-the-world ticket consist of 17 flights. Our last stop will be in Suyalito, Mexico where the ISA SUP World Championships are this year.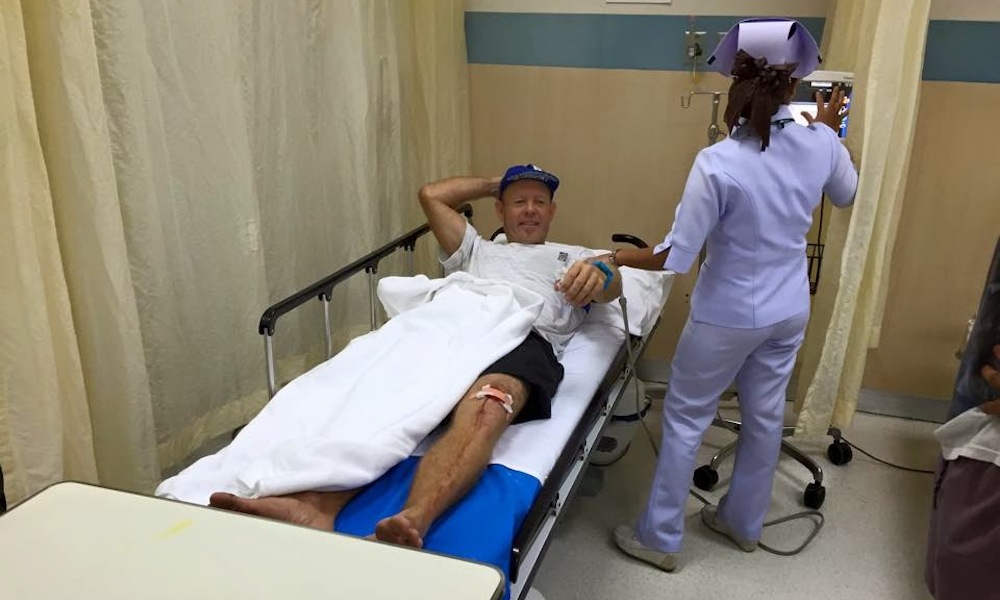 A knee injury shortly before the departure almost halted the entire trip! | Photo: Franz Orsi
A small accident last week in Thailand almost put an end to the adventure, but, after limping for a week, the stitches are out now and my knee starts to bend better and better with each day. This week was supposed to be a hard training week but turned out to be working in the store and no training at all, to give the knee a chance to heal.
Our bags are packed and we are trying to travel as light as possible. With a Starboard inflatable SUP for each of us, just some clothing, an inflatable tent and the camera gear. Here is our lis of gear that we will be bringing:

Boards
We are bringing two inflatable Starboard SUP boards. They are packed ready for traveling, in a back pack:
One 14'0 x 30 Touring deluxe with bungees front and back to bring gear for longer trips. Perfect board longer tours almost anywhere, crossings, rivers, lake, open ocean.
And one 10'5 x 30 Drive Zen, good all-round board which also works in the waves, good for rivers and shorter tours. With these boards we cover most places we will find on our trip.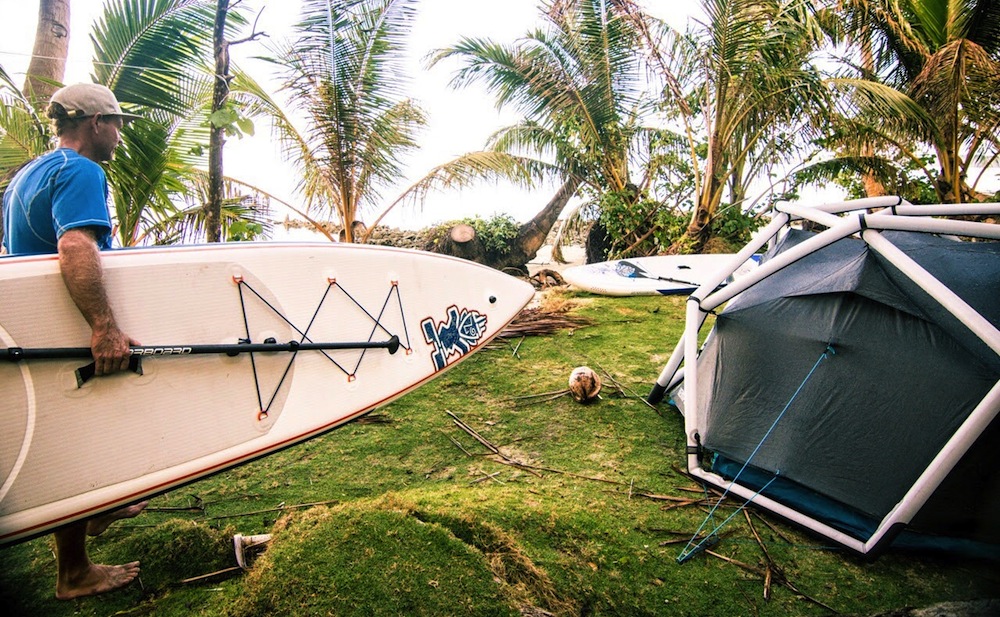 2 Starboard Inflatables and an Inflatable tent are among the gear thats been taken on the trip. | Photo: Franz Orsi
Paddles
Rest of the gear
Inflatable tent (3-man, so all the gear fits inside) HeimPlanet
2 ultra compact and light sleeping backs
2 short sleeping mats
2 leashes
Suunto Ambits3 GPS watch
Underwater goggle
Utility knife, rope and repair kit
Mini iPad and IPhone
Drybacks
A few shirts and shorts
And a lot of cables and other sh!? Franz brought along (ok he is the photographer, I understand)
One long pants (at home I call them my fly pants)
One shell jacket
Trail running shoes and flip flops

Photo gear
2 DSLR Nikon Cameras
2 Go Pros
1 small Nikon underwater camera

Yap
Our first destination was Yap. This tiny island belongs to one of the 186 islands of Micronesia and is known for their traditional culture. Yap is one of the last islands in the Pacific that still resists to the western ways. At the airport we are welcomed by two bare chested women in grass skirts who hang two leis around our necks. With only two planes a week arriving in Yap, it is not a busy airport.
We got a ride from a police man to a small piece of land in the middle of town where we inflated our tent for the first night (yes we also have an inflatable tent, at least the poles are).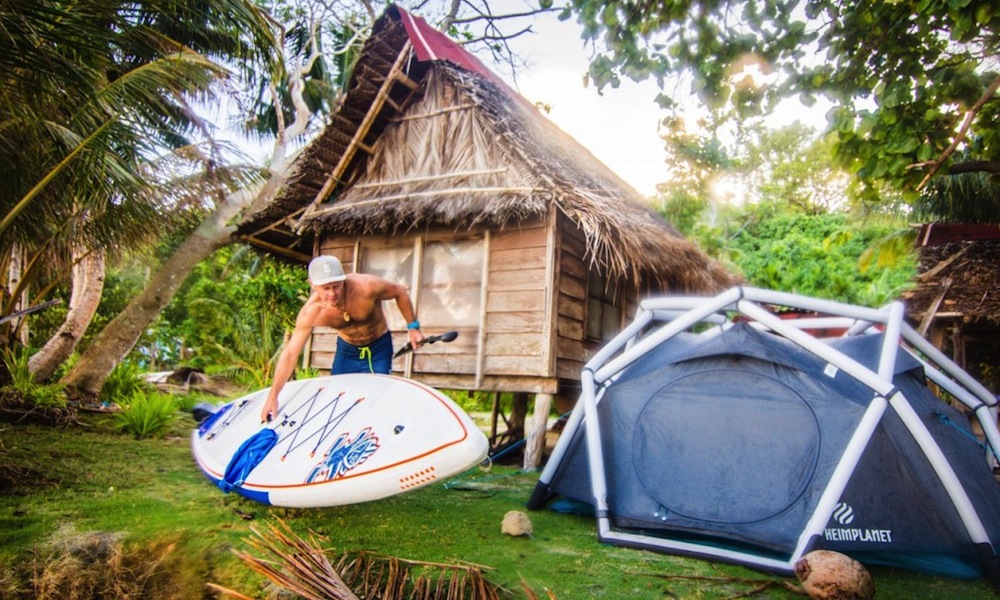 With permission to stay, Camp was set up for the first night. | Photo: Franz Orsi
In the next days we travel to the North of the island, to a village, Wanead, where we ask permission to put up our tent. On Yap the land is owned by the people. You always have to ask permission to use the land or visit certain villages. As soon as we had made camp, we inflated our boards and paddled for hours along the coast.
The waters surrounding Yap are crystal-clear and beautiful! | Photos: Franz Orsi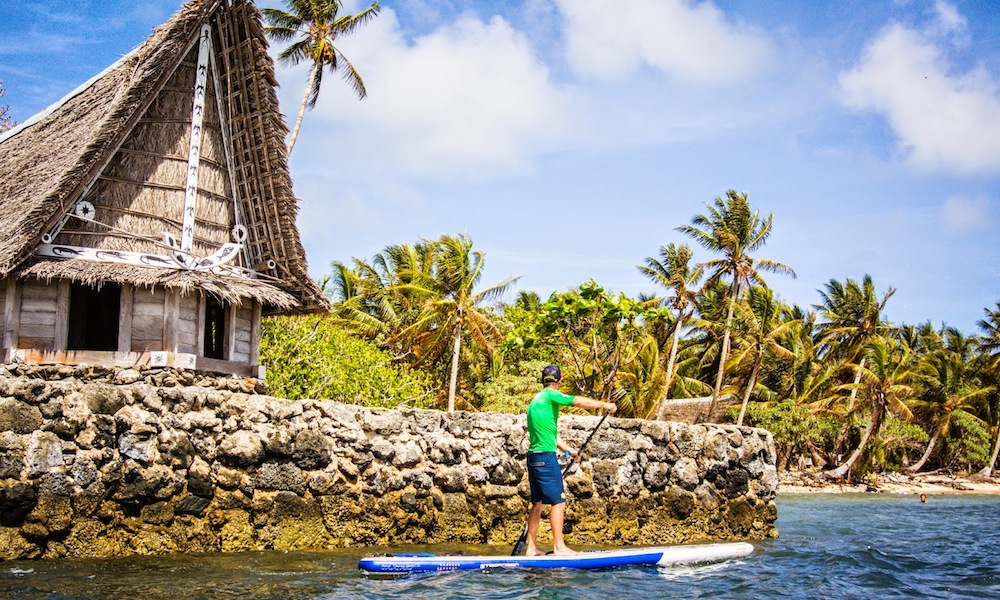 A house on the coast on the island of Yap. | Photo: Franz Orsi
Yap has a lush green interior full with palm and betel nut trees. The coast is mostly covered with mangroves and around the whole island is a protecting reef where you can find manta rays up to 20 feet wide. It's one big oasis with only 10,000 inhabitants and no industries.
The pace is slow on the island. Partly because there is not much to do other than fish and find food, partly also because almost everyone is chewing betel nuts. A subtle narcotic which produces orange stained teeth and lips. The Yapese do this all day, every day.
When we paddle here, we see the man-houses at the beach and the Seaworthy outriggers with which they, until very recently, sailed to the outer island and Guam or Palau, often 7-10 days at sea, relying only on the stars for navigation.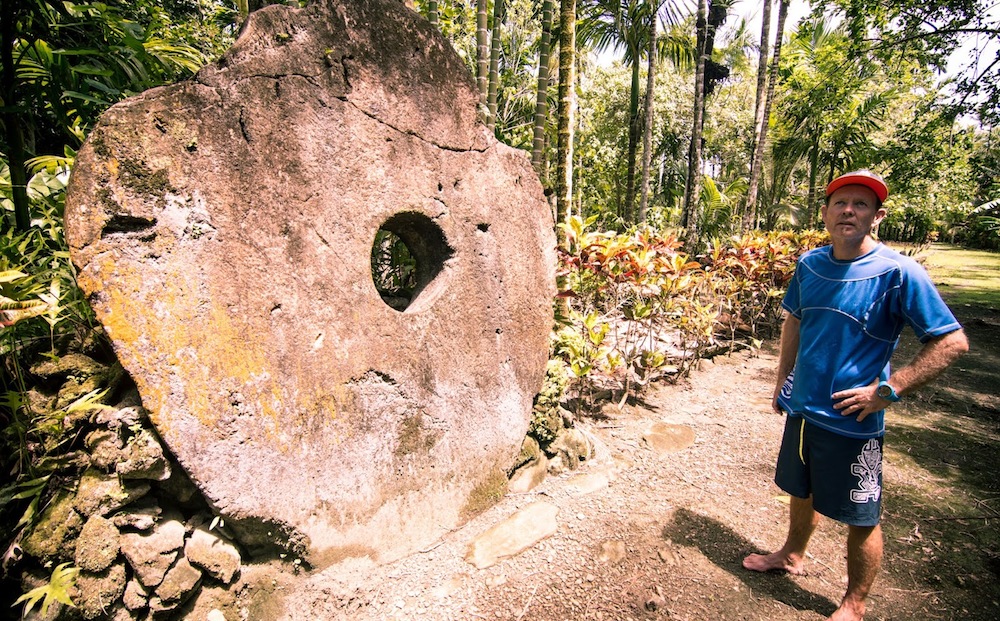 These larges stones were at one time the only form of money in Yap. They are still used today... | Photo: Franz Orsi
One day we paddled to Rumung, the utmost northern island of Yap. This time with special permission and with a local inhabitant of Rumung. Without him no one can enter the island.
There we saw the biggest stone money of the island. A form of payment made out of a giant round carved stone with a hole in the middle. At one time, Stone money was the only form of payment, and now it is still in use today for certain transactions or settling fights.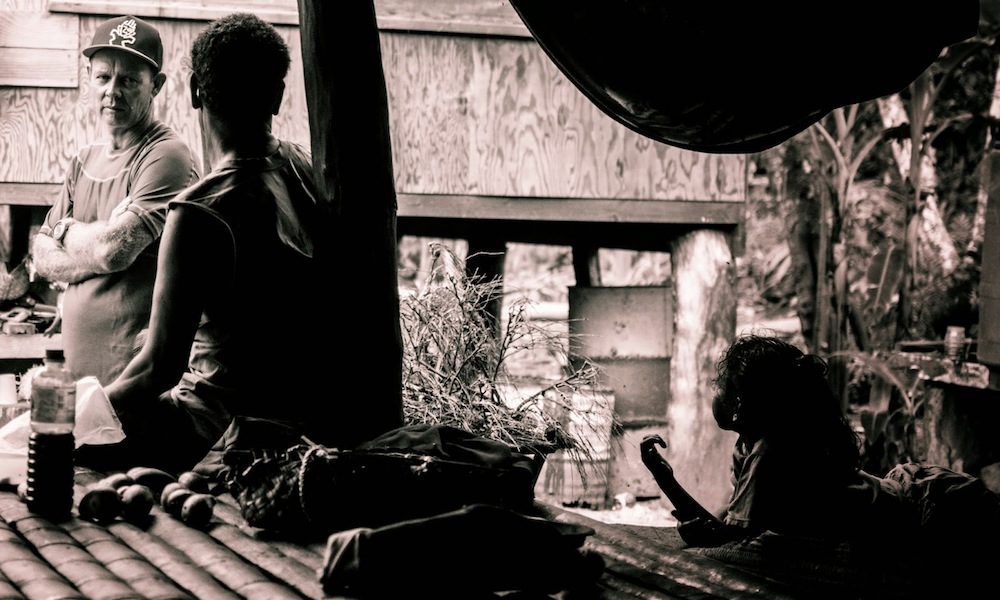 Stay tuned for the next update on The Ultimate Crossing! | Photo: Franz Orsi
There is a lot more to say about this little paradise in the Pacific which we will safe for later. Now we are on our way to Kathmandu, Nepal where the story continues. Stay tuned...
Click here to see more stand up paddle journeys that have taken place all across the globe.
Last modified onThursday, 10 November 2016 11:21

Maui, Hawaii - Bart De Zwart is arguably the most respected and accomplished navigational SUP paddler. He has traveled all around the world on his SUP and is a true waterman. De Zwart is one of the nicest guys you'll ever come across on the water and land and a true ambassador of SUP.
Website: sup-crossing.blogspot.com/
Email

This email address is being protected from spambots. You need JavaScript enabled to view it.