Bart De Zwart Completes The Muskoka River X For The Third Time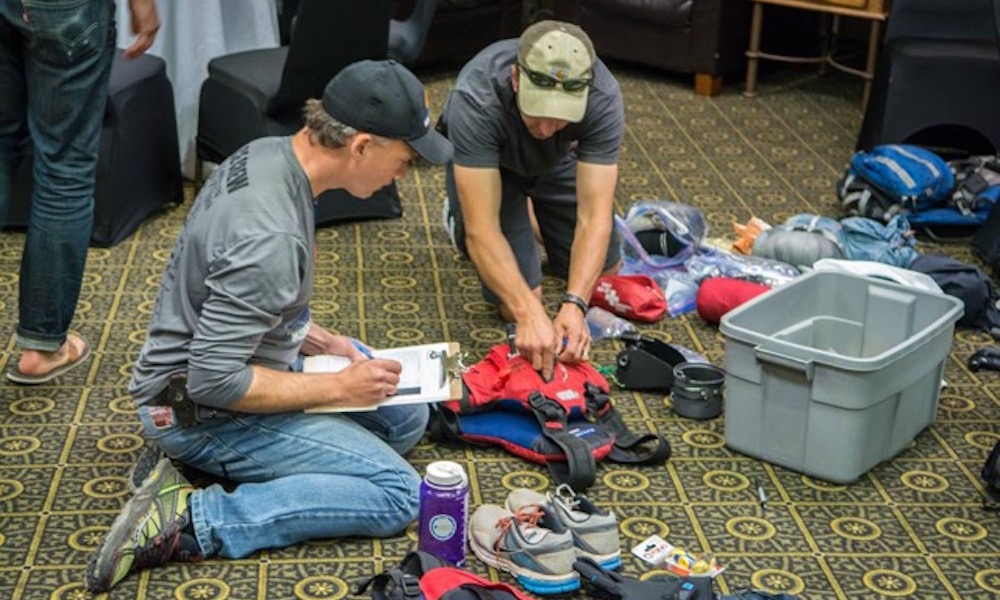 Gear check at the check-in. | Photo via: Bart de Zwart
ONTARIO, Canada - 2016 marks the third time that I've participated in the Muskoka River X. This race is one of my favorite races because it is a combination of an adventure and SUP a race. This year you could participate in three different distances, the Sprint (80 km), the classic (130km) and the Coureur des Bois (220 km). Over 90 paddlers signed up for the race this year with the smallest group doing the 220 km. This is probably the only race in the world where the sprint is 80km long.
I signed up for the 220km which is a two day race with a stop on day one, after 90km. At the stop you have to sleep and eat with the gear and food you paddled with. There is a whole list of compulsory gear you have to bring, ranging from safety to extra food, sleeping and navigating gear. I managed to pack everything in one dry backpack which I can throw on my back during one of the 30 portages you encounter on the way. Portages are where you walk or run with the board and pack around waterfalls, beaver dams, and other obstacles ranging from a couple of 100 meters to 2 kilometers. And all this you have to navigate with just a map, some way points and a compass. It's not too hard to figure out but throw in some fog and darkness (like there was this year) and it does get complicated, but, that's the adventure part of it. But by far, you are mostly on the board, paddling; Lakes, rivers down stream and rivers up stream. It's a very challenging course with sometimes challenging weather.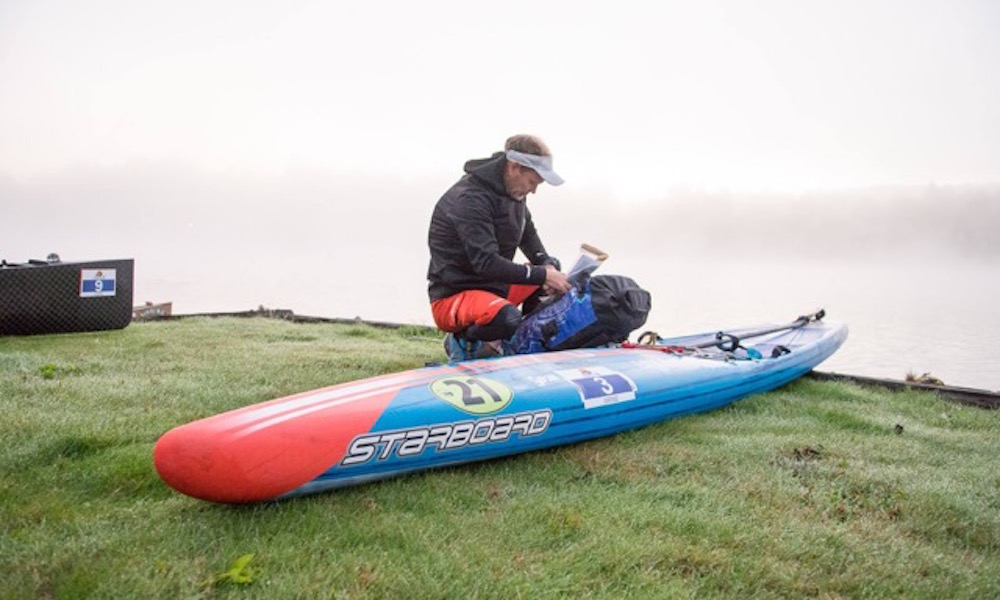 Preparing on the first cold morning for the start in the fog. | Photo via: Bart de Zwart
This year started at 7:00 in the morning in Whitney in total and complete fog. Right after the start, I realized the only way to find the course was to take a bearing on the map and just follow my compass until I could find land on the other side of the lake and go from landmark to landmark. Very basic, but when you're surrounded by nothing but white it gets pretty challenging.
Although I lost the the connection with the two-man canoes which generally have a higher ground speed, I managed to find my way for the next two hours with some other paddlers right behind me, who were hoping I knew what I was doing. Some lost their bearings and lost a couple of hours already in the beginning of the race. One stand up paddler pulled out after being lost and searching for the next waypoint for hours. After the fog disappeared it became a beautiful day and I paddled with a consistent pace through the course.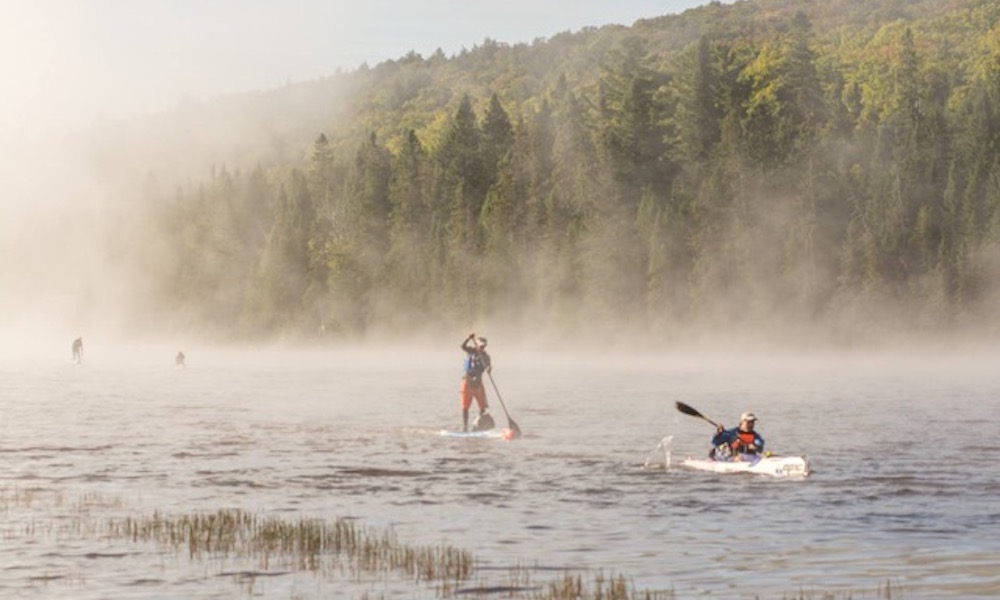 Paddling in the fog for most of the morning. | Photos via: Bart de Zwart
The organizers threw in a few decision points where you had to decide to paddle or portage the board. Either, because it was a short cut or because it was shallow, which made for some interesting differences in time. The course went through a nature reserve which is truly beautiful. I made good time compared to last year and came in after 12 and 1/2 hours just before dark at the camp spot. We all prepared our own food around a camp fire and set up camp. I tend to travel very light, so I set up my bivy bag and slept in my down clothing in a thick emergency bag, which is very light, efficient and warm.
At the start of day two, we were transferred to the start of the sprint and classic start points. The moment the race started the rain came down and wind started to come up. We were four stand up paddlers together in the front but not for long…
After the first two lakes we got to Lake of Bays. This is a part I dreaded because I saw in the forecast the south head wind which we were going to encounter. South wind is rare here but today it is a fact we had to deal with, especially the stand up paddlers and the solo canoes had a hard time against the wind. The rain was relentless and for five hours I battled the wind until I got to the entrance of the river at Baysville. The current wasn't what I'd hoped for but better than the open lake, I took the next few hours to paddle at my own pace and recover a bit because it was going to be a long night.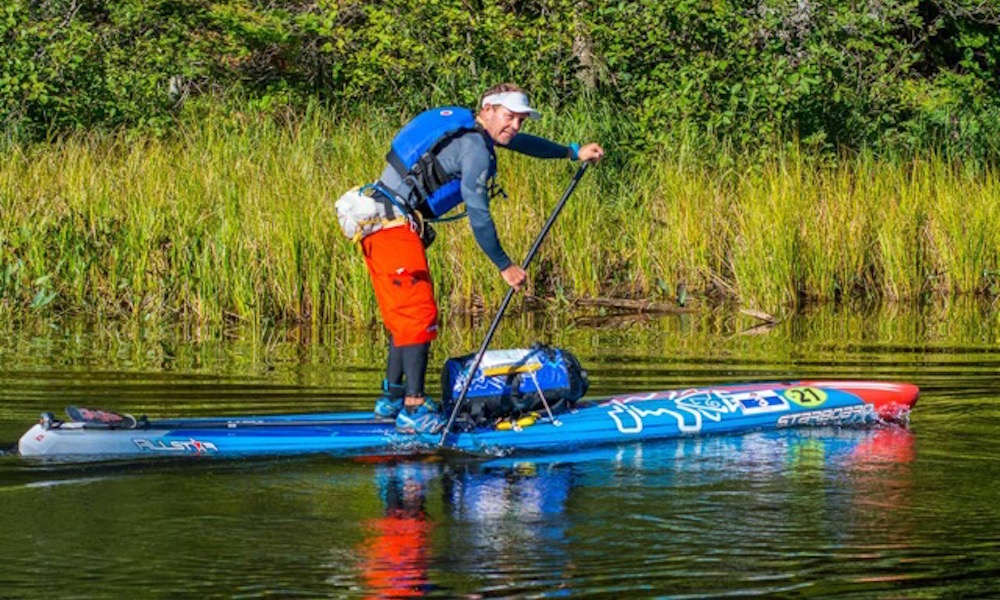 Such a beautiful place to paddle! | Photo via: Bart de Zwart
The portages at this part are actually fun and although hard work even a way to relax the paddling muscles. The most important thing to note in races like this is eat, drink, eat, all the time. I drink my endurance fuel consistently, combined with just water and I eat every hour a banana, a bar, nuts or dry fruit. Try to mix it up, it is hard enough to eat so much. You burn, up to 10,000 calories which is very hard to eat as it is.
I was doing okay in the race and ahead of all but one stand up paddler but he didn't race the day before and only did the 130km and was fresh and hard to catch. I tried, but felt the 12 hours and short sleep from the day before. At some point during the day the rain came down like a tropical downpour. Along the route which is more populated on this part of the course, people were still outside mostly BBQing and cheering us on. Canadians are funny that way, they don't mind the weather and do whatever they had planned to do.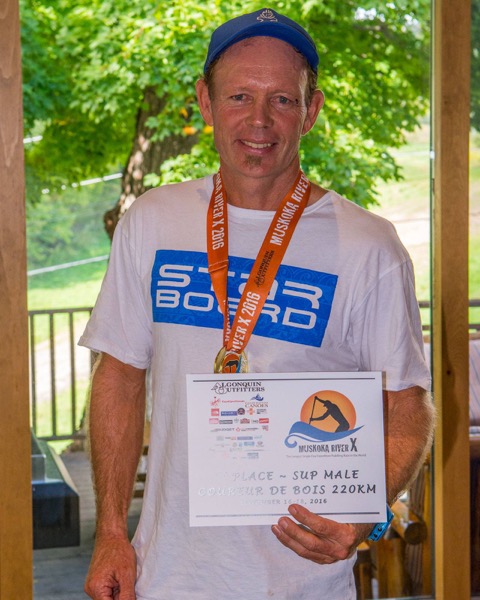 After the second check point, we started to paddle up river and finally after 10 hours of rain it cleared up. Now until check point three it was up river. Luckily, there was not so much water and therefore not so much current. At some of the shallow rapids, I had to push the board because it was too shallow. Unfortunately, I didn't manage to pass all the portages before dark. and it is a little harder to find your way in the dark. Our boards have a light and we all have to bring a head lamp and even a spare one, but it does slow you down at the portages and shallow waters.
The last few hours were a grind. I fell in the water once after hitting a tree underwater and another time I hit my head on the board when I pushed off in shallow water and hit a rock and had a little head wound, but most of all I was tired. Theses races are partly endurance but also very much mental, pushing through when everything hurts but I knew I was close and could smell the finish. I remembered that I joked during the Yukon River Quest when we still had 12 hours to go, telling Norm and Janson, "guys, you smell that?" They put their noses in the air and said, "no, what?" I said, "I smell the finish". We were all very tired and still had to paddle 12 hours but it was a funny moment. I went on auto pilot, eat, drink, paddle, eat, drink, paddle…and met a couple Paul and Susan in a canoe with whom I paddled with until the finish.
I came in at 3am after 20 hours (32.42 in total combining day 1 and 2 together). First place in the Coureur des Bois. At the finish they had nice drinks and chips. The chips are the one thing everybody was craving for, salty and fat, nice. I gobbled down three bags. At 5am I was in my bed only to wake up at 9am to go to the award ceremony. Some paddlers slept more, some only an hour and some not at all.
So far this year I've done almost 2,000km of racing on the ultra long distance races, and it didn't go by unnoticed. I met a lot of people who got inspired to go out and do races like this or just a small expedition or camping trip. For me, that is the greatest compliment of all to inspire others. That does inspire me again to go explore more and now together with Starboard to spread the word to reduce waste and plastic use.
Last modified onWednesday, 05 October 2016 15:25

Maui, Hawaii - Bart De Zwart is arguably the most respected and accomplished navigational SUP paddler. He has traveled all around the world on his SUP and is a true waterman. De Zwart is one of the nicest guys you'll ever come across on the water and land and a true ambassador of SUP.
Website: sup-crossing.blogspot.com/
Email

This email address is being protected from spambots. You need JavaScript enabled to view it.