Iron Mana Takes Huahine By Storm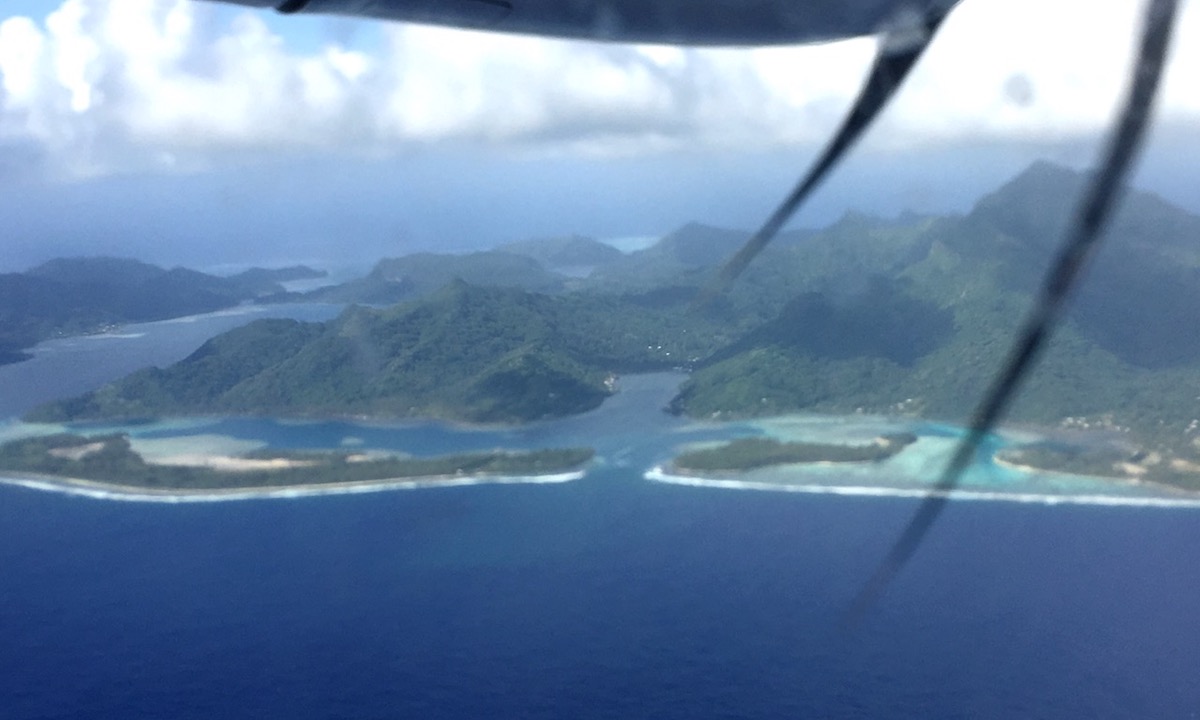 Huahine from above. | Photo: Bart de Zwart
HUAHINE, French Polynesia - The Iron Mana is one of the nicest, hardest, most beautiful, grueling but also unique events I know. It is not one of my long endurance races but nonetheless, challenging in many other ways. Some call it a boot camp, some call it their daily routine.
Over the years the Iron Mana has grown to be a waterman race where you can expect everything. There is never a clear schedule of the events that will take place. It is mostly a surprise and competitors don't find out until just after breakfast in one of the most extraordinary places in the world. This year it took place in Huahine, a small tropical paradise which belongs to the French Polynesian islands and lays about 200 miles West from Tahiti.
In the past it has been mostly endurance races but this year all we knew it was mostly sprint races in SUP, swimming, OC1, surfski, sailing canoe and running. Most athletes who go there are good in one discipline and ok in the rest. You can choose to do only the events you like and are good in, but funny enough almost all people who go there, do all the races and see it as a fun event that challenges you and makes you do it all. It is an exciting concept which is big in Tahiti.
Photo: Bart de Zwart

Stephane Lambert, a great waterman himself, is the main organizer of this event. He lives on Tahiti and organizes over 30 events throughout French Polynesia. What I like most about his events is that he tries to come up with original courses and rules to make his races different and exciting. I didn't say easy. If he thinks it is exciting for the event to integrate a 1 hour paddle into the wind for a particular course, he will do it and has done so. I met him a couple of years ago when he assisted with my arrival after my solo unsupported crossing from Tahiti to Bora Bora. as an illustration of what he thinks is fun, he paddled with me the last 4 hrs around the reef at Bora Bora just because he liked it.
Iron Mana Day 1
Flying into Huahine. | Photos: Bart de Zwart
When you arrive in Huahine you feel right at home. We arrived in a tiny little airport right next to the ocean with a tiny little plane. Huahine is a laid back island with all the characteristics of paradise. Lush green mountains, turquoise water, a light trade wind and a beautifully formed wave in the reef pass. I checked out the wave the day before the race with my inflatable. It was beautiful but scary because the wave is hollow and the reef sucks dry right next to where you are surfing. I pumped up the Starboard Whopper Zen 10'x 35" which surfs amazingly well in the hollow waves which break right on the edge of the dry reef.
After all the competitors arrived from many different corners of the world the event started in the morning. Stephane, the race organizer, keeps things interesting by not telling what will happen that day or even the next hour. He is always full of surprises. It started last night when he announced that all competitors had to give up their sport drinks, gels or any other race supplements. This week it is just water and bananas (or any other regular food).
From the Starboard team it was Olivia Piana and I. She got the All Star 14' x 23, which ended up being the perfect choice because it worked well in all of the different races. I used the Ace 14 x 25, I had hoped for bumps and up wind but because most races are inside the reef the water is relatively flat.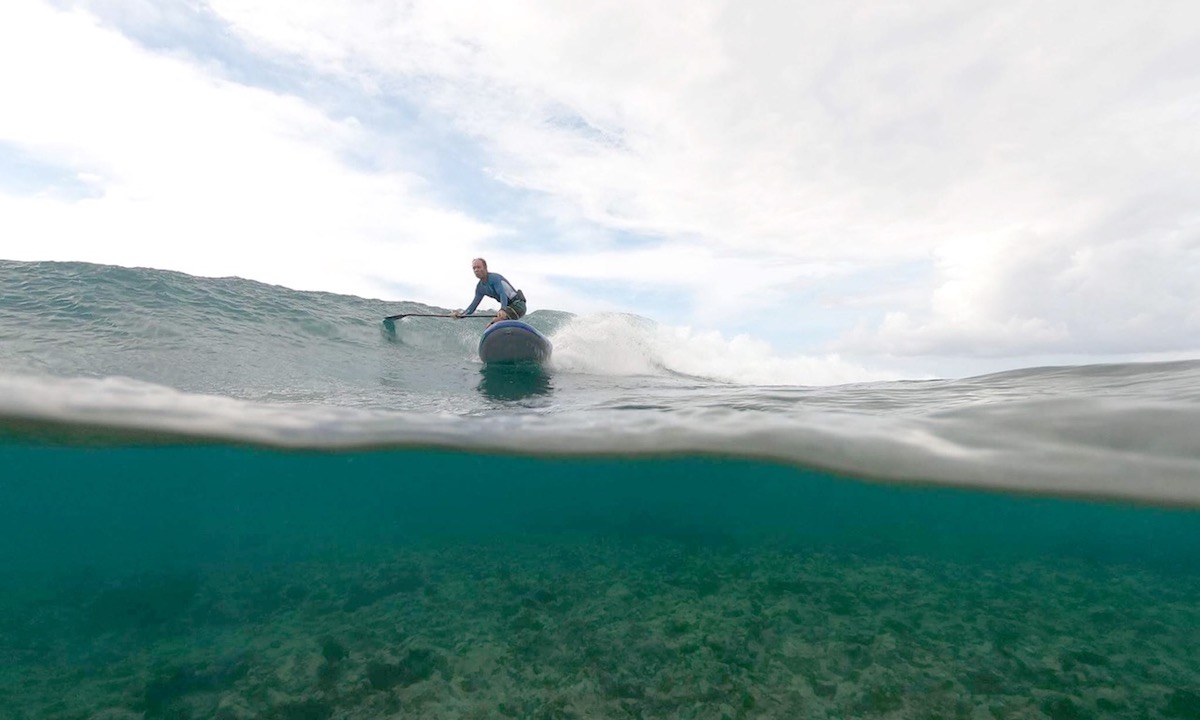 Bart catching a couple waves before the start of the competition. | Photo Courtesy: Bart de Zwart
This morning we loaded all the SUP boards and were told to only bring one water pack for an entire morning of racing, (still not knowing what kind and how long of a SUP race it would be). When we arrived it turned out to be a downwinder on an inside lake of Huahine, after which we did an upwind - downwind race and after that an upwind and downwind time trial. Still only with 1.5 liter of water, at 2 pm we got back and were all thirsty and hungry.
We were given a good 2 hours to recuperate before we had the final event of the day, a 2.5 km swim. Although I think of myself as a good swimmer, I always realize here that in short, I suck. I swim well and long but with no speed unlike some of the other competitors like Ryan who was almost last in SUP but won the swim. And on the other side Niuhiti who won all the SUP races but was almost last in the swim. So, things have been interesting here on our little paradise island. This year we all slept together in a community house just like kids camp when we were young with 40 mattresses on the ground only some of us slept in the catamaran or in a hotel. What we will have the next 5 days is still a surprise. Right now we are all happy but tired.
Iron Mana Day 2
The prone race around the outside | Photo: tahitiflyshoot.com
It was another beautiful and exciting day here in Huahine. Every day it is a constant surprise what, how far and how long we do which sport. We started with prone around the reef out the pass and in the pass. Then, a 2 km swim, another prone race and we finish with OC6. Prone is pretty new to me but the OC6 (6 man outrigger) was a highlight, specially when we took an inside line through the pass and got hammered by a wave. We ended up on the reef for the next 15 min before we could continue our journey.
Iron Mana Day 3
Olivia Piana after her win followed by some cliff jumping. | Photos: Bart de Zwart
We started at 4:30 am and climbed to a mountaintop with the whole team. After a sedan breakfast the women had a SUP race to a idyllic little beach. Olivia [Piana] won the race again followed by Petronella Malsen from Holland. At the beach we had to swim for 2 km. We gathered leaves for self made plates and had a healthy lunch. Then we were off to do some cliff jumping. A fun challenge and high enough to be challenging for some. At the end of the day, the men had the upwind stand up paddle grind which was hard and not everyone's favorite. Noa Hopper came puking over the finish line.
Iron Mana Day 4
4th and final day Iron Mana. There was lots more swimming on the final day. In the morning we went in the local open bus and drove all the way to the South of the Island, still not knowing what we would be doing. Although we had to bring our swim goggles and cap so that could have been a sign. The South is as memorizing as most of the island with the deep blue, turquoise colors with white sand beaches which are so bright is hurts your eyes. It also rains enough to keep it very green on the island. It mostly comes in very short but very heavy downpours.
Coming in from the swim to a supportive crowd. | Photo: Bart de Zwart
I was still feeling quite fit but the swimming and prone was a learning curve for me. Luckily this curve is going up! When we got to the beach, Stephane, the organizer, had hoped for waves to do some kind of a swim course in the waves but they were very small. Instead, he whipped up another idea of a running/swimming a course through waist deep water with sand and swimming through a coral reef. Tricky and beautiful at the same time. Two laps with a run over the beach in between. Another 2 km swim under the belt. We transferred to the next bay, for a 2.5 km swim in even nicer colors and water as clear as a swimming pool. Ricardo explained to me real quick how not to loose my goggles while diving from high which surprisingly worked. I have always asked myself, starting as a kid, how olympic swimmers do not loose their goggles. Now I know and it worked too. After the swim which was won by Ryan from Los Angeles and Manu from France we had a fresh fish burger on the beach, ready for the rest of the day.
Photo Courtesy: tahitiflyshoot.com
The afternoon was going to be the combo event. A SUP/Prone/Swim race with a few hurdles in the swim, floating big SUPs you had to climb over and jump off again. This time it was only a short course. With my dug out board (Ace) not totally ideal for the buoy turns I got away ok and managed quick turns. A run on land to the prone board and off we were for my 3rd prone event and 4th time I was on a prone. By now I felt comfortable and confident in the turns. At a left turn leave your leg out in the water in the inside, paddle hard forward on the right side and sideways on the left side. This time I even caught some people so I was feeling good. But, that didn't last very long.
The swim was coming. Comfortable as I am swimming for many hours or in big surf it is in no relation to my speed. Apparently, you really have to practice that. So a quick run up the beach, pull off the lycra and put on the cap and goggles. I had a quick transfer but in the water many people overtook me. I made a little good on the hurdles but overall, I was still losing too much at the swim.
The start for the women's race. | Photo: Bart de Zwart
The women were next. Olivia Piana killed it on her All Star and had a good lead which shrunk a little but still she kept it on the prone. In swim you could see the difference again in the competition swimmers. They just had such a speed difference. Olivia still came in 4th after giving everything she had. The best was that as soon as you finished a big, very friendly Tahitian opened a fresh coconut for every finisher. Seems so much nicer and eco friendlier than the usual plastic water bottle.
When the last competitor came in the Tahitian drums started again. We formed a circle and held hands to watch two beautiful Polynesian women dance. The biggest of the drummers then held a Polynesian chant with so much spirit that most people told me they had goose bumps listening to it. After the chant which was all about the sea, nature and brother ship the dancer came back with shell necklaces and kissed every competitor for an event well done.
Photos: Bart de Zwart
That was the whole award ceremony. I thought it was one of the nicest I have experienced in all the races I have been to. Full of energy, spirit (mana, Iron Mana, get it), short and all about the whole group of competitors not just the best three.
This is also the tenor of the event. Although all competitors are top athletes with different backgrounds and everyone is very competitive in whatever sport they do if they are good in it or not, this event is not so much about winning the overall but more about doing watermen sports at a high level in a gorgeous place. The camaraderie this week was great we all made new friends. This event is also very unique in the way that every day and every hour is a sunrise. Stephane's mottos are 'expect the unexpected' and 'always be ready'.
Iron Mana and Huahine we will be back!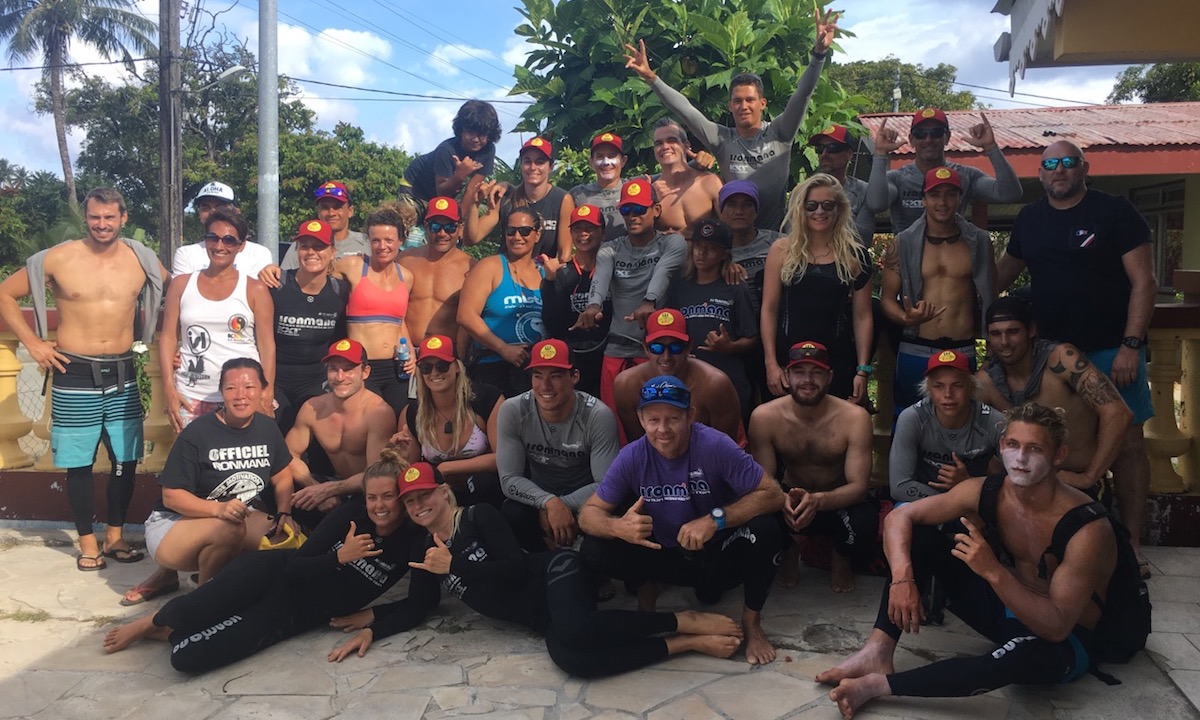 The Iron Mana crew. | Photo Courtesy: Bart de Zwart
For more SUP Race news click HERE.
Last modified onThursday, 14 December 2017 15:18

Maui, Hawaii - Bart De Zwart is arguably the most respected and accomplished navigational SUP paddler. He has traveled all around the world on his SUP and is a true waterman. De Zwart is one of the nicest guys you'll ever come across on the water and land and a true ambassador of SUP.
Website: sup-crossing.blogspot.com/
Email

This email address is being protected from spambots. You need JavaScript enabled to view it.