Polar Bears and Paddle Boards
Sermilik Fjord on the East Coast of Greenland.
Co-written by Justin Hankinson and Justin Miles

SERMILIK FJORD, Greenland - In August 2013, a team of nine intrepid travelers (and one filmmaker) attempted to stand up paddle board 100km up the Sermilik Fjord on the East Coast of Greenland. Despite warnings how 'crazy' it would be from the local Greenlandics, the team persevered and decided to carry on until the ice was too thick to continue. Camping on the shoreline each evening after a hard day's paddle, the team each took two hour shifts throughout the night to watch out for polar bears. This is their story…
"Greenland for me was like stepping into an old story book – 'The lost world frozen in time'. I felt I was on top of our planet in an unexplored wilderness worthy of mythical beasts and old tales of magic. It was clear that the environment was in charge and dictated the rules." - Charlie Head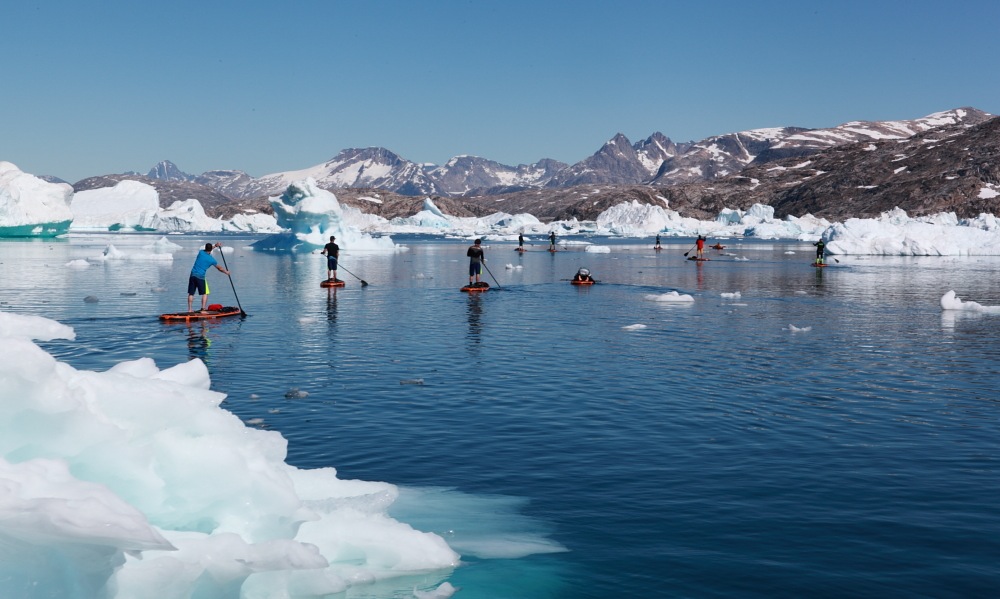 The expedition was designed to show how versatile the sport of stand-up paddle boarding is and how it can be done anywhere in the world. The idea was created by the founder of London's only paddle boarding company, Active 360. "I really wanted to show that paddle boarding isn't just a beach sport - it's the world's fastest growing sport and can be enjoyed all year round on rivers, lakes and on open water - it's accessible, safe and a great way to keep fit, enjoy the outdoors and see nature at close hand," said Director Paul Hyman.
The expedition included experienced polar explorer Justin Miles, as well as Charlie Head, who paddled 1000km around the British coast from Lands End to London in 2012. This year Charlie is planning to paddle board across the Atlantic, solo on a custom-made paddle board.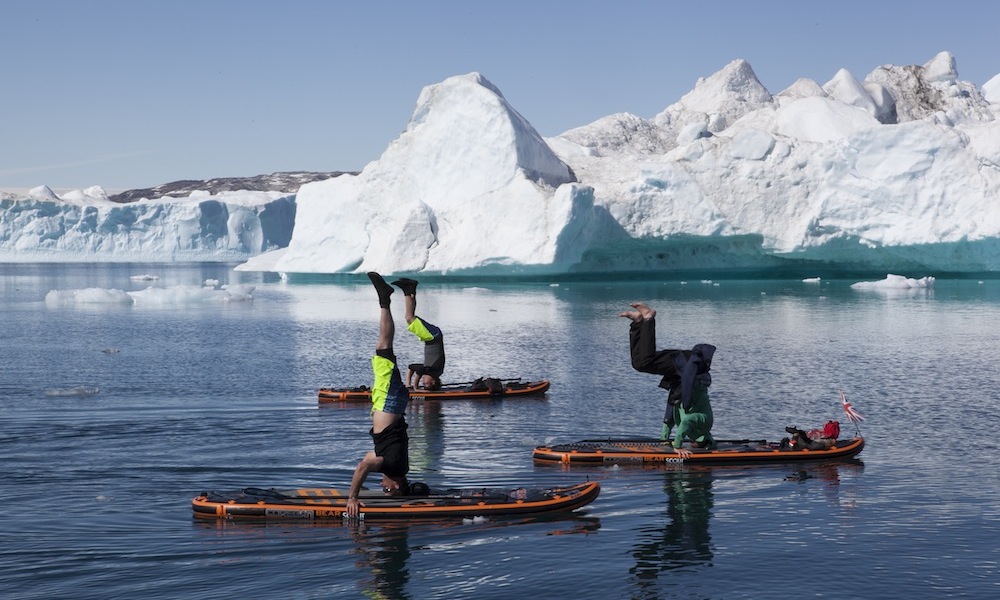 From polar explorer Justin Miles:
"The ice was a bit of a problem in that there was actually too much (unlike other trips I've been on with too little!) which was quite unusual for this time of the year and was attributed, by locals, to a longer winter. That being the case, we didn't get quite as far as we would have liked to (up the Sermilik Fjord), but the project was still a success.
We met a few glaciologists from Cambridge University in Kulusuk who were in the region measuring the speed at which the Helheim Glacier is retreating and it was quite astonishing to hear that it's currently eroding at around 25 meters per day. They think that this is due to a slight shift in the direction of the Gulf Stream which is forcing warmer water into the fjord, which is in turn undercutting the face of the glacier.
The idea of the expedition was to use it as a focal point for the rest of the project and it did, without a doubt, have the desired effect. By using 'Polar Bears and Paddle Boards' as our 'sentinel', we managed to successfully support our chosen charities and encouraged literally hundreds of people in the UK out onto paddleboards through our events."
Paddle boarders:
Paul Hyman
Charlie Head
Phil Sayers
Mo Nilforooshan
Jaime Silva
Juliette Ball
Brad Symington
Stewart Howells
Justin Miles
Logistical support and backup:
Helen Turton (Newland AS)
Roald Lande
Lars Ignatiussen
Immaca Ignatiussen
Justin Hankinson – filmmaker
To read about more stand up paddle boarding journeys check out our SUP Journeys section.
Last modified onFriday, 13 March 2015 09:38

Filmmaker Justin Hankinson has over 15 years experience in the TV and video industry as a Producer, Director, Director of Photography and Editor. The projects he's worked on include documentaries, music promos, corporate videos, worldwide viral campaigns, festivals and events both in Europe and the UK.
Website: www.pbshowfolio.com/justinhankinson
Email

This email address is being protected from spambots. You need JavaScript enabled to view it.