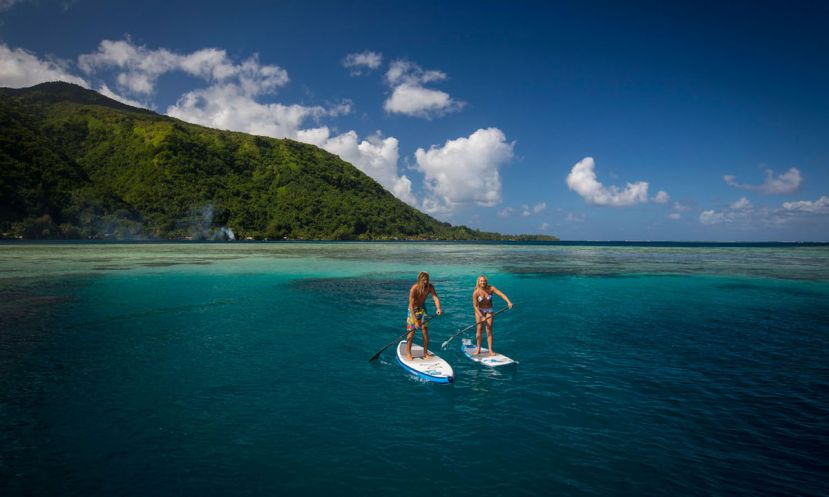 Paddling in Tahiti. | Photo: Starboard / Ben Thouard
SAN DIEGO, California - Planning on getting in a few trips in 2018? Well, lucky for you there are countless locations and destinations that are a stand up paddler's dream. We've compiled a few places where you're bound to have a blast at with beautiful scenery surrounding you. Check it out:
1. Tahiti
Tahiti is located in French Polynesia, a group of 118 islands and atolls located in the South Pacific. Tahiti is located in the archipelago of the Society Islands and is the largest and most populated island in the Windward group of French Polynesia. Tahiti is home to almost 200,000 inhabitants and is one of the most beautiful places on Earth, making it one of the many reasons it is an ideal destination for stand up paddle boarding.
The scenery in Tahiti is jaw-dropping and the beauty that surrounds the island is a sight that truly is unimaginable until you actually go there. From shore, the view of the ocean and surrounding islands show its crystal clear waters and reefs and from the ocean, the views of the lush green mountains and valleys are absolutely breathtaking.
2. Australia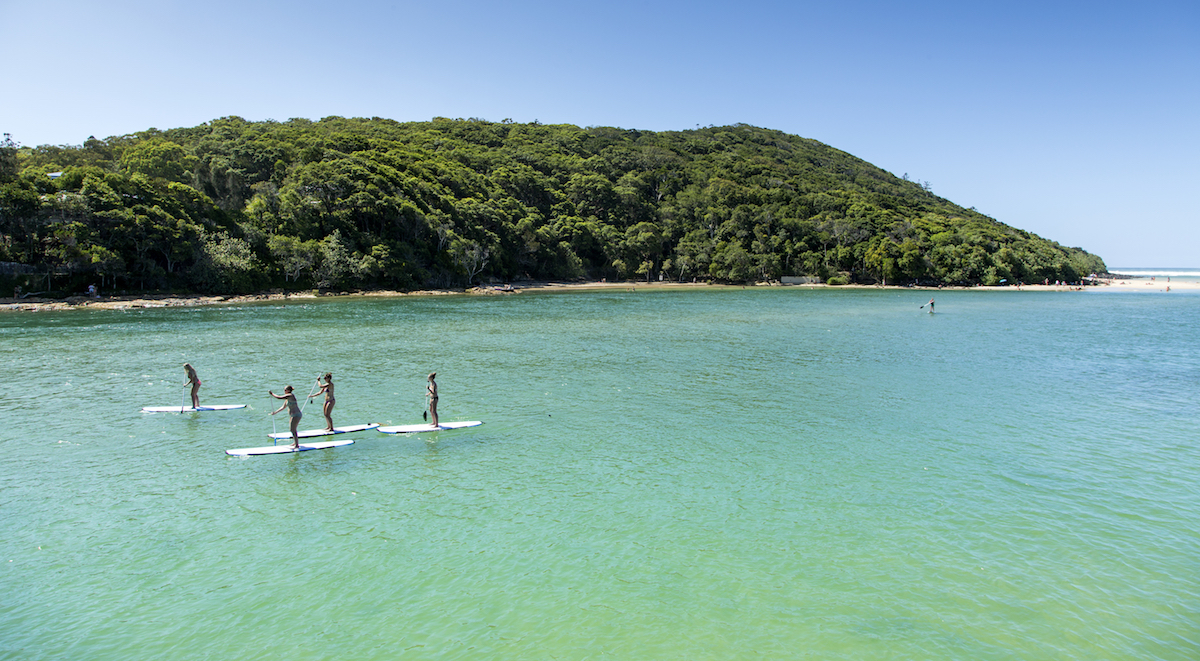 Clockwise: Burleigh Heads/ Perth, West Aus / Tallebudgera Creek in Queensland, Australia. | Photos: Shutterstock
Australia is home to some of the best stand up paddlers in the world and provides an array of different paddling conditions that cater to every paddler no matter the skill level or discipline. As the continent is completely surrounded by water, there is no shortage of locations to paddle, not to mention all the waterways that flow through the country. Some of the more popular destinations for paddling in the Land Down Under include the Gold Coast, New South Wales, and Western Australia.
Learn more about the Gold Coast below:
Gold Coast SUP Paradise
Paddle Boarding Gold Coast, Australia
3. San Diego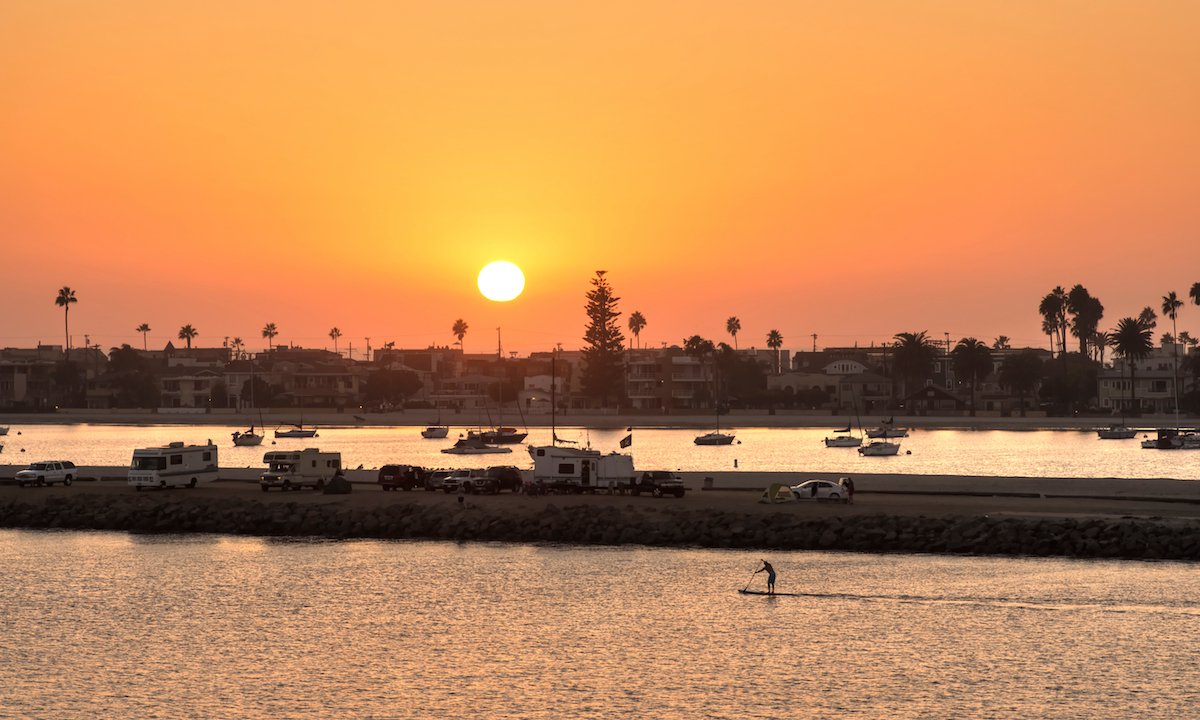 Sunset paddling on Mission Bay in San Diego. | Photo: Shutterstock
If you're not lucky enough to live in San Diego, then you're lucky enough to be able to vacation there. San Diego is a SUP hotspot on the West Coast and for good reason. With great weather year-round, amazing venues and an awesome paddle community, it's an easy place to take a vacation, especially if you want to stick to the Continental U.S. A few places worth checking out for paddling are Mission Bay, San Diego Harbor, and the Carlsbad Lagoon.
Learn more about this SUP Destination HERE.
4. Lake Powell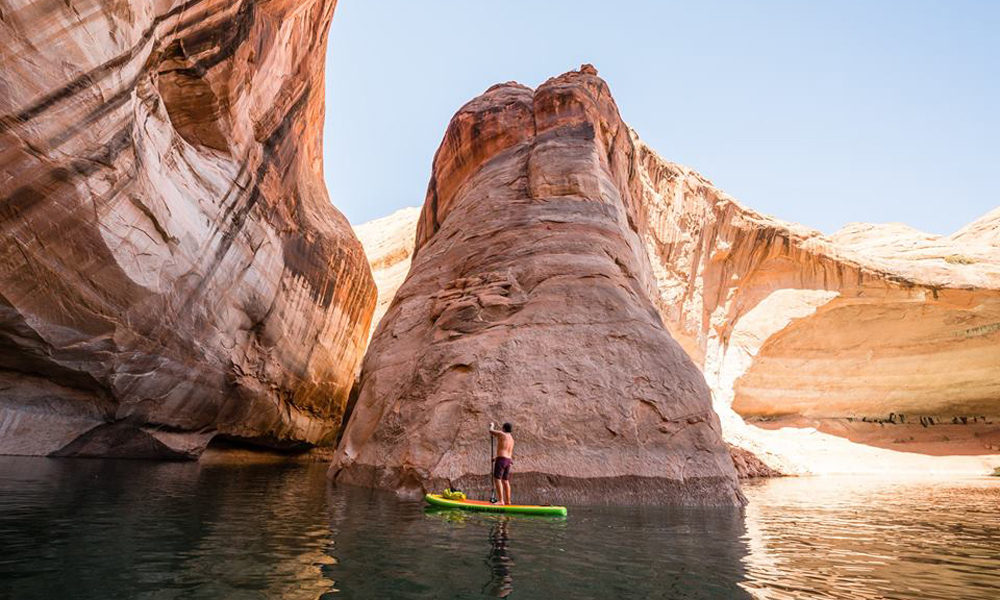 Up-lake is a must if you're in Lake Powell. | Photo: Trevor Simington
Lone Rock Canyon and Antelope Canyon. | Photos: Jordan Lapekas
Lake Powell is one of the world's top SUP destinations. The incredible canyons and natural landscapes are unlike anywhere else on earth. You may have seen photos of the amazing red rock cliffs and beautiful, crystal clear, warm water but there is nothing like experiencing it in person. With an average depth of 300 feet, there is no shortage of water here. Lake Powell is located in the Glen Canyon National Recreation Area on the Utah/Arizona border. There are over 94 major canyon sections to paddle at Lake Powell, with over 150 miles of lake to explore and constantly fluctuating water levels you will never have seen it all!
Learn more about this SUP Destination HERE.
5. United Kingdom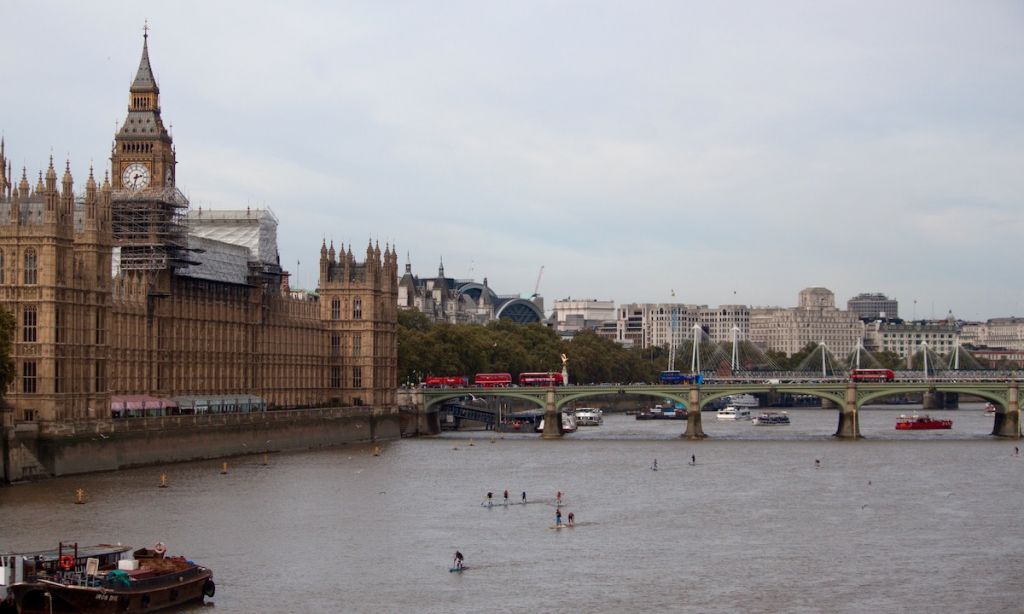 Paddling the Thames. | Photo via Paul Hyman
The United Kingdom is flying under the radar when it comes to cool places to standup paddle. From Cornwall, to London, to the South Coast, the North Sea and beyond, the U.K. has plenty of options and locations to choose from. There's a thriving stand up paddle boarding scene in the UK and every year participation numbers increase exponentially with no signs of slowing down.
Learn more about this SUP Destination HERE.
6. Costa Rica
Photos courtesy of Swindell Photography's Graham Swindell
Costa Rica is a place where paddlers have started to flock in the cooler winter months to get their paddle boarding fix. Whether its SUP surfers or SUP yogis, this place is the perfect getaway at a reasonable price and without the crowds. With coastlines on both the Caribbean and Pacific there's plenty of space for paddling. The country is lush with life and the water temps are nice and warm making it extra inviting.
Learn more about this SUP Destination HERE.
7. Hawaii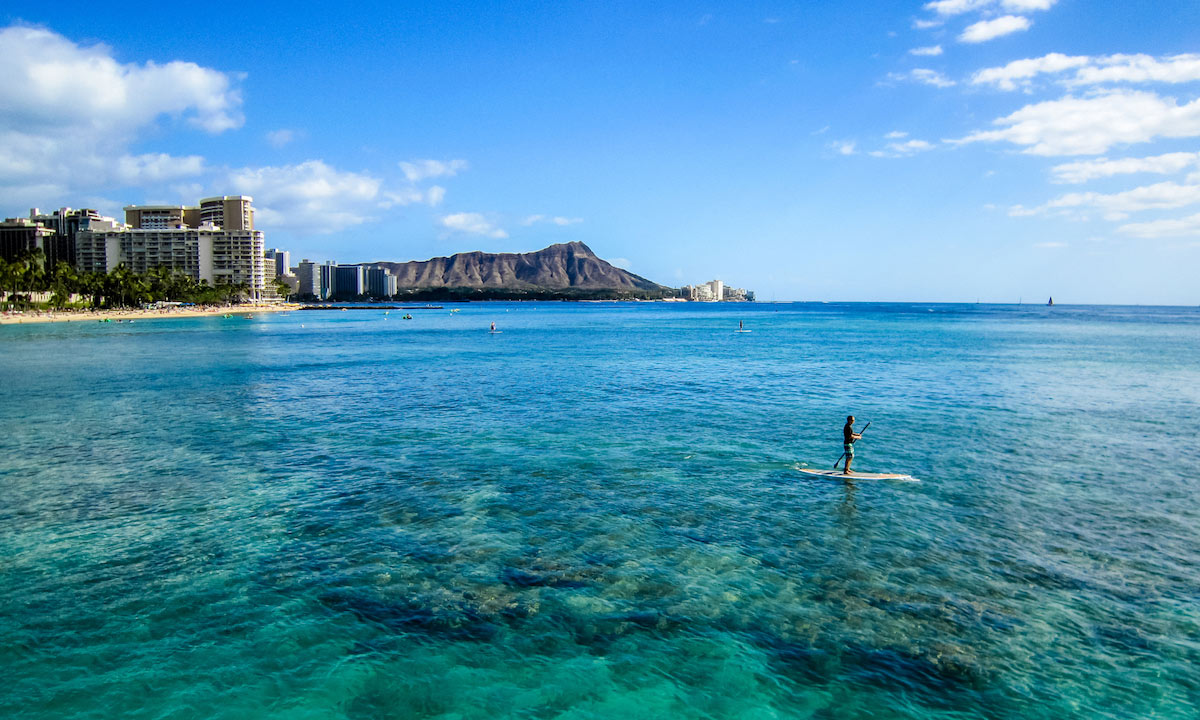 Clockwise: Diamond Head, Oahu / Maui, Hawaii / Honolulu, Hawaii. | Photos: Shutterstock / John Carter
If you've ever been to Hawaii you know it's an incredible place for stand up paddling. Each island offers something unique and different but each island offers excellent venues for paddle boarding for paddlers of all skill levels and experience. SUP surfing, SUP yoga, down winding, and more are all on offer in Hawaii and with the warm weather and ocean temps you're almost guaranteed to have an epic time when visiting this destination. Hawaii is home to a handful of the world's best standup paddlers and for good reason: it's perfect for paddle boarding.
8. Thailand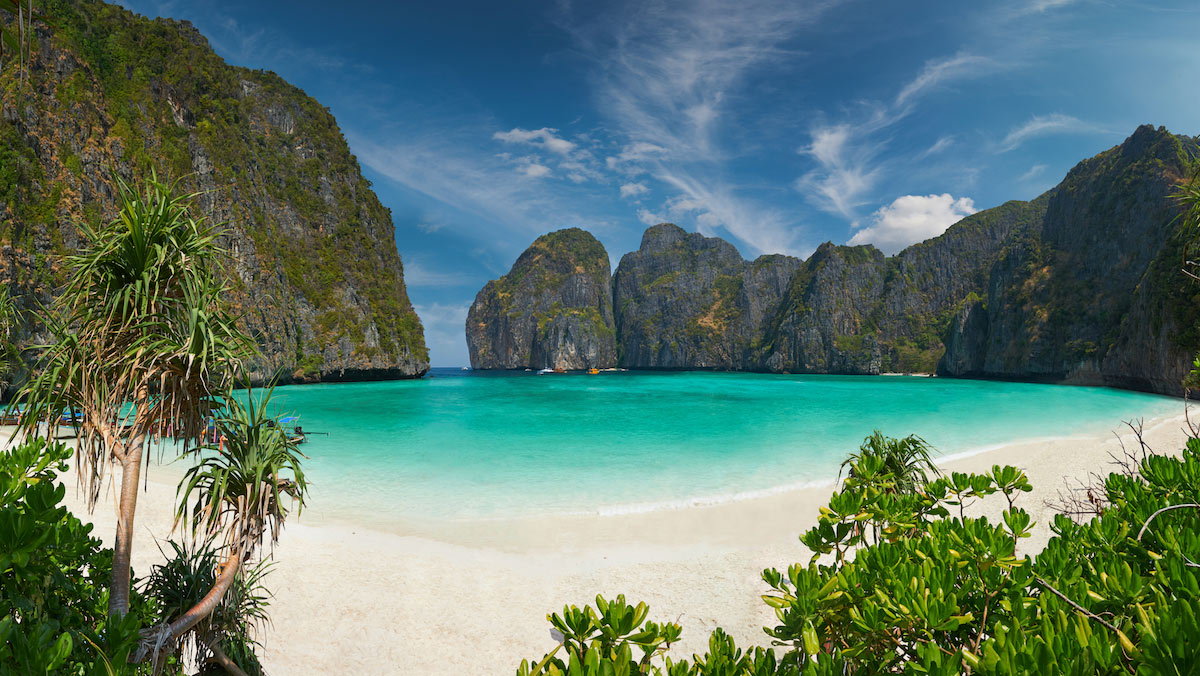 Phi Phi Islands, Thailand. | Photo: Shutterstock
Thailand should be on your bucket list for places to travel even if you're not going there for paddling. But if you are, you're in for a treat. Thailand is known for its tropical weather and stunning beaches along with its ancient ruins and temples. A must-visit place in Thailand is the Phi Phi Islands. The exploration potential here is huge and visually stunning to say the least.
9. Portugal
L: Obidos, Portugal / R: Algarve Caves, Portugal. | Photos: Shutterstock
If you're yearning for a vacation spot with tons of history, exploration and adventure then Portugal might be the perfect place for you to visit. Portugal offers plenty of excitement for paddlers. If you're looking to score some surf head to Peniche. This place offers both beginner-friendly and advanced waves all within a few miles of each other. If you're looking for something unique to see while paddling, head to the Rio Tejo where you'll paddle below beachfront medieval castles or head to the coastal caves of Algarve where you can access private beaches in the caves. Regardless of where you end up in this country you'll no doubt be satisfied with the result.
Learn more about this SUP Destination HERE.
10. Greece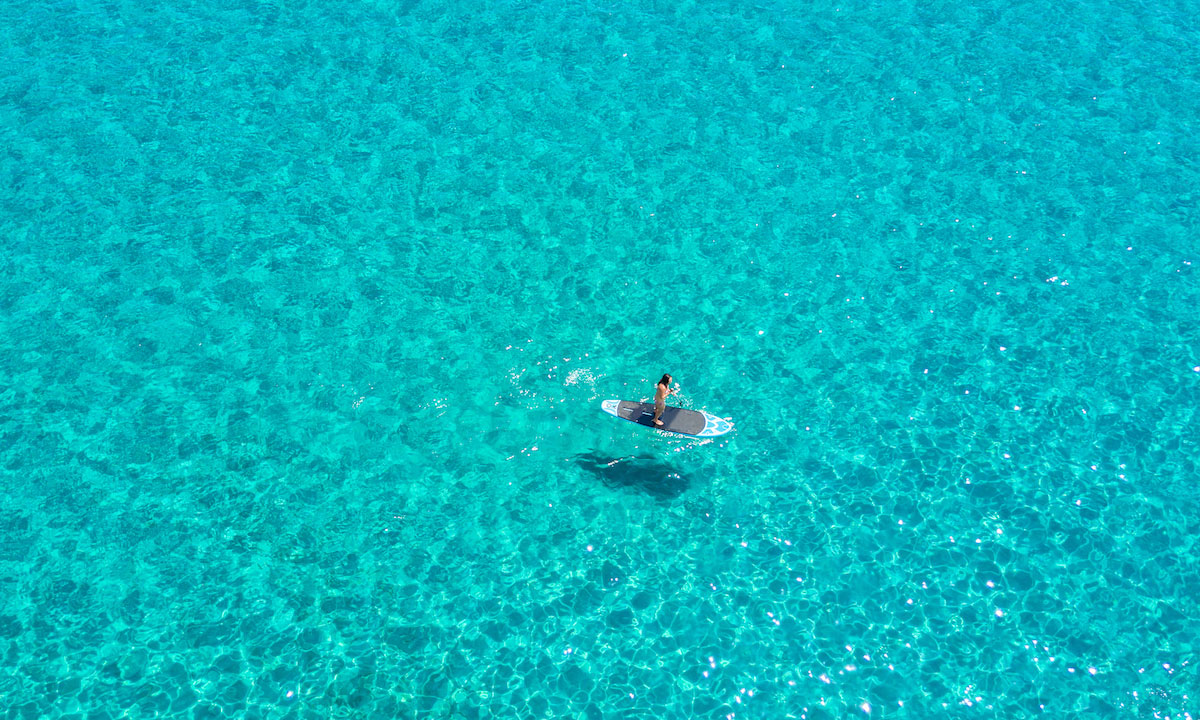 Young woman on a stand up paddle board on the emerald waters of the Aegean Sea in Greece. | Photo: Shutterstock
Bethany Mercer enjoying the beauty of Greece from the water. | Photos: Jay Haysey
With 13,676 km of coastline (biggest in Europe and 11th in the world) Greece is a unique place for Stand Up Paddling. Furthermore 6000 islands, 63 lakes and 27 rivers offer limitless possibilities in terms of spending quality time on a SUP board. Greece provides an exquisite destination for holidays, sightseeing and Stand Up Paddle boarding. Historical monuments, beautiful islands, majestic mainland and the Mediterranean natural environment have it all!
Learn more about this SUP Destination HERE.
As your planning your vacations for the year and need some inspiration on where to go where you can also take your paddle board, let these ten locations be on your radar as they will no doubt show you a good time.
To see more SUP Destinations, click HERE.
© Supconnect.com Copyrighted Exclusive Content
Last modified onTuesday, 29 May 2018 17:29

Allie Beucler is orginally from Kona, Big Island and, as an islander, her life has been in the water – ocean more precisely. She has been a sponsored competitive surfer, represented the NSSA College National Champions while surfing for San Diego State University, and today remains deeply connected to the watersports lifestyle. Brown is both a shortboarder and a paddleboarder, loving to take out her inflatable SUP for a ride. With a journalism degree from San Diego State University and her passion for the water life, she brings an excellent combination of skill and passion to Supconnect.
Email

This email address is being protected from spambots. You need JavaScript enabled to view it.