Paddle Boarding Lake Powell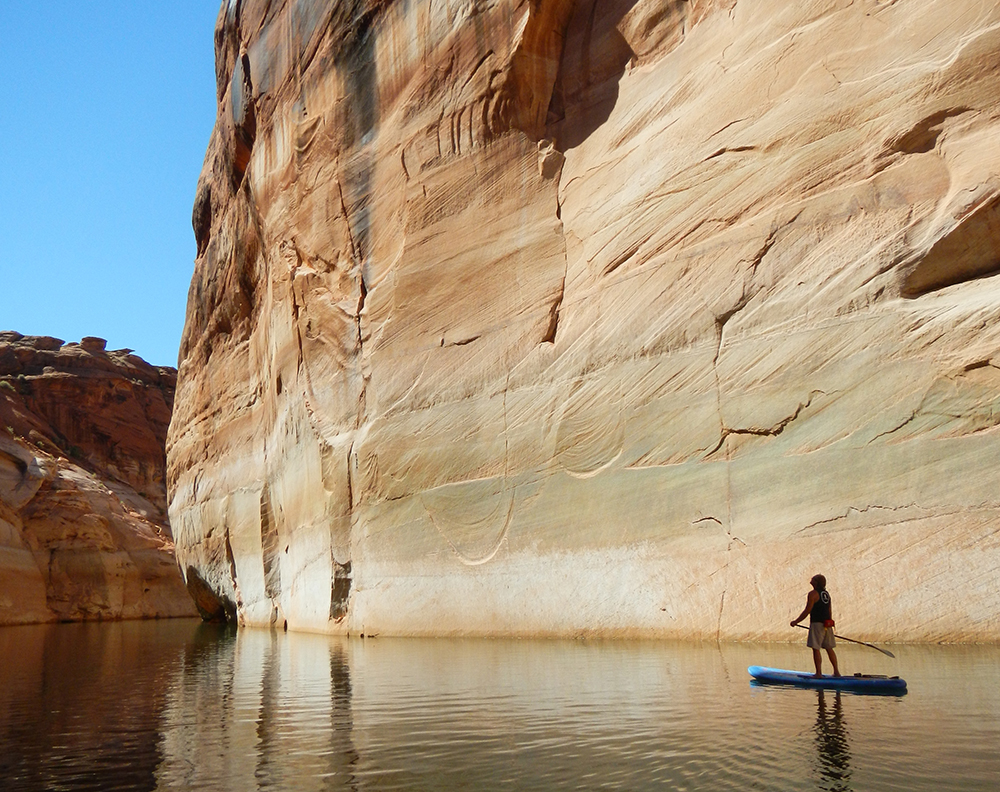 Antelope Canyon, Lake Powell. | Photo: Jordan Lapekas
Written by and photos courtesy of Jordan Lapekas
LAKE POWELL, Arizona - Lake Powell is one of the world's top SUP destinations. The incredible canyons and natural landscapes are unlike anywhere else on earth. You may have seen photos of the amazing red rock cliffs and beautiful, crystal clear, warm water but there is nothing like experiencing it in person. With an average depth of 300 feet, there is no shortage of water here. Lake Powell is located in the Glen Canyon National Recreation Area on the Utah/Arizona border. There are over 94 major canyon sections to paddle at Lake Powell, with over 150 miles of lake to explore and constantly fluctuating water levels you will never have seen it all!
Glen Canyon was the name of the tranquil section of the Colorado River that once meandered through red rock canyons which, after the building of Glen Canyon Dam in 1966, became the stunning blue waters of Lake Powell. The lake is named after explorer John Wesley Powell, the first documented person to float the Colorado River.
Where is Lake Powell?
Lake Powell is in northern Arizona and extends across the border into southern Utah. It's part of the Colorado River in Glen Canyon National Recreation Area. You can access Lake Powell from Page, AZ, the only city near Lake Powell. The lake is over 150 miles long and very remote. Other than the Page, AZ section there are no services, restaurants, hotels or gas stations except for just a few far up lake. So, come prepared! You can fly direct to Page via great Lakes Airlines from either Denver or Phoenix.
Page, AZ is:
130 miles from Flagstaff, AZ
385 miles from Salt Lake City, UT
630 miles from Denver, CO
273 miles from Phoenix, AZ
379 miles from Las Vegas, NV
What are the park fees for enjoying the lake? As of now the rate is $25.00 per vehicle, not per person, and is good for 7 days.
Where to stay?
You can stay in a hotel in Page, AZ. There are many to choose from. You can also camp at a few spots here. For a truly unique experience plan to paddle over to Antelope Island and camp there. You will have the island practically to yourself and you can be right on the water's edge. To really experience Lake Powell at its best, wake up at dawn and paddle over about 1 mile to Antelope Canyon and experience the glassy conditions that are just unreal!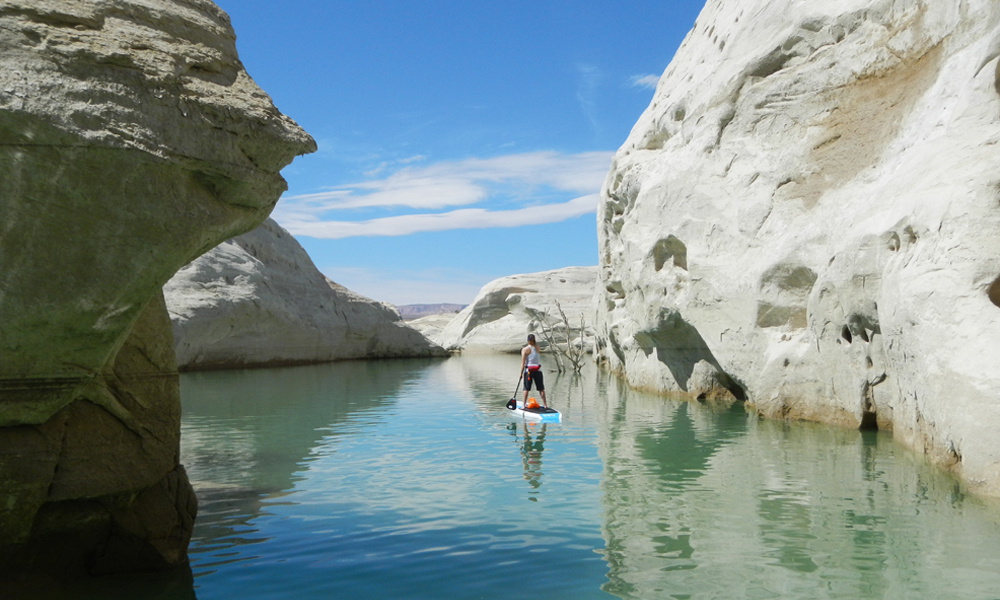 Paddle boarding in Lone Rock. | Photo: Jordan Lapekas
Another camping spot is at Lone Rock Beach, on the Utah side, where you can camp right on the beach. There are no services here though so you will be roughing it. There is also a regular campground with showers, etc. at the Lake Powell Resort at Wahweap Marina, and another in town called the Lake Powell campground.
Here are some interesting facts about Lake Powell:
1. Lake Powell holds up to 27 million acre-feet of water and is 560 feet deep at the dam. That amount would cover the state of Ohio with one foot of water!
2. The lake is 186 miles long, and with 96 major side canyons with more small ones, it has more than 1,960 miles of shoreline—more than twice the length of the California coastline. There are over 94 major canyons to paddle at Lake Powell, with over 150 miles of lake to explore and constantly fluctuating water levels you will never have seen it all.
3. Hundreds of colorful sandstone side canyons, coves and natural wonders make Lake Powell a paradise for house boating, fishing, photography and of course paddle boarding!
Antelope Canyon (L) and Labyrinth Canyon (R) at Lake Powell. | Photos: Jordan Lapekas
4. It took 17 years for the Colorado River to fill it up. Lake Powell started filling in 1963 and reached full pool for the first time in 1980.
5. Lake Powell is the second largest reservoir in the United States (Lake Mead in Nevada and Arizona is the largest).
6. Time zones:
The state of Arizona does not switch to Daylight Savings Time in summer.
Within the state of Arizona, the Navajo Reservation does switch to Daylight Savings Time.
Within the Navajo Reservation lies the Hopi Reservation. The Hopis do not switch to Daylight Savings Time.
The state of Utah does switch to Daylight Savings Time.
Confused? Just remember that the only paddle board shop Lake Powell Paddleboards operates on Arizona time!
7. Two of the most famous natural wonders in the world are here in our area... Horseshoe Bend, Rainbow Bridge and Antelope Canyon.
Seasonal Temperatures:
Labyrinth Canyon at Lake Powell. | Photos: Jordan Lapekas
Average water temperatures fluctuate from an inviting 82°F in August to a chilly 46°F in February. Warmest water months: July, August and September. Air temperature runs from the high 90's in summer to the mid-40's in winter with some snow. The lake is virtually deserted in the winter making it an amazing winter paddle destination for the hearty paddler. Just be sure to bring a wetsuit with booties. Summer typically is very hot and has late afternoon thunderstorms that pass quickly. Fall is the best time to come because the water is still warm, the wind is light and but most of the tourists have left.
The wind can be an issue, especially in the spring, so be sure to watch the local forecasts for your trip. A leash is a must here because there can be 6 foot swells on the lake in bad winds. The wildlife at Lake Powell includes Ravens, Big Horn Sheep, coyotes, snakes, hawks, California Condors, and other desert life. On a typical paddle you can expect to see birds of prey, lizards and fish. In the water you only have river fish such as trout, bass, catfish and others. Nothing that bites or stings making it ideal for swimming.
Best Paddle Spots:
The best way to access the lake is to rent a houseboat and tour up lake for a week, that way you can see many different areas that you cannot get to by car. The two best places to paddle without using a boat are: Antelope Canyon and Lone Rock Canyon. Both are about a 20 minute drive from Page.
Antelope Canyon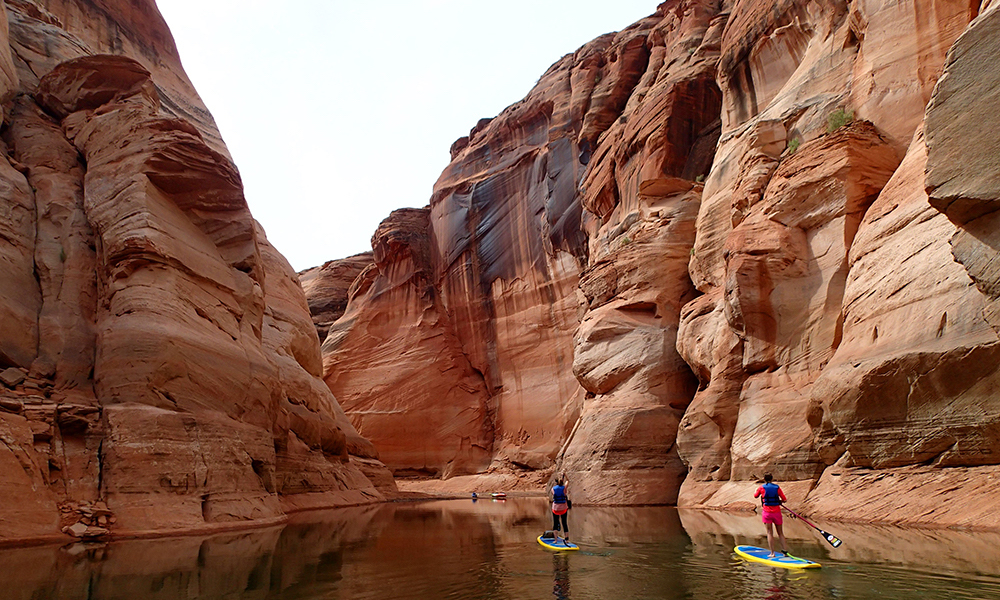 Paddling through Antelope Canyon. | Photo: Jordan Lapekas
Antelope Canyon is the most scenic area with the tall, majestic, red rock cliffs and narrow slot canyon at the back. You get there by putting in at the Antelope Point Public Boat Launch and paddling to your left. About a mile down you will see the mouth of the canyon where you turn in and paddle about three miles back to where the canyon dead ends, then park your board and hike into an amazing slot canyon for about one mile.
Lone Rock Canyon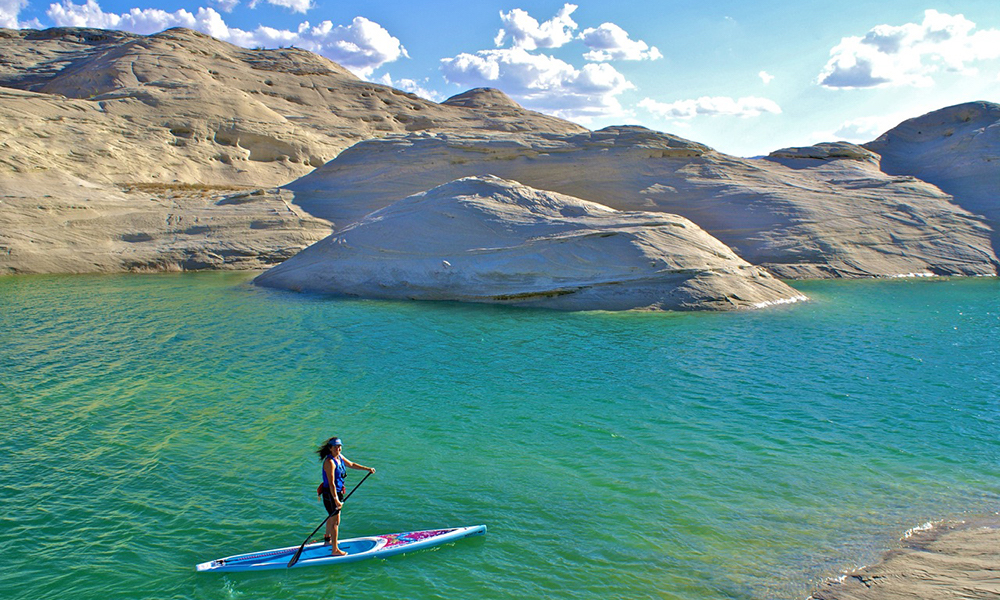 The stunning views in Lone Rock Canyon are endless! | Photo: Jordan Lapekas
Lone Rock Canyon is accessible from Lone Rock Beach on the Utah side and you paddle about a third of a mile across the lake to get to the canyon. In summer, the beach area gets crowded with RV's, tents, cars and boats so it is not the quiet tranquil place it is in winter, but when you paddle across you will discover an area unlike anywhere else on earth. With smooth white sandstone landscape features and narrow slots it looks like something on another planet!
Up-Lake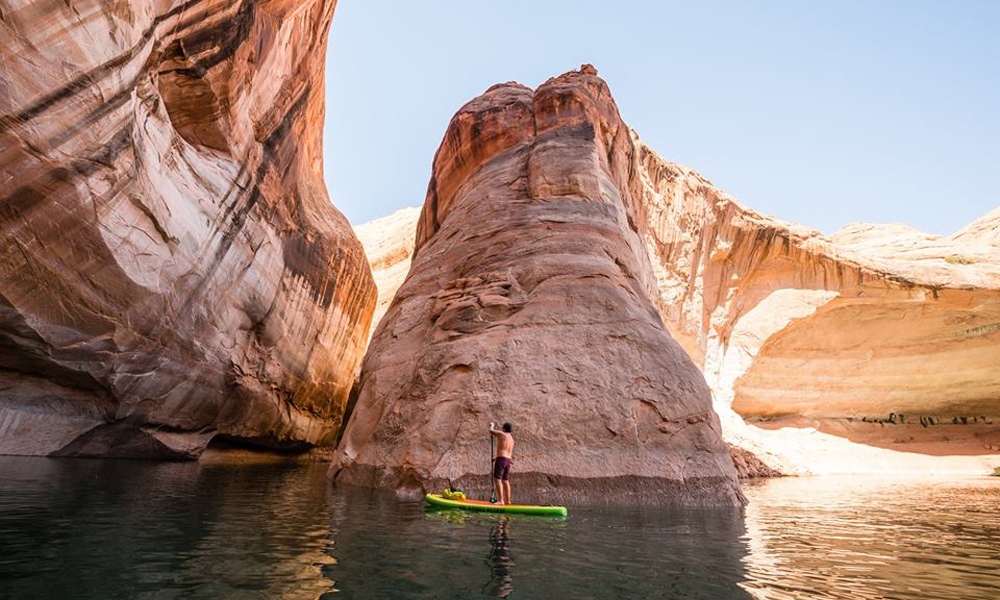 Up-lake is a must if you're in Lake Powell. | Photo: Trevor Simington
Up-Lake is a must for anyone who has the time to go. Whether you take a day boat/SUP tour or rent your own boat and cruise up you will not be disappointed in what you will find around every bend. Some canyons wind back over 20 miles, some narrow areas you can only access by SUP or kayak, there is something for every type of paddler here. Some notable day trips up lake would be to Labyrinth Canyon, Gunsight Canyon and Navajo Canyon. Talk with the friendly staff at Lake Powell Paddleboards for more information on how to get there and where to go.
Horseshoe Bend
Horseshoe Bend on the Colorado River is an amazing paddle experience though not an easy trip, as you must get back hauled up the river from Lee's Ferry. You do need to make arrangements ahead of time to do this. There is only one company that has the concession to do that trip called Colorado River Discovery and they will charge you for both yourself and your board.
Rentals:
There is only one paddle board shop at Lake Powell, located in downtown Page called Lake Powell Paddleboards. They have daily and multi-day rentals, tours, up-lake boat/SUP trips and sales of quality equipment, plus the local knowledge you will want to gain to ensure the best experience.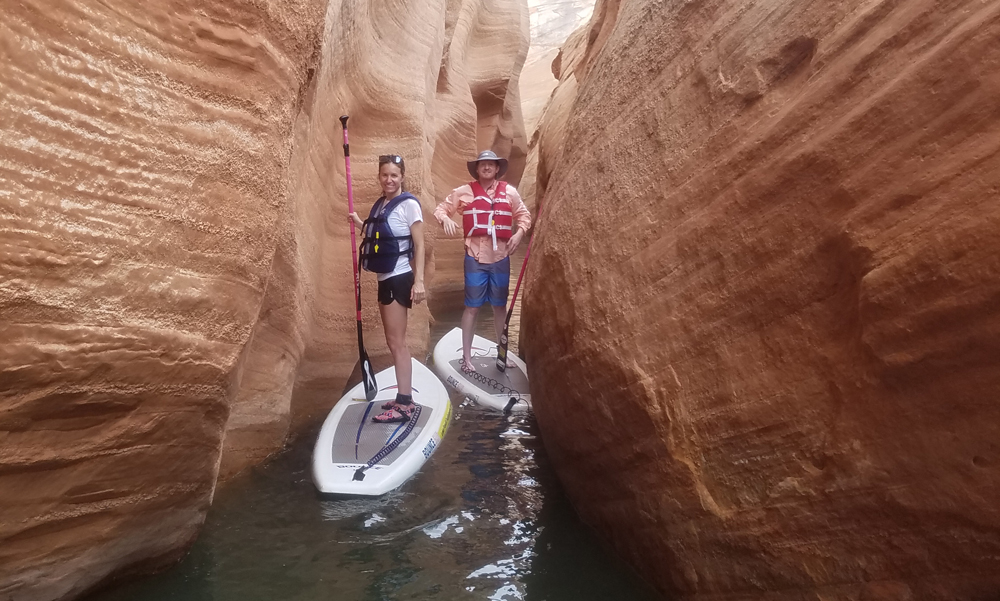 Take a tour with the folks at Lake Powell Paddleboards. | Photo: Jordan Lapekas
About Lake Powell Paddleboards:
Opened in 2013, Lake Powell Paddleboards is a family owned and operated Stand Up Paddle (SUP) shop located in downtown Page, AZ just minutes from Lake Powell. Carrying only high quality SUP boards, paddles, gear and accessories. Lake Powell Paddleboards offers tours from WPA Certified Guides. Sales and rentals of top quality equipment from Riviera, Surftech, Bounce, Kialoa, Pau Hana and Glide as well as SUP specific clothing and accessories. Lake Powell Paddleboards offers private tours and events for any occasion and also have fat-tire bikes and kayaks for rent.
LPP's goal is to provide a place for paddling newbie's and enthusiasts to have a one-stop shop at Lake Powell. Come see the amazing shop that they built out of recycled shipping containers and meet the owners Jordan and Joe Lapekas. In 2012 they set off on a personal quest to paddle in all 50 states. Over 120,000 miles later, they accomplished their goal in 2.5 years.
They fell in love with the sport and lifestyle of paddle boarding in 2009 and have brought this new sport to many people and places across the country and now the world, thanks to the hundreds of international guests that come to experience Lake Powell every year. Come and see why Lake Powell is one of the world's top SUP destinations!
Last modified onWednesday, 17 June 2020 14:00

Submit your news, events, and all SUP info, so we can keep promoting and driving the great lifestyle of stand up paddling, building its community, and introducing people to healthier living.
Website: supconnect.com
Email

This email address is being protected from spambots. You need JavaScript enabled to view it.