Paddle Boarding Grenada Island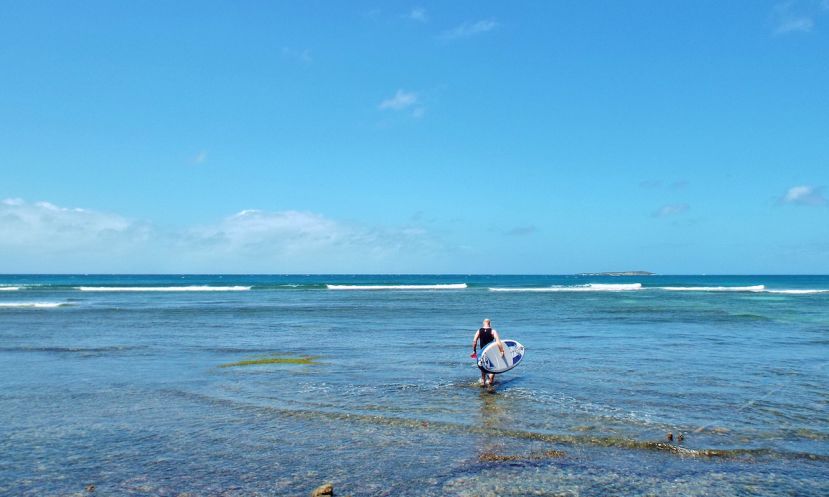 Tez Plavenieks headed out for a paddle in Grenada. | Photo: Fi Plavenieks
'The Spice Isle', as Grenada's affectionately known, isn't one of the first Caribbean islands you think of when talking about water sports. Often overshadowed by its more headline spot windward island siblings of Barbados and Tobago, Grenada sits towards the bottom end of the West Indian archipelago, quietly awaiting your arrival should you fancy discovering its delightful SUP pleasures yourself.
I first had the chance to visit Grenada back in winter 2003 with Neilson Watersports Holidays – a company my (now) wife and I were working for. Back then, it was all about windsurfing – stand up paddling wasn't on the radar. Since that initial prolonged visit (eight months) we've returned numerous occasions and every time I can't help but wonder why there aren't more paddlers hitting the island's shores.
Boom and bust
Shortly after we left Grenada in '04 the island was devastated by the now infamous Hurricane Ivan. A CAT 5 storm Ivan obliterated the island causing untold damage across the whole of its lush and green landscape. At that point in time my employer was the only real water sports holiday operator outside of diving. Grenada benefitted from regular UK tourists heading across the Atlantic to make use of the tropical sun, sea and trade winds. Cruise ships with hordes of tourists would also frequently dock just outside the island's capital, St. Georges, but these stops were short lived. It's always been the prolonged tourist trade that Grenada thrives on.
Grenada port. | Photos: Tez & Fi Plavenieks
Post-Ivan, Neilson opted to pull the plug on its windsurfing, sailing and coaching operation – costly import duties for water sports equipment being the main prohibiting factor. As such, the windsurfing, dinghy sailing and sit on kayaking action of Grand Anse Bay all but dried up.
Plenty of non-water sports travelers continued (and still do so) to visit Grenada, all vying for a whiff of those pungent spicy nutmeg and mace aromas (which Grenada is famous for) drifting on the breeze. But other than the dive schools dotted along Grand Anse's shoreline, and the odd catamaran ride or waterski buzz, there wasn't a lot else going on water sports-wise for a while.
Return to paradise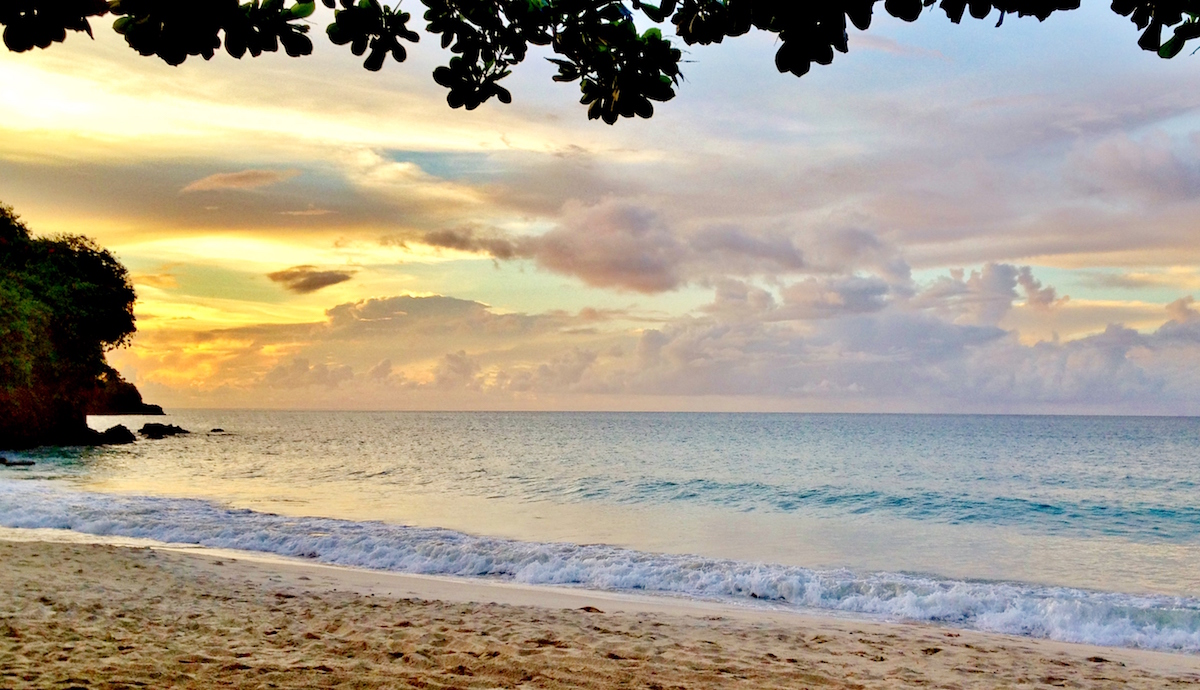 Grenada sunset. | Photo: Tez Plavenieks
Having knocked windsurfing coaching on the head at the end of 2005 I moved into the world of 'real work' and didn't get the opportunity to return to Grenada until 2010. Always in the back of my mind was the fact we'd go back as I knew how good conditions can be for SUP, windsurfing, kayaking and surfing (on its day) – yes, Grenada does get waves!
With an opportunity popping up we jumped right in for some more Spice Island flavour, warmer water, rum punch, Oil Down (the island's local dish) and SUP shenanigans. We were also excited to be hitting up old friends and checking out how things had moved on.
Travelling from the UK with stand up paddle boarding kit to Grenada is pretty tricky, hence the choice of flying with an inflatable. Although I knew which spots we'd be aiming for (waves and flat water) there was still a good deal of undiscovered SUP territory to stumble upon – a hard shell board would've been preferable. Without much choice in the matter a Red Paddle iSUP was it, however.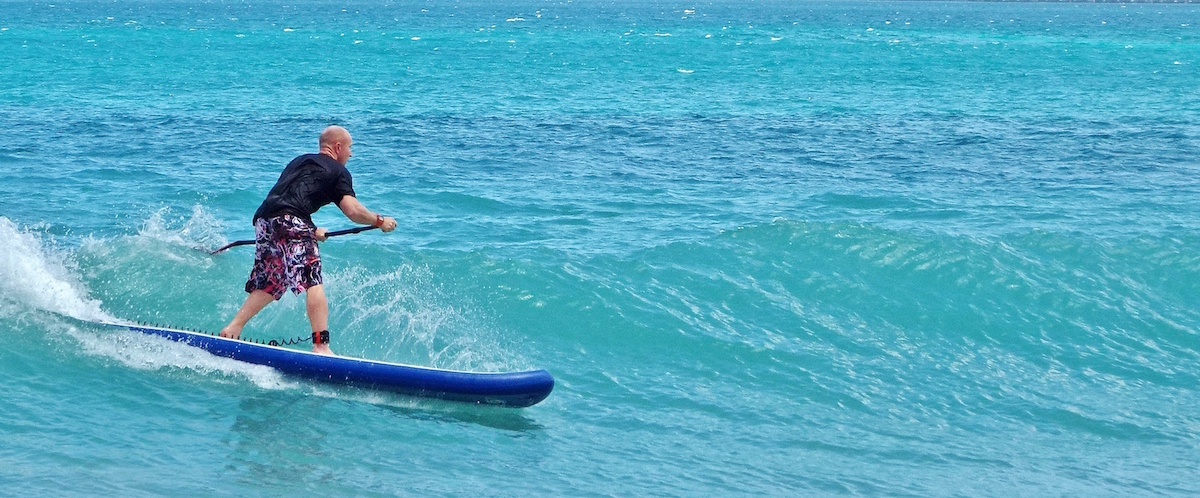 Tez Plavenieks SUP surfing in Grenada. | Photo: Fi Plavenieks
It was a buzz to be at Maurice Bishop International Airport once again. Azure colored Atlantic Ocean on one side, the peaks of Gand Etang National Park in the distance above St Georges; it felt like a homecoming. Collecting our luggage and emerging into the tropical heat we were greeted by the familiar site of beaming local smiles (Grenadians are some of the friendliest people around) and the smell of spice hanging in the air. Although the Trades were huffing the humidity still grabs you by the throat and before long beads of sweat stream down your forehead. Jumping into boardies and as little top side attire as you can get away with is therefore bliss.
Playtime!
Basing ourselves in the Grand Anse area – where most tourists tend to stay – we enjoyed a cracking trip which saw plenty of stand up paddling happen along the white sands of the main beach. Hugging the shoreline, paddlers can sweep right up into the northern (sheltered) corner of Grand Anse before pivoting and running back downwind towards Quarantine Point.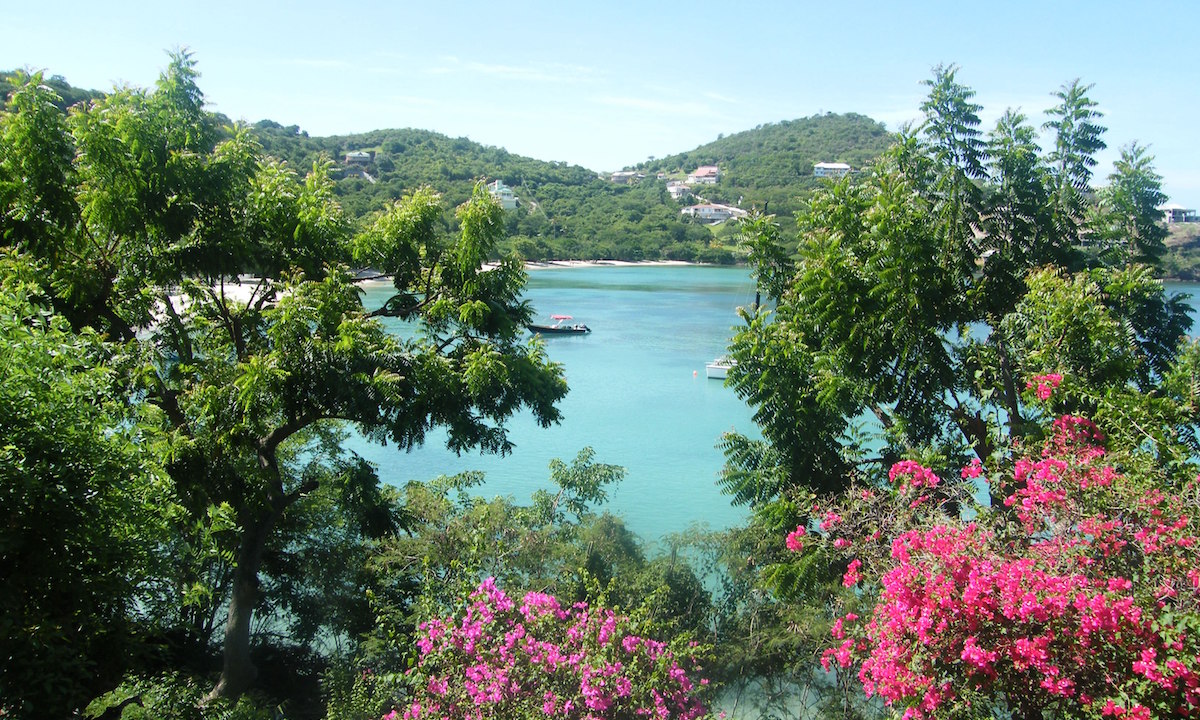 Mourne Rouge. | Photo: Tez Plavenieks
Trade winds blow anything from side off to cross shore and can provide fun downwind conditions – small to medium size bumps being the norm. The slog upwind, in 30C+ heat and near 100% humidity, is a great work out while heading further round into St Georges harbor, being careful to avoid the comings and goings of huge freighters, makes for great SUP sightseeing. Those seeking shelter from the breeze should head further south to BBC Beach (also called Morne Rouge). Here, paddlers will enjoy the benefits of idyllic flat water sweeping in exquisitely tropical surroundings. Plus, there's a great little beach bar nestling in the top corner for that all-important, post-session Carib coldy.
If there's any swell running then you do sometimes get a mellow wave breaking off the point and running into the bay. It's a super relaxed affair although it does get critical the further offshore you venture. Anyone doing this should be aware of the strong (accelerated) wind blowing you out to sea – getting back to land can be harder than you think!
Although my wife and I were loving being back on the Spice Isle – hooking up with mates and enjoying some stunning paddling – we wanted to explore further afield and get across to the Atlantic coast. Unfortunately, we didn't get a great deal of opportunity to do this until we once again made the sojourn back to Grenada.
Back once again…
Atlantic Coast. | Photos: Tez Plavenieks
This time around we were determined to cover more ground, so to speak, and had the option of a 4x4 hire car. Once again basing ourselves in the Grand Anse area (this is the perfect base for exploring the island) we spent a good chunk of time on the eastern side of the island. While Grand Anse is a perfect flat water SUP playground, with some surf options during bigger swell pulses, it's the Atlantic facing coast which has the most SUP surfing and bump running options.
As previously mentioned, due to baggage restrictions on flights we had to travel with an inflatable SUP, which isn't a problem in itself. I would've preferred, however, a more surf orientated sled – but beggars can't be choosers. (At the time of writing it's understood there are now more flight options – some of which will take hard stand up paddle boards). This time round we had a BIC 10ft iSUP in tow.
Prickly Point
Prickley Point pre-session. | Photo: Fi Plavenieks
The most consistent (and well known) surf spot on the island is Prickly Point. With its fingers of land poking into the ocean this side of Grenada is peninsula heaven and boasts a number of different set ups. Pick any of these fingers and on one side you'll find confused and blowy seas, completely exposed to the full brunt of Atlantic conditions. Head to the sheltered shores of communities like Lance Aux Epines (where Prickly Point is located) and in the leigh of the land, hiding from the Trade Winds, are a bunch of mellow left hand point breaks boasting cylindrical Caribbean lips curling over shallow reef. Some of these are yet to be ridden, with access being tricky. Paddling from further inshore could be an option – just be aware of limited get outs should it all go Pete Tong.
Prickly Point's launch access is also tricky to find. Driving along the main peninsula road, passing multi-million pound houses, you have to keep your eyes peeled for the 'marker'. An old battered surfboard is attached to the garden wall of someone's pad just beneath overhanging green undergrowth. Even upon closer inspection it's a question whether you've come to the right spot.
Clambering down a dodgy hillside path, prone to slipping, you eventually come to a concrete jetty that's rarely used. If you hit Prickly on a good day then you'll be given a panoramic vista of perfect lefts reeling down a shallow reef. With any kind of strong Trade Wind blowing surf will wrap round the point and unload onto the shallow shelf. It's not a super hardcore wave but care still needs to be taken due to coral heads suddenly popping up – especially at low tide.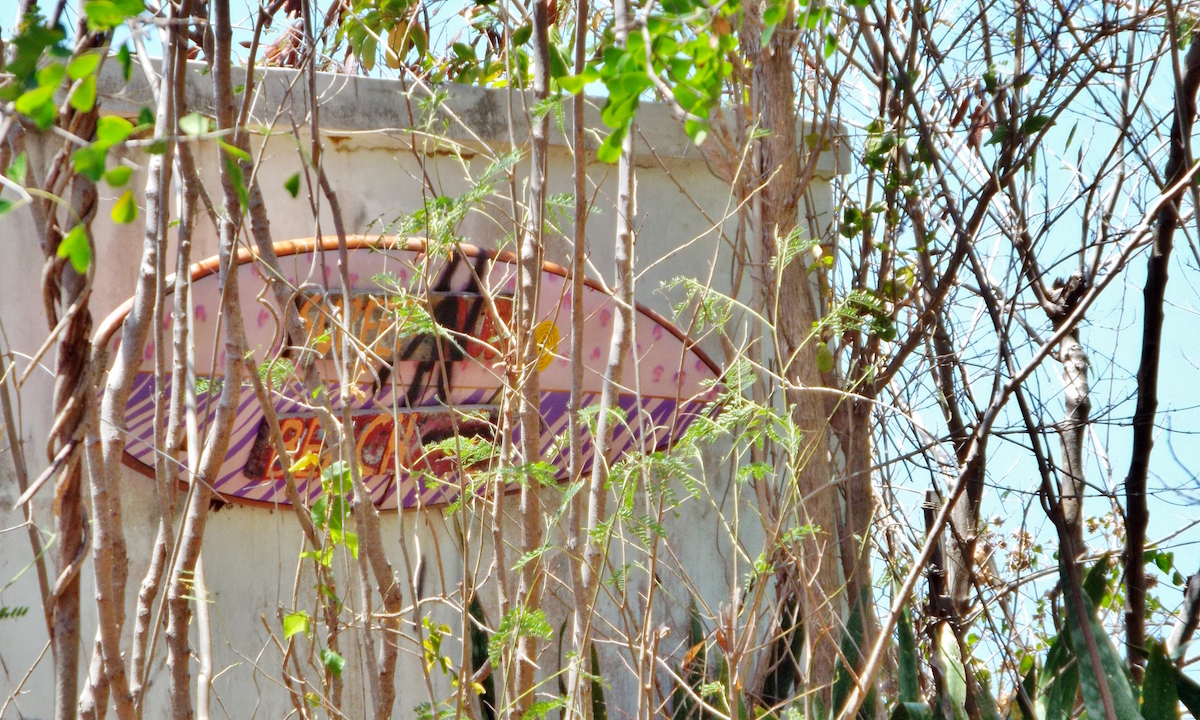 Prickley Point marker. | Photo: Fi Plavenieks
Needless to say this time around I was quickly into the water for some fun waves and a decent session ensued. Those fancying respite from paddle surfing can head further into the main bay, towards Dodgy Dock, and discover a great, sheltered flat water option.
Any more?
Travelling around Grenada extensively during this second trip yielded a bunch of spots that all have potential for surfing, downwind bump running and mellow recreational paddling. The northern tip of Grenada, (just offshore from the Levera National Park) boasts the impressive Sugar Loaf Island. It's possible to paddle across the short channel to the island but currents can be super strong. You can also get some serious wave action on its day. Back south to Grenada's second town and Grenville has a reef flanked bay that can be good for a paddle in flat to choppy conditions. Outside the reef big swell often delivers solid clean surf. The wet season is best as Trades are at their least gusty.
Numerous other surf reefs dot the coastline in abundance as you explore. The island's infrastructure, in places, isn't great and access to certain beaches can be a struggle, however. Plus, you need to be aware you'll be well off the beaten path in these remote areas. If you have an accident then getting help will be a mission. Depending on the direction and strength of Trade Winds there are lots of different set ups open for first rides. Grenada really does offer lots of unridden paddle surfing potential and awesome downwind routes. Hitting Woburn Bay you should poke your head in to Jamie and Amber Jaqueline Barrett's Conservation Kayak outfit.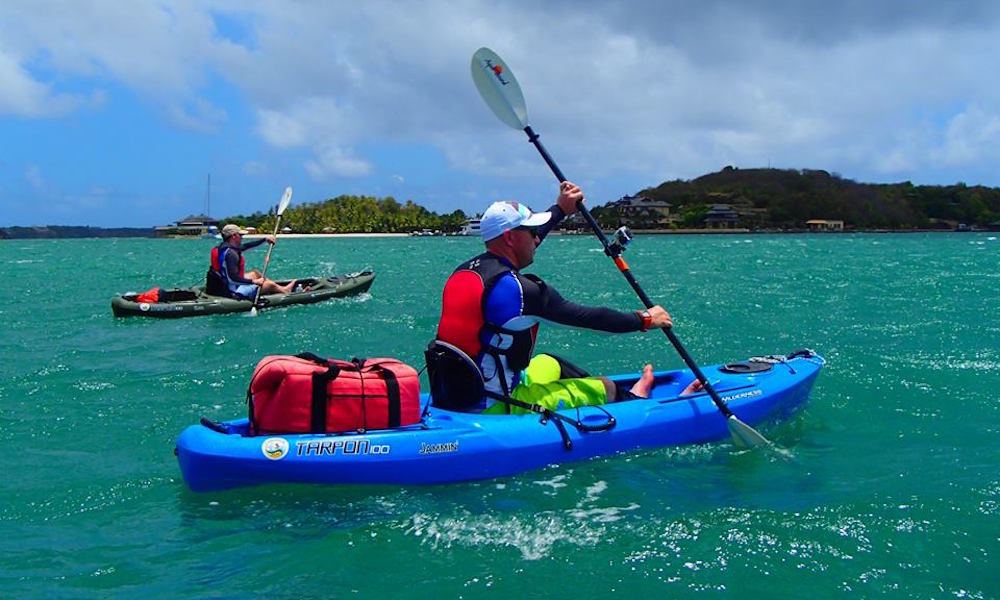 Conservation Kayak outfitters. | Photo: Fi Plavenieks
These guys have been operating sit down paddling tours for a number of years and will be able to give you some serious local knowledge about the immediate area. Both have paddled these waters extensively and have a lot of understanding about the location. Conservation Kayak is an example of a business that saw potential of water sports in Grenada and acted upon it. In what was a sparse land of opportunities these guys have helped put Grenada on the map for paddling in sit down form.
Cherry Hill
Back in Grand Anse and on a big northerly swell waves can wrap into the bay and serve up some thumping shore break swell in front of Phil Saye's (another English ex-pat) Dive Grenada shack. He, like the Conservation Kayak guys, knows a great deal about the island and its watery conditions having spent all of his time under Grenada's azure colored waters. While not being a paddler per se (no pun intended) Phil and his wife's knowledge about the island is extensive. Plus, when stand up isn't the preferred option there's the opportunity for a snorkeling or diving trip to Grenada's breath taking underwater sculpture park – definitely worth a look.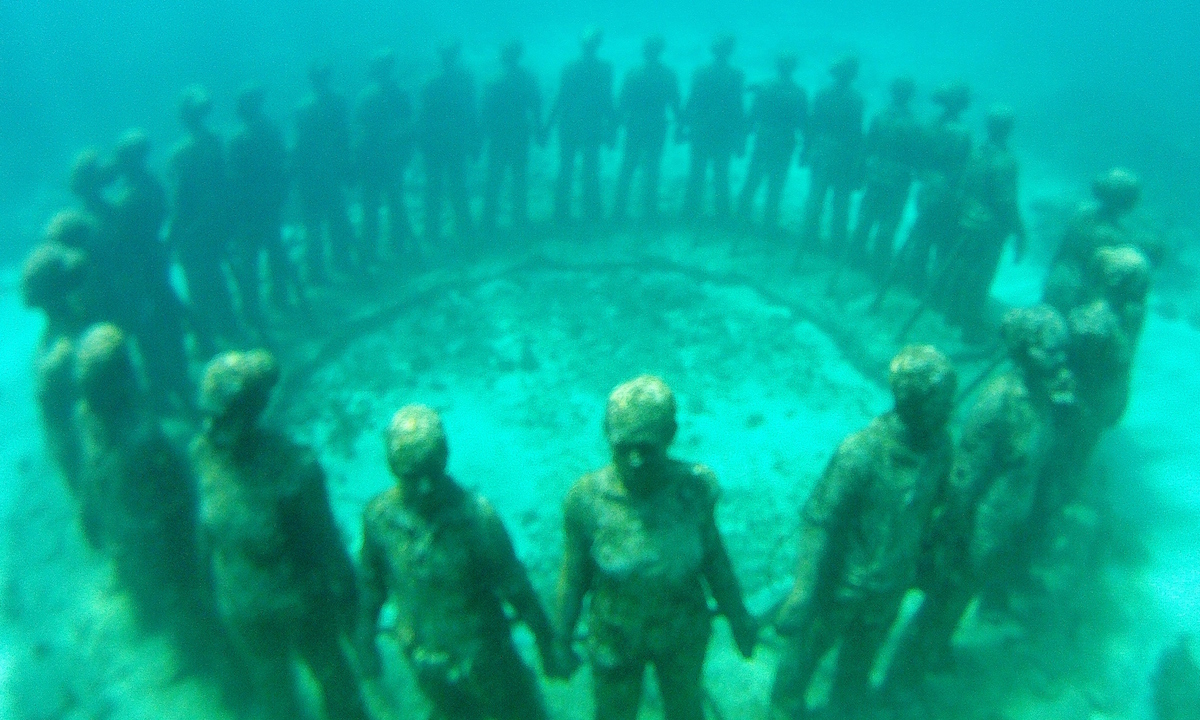 Underwater Sculpture park. | Photo: Tez Plavenieks
For those seeking further surfing action then keep an eye on Cherry Hill. To the left of St Georges, next to the cruise ship terminal, is a firing reef break that lights up with those big wrap around northerly pulses. Facing south you'd expect it to not be that consistent, when actually you get more rideable days here than you'd imagine – especially between November and February.
Cherry Hill is pretty gnarly as it's super shallow, with Fire Coral lurking just beneath the surface. It also has debris from the ferry terminal construction lying on the sea bed and is reportedly sharky. When it's on, however, the wave is a fast peeling left that folds under the cliff of Cherry Hill village, hence the spot's name. A contingent of American veterinary students (the island's vet university is world class) held a surfing comp (Grenada's first) a few years ago. Local videography/photographer and now SUP enthusiast/business owner Derek Pickle filmed proceedings which you can see HERE.
Magazine Beach

Magazine Beach. | Photo: Tez Plavenieks
Called so due to its stunning white sand and gin clear Caribbean Sea water Magazine Beach (where you'll find the Aquarium Beach Bar and Restaurant – perfect for lunch or post-SUP quaffings) often serves up a fun shorey off the rocks in the left hand corner. It's certainly not a world class wave but if you're in the vicinity then you should at least check it out. There's a little more potential back towards the Rex Grenadian hotel and Doctor Groom's beach. Go with an open mind and who knows, you may get lucky. For flat water SUPing this part of the island is also cracking.
Where we're at now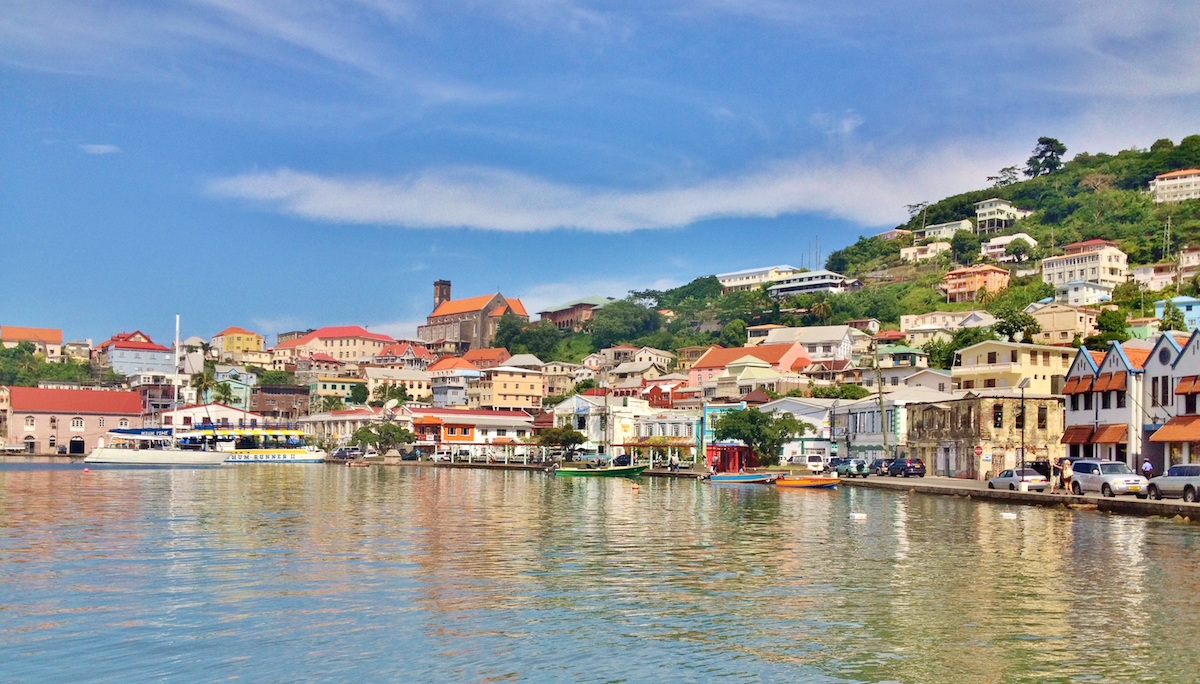 St. Georges. | Photo: Tez Plavenieks
In the years since my last Grenada trip the island's economy has improved a lot. A new high end tour operator has moved in which brings much needed revenue to the island (Sandals). From a stand up paddle boarding point of view there's now an outfit operating. Owned and run by Derek Pickle (mentioned above) SUP Grenada offers tours and lessons to anyone who fancies having a stab at dabbling with a paddle.
Derek knows the island like the back of his hand and as well as stand up practices kitesurfing and dabbles with a surfski. Along with Phil Saye and the Conservation Kayak crew these should be your go-to contacts for all water sports knowledge if visiting the Spice Isle. They're all happy to offer up advice and help visitors get the most from their watery activities.
A sheltered bay and Prickley Point. | Photos: Fi Plavenieks
As far as stand up paddling in Grenada goes there's still a long way to go. Obviously the mentioned above are doing a sterling job – something I've experienced first hand. But with so much untapped potential Grenada is ripe for further SUP discovery. I often thought how cool it'd be to accompany a bunch of water sport athletes and spend an extended period of time exploring, filming and photographing all the action. Maybe one day…
For now, if you're searching for somewhere new to SUP then Grenada could be it. With its vibrant culture, enormously friendly people and awesome paddling potential this quiet Caribbean island could be your 'go to' tropical SUP destination.
Accommodation –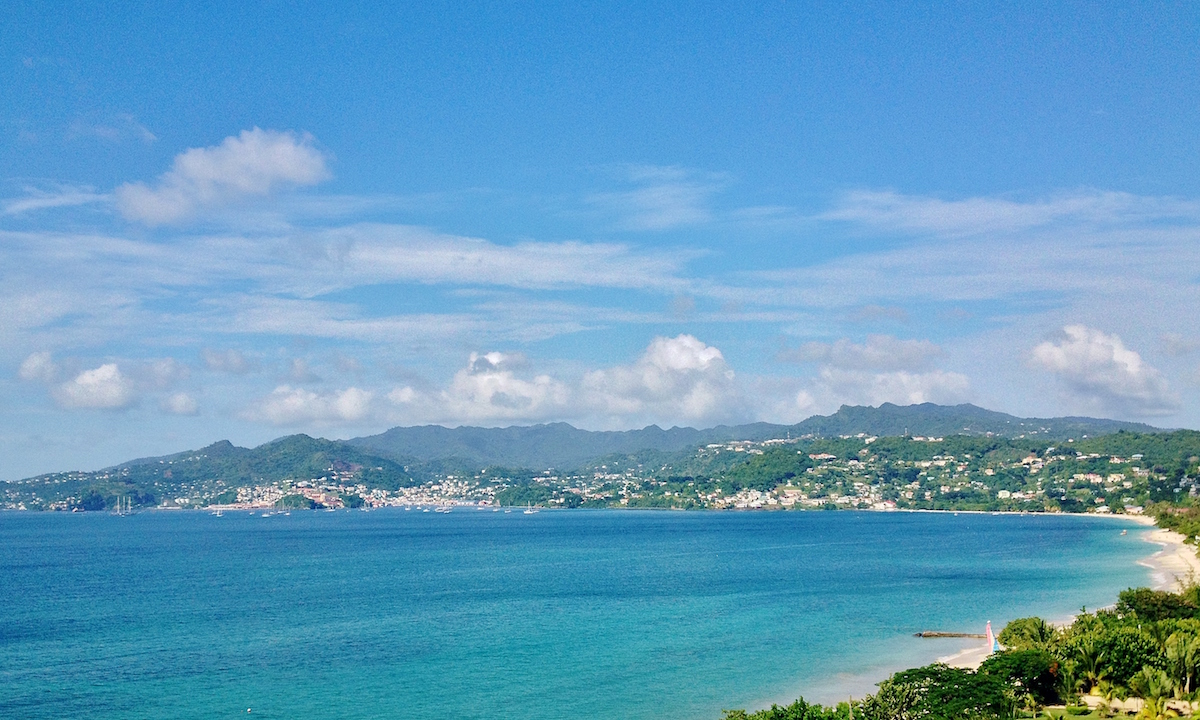 Grand Anse. | Photo: Fi Plavenieks
It's the Grand Anse area of Grenada where you'll find most accommodation options for visiting stand up paddlers. There's something for every budget, from self-catering apartments to luxury five star plus, pamper yourself pads.
A couple of good options are:
The Flamboyant Hotel and Villas located right on the beach at the southern end of Grand Anse. These mid-range rooms are clean and perfectly positioned for launching straight in front of the hotel.
Kalinago Beach Resort is another mid-range hotel this time located over the hill at Mourne Rouge. Also offering immediate beach access simply wander through the gates onto the beach and launch.
Above both the Kalinago and the Flamingo, perched atop the hill, is the Grand View Inn which offers no frills, but comfortable and clean, self-catering apartments.
If you're after something higher end then check out Mount Cinnamon or Spice Island Beach Resort for ultimate pampering.
True Blue's Boutique Resort nestles on the Atlantic coast and delivers a laid back vibe with ocean view surroundings.
Lance Aux Epines Cottages are self-catering and located very close to Prickly Point. In fact, you can paddle round to the wave from here so a good spot to base yourself if surf is your bag.
Sandals La Source has its own cracking stand up paddle boarding beach (Pink Gin Beach) and offers the chance to access its aptly named sands. The resort has plenty of other entertainment for your holidaying pleasure, just be sure to leave the hotel once in a while!
If you're a multi-millionaire then why not check out Calivigny Island. A private offshore lump of rock that boasts stunning (and super exclusive) accommodation, as well as amazing views and paddling opportunities.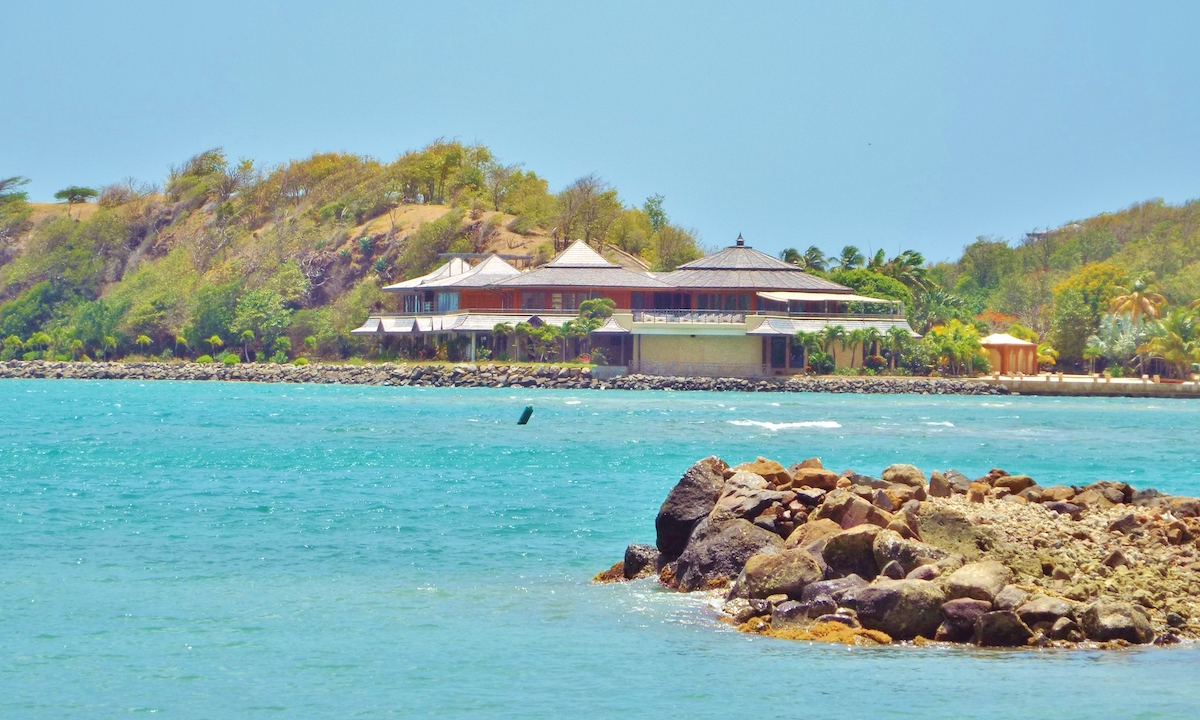 Calivigny Island. | Photo: Fi Plavenieks
Car hire –
There aren't that many car hire companies on Grenada but the ones that are available offer a bunch of different vehicle options. If you're planning on exploring the island then we'd recommend a 4x4 to access some of those 'out there' locations. It's also advisable to take inflatable roof bars and straps as car hire firms don't provide these.
SUP hire –
If not planning on taking your own SUP gear then it's worth contacting Derek at SUP Grenada who'll be able to arrange hire equipment for your stay.
Kit to take –
If you're planning on taking your own gear then you'll most likely benefit from a touring and/or downwind SUP plus a medium size paddle surfing sled if you plan on hitting some juice. With airline restrictions in play consider inflatable. iSUPs worked well for both our Grenada trips.
When to go –
Grenada colors. | Photo: Fi Plavenieks
Best months for wind and swell are between November and March. Swells are mostly Trade Wind driven and usually in the medium size category, although big groundies do occur from time to time. All surf spots are reef breaks so some care will be needed. Neoprene booties are a good idea. Hurricane season can also yield good surf with northerly ground swells hitting the island accompanied by lighter winds.
Trades blow around 20+ knots and open ocean swells – especially along the Atlantic coast – can get big. If you're planning on downwind paddling then make sure you're experienced and have the correct precautions in place. Great flat water paddling can occur right through the year in any number of locations.
Other things to consider –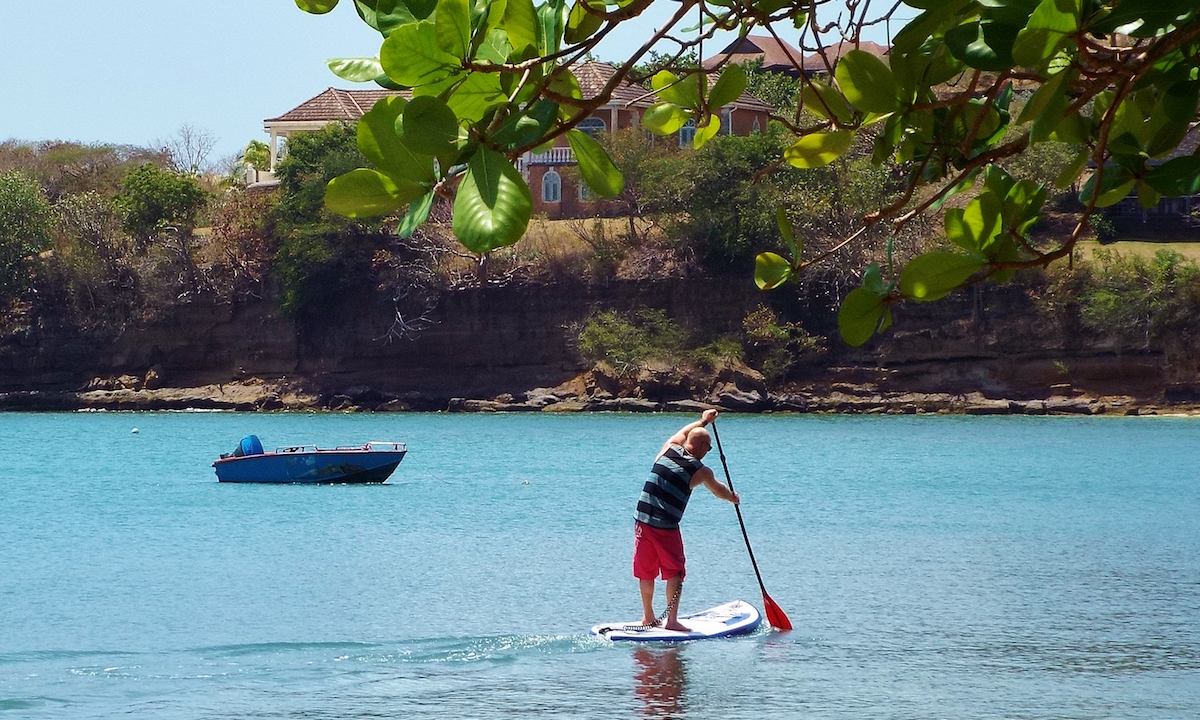 Grenada paddling. | Photo: Fi Plavenieks
In this article I haven't even touched upon Grenada's mini sibling islands to the north – Carriacou and Petit Martinique. Both these locations have amazing SUP conditions and can be reached by ferry running out of St Georges. Hiking and biking in Grand Etang National Park is an awesome experience – the Seven Sisters Waterfall treks is definitely worth a look.
We've mentioned scuba and snorkeling already but if you're not into all this physical exertion then visiting Grenada offers the perfect chance to unwind, relax and soak up some Carib vibes and chill. A rum punch or two followed by some exquisite Grenadian dining should round things off nicely.
© Supconnect.com Copyrighted Exclusive Content
Last modified onTuesday, 06 October 2020 15:26

Tez Plavenieks is editor of SUP Mag UK, Windsurfing UK and Sitons.com. An enthusiastic paddler, windsurfer and aficionado of all watersports, Tez is either writing about his passions or out on the water doing them.
Website: https://tezplavenieks.com/
Email

This email address is being protected from spambots. You need JavaScript enabled to view it.
Latest from Tez Plavenieks