Written by Jason Pereira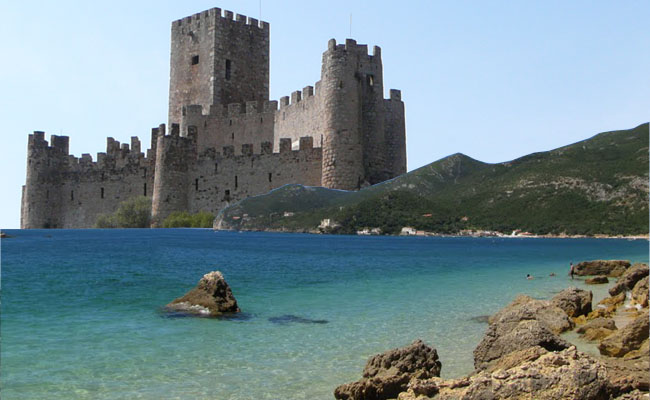 Knights Templar Castle in Rio Tejo (above/background) and praia Portinho in Arrabida in the South. Photos Courtesy: Jason Pereira.
LISBON, Portugal – Portugal looks out from the Iberian Peninsula onto the Atlantic Ocean, with a long history of Moorish and Oriental influences that have had a lasting impact on the culture and architecture which are still prominent to this day. The Portuguese are obsessed with football and surfing. (Join the SUP Portugal group.)


Paddleboarding (The Landscape)

---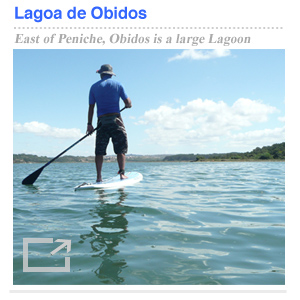 Most travelers coming from outside Europe will arrive in Lisbon's Portela airport and will be completely unaware that they've arrived in what is probably one of the best paddleboarding destinations on the continent, for its sheer variety of waters in which to paddle and all within easy striking distance of the country's capital – I don't think there is anywhere else like it! On arrival the choices are either South to Arrabida and its serene and calm Atlantic waters, North to the beach, reef and point breaks of Peniche and the beautiful Lagoa de Óbidos or head inland to the majestic Rio Tejo that winds its way from the Spanish border across Portugal until it empties into the Atlantic at Lisbon. Of course there is always the option, given about a week's time, of experiencing it all, as each of the places are within 1 ½ hour's drive of Lisbon.
The Rio Tejo (Inland to Atlantic)

---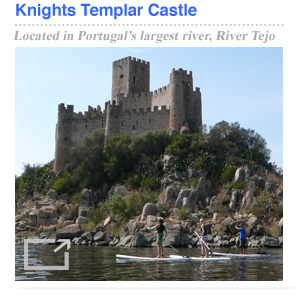 The upper reaches of the Tejo are a mix of head and tail waters. Depending on the time of year and water levels there are many opportunities for both cruising as well as tackling the white-water sections below the dams. Once you reach the middle and lower reaches, the river widens considerably and you're now in perfect touring water where you can cruise downstream past medieval villages while eagles soar overhead. There are not that many places on this planet where you can paddle around an 800 year old Knights Templar castle. In fact, I only know of one and that's the Castelo de Almourol situated on the Rio Tejo near to the town of Barquinha. Stopping at and discovering Castelo de Almourol is an absolute must as the views from the main keep are nothing short of spectacular, no entrance fee, no tour guide, just go explore!

Peniche, Capital da Onda (Wave City, Central)

---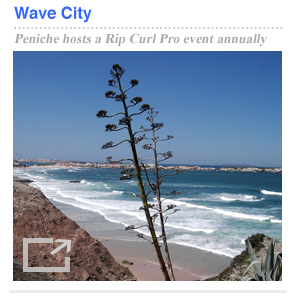 The area of Peniche, although renowned throughout the world as a surf spot and highlighted each year with the ASP Rip Curl Pro Peniche event, is quite an attraction for the visiting paddleboarder. For the less experienced and beginners, the world class surf beaches of Supertubos, Lagide and Belgas are excellent destinations. And when the waves are just too big, there are always the calm and tranquil waters of the Obidos Lagoon, where you can enjoy some relaxed cruising in beautiful surroundings! After a day out on the waves or lagoon, visit the traditional fishing town of Peniche where the harbor is lined with excellent fish restaurants all offering a vast selection of freshly caught fish including the local favorite 'Sardinhas grelhadas.' While you are in the Obidos area a visit to the medieval walled town of Obidos is another 'must' and during July you can experience the annual Medieval Fiesta and really take a step back in time. (Join the SUP Portugal group.)
Arrabida and Luiz Saldanha Parks (South)

---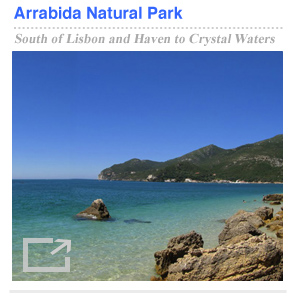 The Luiz Saldanha Marine Park sits directly under the Arrabida hills and is therefore sheltered from the prevailing North Easterly winds. The area really is like paddling in an aquarium with a permanent resident pod of Bottlenose Dolphins and water visibility up to seventy feet on a calm morning paddle. It all adds to the extremely unique natural experience you can find within the waters of the park. With the vast limestone cliffs on one side, crystal clear turquoise ocean on the other and secluded sandy coves, this is our favorite stop when looking for a place to relax and unwind!

Visiting (Seasons & SUP Contacts)

---
Currently, there are only a handful of dedicated SUP operations on mainland Portugal, so booking a tour or rental in advance is highly recommended especially if your visit falls within the main vacation period of July and August. Personally I would suggest visiting Portugal in April, May, June, or September and October when the weather conditions are more favorable and there are fewer tourists both on and off the beaches. (Join the SUP Portugal group.)
A Handful of Key Portuguese Facts:

---
– There is approximately 1114 miles of coastline, most unexplored by SUP.
– Portugal sits on the same latitude as central California and shares similar ocean influenced weather patterns.
– You can drive easily from one end of Portugal to the other in a day, legally.
– There have been no documented shark attacks on humans in Portuguese waters.
– Quality wines start at €1 bottle which roughly equates to $1.4
Map of Portugal with SUP Hot Spots

---

View Portugal in a larger map
Jason Pereira is an outdoor enthusiast and travel addict, bringing his experience from a lifetime of alternative sports as well as a need to know 'what's round the next bend' to the sport of standup paddling. If you're cruising around one of Portugal's rivers or saltwater lagoons or ripping it up in the wave's, chances are you'll soon come across him on his standup paddle board. Contact Jason Pereira for an Adventure Trip in Portugal. And join his SUP Portugal group on Sup Connect.

© Copyrighted and Exclusive SupConnect.com Content.
Last modified onFriday, 06 February 2015 14:12
Email

This email address is being protected from spambots. You need JavaScript enabled to view it.