6 Amazing Places To Paddle Board In Japan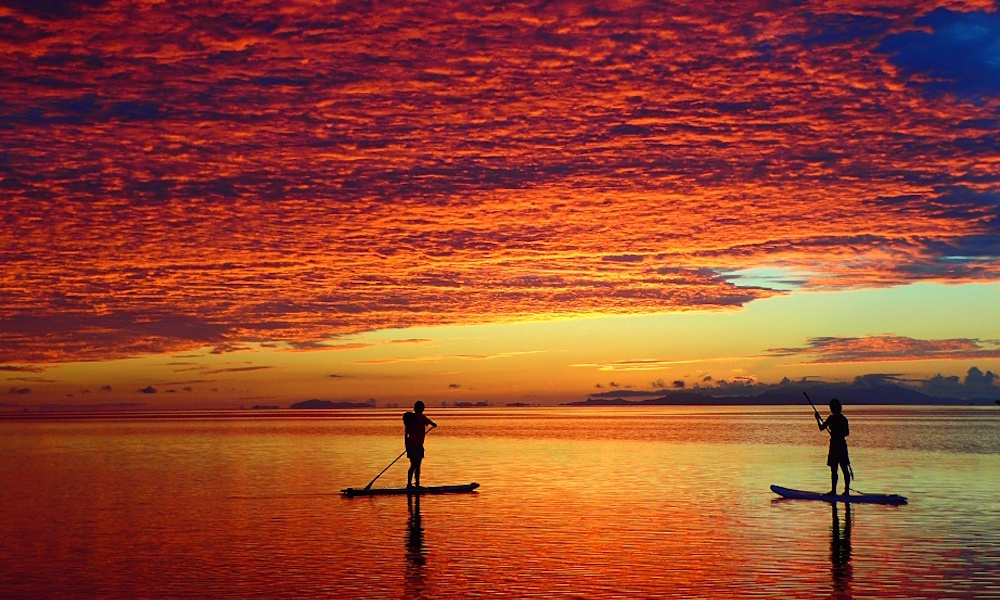 Beautiful Iriomote Island sunset. | Photo: Motoyuki Tokuoka
MIYAZAKI, Japan - Although small in size, Japan is one place that has no shortage of places to stand up paddle board (SUP). As a nation completely surrounded by water there are endless opportunities to grab your SUP and find the perfect place to get on the water. Professional paddle boarder and Starboard SUP Dream Team athlete Tomo Murabayashi calls Japan home and has given us some insight to six amazing places to paddle board in Japan. See them below:
1. Iriomote Island
Iriomote Island is part of the Okinawa Islands and is warm throughout the year. There are beautiful coral reefs to explore in beautiful, crystal-clear water like in Tahiti or New Caledonia and the island is even home to the biggest Mangrove Forests in Japan! The locals are friendly and the food is delicious! I really love this place!!
Iriomote Island is great for many different types of paddling. There is flat water, open ocean downwind, touring through the Mangrove Forests, surfing and yoga, the options are endless. From beginner paddlers to expert paddlers, there is something for everyone to enjoy.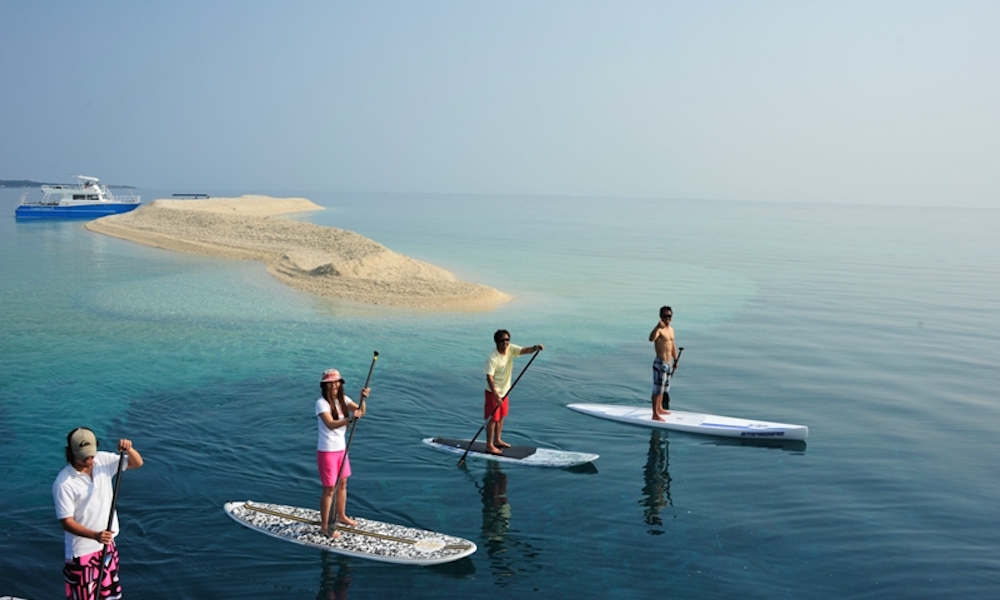 Iriomote Island paddling... | Photo: K. Kitajima
Many paddling options are available at Iriomote Island. | Photo: K. Kitajima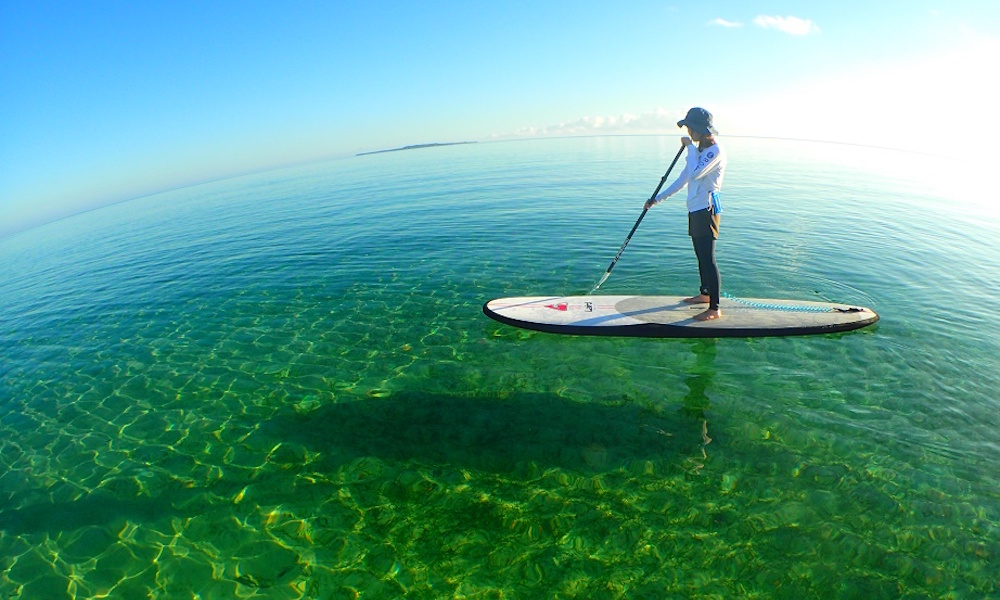 Crystal clear waters of Iriomote Island. | Photo via: Tomo Murabayashi
Looking for other paddlers in the area? Check out Iriomote Waterman HERE.
2. Lake Biwa
Lake Biwa is the largest freshwater lake in Japan and is extremely beautiful with historical ties. Lake Biwa is definitely a hot spot for stand up paddling in Japan. There are many paddlers from Japanese big cities Osaka and Kyoto that come to the lake to SUP. The lake is normally always calm with flat water paddling and is the perfect place for those who want to learn to SUP.
Lake Biwa is best for flat water paddling when the winds are calm but the lake can easily turn into a great place for downwinders when the winds pick up. Lake Biwa is event a popular wind surfing spot when conditions are right. Lake Biwa is another perfect SUP destination for paddlers of all experience levels and is a place where everyone can have a good time on their boards.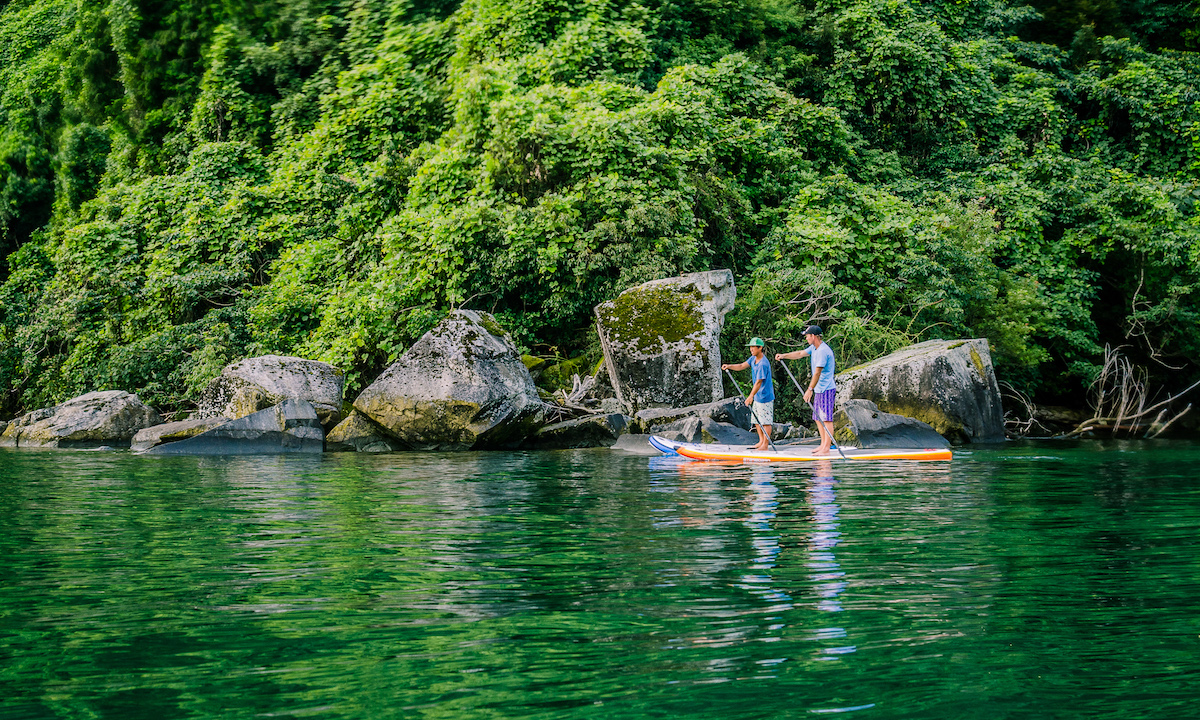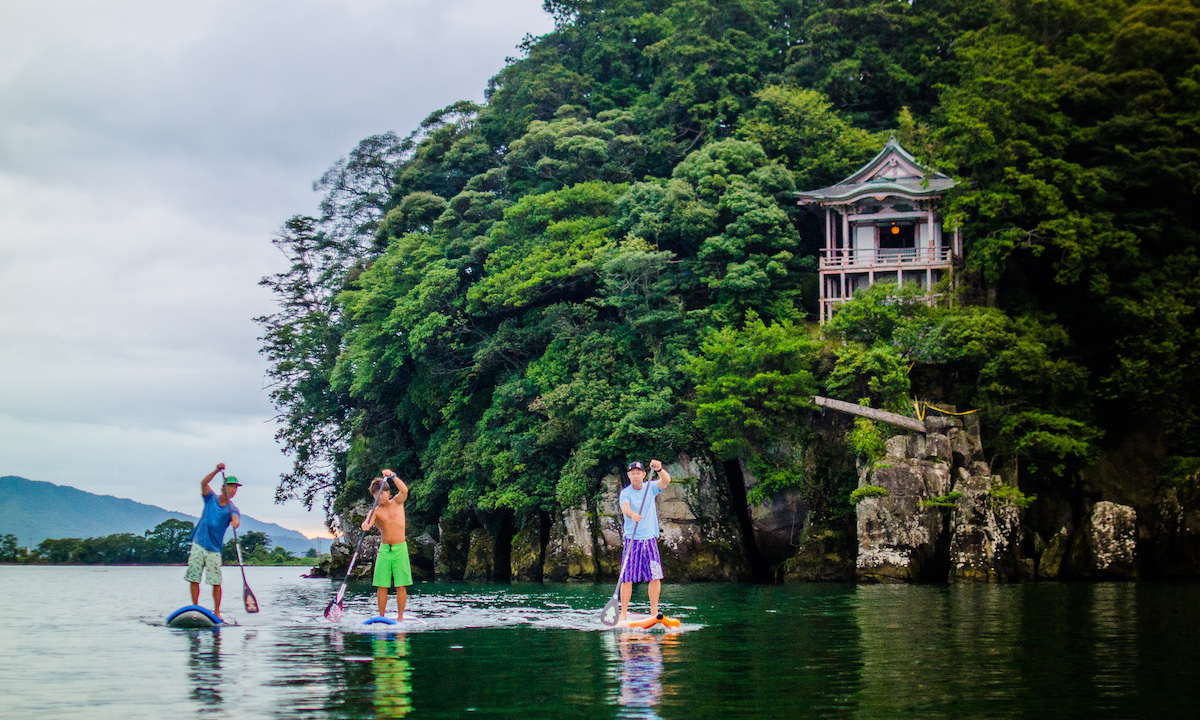 The stunning Biwa Lake. | Photos: Franz Orsi
Looking for other paddlers in the area? Check out Puka Puka Biwako Eco Sports HERE.
3. South Fuji
Paddle boarding in South Fuji will have you located at the foot of the famous Mt. Fuji, which is the highest mountain peak in Japan located on Honshu Island. South Fuji has tons of paddling options from flat water to river and rafting paddling at the base of Mt. Fuji. There are many very beautiful locations to paddle in this area and depending on your skill level there are places for everyone from beginners to advanced paddlers to enjoy.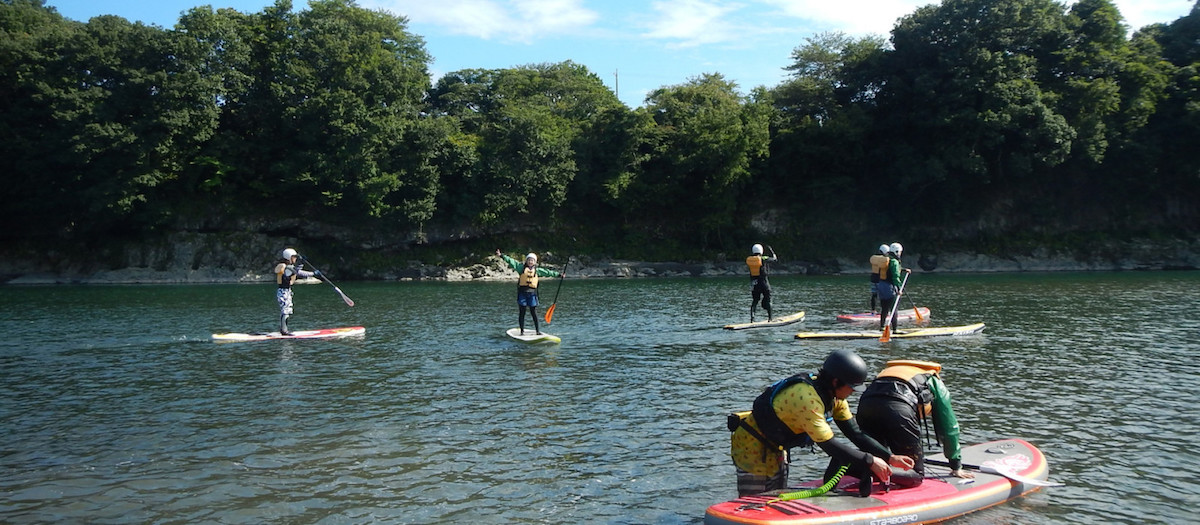 Photo Courtesy: Tomo Murabayashi
Looking for other paddlers in the area? Check out Natural Action Outdoor Tours HERE.
4. Miyajima Shrine
Itsukushima Island located in Hiroshima Bay is known to many as Miyajima and is home to the famous Miyajima Shrine. The Miyajima Shrine is a UNESCO World Heritage Site and is one of the more popular historical locations in Japan. The shrine is extremely unique and is built on the water allowing for paddlers and water goers to see it up close! Paddlers are even able to paddle through and under the shrine which is known as a Torii.
At the Miyajima Shrine you will find flat water paddling which makes it a place that is welcoming to paddlers of all skill levels. You can even paddle to the historical shrine from Hiroshima City and after arriving at Miyajima you can get off and explore the beautiful area.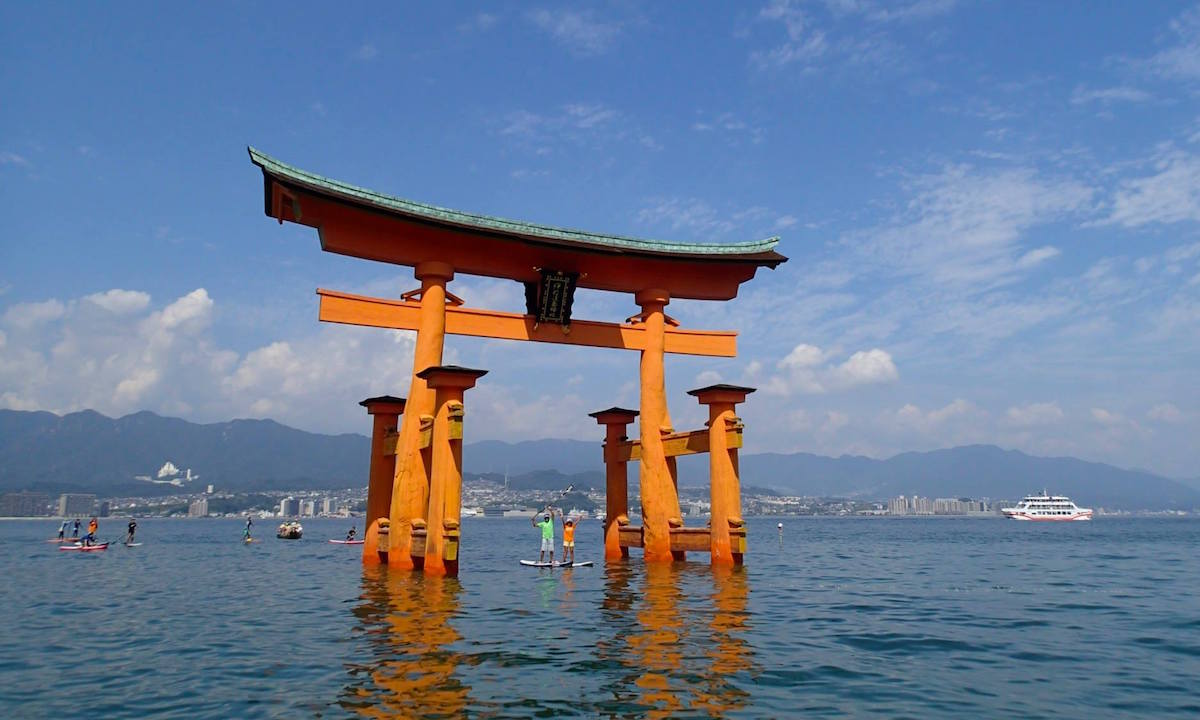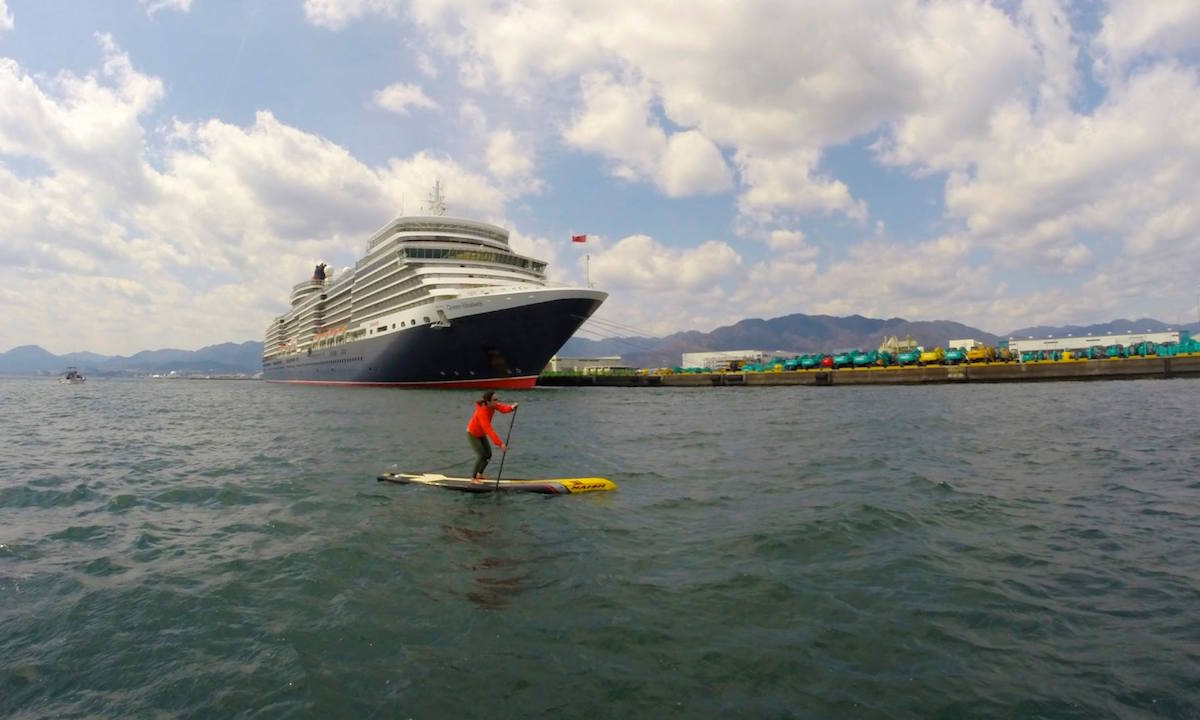 The The Miyajima Shrine offers both history and beauty. | Photos Courtesy: Tomo Murabayashi
Looking for other paddlers in the area? Check out Boardworks Hiroshima HERE.
5. Yokohama City
Yokohama City is located on Japan's main island, Honshu, and is the largest city in Japan by population. Yokohama City makes for a gorgeous backdrop while paddling in the waters of Tokyo Bay and is a great place to get your feet wet without having to leave the city limits. With flat water paddling as the main type of paddling offered here in good weather conditions Yokohama City is easily a place where all paddlers can come to enjoy.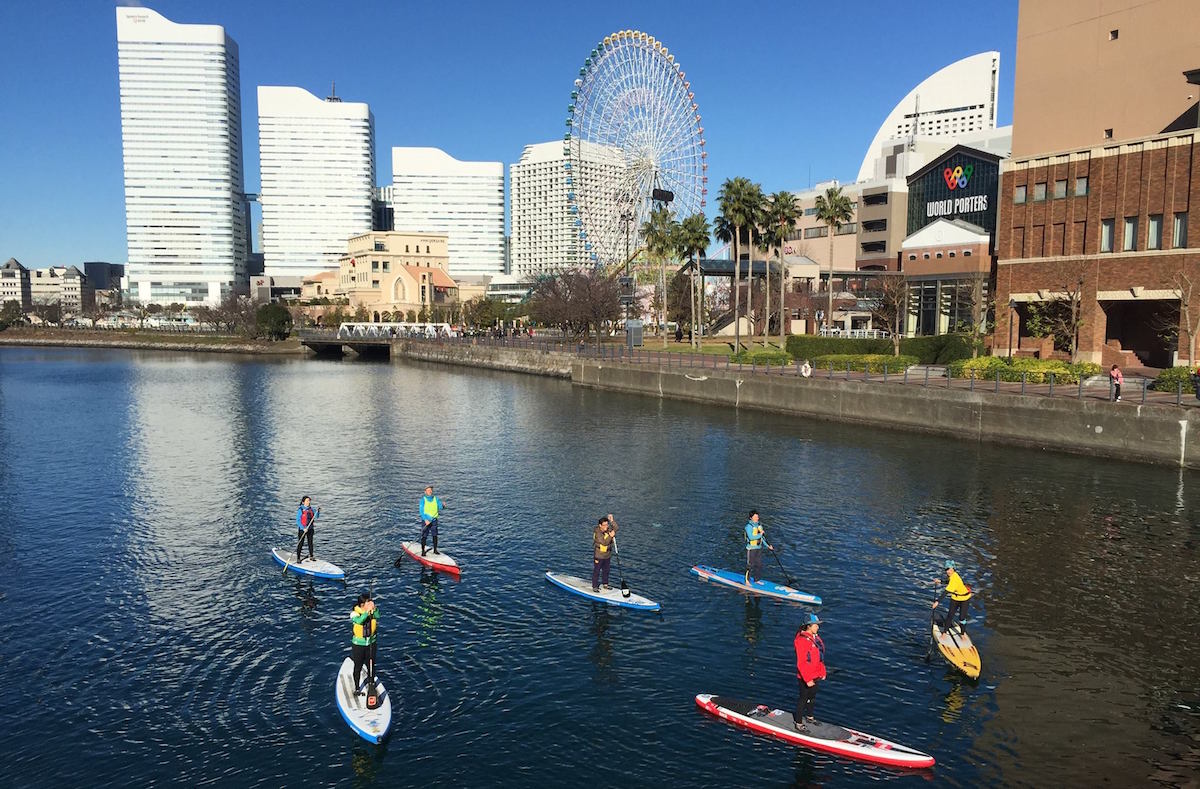 Paddling in Yokohama City has its perks. | Photo Courtesy: Tomo Murabayashi
Looking for other paddlers in the area? Check out Yokohama SUP Club HERE.
6. Aoshima, Miyazaki
Aoshima is a small and beautiful island located in Miyazaki where there is a beautiful long coast line and good waves like in California. Miyazaki is a great surfing destination and is even home to one of the best surf spots in Japan which hosts an annual world surfing event on the north side of Miyazaki. There are many different kinds of waves on offer with everything from beach breaks, reef and river mouths.
If you're not in to SUP surfing, don't worry because there are many beautiful spots for paddling and cruising around. Aoshima has also hosted an event authorized by the SUPAA (Stand up paddle Athletes Association). With flat water and stand up paddle surfing on offer in Aoshima, there is a place for everyone to grab their boards, get out on the water and enjoy. Please do note that although there are many surf spots in the area, not all locations are SUP friendly, so make sure to check with the local surf shops before paddling out.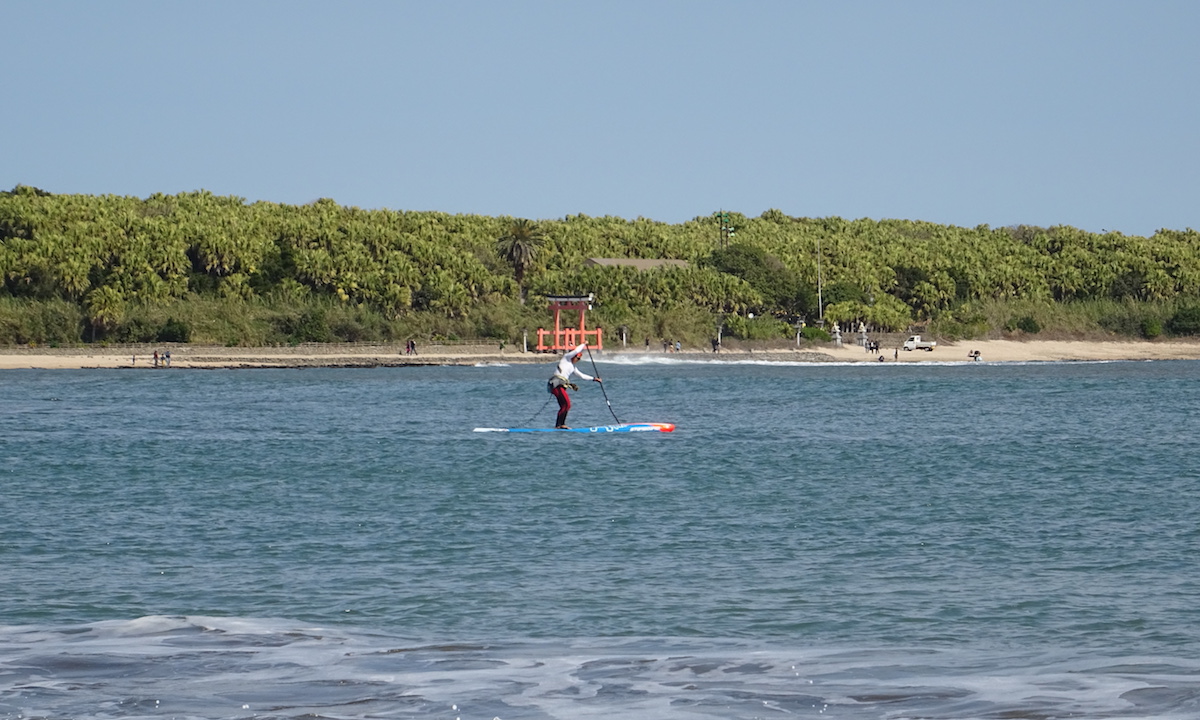 Aoshima. | Photo Courtesy: Tomo Murabayashi
Looking for other paddlers in the area? Check out Water Brand Kengoria HERE.
To see more SUP Destinations that will be worth your while, click HERE.
© Supconnect.com Copyrighted Exclusive Content
Last modified onTuesday, 14 March 2023 11:45

Japan, Asia -
Tomo is a top SUP surfer and racer in Japan. Tomo works diligently to
bring awareness of SUP to all of Japan through his travels, demos, and
events. He loves to downwind in HI and spends time in Tahiti each season to
get more proficient on waves. He has a big hand in the development of boards
and paddles for the Japanese market through testing and providing feedback.
Email

This email address is being protected from spambots. You need JavaScript enabled to view it.