10 Places to Visit in 2022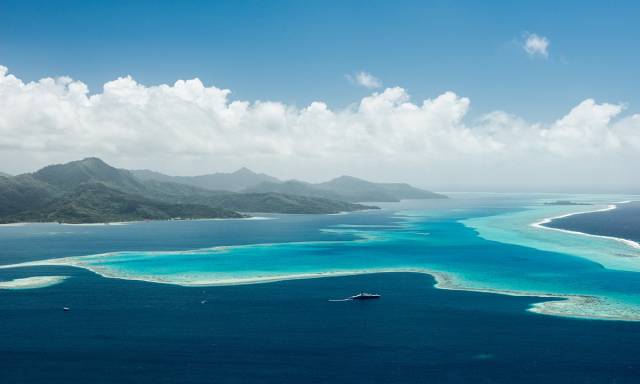 Aerial of Raiatea, French Polynesia. | Photo: French Polynesia
SAN DIEGO, California - In 2021 travel started to open back up but was still restricted in a lot of areas around the globe. Looking forward to the year ahead we're hopeful that travel restrictions ease up entirely and we can get a much needed vacation in. Just make sure to check the travel restrictions at your destination so you can have any testing or vaccine requirements on hand before you go. A same day PCR test can help ensure you have your required documentation and avoid travel disruptions. If you're lucky enough to get one in this year we've compiled a ten places around the world where you're bound to have a blast on your standup paddle board with beautiful scenery surrounding you. Check it out:
Places to Travel for Standup Paddle Boarding 2022
Coconut Island, Hawaii
Lake Atitlan, Guatemala
Hudson River, NYC
Philadelphia, Pennsylvania
Lake McDonald, Glacier National Park
Raiatea, French Polynesia
Chicago, Illinois
South Beach, Miami
Southwest Germany
Tampa, Florida
Coconut Island, Hawaii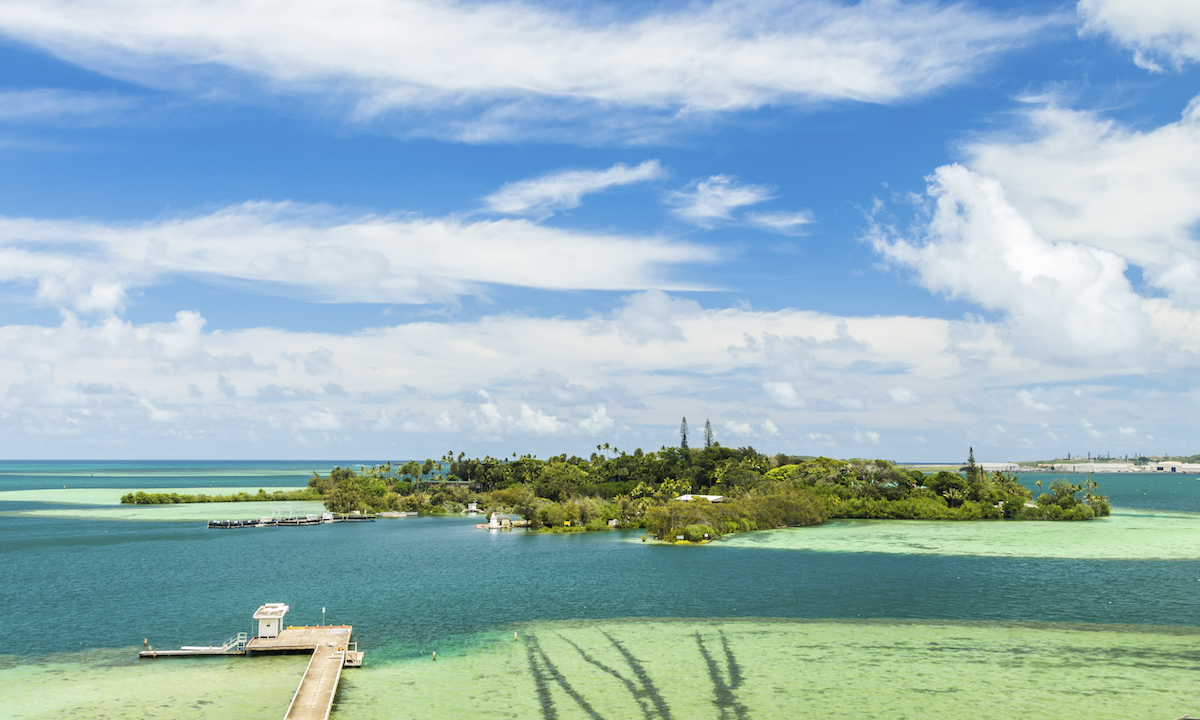 A beautiful view of Coconut Island in Hawaii . | Photo: Shutterstock
Nestled in Kaneohe Bay, on the Windward side of Oahu, Coconut Island, known as Moku o Loe in Hawaiian, is a mini island surrounded by coral reefs. Coconut Island is home to the Hawaiian Institute of Marine Biology and is a beautiful place to visit on your standup paddle board. Coconut Island is a hub for marine research into tropical Pacific biodiversity and conservation. Fun fact: the Pacific Ocean shelters two-thirds of the world's marine biodiversity!
Learn more about Coconut Island HERE.
Lake Atitlan, Guatemala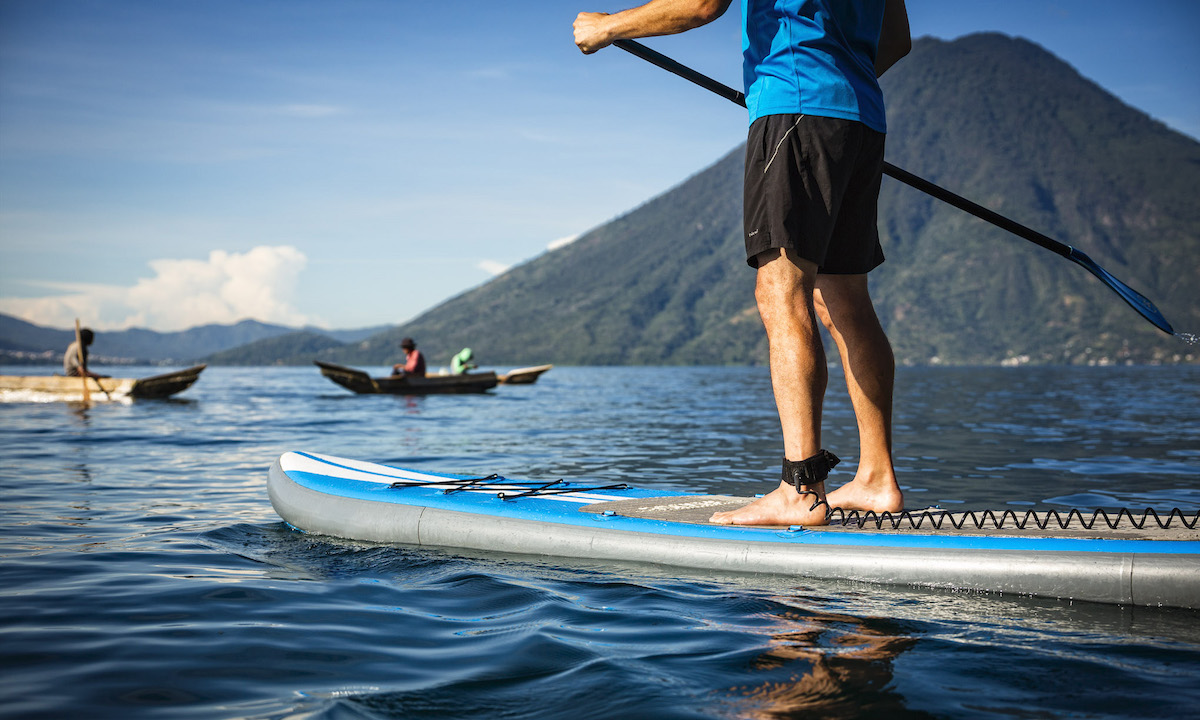 Paddling on Lake Atitlán. | Photo courtesy: James Kao
Views of Lake Atitlán. | Photos: Shutterstock
The author of Brave New World, Aldous Huxley, once called Lake Atitlán "the most beautiful lake in the world" and before 2020 it was Guatemala's top visitor destination with almost two million visitors annually. It is the deepest lake in Central America at 1,115 feet and covers an area over 50 square miles at a nearly 5,000 foot elevation. It is known for its indigenous Mayan communities that have called the lake home for centuries and the scenic beauty created by steep forested hills and three conical volcanoes converging at the water. This idyllic backdrop creates the ultimate paddle destination.
Learn more about Lake Atitlan HERE.
Hudson Highlands, New York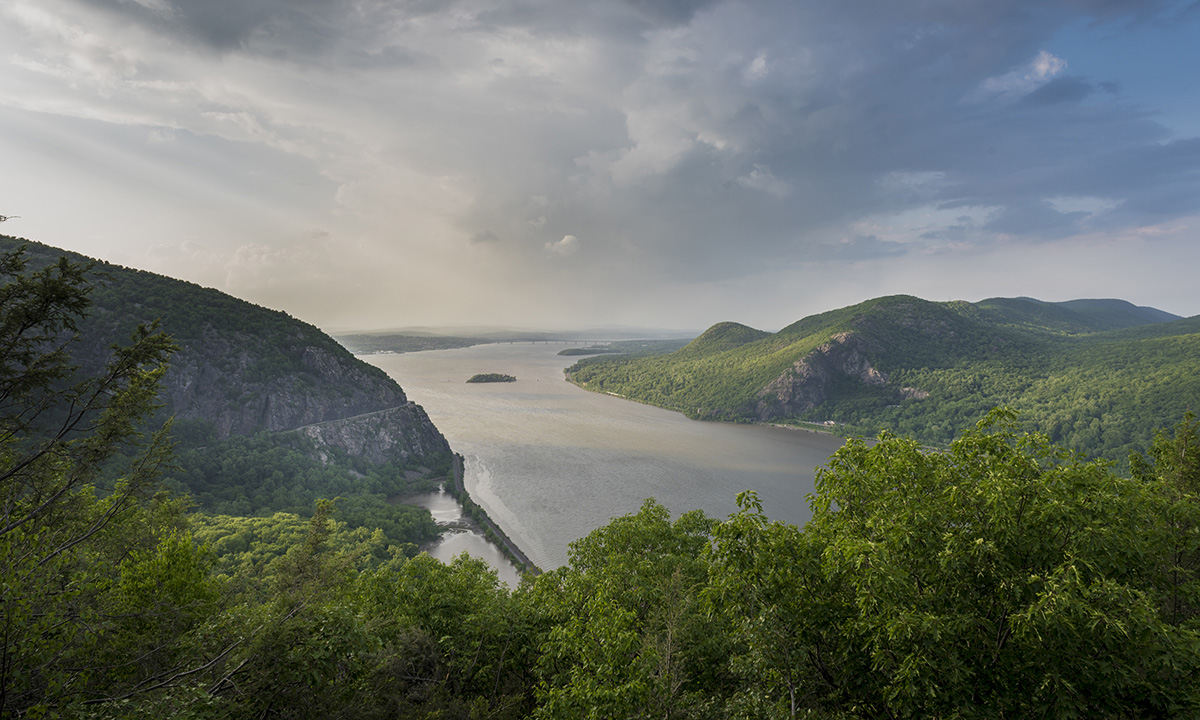 Aerial view of Hudson Highlands. | Photo: Shutterstock
The Hudson River is known as "America's First River". It was the colonists' first major waterway into the interior of the nation, so to paddle the Hudson is to paddle into a rich history and tradition. From Ichabod Crane to Benedict Arnold to West Point, you are on one of the most famous waterways in the world. The Hudson Highlands is where the Hudson River cuts through a section of the Appalachian Mountains. While its northernmost point is only about fifty miles south of New York City, be prepared for rugged terrain and limited access to the river.
While this part of the river is mostly fresh water, it's deeply influenced by the ocean. The cliffs and small mountains on each bank create what's best described as a fjord, where cliffs surround an inlet to the sea. The Native Americans in the region called the river "Mahicantuck", which means "the river that flows both ways". When the tide's ebbing, the river flows south towards the sea, but when the tide's coming in, the river reverses direction and flows north. This reversal happens about 45 minutes after high tide, and sometimes you can even see the river flowing both ways at the same time! While this can be confusing, local tide tables will guide you. If you go out into the river against the current (usually the right choice), be careful you don't end up going against it on the way back!
Learn more about Hudson Highlands HERE.
Philadelphia, Pennsylvania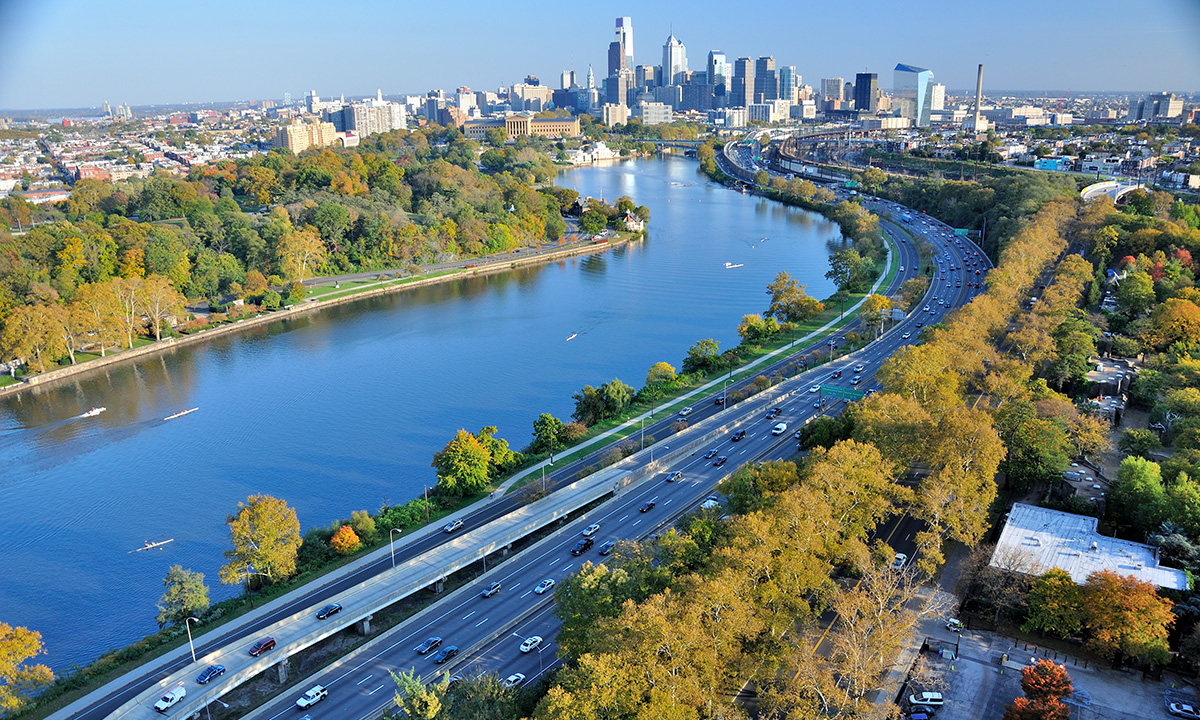 Philadelphia skyline. | Photo: Shutterstock
Philadelphia is the birthplace of our nation and holds a beautiful amount of history, even when exploring on the water. They are also known as the home of Rocky, having a tough East coast exterior, and the best cheesesteaks the country has to offer. Mid-May to mid-September is the best time to explore Philadelphia on SUP. More experienced paddlers can venture out when water temps take a dive with proper gear (wetsuit or drysuit). Pennsylvania requires that all boarders and boaters have a pfd and a whistle on their craft. During November 1- April 30, life jackets are required to be worn.
Learn more about Philadelphia HERE.
Lake McDonald, Glacier National Park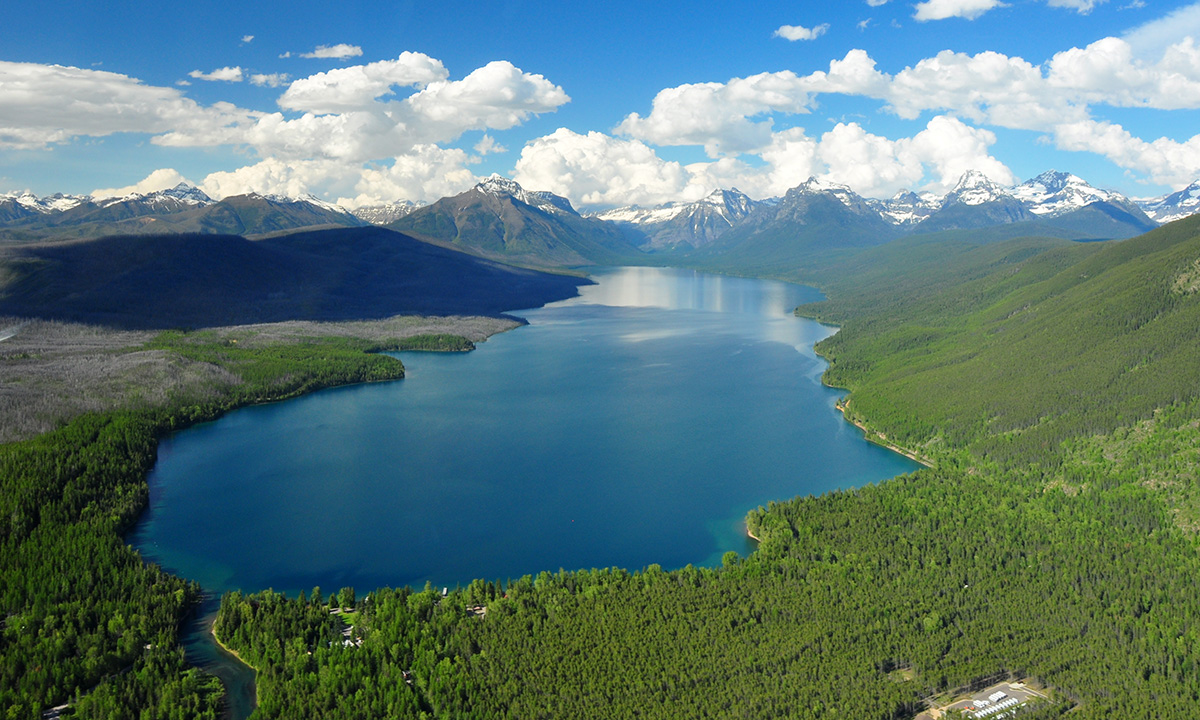 Photo Courtesy: Wheelies and Waves
Colorful rocks along the shoreline at Lake McDonald. | Photos: Shutterstock
If you have never heard of Lake McDonald, hopefully you have heard of Glacier National Park. Known for its glaciers, snow capped mountains, hiking trails, wildlife, cascading waterfalls, rivers, scenic valleys and vistas, and alpine lakes, Glacier National Park is a well known destination for outdoor enthusiasts. Its scenery is unmatched and has everything mother nature has to offer. For the SUP enthusiast, the lakes in Glacier National Park are a must-see destination and should be put on your bucket list.
Learn more about Lake McDonald HERE.
Raiatea, French Polynesia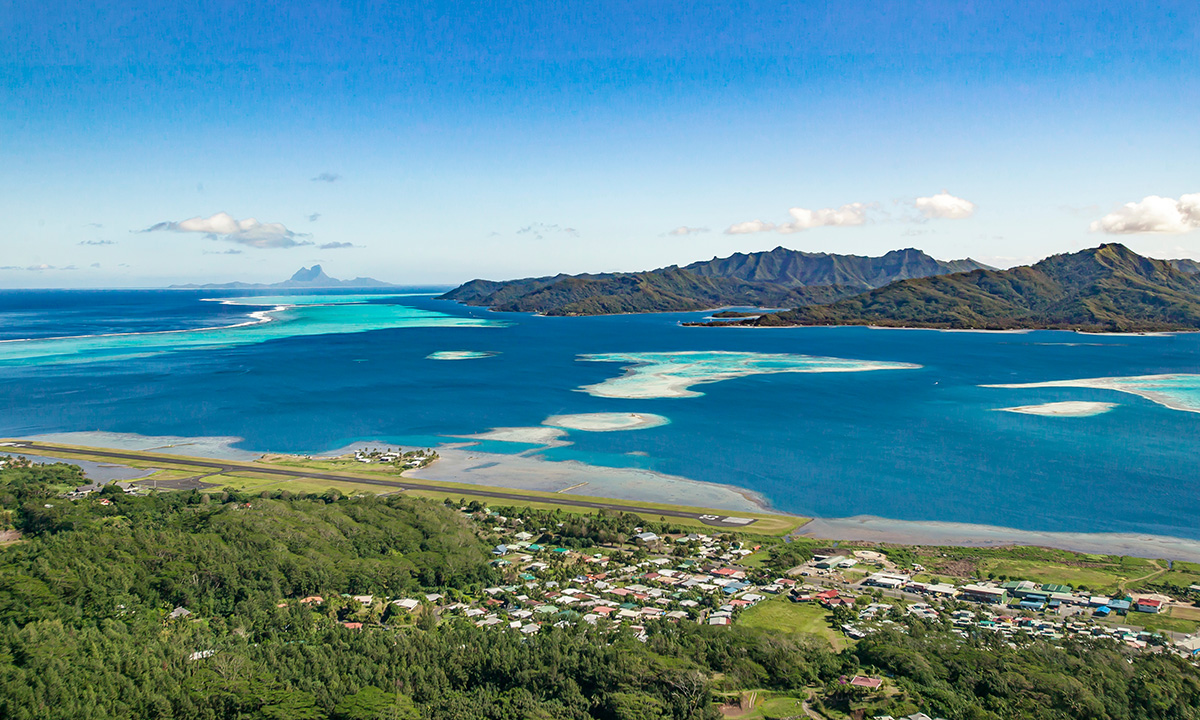 Spectacular view over the barrier Reef between the Islands of Raiatea and Tahaa. | Photo: Shutterstock
French Polynesia is the dream location for just about any paddle boarder. Some may have reservations due to imagining how far one must need to travel to reach such an idyllic place but it's actually not quite as far away as you may have thought! Raiatea is an island with tall volcanic peaks surrounded by a lagoon and coral reef. Its particularity is that it shares the same lagoon as the neighboring island, Tahaa. Fun fact: several million years ago, the island of Tahaa and Raiatea were only one island. Raiatea is still considered to this day the cradle island of Polynesian society and culture.
Learn more about Raiatea HERE.
Chicago, Illinois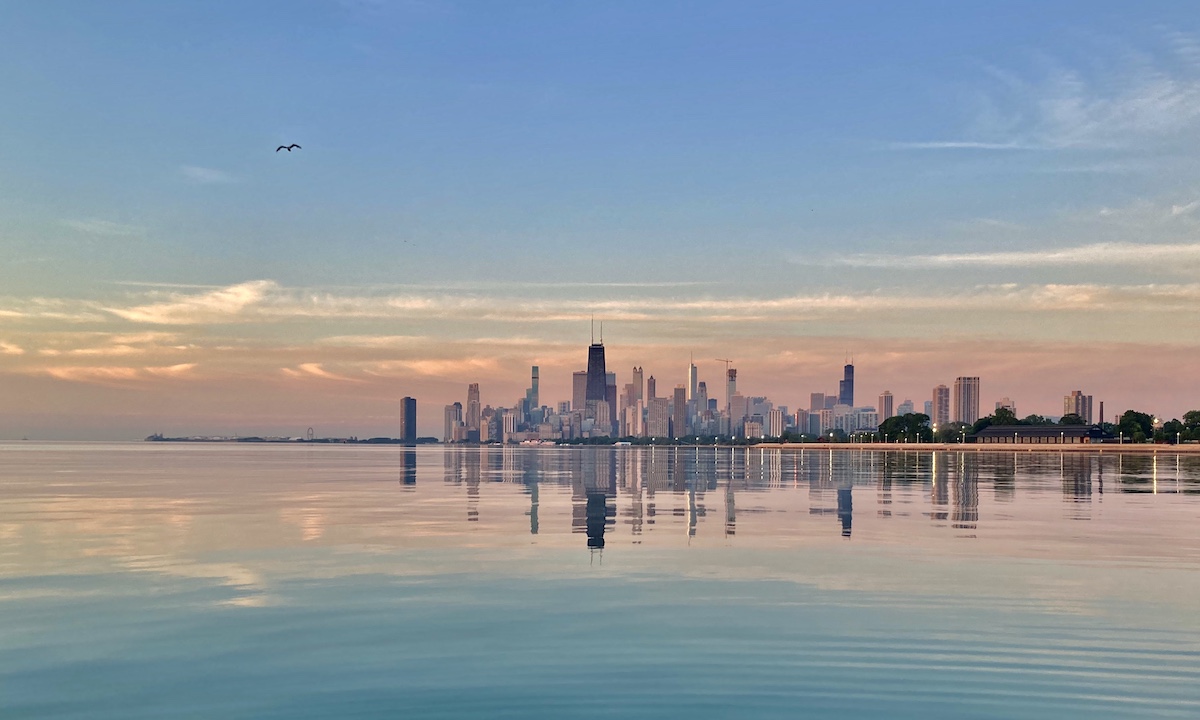 Chicago sunrise. | Photo by Kirsten Lefeldt
With 25 miles of the total 29 Miles of Chicago's lakefront being public land it is easy to access the water. Chicago has over 600 parks, 8800 acres of green space. Getting around is also much easier than one might suspect for a big city. The recently widened lakeshore path allows plenty of room for cyclists and runners and will take you to several launch spots. SUP season for most people starts around May stretching into the end of October. This does not mean one has to stop paddling during the cold season. Equipped with drysuits, gloves and booties you will find a dedicated group of paddlers out until the water freezes over, which happens typically from mid January to early March. Rumor has it there is even a board that has been converted to an ice-breaker to extend the season for the most hardcore paddlers.
Learn more about Chicago HERE.
South Beach, Miami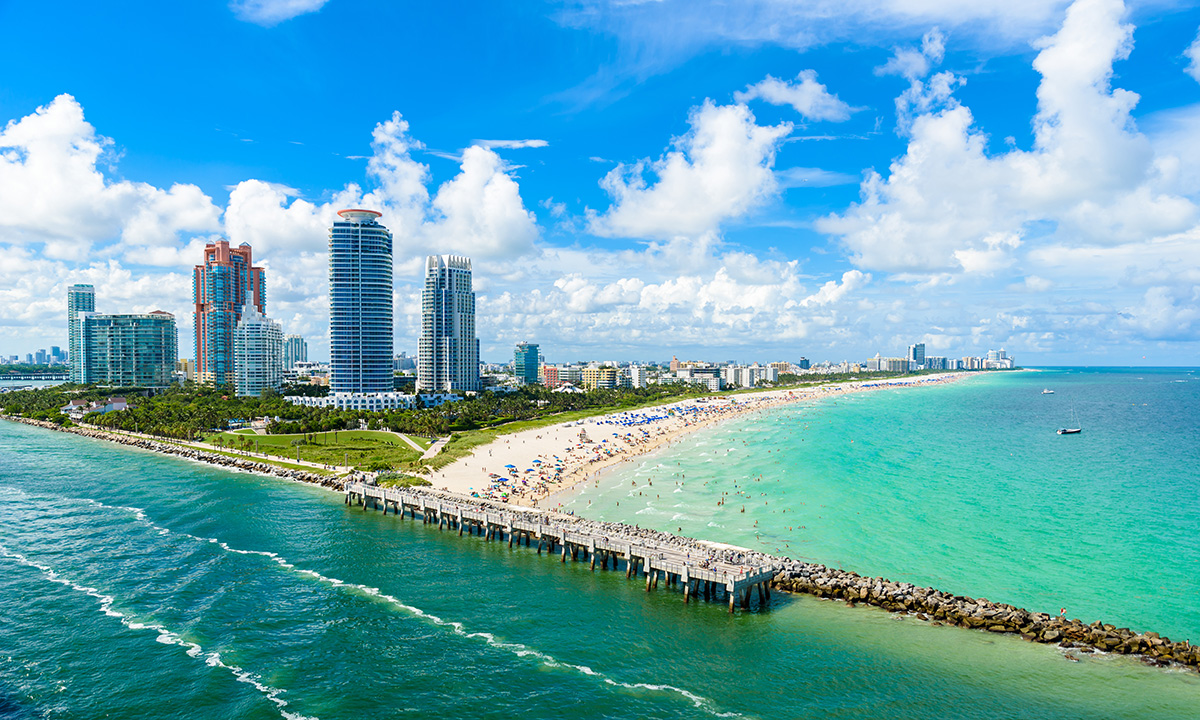 South Pointe Park and Pier at South Beach, Miami Beach. | Photo: Shutterstock
Left: Hobie Island Beach Park. Right: Virginia Key. | Photos courtesy: Shutterstock
Warm weather, golden beaches, great company – there's nothing like a day at the beach. Folks who live in Miami can personally testify to that – specifically, the residents of South Beach Miami. This neighborhood has been a popular tourist destination for years. People from all across the world flock to South Beach Miami to rest, relax, catch some rays, and surf some waves. Watersports in general are extremely popular in South Beach, but there's one activity that we absolutely adore: stand up paddle boarding. SUP is refreshingly accessible; even a person who's never surfed a day in their life can sink their teeth into SUP.
Learn more about South Beach, Miami HERE.
Southwest Germany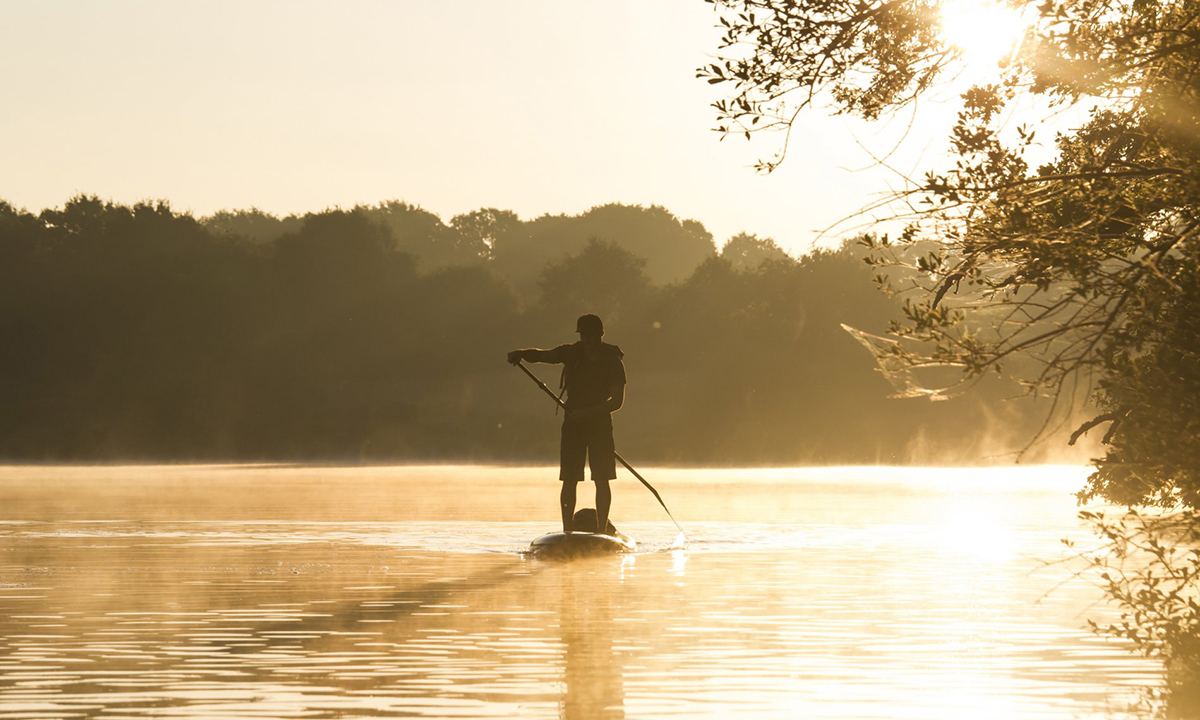 Photo: Black Forest Magic / Thomas Bührer
At the border of Switzerland and France lies a beautiful mountainous region of Southwest Germany known as Black Forest. Rich in evergreen trees, quaint towns, and intrinsic beauty, Black Forest is something out of a fairytale. The outer edge of Black Forest is home to amazingly diverse scenery, rivers, and lakes. Sprinkled with vineyards, thermal baths, and receiving plenty of sun, paddle boarding through the outer edge of Black Forest makes for a magical experience.
Learn more about Southwest Germany HERE.
Tampa, Florida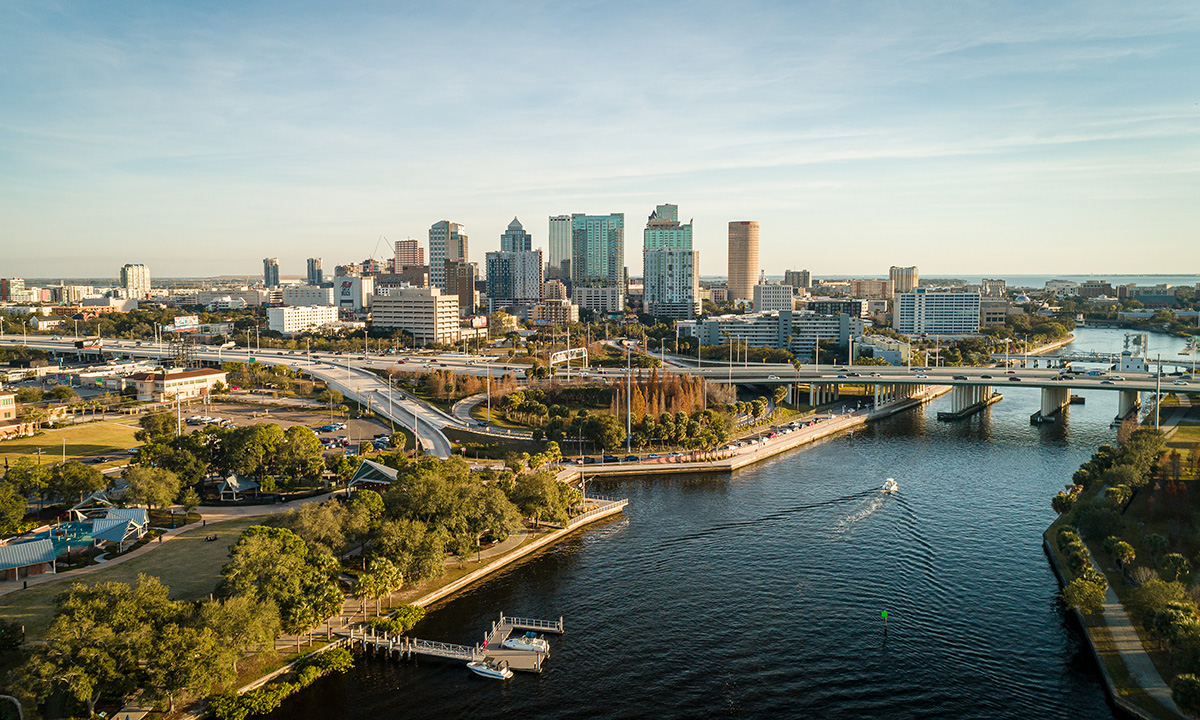 Grandious aerial view over the Hillsborough river leading to downtown Tampa. | Photo: Shutterstock
From NHL National Champions and Superbowl hosts, Tampa has become one of fastest growing cities in the US the past few years. Built around the beautiful Caribbean Gulf and the shores of Clearwater, St Petersburg and the famous Treasure Island, Tampa Bay has become the ultimate watersports hotspot. With sheltered bayside causeways and keys to protect you from big waves, Tampa is the Floridian SUP paradise! While paddle boarding has grown to tremendous new heights as the perfect lake and seaside activity, your SUP fanatics are always on the hunt for new hotspots to test out their boards!
As you're planning your vacations for the year and need some inspiration on where to go where you can also take your paddle board, let these ten locations be on your radar as they will definitely show you a good time.
To see more SUP Destinations, click HERE.
© Supconnect.com Copyrighted Exclusive Content
Last modified onWednesday, 08 June 2022 16:15

Submit your news, events, and all SUP info, so we can keep promoting and driving the great lifestyle of stand up paddling, building its community, and introducing people to healthier living.
Website: supconnect.com
Email

This email address is being protected from spambots. You need JavaScript enabled to view it.