8 Stand Up Paddle Boarding Spots in South Beach Miami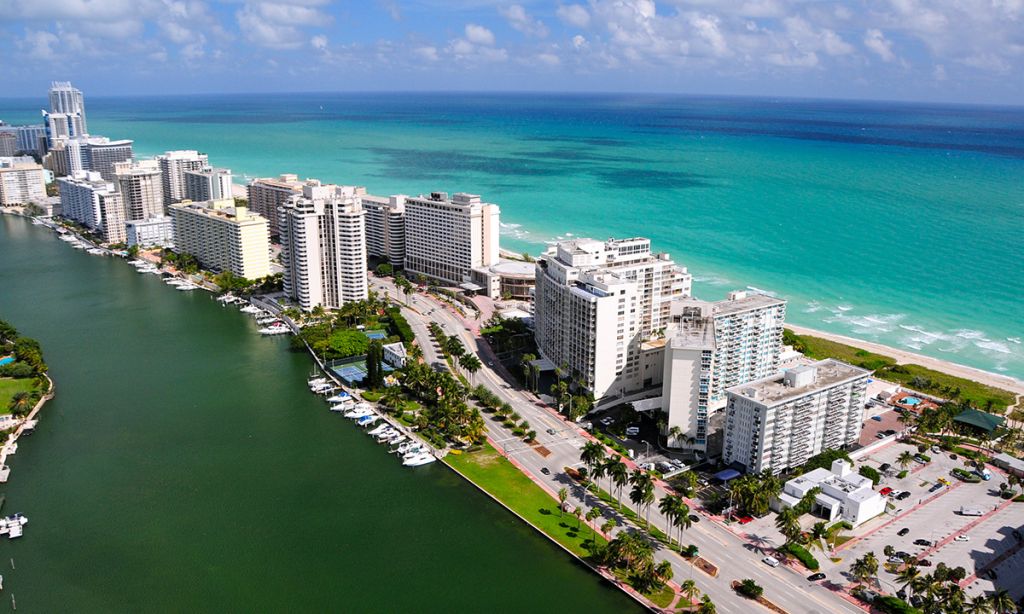 Aerial view of South Beach, Miami. | Photo: Shutterstock
Warm weather, golden beaches, great company – there's nothing like a day at the beach. Folks who live in Miami can personally testify to that – specifically, the residents of South Beach Miami. This neighborhood has been a popular tourist destination for years.
People from all across the world flock to South Beach Miami to rest, relax, catch some rays, and surf some waves. Watersports in general are extremely popular in South Beach, but there's one activity that we absolutely adore: stand up paddle boarding. SUP is refreshingly accessible; even a person who's never surfed a day in their life can sink their teeth into SUP.
Florida as a whole has a myriad of fantastic watersports spots. Here, we'll share 8 stand up paddle boarding spots in South Beach Miami. Just don't forget to use a luggage storage service for your extra gear before hitting the waves.
Dodge Island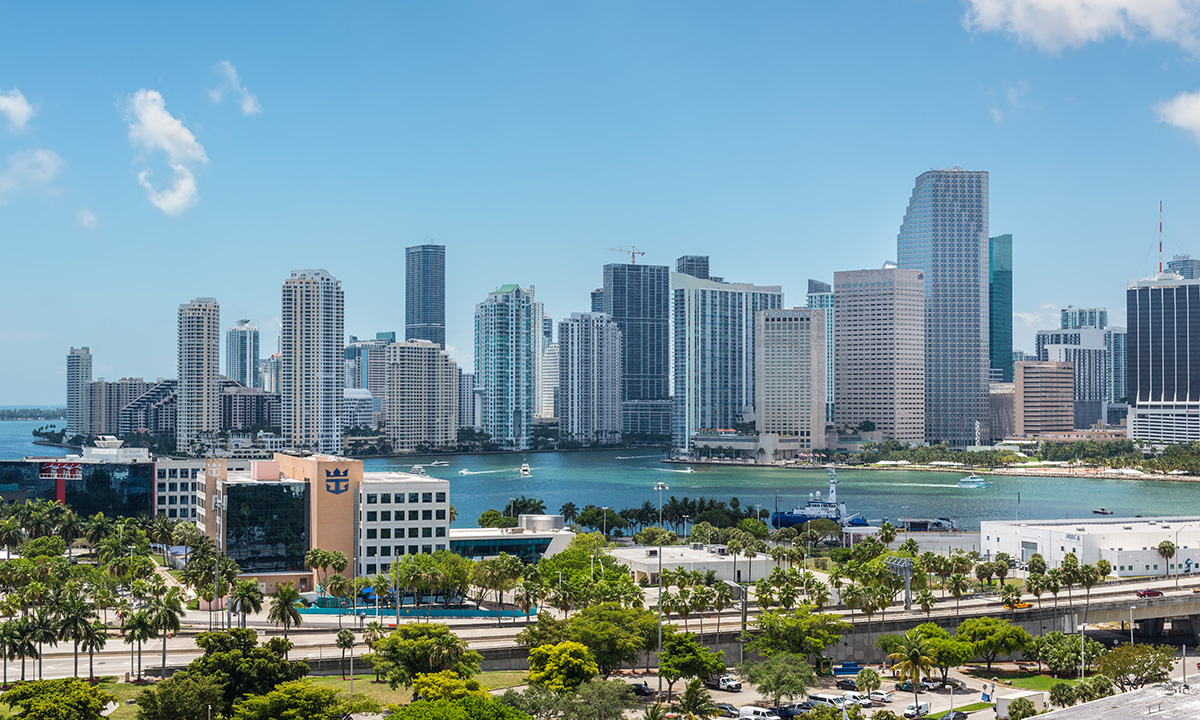 Downtown of Miami Skyline viewed from Dodge Island. | Photo: Shutterstock
Island getaways always end too soon. Resting and relaxing beneath a palm tree is the perfect way to unwind after a particularly busy week. Florida has several islands, many of which are near South Beach.
Dodge Island is special, however. This locale is one of the largest man-made islands in Florida. It was made during the early 1900s and it houses the Port of Miami. Countless cruise ships begin and end their voyages at Dodge Island. The same goes for SUP enthusiasts. Dodge Island is a great place for newbies to get their feet wet. The waves here are typically calm and there will be plenty of other paddlers nearby. Scenery is a big part of great SUP experiences. The views at Dodge Island are simply superb.
Government Cut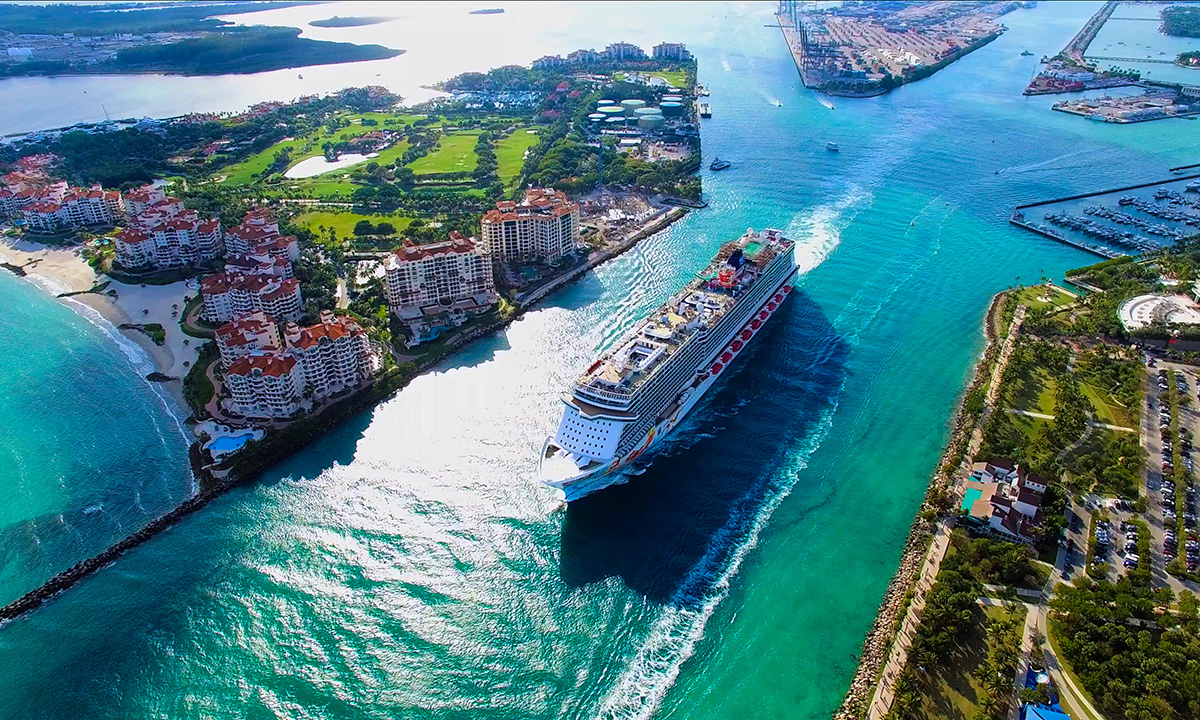 Cruise ship enter to Atlantic ocean from Government Cut canal. | Photo: Shutterstock
This next entry is located near Dodge Island. It's also a man-made marvel and a popular venue with watersports enthusiasts. We're talking about Government Cut, a vast shipping channel that's been active since the early 1910s. Government Cut is an unmistakable landmark. If you fly into Florida, you'll recognize it as the giant waterway between South Beach and Fisher Island. Many vessels sail through Government Cut to reach the Port of Miami – be they commercial or recreational vessels.
SUP enthusiasts will have a blast paddling around this area. Experienced paddlers can even paddle at night, provided they have a life jacket, leash and a light source.
Hobie Island Beach Park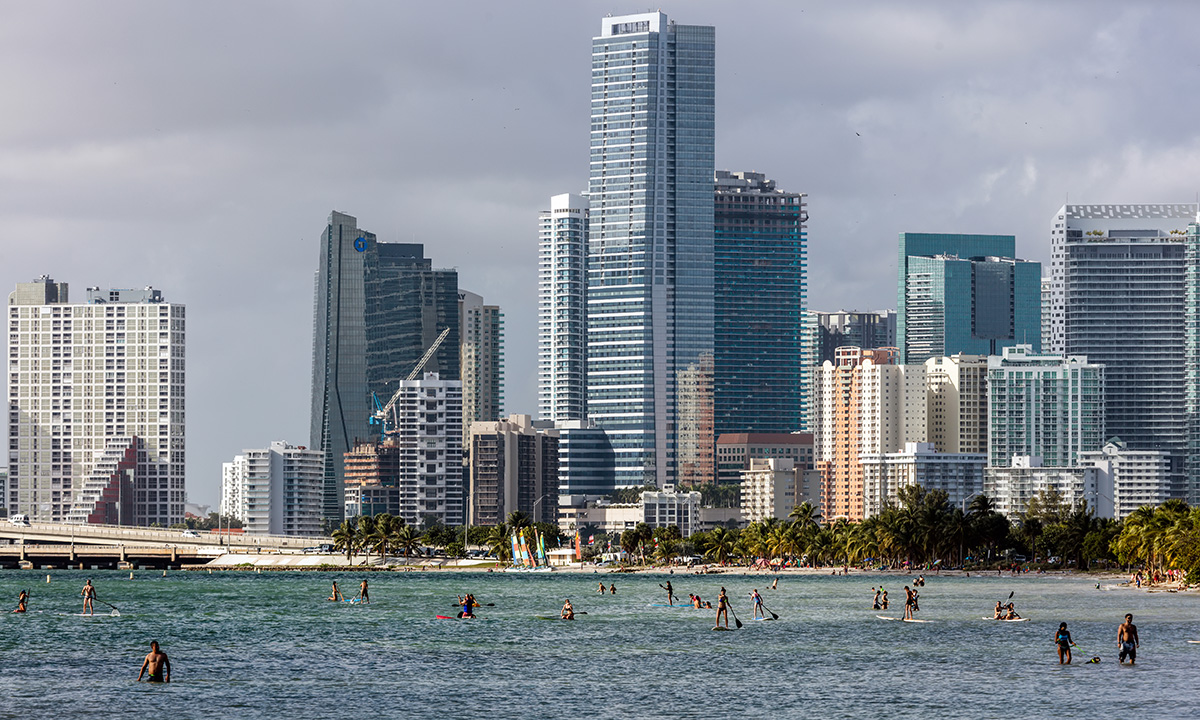 Hobie Beach is Miami's most popular beach for windsurfers and dog lovers. | Photo: Shutterstock
We spent a good chunk of text gushing over South Beach's weather and scenery. And how could we not? South Beach's ambiance is practically the stuff of legend – even in other parts of the US. We also mentioned that there are plenty of areas where you can experience South Beach at its best. Well, Hobie Island Beach Park is one of them. This area is a haven for water sports fans and dog lovers – bonus points if you fall into both categories. Windsurfers actually frequent this area due to the waves. That said, SUP fans will have plenty of room to make a splash – or not, if you're in favor of a more easygoing experience. Just be prepared to see a lot of dogs on boards when you stop by.
SoBe Surf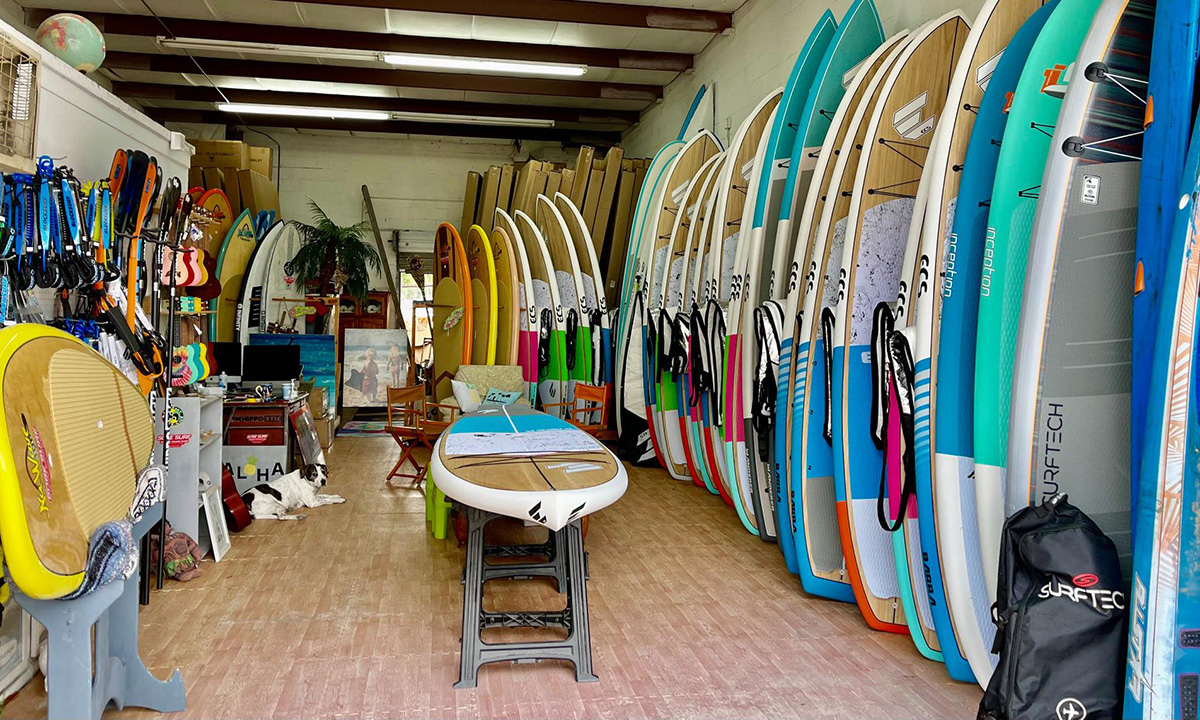 Tons of boards available at SoBe. | Photo courtesy: SoBe Surf
Let's imagine that you're new to the SUP scene. As in, so new that you may not even have your own board and your paddling technique is still iffy. SUP is naturally a peaceful and intuitive activity. That said, there's nothing wrong with getting an expert to show you the ropes.
That's where SoBe Surf comes in. This friendly shop can be your one-stop-shop for all things SUP. They offer lessons and provide board rentals, and have several SUP tours available. Anyone who wants to make the most of their SUP experience in South Beach should visit this shop. And when it's time to head home, SoBe Surf also has plenty of great souvenirs for sale.
South Pointe Beach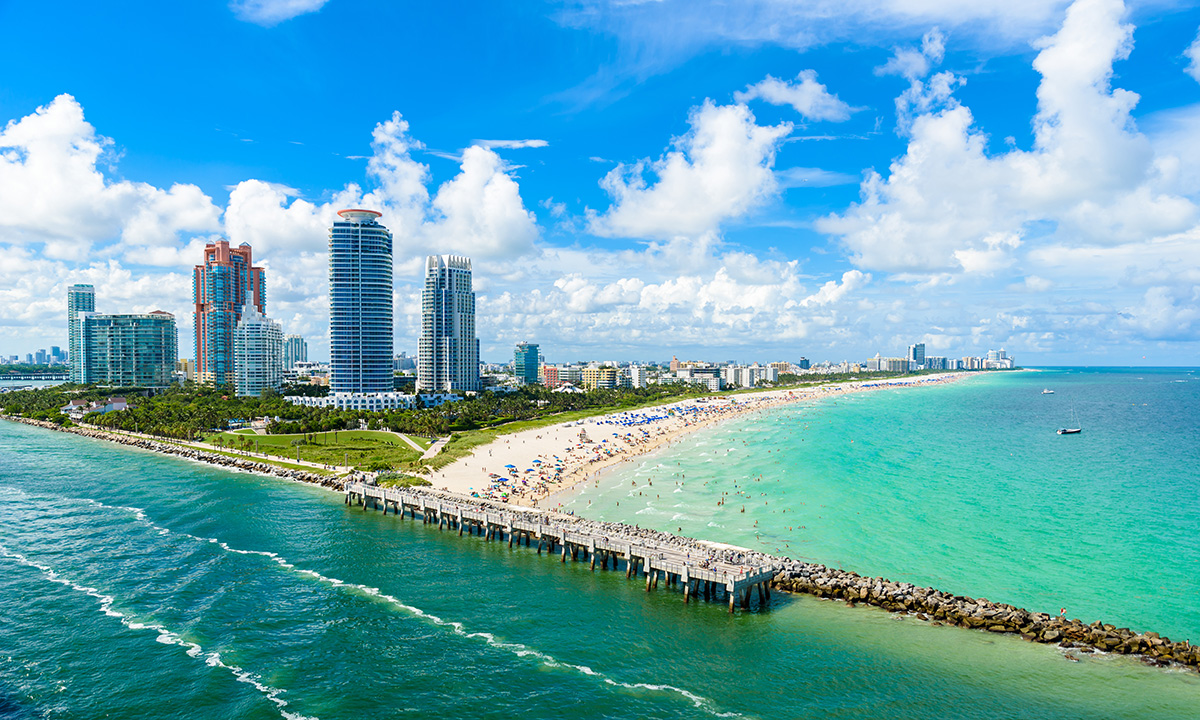 South Pointe Park and Pier at South Beach, Miami Beach. | Photo: Shutterstock
At the Southern edge of Miami, you'll find one of the most popular locales in Florida. Seems like a broad statement, right? Well, it ought to – South Pointe Park Beach is famous all around the entire state of Florida. This immaculate beach is one of the largest green spaces in the area. One of its standout features is its grassy 20-foot long promenade. South Pointe Beach is the perfect place to rest between SUP sessions. "Refreshing" sums this venue up quite nicely.
Surf Miami Beach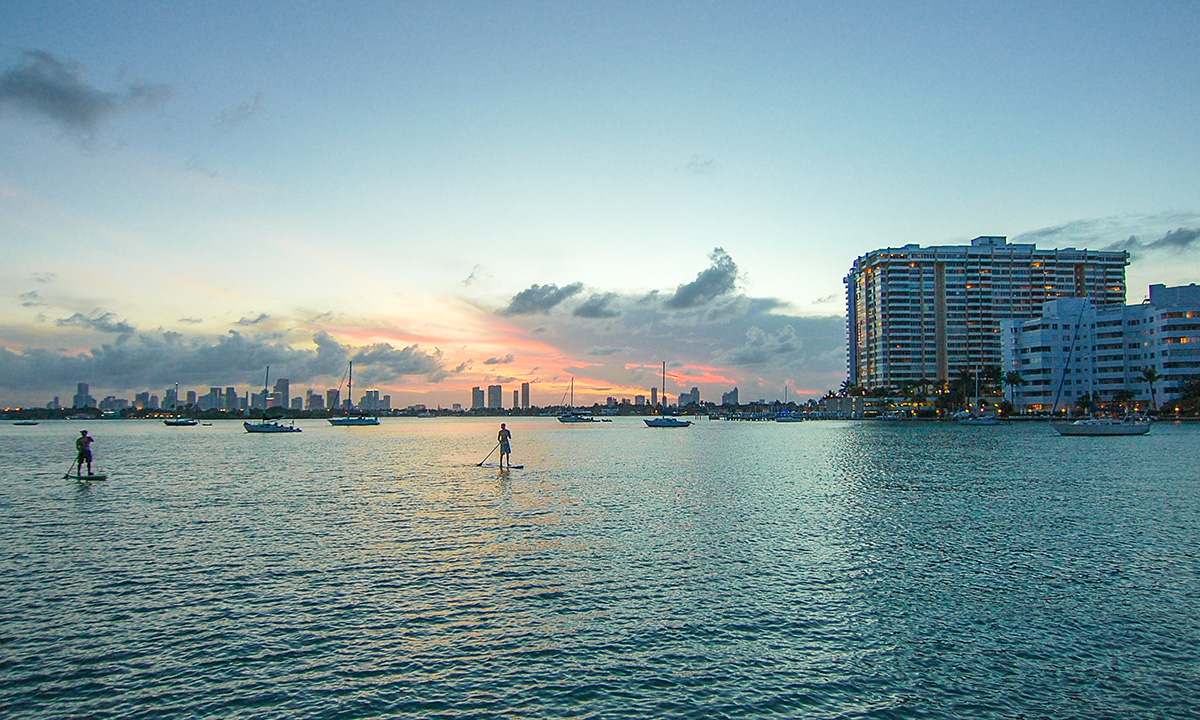 A beautiful sunset over Biscayne bay at South Beach. | Photo: Shutterstock
Riding a bike, cooking a meal, writing an essay – everyone learns how to do these things in their own way. But no matter how many videos you watch or articles you read (oh, the irony), hands-on learning is one of the most effective methods out there. That's exactly what you'll get at Surf Miami Beach. This awesome program offers surfing and SUP lessons as well as board rentals. Their prices are fair and their service is amazing. By the time you're done with Surf Miami Beach, you'll be riding waves like a pro.
Turquoise Floating Yoga
Stress reduction and stress management are two of the core tenets of Yoga. Even if you aren't able to hold every pose, the main goal is to lighten your mental load. Doesn't sound too different from SUP, does it? The folks at Turquoise Floating Yoga take their practice to the water. These classes will teach you new ways to find your center and practice gratitude in any environment. They'll also help you learn how to paddle like a pro.
Virginia Key Outdoor Center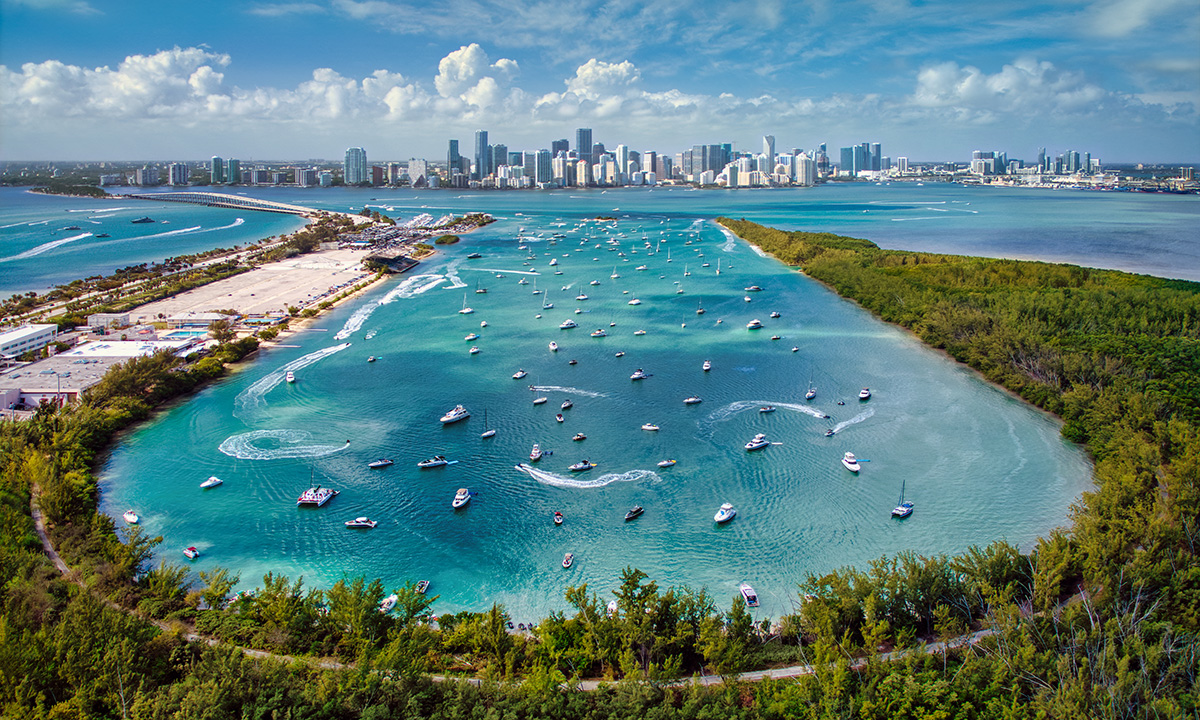 Aerial View of Biscayne Bay and Miami Skyline from Virginia Key. | Photo: Shutterstock
Outdoorsy types have it made in Miami. There are so many places to do so many different activities that it's almost overwhelming. Distance is the only caveat we can think of – you might have to travel all around Miami to try these activities. Then again, the Virginia Key Outdoor Center exists. Billed as "Miami's best-kept secret", this venue offers a wide range of activities under one roof. Biking, kayaking, and paddleboarding are some of Virginia Key's biggest draws.
To explore more SUP destinations, click HERE.
Last modified onTuesday, 11 May 2021 09:18

Submit your news, events, and all SUP info, so we can keep promoting and driving the great lifestyle of stand up paddling, building its community, and introducing people to healthier living.
Website: supconnect.com
Email

This email address is being protected from spambots. You need JavaScript enabled to view it.