Ways to Avoid Too Much Sun Exposure While Paddle Boarding
SAN DIEGO, California - Getting your much-needed vitamin D while paddle boarding is one of the perks of being on the water though it's important to take note that too much sun exposure can be harmful and cause problems down the road. To avoid getting too much sun while paddle boarding we've teamed up with dermatologist Rebecca Shpall, MD to get you a list of what you can do:
1. Wear a broad spectrum sunscreen with a high SPF
"Most people do not use enough sunscreen to achieve the SPF on the bottle," says Shpall. She continues, "In order to optimize benefit from sunscreen, either use an SPF 65 or greater or apply the sunscreen twice." In addition to wearing sunscreen you want to make sure that the sunscreen you are using is a broad spectrum sunscreen. Broad spectrum means that the sunscreen protects against both the UVB rays of sunlight which causes sunburn and the UVA rays of sunlight which causes deeper long term damage.
It's also important to reapply sunscreen after two hours and after swimming as sunscreen loses its efficacy as it is exposed to sunlight and despite being water resistant does wash off in the water.
2. Wear clothing that protects high risk sites
The back (at highest risk for melanoma), the scalp, neck and ears which are at risk for sun damage leading to premature aging and skin cancer so it's important that you keep these areas of your body covered while standup paddle boarding. "You will want to wear clothing that has an UPF (Ultraviolet Protection Factor) 50+ which gives the best protection from sun exposure," notes Shpall. She continued to say that "clothing that is dark and of a tight weave can also provide excellent protection." Shpall started her own line of protective clothing called Waterhoody and meets the needs of covering your back, scalp, neck and ears. Check it out HERE.
Hats do protect the scalp but should not be relied on for protection of the face and neck while on the water as much of the sun exposure is from reflective light off the water.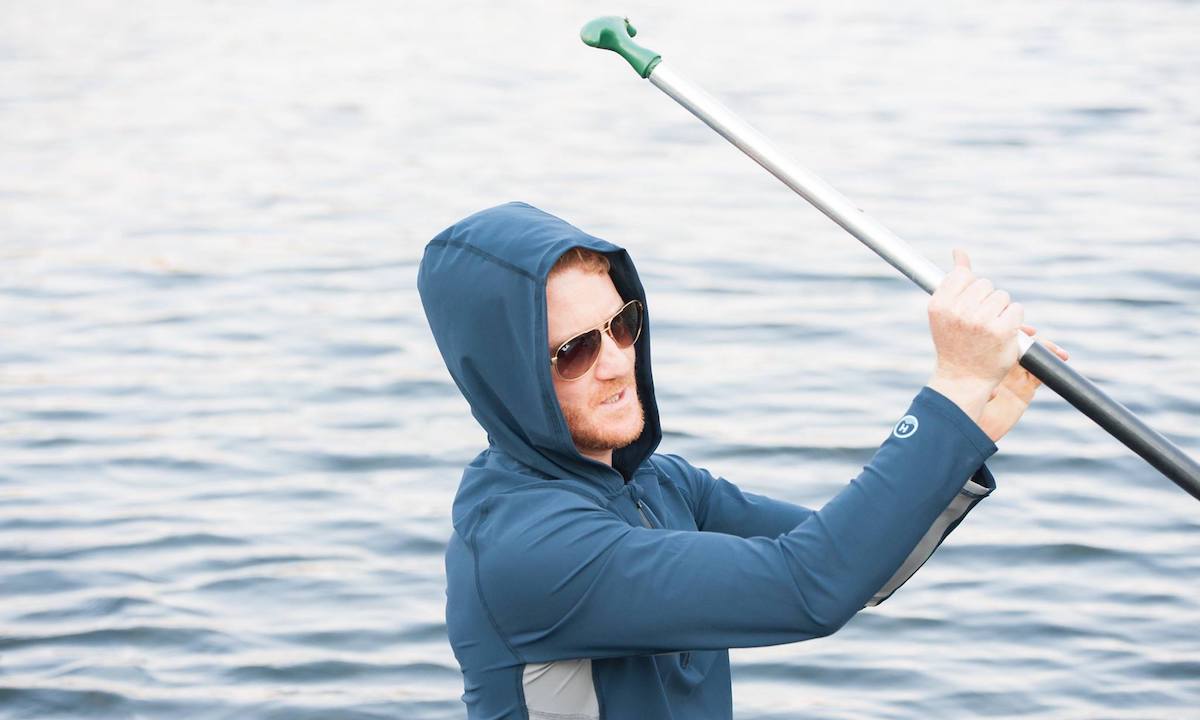 Covering your back, scalp and neck is key. | Photo: Waterhoody
3. Wear sunglasses
One of the greatest risks for damage to the eyes occurs when there is increased reflective light, i.e. the sun reflecting off of the water into your eyes. Wearing sunglasses can drastically reduce the chance of damage to your eyes from sun exposure.
4. Avoid mid-day paddles
The rays from the sun are at their harshest in the middle of the day so it's a good idea to avoid or minimize time on the water between 10am and 2pm. During these hours 60% of the sunburn rays (UVB) are produced thus increasing the risk of getting too much sun.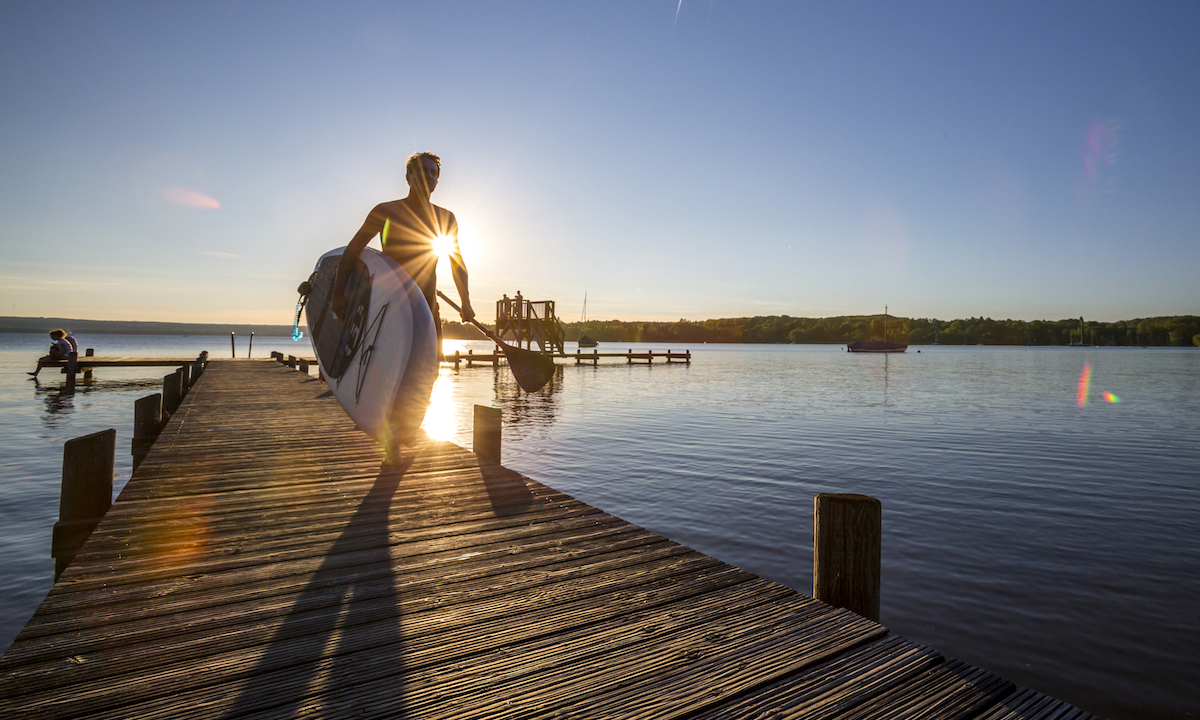 Sunset is an awesome time to SUP, not to mention gorgeous! | Photo: Shutterstock
While getting on the water and paddle boarding is awesome for fitness and fun it's important to remember to take the necessary safety precautions to prevent (as much as possible) damage to our skin and eyes from the sun. Remember to wear sunscreen and protective clothing as much as possible to do so. Nobody likes to be sunburnt!
For more SUP Tips, click HERE.
© Supconnect.com Copyrighted Exclusive Content
Last modified onFriday, 07 July 2023 09:13

Allie Beucler is orginally from Kona, Big Island and, as an islander, her life has been in the water – ocean more precisely. She has been a sponsored competitive surfer, represented the NSSA College National Champions while surfing for San Diego State University, and today remains deeply connected to the watersports lifestyle. Brown is both a shortboarder and a paddleboarder, loving to take out her inflatable SUP for a ride. With a journalism degree from San Diego State University and her passion for the water life, she brings an excellent combination of skill and passion to Supconnect.
Email

This email address is being protected from spambots. You need JavaScript enabled to view it.