Paddle Boarding Chicago, Illinois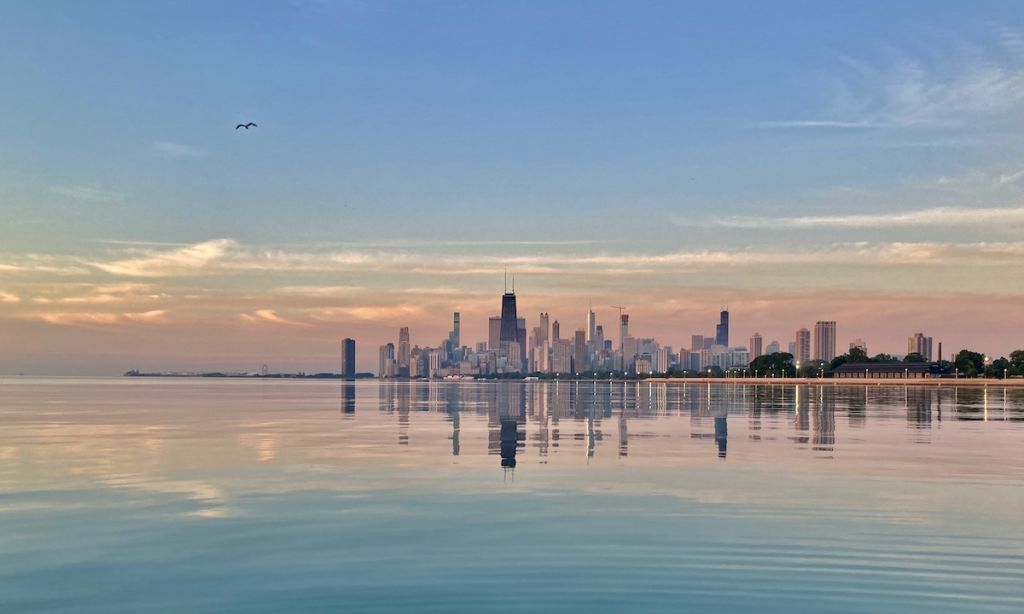 Chicago sunrise. | Photo by Kirsten Lefeldt
"The Lakefront by right belongs to the people," wrote Architect Daniel Burnham back in 1909 when he envisioned his plan for Chicago. Over 100 years later a group of standup paddle boarders venture out onto Lake Michigan, launching from North Avenue Beach, one of Chicago's 29 beaches. The majestic Chicago skyline is partially disguised by dense fog this morning, letting you easily forget that this is America's second largest city with a population of over 9 Million. Loving the outdoors but don't want to miss out on city living? Chicago might just be it.
With 25 miles of the total 29 Miles of Chicago's lakefront being public land it is easy to access the water. Chicago has over 600 parks, 8800 acres of green space. Getting around is also much easier than one might suspect for a big city. The recently widened lakeshore path allows plenty of room for cyclists and runners and will take you to several launch spots.
The Chicago Transit Authority (CTA) operates the nation's second largest public transportation system. Trains and buses cover the City of Chicago and 35 surrounding suburbs. Zipping around on one of the shared Divvy bikes is also a convenient way to explore the city.
Seasons and Conditions
SUP season for most people starts around May stretching into the end of October. This does not mean one has to stop paddling during the cold season. Equipped with drysuits, gloves and booties you will find a dedicated group of paddlers out until the water freezes over, which happens typically from mid January to early March. Rumor has it there is even a board that has been converted to an ice-breaker to extend the season for the most hardcore paddlers.
Lake Michigan conditions can vary from glassy water to challenging chop and the occasional downwind. Best to talk to local paddlers to be safe on the water.
Hot Spots
Diversey Harbor
For relaxed paddling and beginner friendly conditions head to Diversey Harbor and Lincoln Park Lagoon. From Diversey Harbor you can access the Lincoln Park Lagoon and take that must-have skyline photo. Be mindful that the lagoon is shared with the Lincoln Park Rowing Club and a traffic pattern has been established. Paddlers circumvent the lagoon counterclockwise while rowers go clockwise. Rarely will you find rough water in the lagoon or harbor. ChicagoSUP offers private lessons and weekend rentals at Diversey Harbor. Check the website for availability.
Ready to paddle into the lake? Use the Harbor entrance on the north side of Diversey Harbor. Wait for the green light as the underpass is shared with boats. The light will switch every 10 minutes.
Diversey Harbor to Northerly Island
Catch a calm day and you can go sight-seeing on your board. Start early at Diversey Harbor. Head south past North Avenue Beach, Navy Pier, Shed Aquarium, the Museums Square and reach Northerly Island and Burnham Harbor after approximately eight miles. Originally also envisioned by architect Daniel Burnham as a recreational area, Northerly Island was turned into a small airport in 1947 but was thankfully reverted back to a 119-acre Natural Area and park in 1996.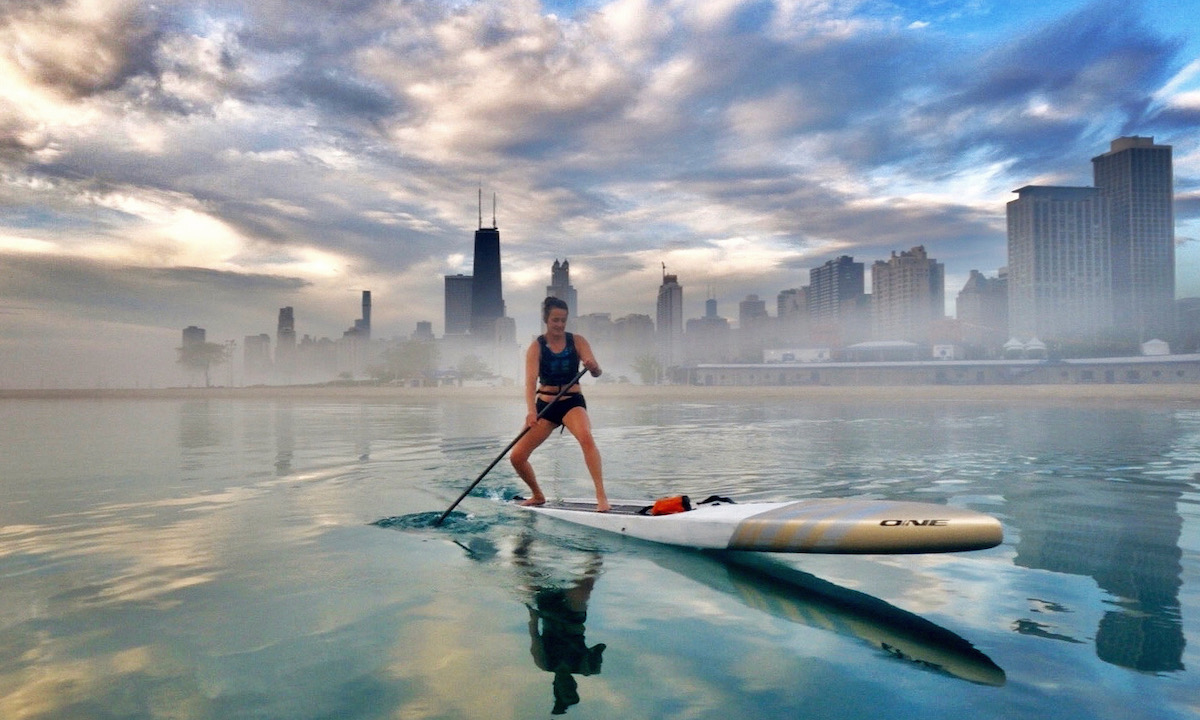 Foggy Sunrise paddle. | Photo by Kirsten Lefeldt
Sunrise over Lake Michigan
Enjoy a dramatic sunrise over Lake Michigan with the backdrop of the Chicago Skyline. The water tends to be calmer early in the morning, there is close to no boat traffic and even parking at one of the launch sites is easier than one would expect for a big city. You will share the morning only with a few fishermen and photographers on shore who like this time of day for the best shots and might even send you their photos before you finish your post paddle coffee at one of the many coffee shops and restaurants of which the city surely has no shortage.
The Chicago paddling community has figured out how to combine vibrant big city life with the tranquility and vastness of the open water. Connect with one of the businesses and groups before you come to visit and they will surely show you a great time in the windy city that isn't always windy and has incredible opportunities for outdoor recreation.
Photos by Ryan Barayuga
Other Paddlers
ChicagoSUP
ChicagoSUP is Chicago's original Stand-up Paddleboard Company. Owner and water sports enthusiast Ian Jacobsen was initially met with skepticism when he proposed to the city to rent paddleboards at the busy North Avenue Beach. Years later ChicagoSUP is now operating out of three locations offering rentals, lessons, SUP yoga and Sunrise and Moonlight expedition paddles. Newly added, they also offer e-Foil lessons.
The most popular group class is Camp SUP, a four week format that takes people from beginner to confident and safe Lake Michigan Paddler while fostering the sense of community that makes our sport so great.
Even in the midst of the pandemic while beaches closed down, ChicagoSUP continued to introduce new people to the sport and managed to get them onto the water safely utilizing Diversey Harbor and the Lincoln Park Lagoon. Chicagoans were just desperate to get outdoors. For more info visit their website here.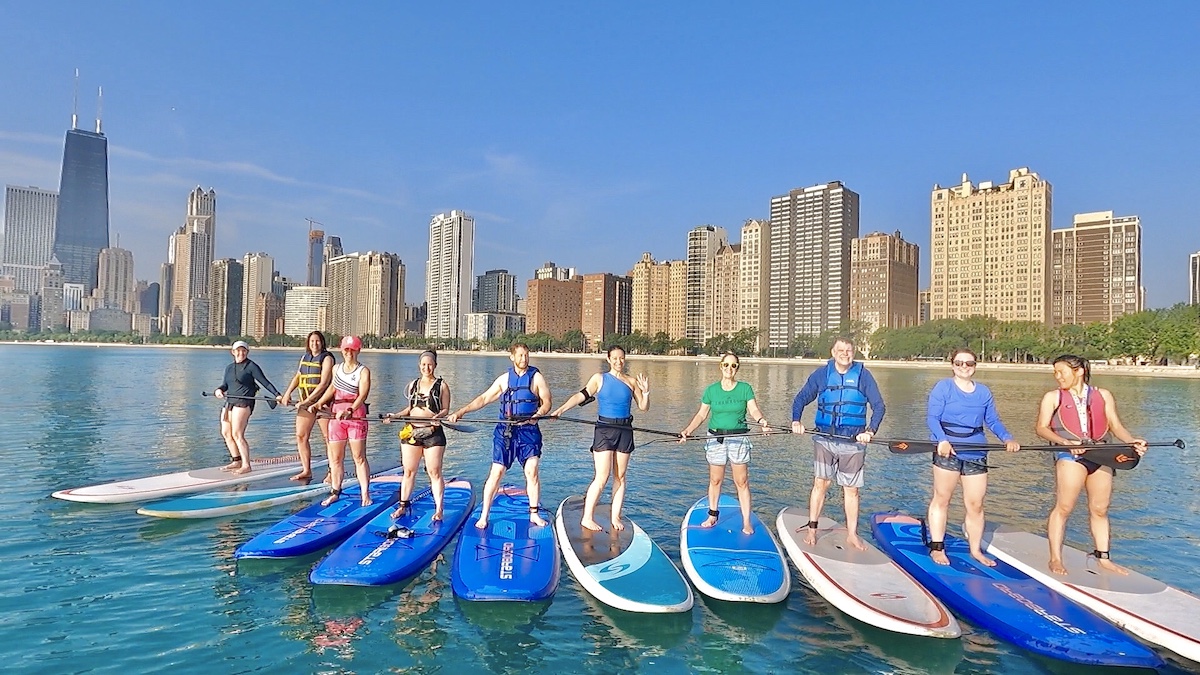 Camp SUP class. | Photo by: Kirsten Lefeldt
Northshore Yacht Club
Take a scenic drive up the lakefront to Highland Park and meet another group of paddling enthusiasts. The Northshore Yacht Club is an affordable all volunteer club. Members are offered ACA Level 1 and 2 Instruction and have access to a large fleet of paddleboards. Whether your goal is to relax on a board while viewing the sunrise, compete in the Club's Annual Beach 2 Beach Paddle Race, or perhaps practice yoga on the water, there is something for everyone. For more info visit their website here.
More Rental options
Get Social
Already own a board but not sure where to find other paddlers? Make that SUP connection through Chi SUP Club.
Racing
A short road trip will take you to one of the many Midwest Paddle League races. "Community First, Competition Second" is their message and they truly live by it. The fastest growing race category in 2021 has been female recreational 5k racers. Boards have been lent, assistance provided, and new racers are getting hooked. It is this community-focused attitude and friendly atmosphere at events that has brought new paddlers into the fold leading to consistent year-over-year growth in a time of declining participation rates. But make no mistake, even advanced paddlers will find plenty of opportunities to challenge themselves in races across a diverse geography, featuring open-water, inland lake, and river courses. For more info visit their website here. https://www.midwestpaddleleague.com
Last modified onTuesday, 13 July 2021 13:24
Kirsten Marina Lefeldt is a native German who has made Chicago her home. She is a coach for Chicago SUP, an avid SUP racer, and overall fitness enthusiast. When she doesn't share the stoke on the water or coaches at an American Ninja Warrior obstacle gym, she balances a full-time job as a Construction Quality Manager.
Website: www.Chicagosup.com
Email

This email address is being protected from spambots. You need JavaScript enabled to view it.