Swimwear That Works For The Female Paddle Boarder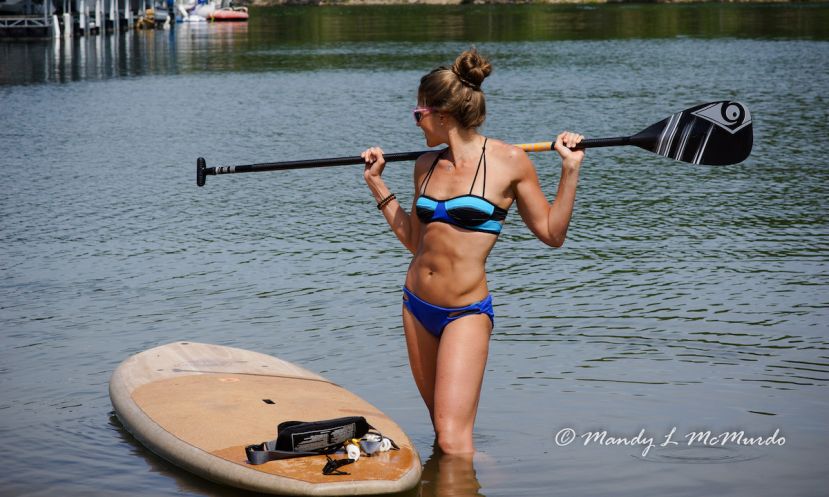 Jodelle Fitzwater wearing the Calavera Swim Siren bikini set. | Photo: Mandy McMurdo
Wedgies.
Nipple peeks.
Bikini plumber's crack.
Slippage, slide-age, and strap issues and sand-crotch (yep, that one's fun, ...not.)
Swimsuit issues. Nope I'm not talking about the Sports Illustrated ones, I'm talking about the reasons why you hate all the bikinis you own, especially for surf and SUP. They don't stay in place; they go into places no piece of fabric should ever go; that size Large should be labeled Uber Small, and while you might be an Uber small on top, you definitely would love to have the option of a larger size on bottom! Oh, the perils of swimsuit shopping for a suit that does what it says and stays in place, especially for active girls that aren't into slathering on baby oil, and lounging by the pool.
Jodelle Fitzwater wearing the Core Glam Top and Reversible Bottoms (left) and the Core Training Top and Lifeguard Bottoms (right). | Photos: Mandy McMurdo
I was tired of suits that fit great when they were dry, and felt like droopy wallpaper when they got wet. I was tired of "the creeper swimsuit bottoms" that violated me and my nether-regions with every stroke of my paddle as they climbed higher and higher into places they shouldn't. And I was tired of constantly being on nipple patrol, suits with no back strap adjustment, suits that gap open at your gutters like the great divide, and holding back in some of my SUP yoga poses because I was too afraid of exposing my root chakra, if you know what I mean.
But once I tried Calavera Swimwear, all that changed. My strokes per minute got faster, with no stopping to adjust straps, my SUP Straddle squats allow me to straddle farther, and my down-dogs went down further with no swimsuit issues whatsoever. Calavera Swimwear was the first swimwear to do what it says it would do, stay where it says it would stay, and be true to the size it says it was! When I finally found SUP back in 2008, my love of it caused me to re-arrange my life to make everything easier for me to go out and SUP more. I bought a car that would easily transport my boards, a rack that made loading and unloading easier, and started my search even then for swimsuits that stayed it place. For that reason, when I tried on my first Calavera top and bottom I knew that the search was over. Form met function and felt fantastic!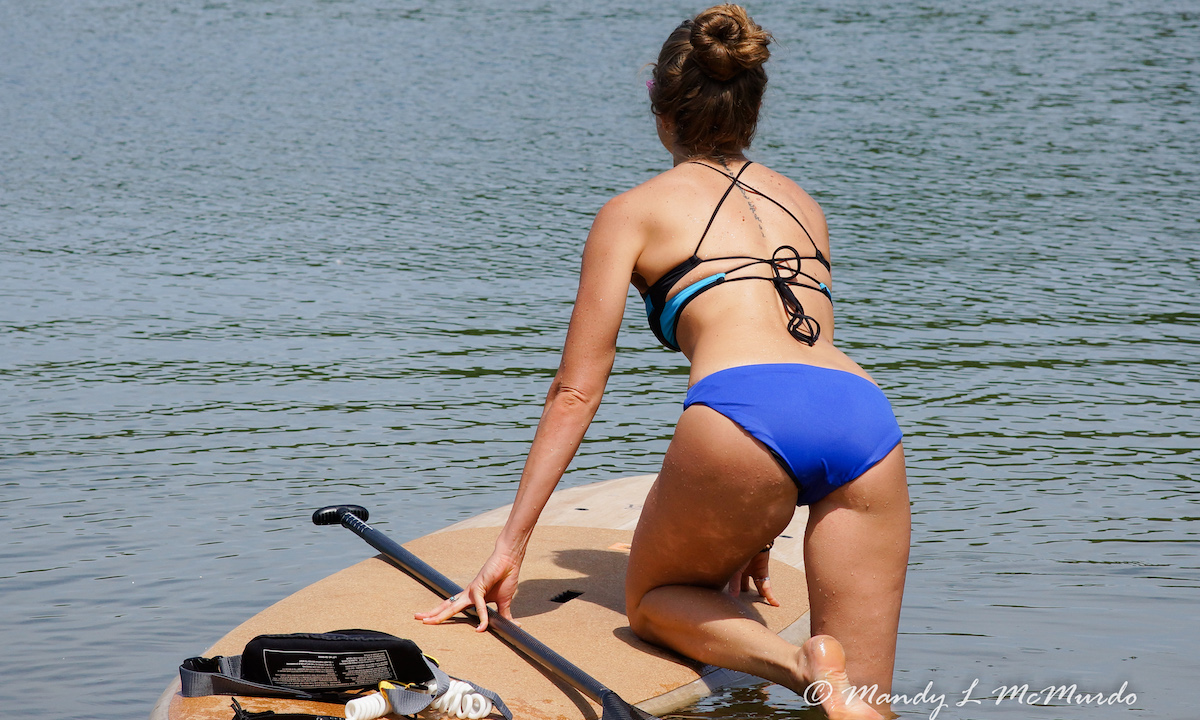 Jodelle Fitzwater wearing the Core Siren Top and Reversible Siren Bottoms from Calavera Swim. | Photo: Mandy McMurdo
Anna, the creator of Calavera Swimwear had a similar experience when she left the corporate world and found her love of surf. Her love of surf combined with her business background helped her create a product and a company who's mission is to design a swimsuit for active women without comprising fit, comfort, quality and even locally sourced fabric made in the USA!
The 2016 line has just been released for your paddling pleasure and here are my favorite fits for SUP:
1. The Lifeguard top and bottom.
Jodelle Fitzwater wearing the Lifeguard top and Hipster bottoms from Calavera Swim. | Photos: Mandy McMurdo
In addition to being a SUPer sexy swimsuit, the bottoms allow a hidden drawstring adjustment and tie-sides for the perfect fit every time. The top has Calavera's classic criss-cross tie-back more maximum fit and comfort without gaping areas or the need for nipple patrol.
2. The Core Training top.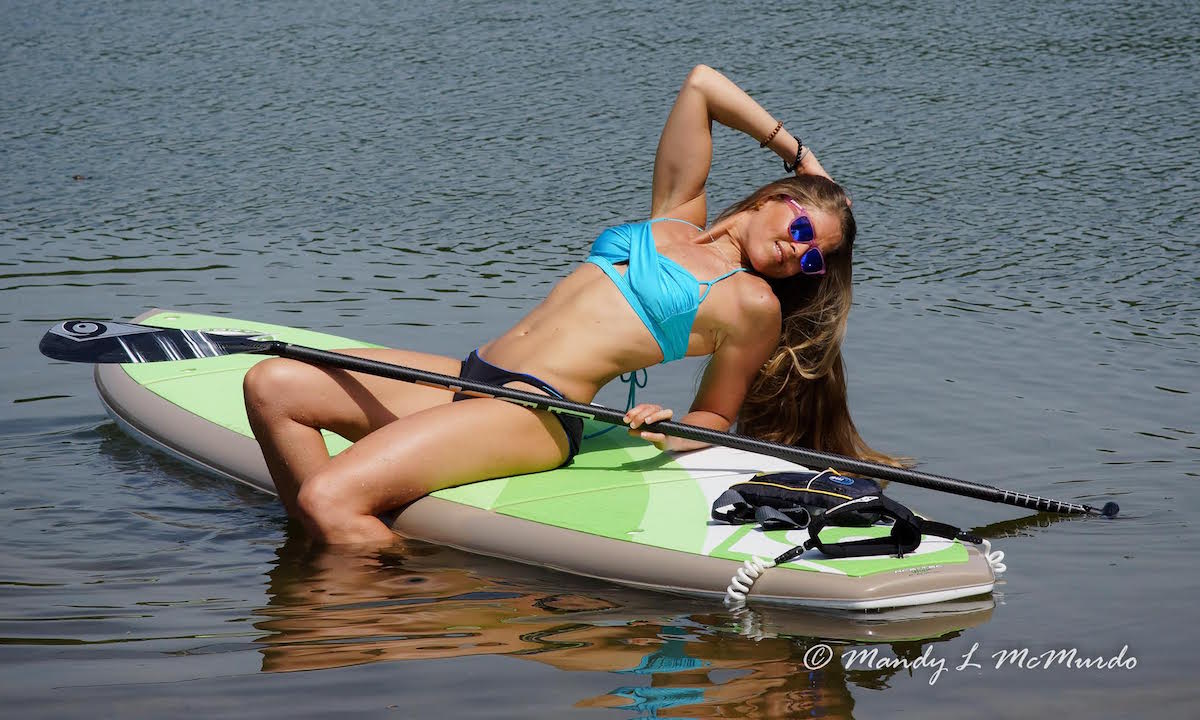 Jodelle Fitzwater wearing the Core Glam Training Top from Calavera Swim. | Photo: Mandy McMurdo
Like a second skin, this top requires no tying, no adjusting, and will let you keep calm and paddle on. This one is essential for me with SUP yoga. I can do handstands and arm balances without any need to adjust this top at any time!
3. T
he Core Peep Tankini
Not into bikini tops? Try the Core Peep Tankini. The mesh tank hides any mid-section discrepancies you might have and the built in bandeau bra fits perfectly no matter what size rack it is covering. Worried about the top bunching up while paddling? Well, don't. It can attach easily from the inside loop to the front loop on your bottoms! I recommend it with the Core Hipster Bottoms for a little business in the front, and party in the back!
4. The Skull Tights
Need active wear to take you from your SUP to the yoga studio? I love the Skull Tights for this! Quick dry and stay in place for SUP yoga, and sweat-wicking and stay in place for the gym or the studio too! Heck I'd even go to dinner in these babies! And quite likely to bed as well. Super comfortable! Hidden drawstring adjustment, fold-down waistband if you wish, and even a loop for your foldable water-bottle.
It's all in the name with Calavera. The word Calavera means "the skull" in Spanish, but it's meaning goes much deeper than just that. The skull is celebrated in the Mexican culture as a way to remind us that we are more than skin deep and that all of life and its experiences are sacred. Calavera reminds us to live each moment to its fullest, to take every opportunity to move, to live and never stop the pursuit of who you are as a created being and your created purpose! Not only will this swimwear stay in place, but by doing so it will help you feel confident to get out there to live what you love.
Check them out online HERE and get ready for swimsuit season! And from me to you, enjoy a 20% discount on your purchase by using code: CALAVERA&JODELLEF
To see more from Jodelle, click HERE.
Last modified onThursday, 21 July 2016 12:57

Branson West, Missouri - Jodelle Fitzwater has been a yoga instructor for over 15 years, and a SUP instructor for over 5 years. She's a BiC SUP Pro Stand Up Paddle Ambassador, SUP TV Fitness & Yoga Host, Certified PaddleFit Instructor, ACSM Certified Personal Trainer, and Certified Nutrition Coach. Oh, yea, and self-proclaimed mermaid.
Website: www.getfitwithjodelle.com/