Empowering Women Through SUP
Photo Courtesy: Jessie Benson
BALTIMORE, Maryland - When I first picked up a paddle and stood on a board in 2010 I felt scared, shaky and out of my element. But after an hour on the water I returned my board feeling confident; if I could go from falling every five seconds to walking on water in the middle of the Gulf of Mexico than I could do anything! I knew immediately I wanted to get more women on the water. I wanted to empower other women through stand up paddling and SUP fitness classes.
I first started teaching SUP Fitness classes in 2011 and my favorite part was when women came to class doubting if they would ever be able to stand up and they left class with a huge smile on their faces and a sense of accomplishment. Not only did they stand up on the board, but they did burpees, squats, push ups and planks on the board as well! Yeah, they fell off a few times, but they got back on the board feeling more energized and inspired. Feeling like if they could do a workout on the water, then they could do anything they put their mind to - that is the feeling of empowerment that I wanted every woman in Baltimore to experience. That is why I created FloYo®.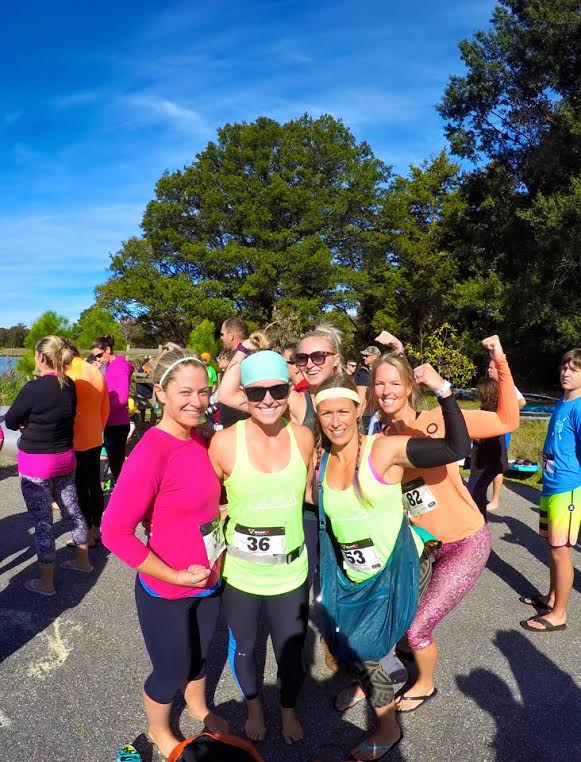 I suddenly had a vision for my life, I knew what my purpose was. It was to empower women through stand up paddling. When you are empowered you have a vision for your life, you have a sense of direction of where you are going in life and you have a clear understanding of the legacy you want to leave behind. You know what you stand for, care about and want to pass down to the younger generations. In order to feel this sense of empowerment you have to feel supported to achieve your vision. As women in the SUP community we need to support one another. In order to achieve our vision for our lives we need to help one another and cannot feel isolated and alone. We need to create a nurturing, loyal community for one another- a place where we feel supported enough that we have the courage to ask for the help and encouragement when we need it.
As more and more women get involved with SUP more women are racing and feeling increased pressure to race the longer "elite" division. For some endurance athletes they love the physical challenge of the longer course. They train daily to compete at their best level for the longer mileage. For others, these SUP races are more about the sense of community and love of the sport than the competition. Personally, I take part in SUP races because I love the SUP community and being part of that. I love spending a day on the water with my SUP friends from around the state. It's my opportunity to paddle with 100 or so people who love SUP as much as I do-when else do we get to paddle with 100+ of our SUP friends?! And the day itself is not so much about the race, but instead about the sense of community.
So, as women, why are we feeling the need to sign up for the elite races? Is it the pressure from our male paddlers? Or is it the need to prove to ourselves that we can go the distance?
Carleen Birnes, owner of Mantra Fit, is on a similar mission to empower female paddlers and has been coaching women in Maryland on paddle and race technique. Birnes says, "Back in my track days, I was a sprinter. Never was there pressure or expectation that I had to compete in longer distances to be considered an "elite" athlete. The milers were a different breed from the sprinters and we respected each other's strengths. Bottom line, do what you enjoy, and don't consider yourself inferior because you're not slogging it out for 6+ miles."
Photos Courtesy: Jessie Benson
As I enter into the 2016 race season I am adamant about doing races strictly for fun. I am still undecided as to whether I will simply be there as a spectator and cheerleader or if I will paddle in the rec division/short courses. One thing I am sure about, I will focus on creating that safe environment where women feel inspired and empowered to do anything they set their mind to.
Last modified onThursday, 24 March 2016 13:59

Jessie Benson is a Baltimore based stand up paddle board yogi, racer and ambassador. She first discovered SUP while traveling in the Gili Islands in 2009 and quickly fell in love with the sport. In 2010 Jessie began SUP racing and started teaching SUP fitness classes. In 2012 she launched her business, FloYo®, a SUP yoga brand that specializes in leading workshops, retreats and teacher trainings around the globe.
Website: www.floyofit.com/
Latest from Jessie Benson