Paddle Boarding Nicaragua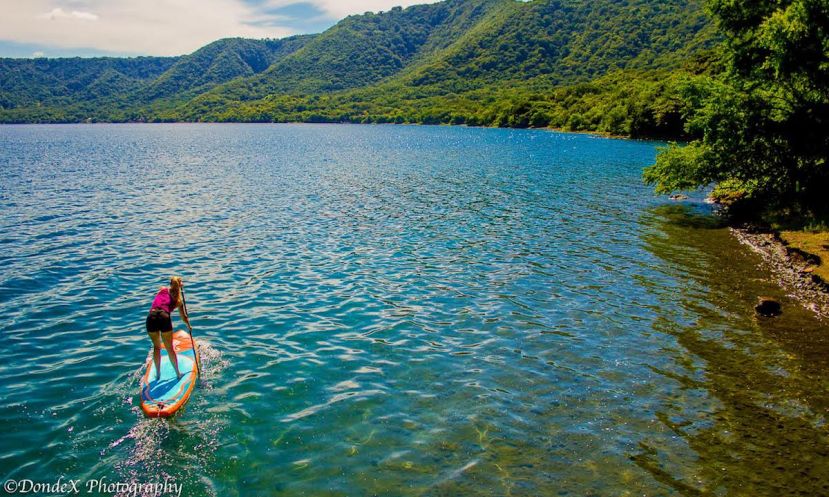 Laguna Apoyo, Nicaragua. | Photo: DondeX Photography
NICARAGUA, Central America - Nicaragua offers variety of SUP experiences for SUP surfers and SUP yogis alike. By many standards Nicaragua is somewhat of a new frontier in Central America. Years of political and civil unrest left Nicaragua off the radar for most travelers. People flocked to Costa Rica for their Central American adventure without even thinking twice about the larger country just to the north. But now that Nicaragua is stable and open for tourism, people are starting to trickle on to the untouched beaches and surf the miles of empty swells. This not-so-secret SUP spot is ripe and ready to be paddled!
Hightlights
With 10% of the country covered by warm fresh water and both coasts lined with sea, Nicaragua is a natural paradise for stand up paddle adventures. Whether you prefer to paddle on the calm Caribbean, SUP surf the Pacific waves, or explore the land of lakes and volcanoes, you can find opportunities for all of the above in Nicaragua.
Once you land in Managua and start making your way to the pacific coast you will quickly become enamored by the consistent surf and empty breaks. Rancho Santana, a 2,700 acre ranch on the Pacific Coast of Nicaragua is an unbelievable destination situated in front of several world famous breaks. Head straight to Rancho for outstanding SUP and surf conditions. With five beaches on property and a beach front surf shop which rents all types of boards there are plenty of options for SUP tours, SUP surfing and even SUP fitness classes.
FloYo®, a SUP yoga brand, recently launched their newest location at Rancho Santana, offering daily FloYo, FloYo Fit and SloFlo classes on the tranquil waters of Playa Escondida. In addition to perfect SUPing conditions, Rancho Santana offers a rustic luxury vacation experience that will leave you begging for more vacation days to spend exploring the dramatic coastline.
Seasons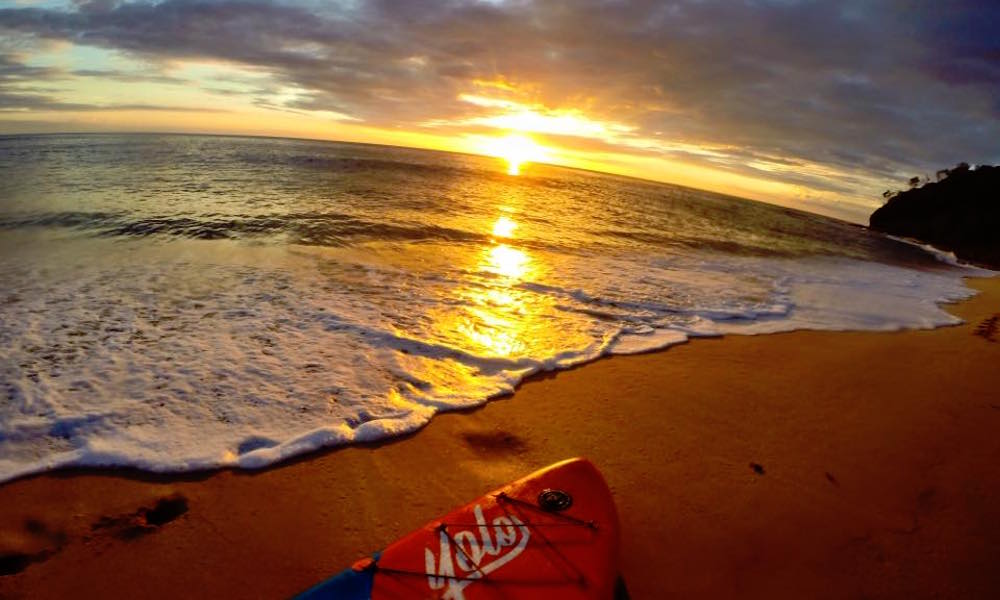 Beautiful Randcho Santana, Nicaragua. | Photos Courtesy: Jessie Benson
As a tropical country, Nicaragua is typically known to have two distinct seasons, the wet (May-October) and the dry seasons (November-April). However, all stand up paddlers should also beware of windy season! Due to the strong Caribbean trade winds coming across Lake Nicaragua, much of the Pacific coast is taken over by extremely high winds from January to March, with February being the worst.
November and December are great times to visit Nicaragua with waist to head high waves, it is a great time for beginner surfers to get in on the action. November is the start of dry season and end rainy season, so the trees will still be covered with vibrant green leaves and the temperature will be perfect with average highs in the mid 80's and lows in the 70s. The driest months are between March and May, these are often the hottest too. June, July and August are also great months to visit and you can expect bigger waves at this time.
CLICK HERE to see explore more SUP Destinations.
Hot Spots
Juan Venado Refuge
Get your fill of tropical wildlife and mangrove forests when you paddle through the various wildlife refuge's such as Juan Venado Refuge.
Las Isletas
Prefer to paddle around active volcanoes? Las Isletas Archipelago was created by volcanic fallout in the warm waters of Lake Nicaragua and is the perfect place for exploring. With 365 islands dotting the waters of the lake, some islands are tiny with just one shack and local family inhabiting the island while others are home to large mansions with helicopter pads. Take a guided tour through the Isletas with Livit Water and you may even get to feed a monkey on Monkey Island!
Photos Courtesy: Livit Water
Laguna Apoyo
This peaceful crater lake was declared a nature reserve in 1991. The lake is surrounded by a tropical green forest and will leave you feeling as though you are miles away from civilization. Our favorite spot to stay is Pacaya Ecolodge. Wake up to gorgeous views of the lake and then hop on one of their Yolo Boards for a paddle on the crystal clear healing volcanic waters.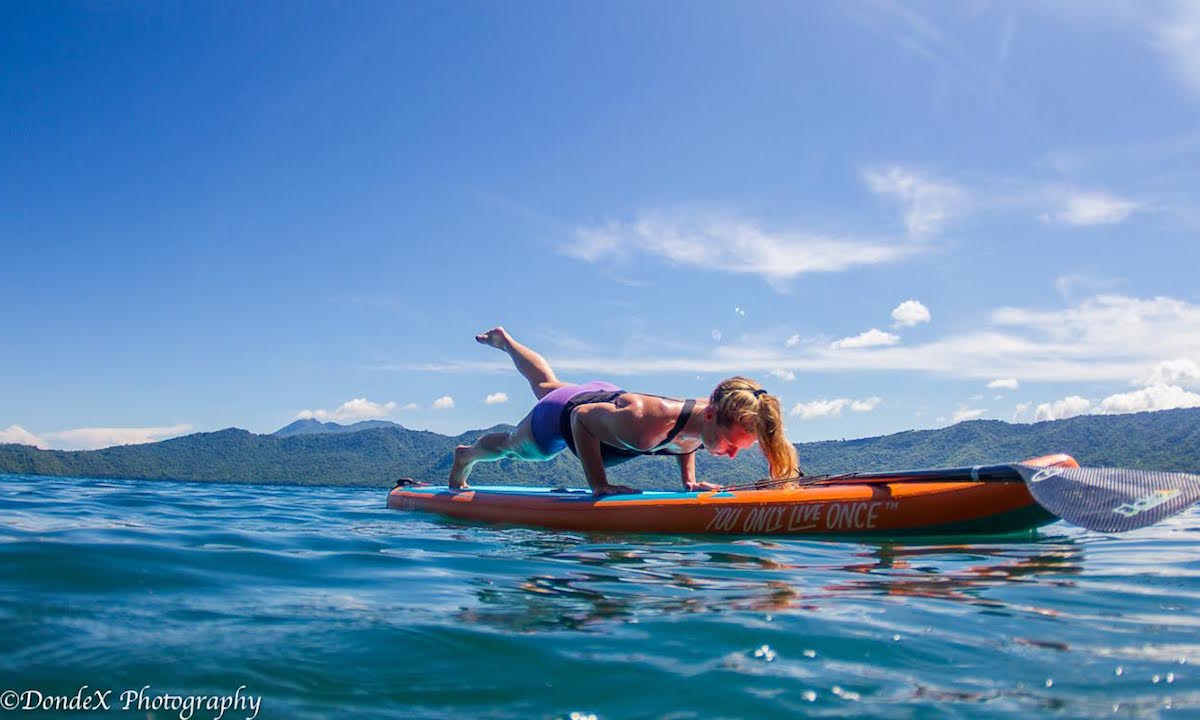 Beautiful day on the water at Laguna Apoyo. | Photo: DondeX Photography
Isla Zapatera
The second largest island on Lake Nicaragua is Isla Zapatera, a dormant volcano which is situated in a shallow and calm area of the lake. The island was an important ceremonial centre of the pre-Columbian Chortega people and was the site of pilgrimages where the ancient Chortegas built altars, carved religious images and offered sacrifices. While visiting the island you can paddle to different parts of the island and hike to see the many statues, petroglyphs and pottery found on this unique archaeological site.
With the Mombacho Volcano in the backdrop and the tranquil waters below you, Isla Zapatera is a picturesque paddle destination and the perfect base location for days of exploring the less visited of the two largest Lake Nicaragua islands. Santa Maria EcoLodge provides a comfortable place to sleep and lots of history to be absorbed.
Gorgeous paddling awaits at Isla Zapatera. | Photo Courtesy: Jessie Benson / Santa Maria Ecolodge Spa
Other Paddlers
Nicaragua remains a predominantly surfing culture but with such a vast coastline to explore you are bound to see some other paddlers. Laguna Apoyo is probably the spot where you will see the most SUP action since every Inn and hostel on the lake has a handful of boards for their guests to use. On the Pacific, NSR rents boards and Livit Water will also provide a board for all of your paddle needs.
Few countries can boast such an authentic character and rich culture as Nicaragua. If you are looking to get away from the crowds and experience a combination of warm, authentic culture and diverse nature and geography than the land of volcanoes and lakes is the perfect paddle destination.
To find more places to travel with your paddle board, click HERE.
Follow: @FloYoFit and @CulturallyFit on Instagram and Facebook!
Last modified onFriday, 11 March 2022 09:18

Jessie Benson is a Baltimore based stand up paddle board yogi, racer and ambassador. She first discovered SUP while traveling in the Gili Islands in 2009 and quickly fell in love with the sport. In 2010 Jessie began SUP racing and started teaching SUP fitness classes. In 2012 she launched her business, FloYo®, a SUP yoga brand that specializes in leading workshops, retreats and teacher trainings around the globe.
Website: www.floyofit.com/
Email

This email address is being protected from spambots. You need JavaScript enabled to view it.
Related items
Latest from Jessie Benson