Travis Grant & Danny Ching Fly on FCS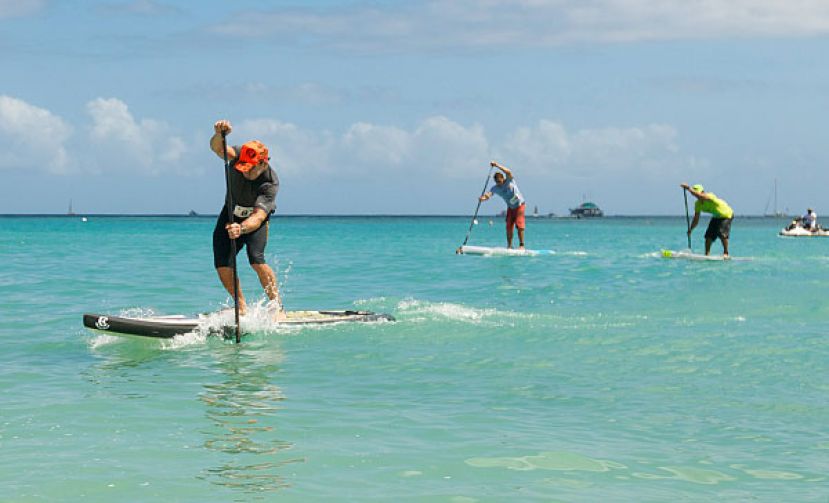 Travis Grant and Danny Ching dominate the field while using FCS SUP Fins
Slater Trout Fin by FCS SUP
Danny Ching Fin by FCS SUP
HONOLULU, Hawaii - Travis Grant and Danny Ching are on a roll! These two super athletes are killing it in the SUP race scene. Recently, Travis took first place and Danny was second at the 2012 Quiksilver Waikiki Paddle Festival. What is interesting is that they both shared something in common during the race!
Both Travis Grant and Danny Ching were using cream of the crop fins by FCS SUP in Waikiki. Both men are FCS SUP team riders and Travis sported the Slater Trout Fin while Danny rode with his very own custom fin model, the "Danny Ching".
The Slater Trout model (designed by Slater himself) is 8.5" and is made to do everything well. It has solid tracking with a shallow draft, rolls right over kelp and manoeuvres easily on a wave or around buoys in a crowd. The Danny Ching Fin (designed by Danny) is 9". With Danny's own personal touch it uses stiff and lightweight carbon skin UL construction and is just ideal for racing.
For more information enjoy the product videos and visit www.supfcs.com.
About FCS SUP:
At FCS we do our best to make high-quality innovative products that will help you improve your performance and your standup paddle experience in and out of the water. We are honored to work with a long list of legends and to partner with them to help improve their performance and yours. We believe that the sport of standup paddling is largely about empowerment and helping people to enjoy their lives and achieve their performance goals. We are excited to share these products with you in our FCS catalog and we hope that you will be excited to share them with your friends and your customers. We hope that you will also share that same spirit of aloha that came from Hawaii so many years ago. It is truly a gift that keeps on giving.
.
Last modified onWednesday, 30 September 2015 12:46
Email

This email address is being protected from spambots. You need JavaScript enabled to view it.