How to Start Camping With Your Paddle Board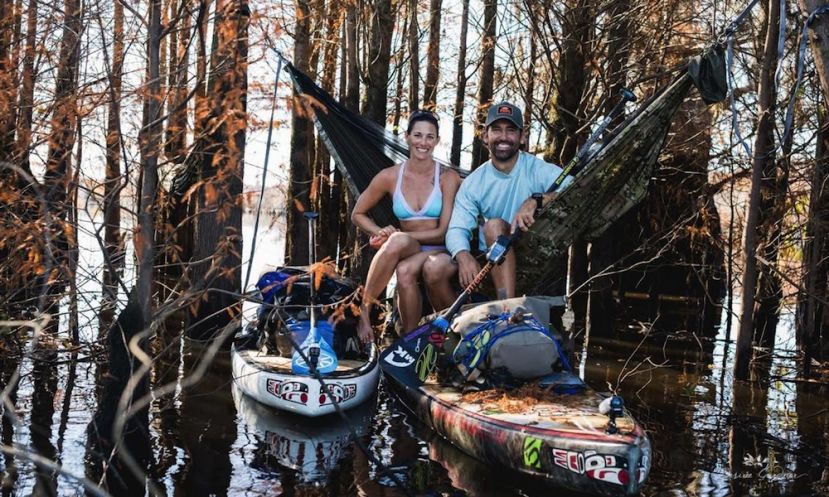 Jessica Cichra and Gabriel Gray camping along the Apalachicola River. | Photo: Desireé Gardner
Camping isn't just about going outdoors and choosing a field to camp in! What I love about the outdoor activity is that it isn't just limited to walking or cycling, but there are a ton of things you can also do when in the water. A favorite of mine would have to be paddle boarding! You'll be surprised at how you can both camp in a quiet spot while enjoying the sweet waters, roaming around various destinations. And it's so simple to do! Just strap on your stuff on the paddle board and begin exploring!
But how exactly can you do that? Read on as I'll show you some helpful tips for beginners.
How to Start Camping With Your Paddle Board
Camping with your paddle board is also called SUP camping (SUP stands for stand-up paddleboards). So where do you start? Try following these tips:
1. Choose the Best Time and Location
The first thing you'll need to do when planning your camping trip is choosing the best area where the waters are peaceful. What type of waters are you aiming to paddle on? What season would you like to camp in, winter or summer?
Through choosing a location and planning out what exact season, you'll be able to make proper decisions when mapping, getting permits and selecting specific gear.
2. Select the Quality Board
There are many types of paddle boards to choose from, all depending on the board size and material. You will need to select a board which adheres to the waters you are traveling on. The board must be big enough and with enough area to carry you and all your items with ease. They also must have extra features if you plan on paddling in certain waters. Some boards are inflatable or blow-molded, which can take on rapid waters and rocks.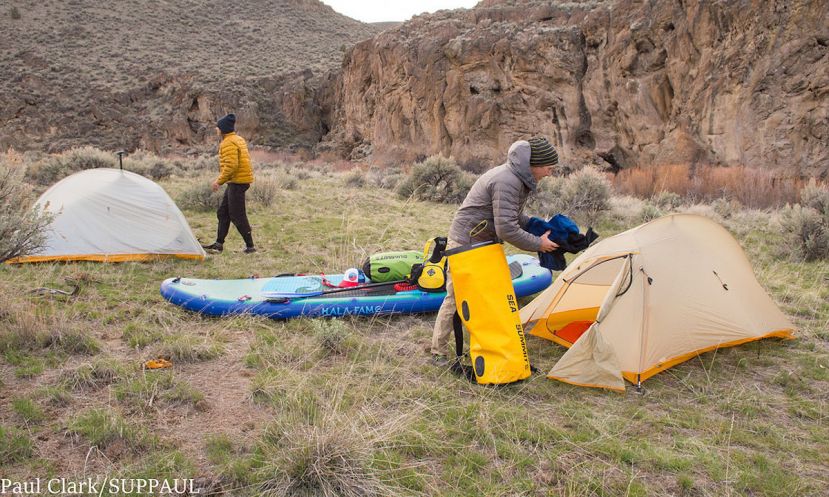 Owyhee River expedition. | Photo: Paul Clark
3. What Should You Pack?
You aren't in a huge boat, so space is limited and you need to pack light to avoid sinking! Create a checklist, which includes the following:
Float plan
Insect repellent (to get rid of sweat bees or mosquitoes)
Sleeping bag and tent
Cookware
Food and water
Clothes
Safety and SUP gear
Maps and permits
Dry bags
First aid and survival kit
You must also use the best travel backpacks for women or men in order to keep all your items safe from the waters or any accidents. Plus, it will help you carry all of what you packed efficiently.
4. Test Fitting the Board
Ensure that you get dry and waterproof bags with a packing system for equal weight distribution and to quickly get your gear when needed. Before you go on the try, test fit your board and make sure that all your items are packed on the board with equal weight. I usually pack it in front.
5. Weather and Safety
You should always prioritize your safety, which is why you must learn how to read the weather and waters. Have an adequate safety plan and leave it to loved ones, communicating them with your current location every time you have the chance. You will also need to have safety gear (and learn how to use it!). As much as possible, paddle with a buddy.
6. Mapping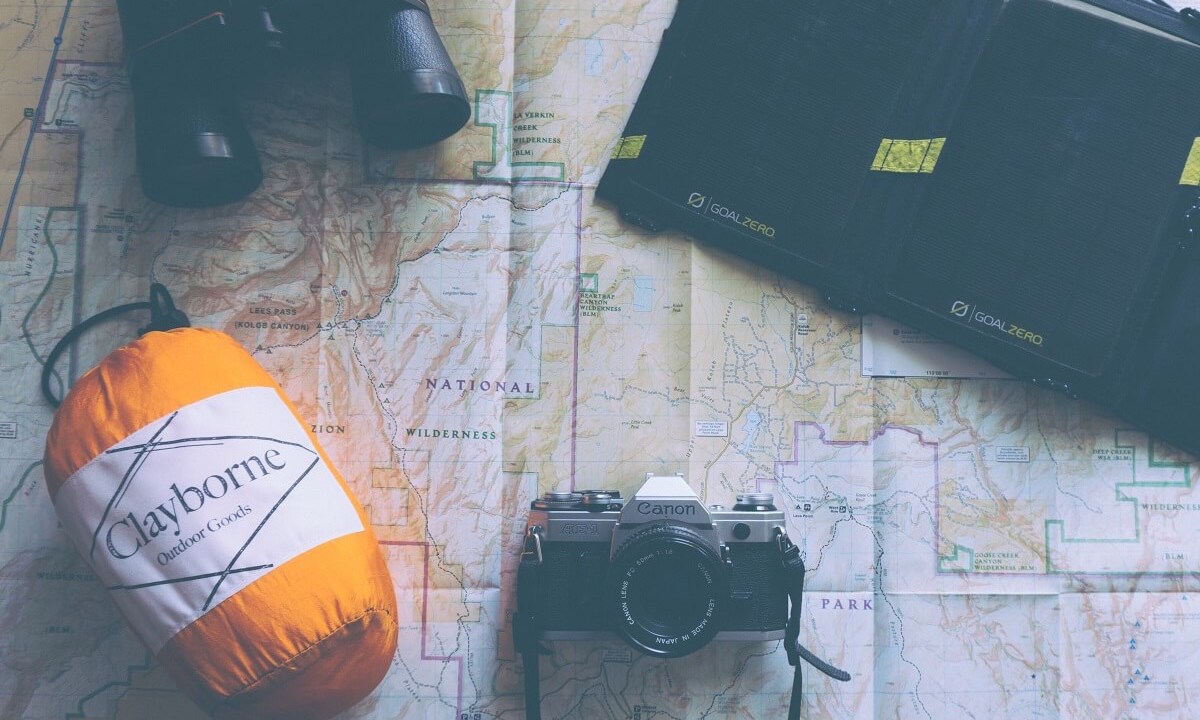 Photo Courtesy: Cameron Kirby / Unsplash
When you have now found the efficient location, have a map of the area for you to map out all the locations you would like to visit, as well as the mileage and distance you are paddling for the day. It will also help you find great camping spots for sleeping in. Only plan what you can handle.
7. Stay Well-Fed and Hydrated
You will get burned out paddling the whole day, so you must have the proper food and water to keep you energized! Always have a virus filter for water, as well as nutritious food filled with protein and fat to keep you satiated and going.
8. Extra Tips
Here are a few more tips to help you out when SUP camping:
Make sure that you bring spare paddles, keeping it safe and secure. You never know what may happen! Same goes with an extra fin, as well as board repair materials.
Have a quick-release leash and a PFD that properly fits for safety. I also urge you to have rain gear within reach if ever the weather begins to change!
Polish up on your paddle boarding, practicing any time you can to get ready for the weather and waters.
In Conclusion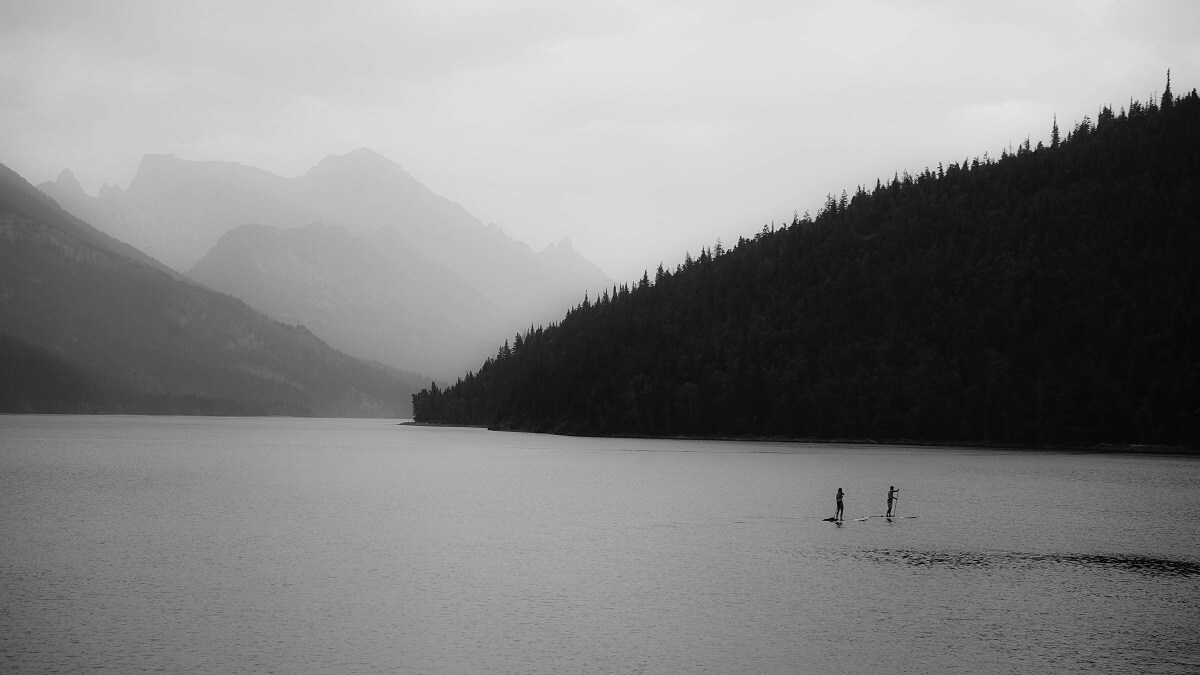 Photo Courtesy: Michael Olsen / Unsplash
If you are planning to go camping, then I suggest that you try something new. Whether it's an overnight camping trip or an expedition, SUP camping is a must-try! With this simple and fun way of getting around, you'll learn so many new things while enjoying the great outdoors.
I hope that this article on camping with your paddleboard helped you out. So don't wait any longer and begin planning that camping trip today. Don't forget to practice your skills in the water! If you have any questions or would like to share your tips and experiences on SUP camping, then comment down below, I would love to hear what you have to think.
© Supconnect.com Copyrighted Exclusive Content
Related Articles:
Last modified onThursday, 09 March 2023 10:21

I'm a founder at BearinForest.com, a Camping blog that shares everything about traveling and camping. I'm just a young lady who loves camping out and always eager to share my bonding experience to the world. Don't forget to follow me on Twitter @DeannRebello
Website: BearinForest.com
Email

This email address is being protected from spambots. You need JavaScript enabled to view it.