Gear Checklist For A SUP Expedition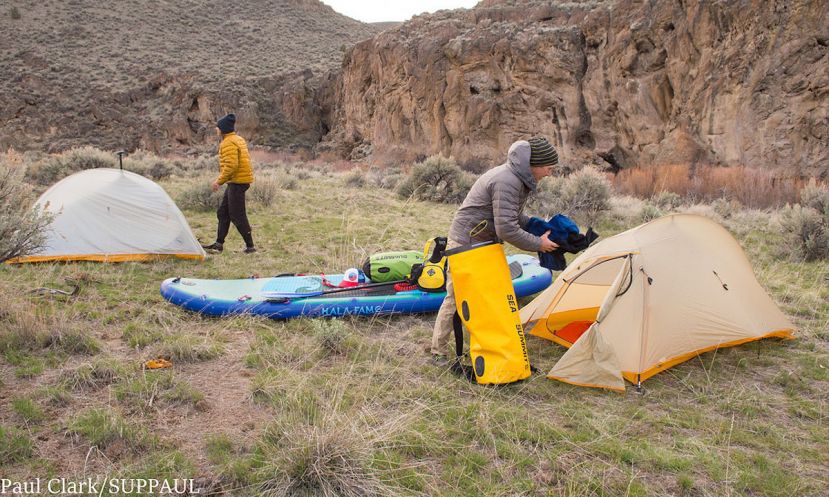 Owyhee River expedition. | Photo: Paul Clark
BEND, Oregon - Are you preparing for an upcoming SUP expedition and want to know a list of items to bring? SUP expedition expert Paul Clark shares his gear list for the solo paddler and lists everything you need to bring from maps and food to repair kits and more for when you're on a solo SUP expedition. Check it out:
All photos taken by Paul Clark
Key Ingredients

● Board
● Paddle
● Fin
● Pump
● Throw Rope

SHIPPS:

● Shoes
● Helmet
● Insulation (drysuit, wetsuit, quick drying layers)
● PFD & quick-release leash system
● Padding (shin, knee, elbow guards)
● Signaling (whistle)

Luggage (to contain and protect)

● Drybags, and Deck Bag for easy access storage
● Tie-down straps, micro-carabiners
● Carry/storage bags
● Gear containers/organizers

Navigation

Shelter (comfort, protection, survival, concealment)

● Sleeping System
● Tent, bivy, camp hammock, tarp, bug net, proper poles, stakes, straps, cordage
● Bag/liner
● Pad (comfort and insulation)
● Pillow
● "Sacred" bed time clothes, hat, socks

Weather on water and land

● Sun = hat, shades, buff, long sleeves, breathable
● Cold = insulation, gloves, bini
● Rain = waterproof layers, jacket, pants

Cotton for Camp Comfort (CCC)

Kitchen (Calories, Nutrition, Preparation)

● Food, Beverages
● Stove, Fuel, and Fire
● Pot, bowl, mug
● Utensil/knife
● Dish washing equipment
● Coffee making accessories, food containers/baggies

Hydration

● Filter (and filter cleaning equipment)
● Bladder or bottle
● Reservoir

First Aid (head, belly, wound management, stabilization, personal care)

● Ibru
● Pepto
● Duct-tape/gauze

Hygiene

● Toothpaste/brush
● Contacts/glasses
●Baby wipes, soap

Repair Kit (patching, cutting, mending, replacing)

● Duct-tape
● PVC repair
● Knife
● Pliers
● Replacement and spare parts (buckles, fin pins)

Electronics

● Headlamp/batteries or charging cable
● Fitness tracker/charging cable
● Phone/charging cable
● Solar panel/battery charger
● Personal locator (InReach)

Media

● Camera & lenses
● POV & DSLR
● Drone, blades, remote, cable
● Tablet/laptop
● Notepad/paper/pencil
● Batteries/chargers/cables
● Memory
● Cleaning
● Bag/case, waterproofing and impact protection

Paperwork

● Permits (boater pass, invasive species, wilderness pass)
● Reservations (lodging, camping, flights)
● Shuttle & transportation arrangements
● ID/passports
● Medical records, vaccines
● Cash and cards
● Proper storage, safeguarding, and waterproofing of all documents

Down Time

● Books
● Games
● Adult consumables
● Digital downloads
Last modified onFriday, 26 May 2017 15:46

Bend, Oregon - I'm Paul Clark, the "duffel bag paddle boarder." SUP boarding is my way to find new places, rediscover old places with a fresh perspective, and challenge my own physical limits. Touring is my focus. Lashing multi-day expedition gear to the deck of my board is where adventure begins for me. I run rivers self-contained. I hike boards into the backcountry and portage overland to alpine lakes. I have descended the Baja coast down the Sea of Cortez and have circumnavigated the islands of Bocas del Toro in Panama. Athlete, photographer, and brand ambassador, my passion is to promote paddle boarding as a vehicle for exploration. Come along with me as I travel with boards, meet interesting people, and discuss topics relevant to adventure paddling.
Website: suppaul.com/