Payette River Games 2015 Wrap Up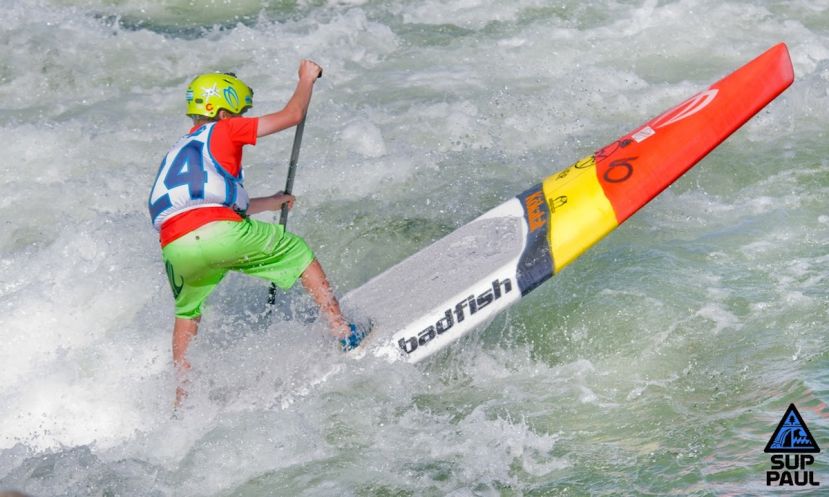 As expected, this year the Payette River Games was a battle against ocean athletes and river runners. | Photo: Paul Clark
CASCADE, Idaho - After a wild three days of competing in Cascade, Idaho, the Payette River Games have wrapped up. As an event that attracts open ocean racers and world class surfers to river whitewater, PRG is a celebration of elite stand up paddling diversity.
As expected, this year was a battle against ocean athletes and river runners. It was also a generational contest between the young and, well, more mature. We witnessed amazing wins by first time attendees and we saw upsets as past winners dropped below podium standings. Many of the top finishers are still in their teens. Men's first place winner is Mo Freitas, the 17 year old phenom from Oahu. The women's top finisher, Rebecca Giddens, is a mother of two and Olympic kayaker from Tennessee.
Pictured: (left) Annabel Anderson. (right) Zane Schweitzer. | Photos: Paul Clark
Nobody can say that the Payette River Games is an easy event. With the course changing each day through swift water and standing waves it challenges the skills of the best paddlers. Though the board was set to a maximum 11' length, the debate of width and material is a constant conversation piece. Do you sacrifice speed for stability? Epoxy boards or inflatable? Were these debates quieted during PRG15? I'd say, no. Mo Freitas was on a very skinny and low volume SUP surf board, while Rebecca Giddens was on her inflatable ULI board. It's less about board, and more about skill, will, and consistency.
Along with awesome paddling, PRG 15 had volleyball, ax throwing, and dog fetching events, as well as JD Platt's K9 Kings frisbee dog show.
Though the sun is setting over the games as I write this, I look forward to PRG 16.
To see more news and action from the Payette River Games, click here.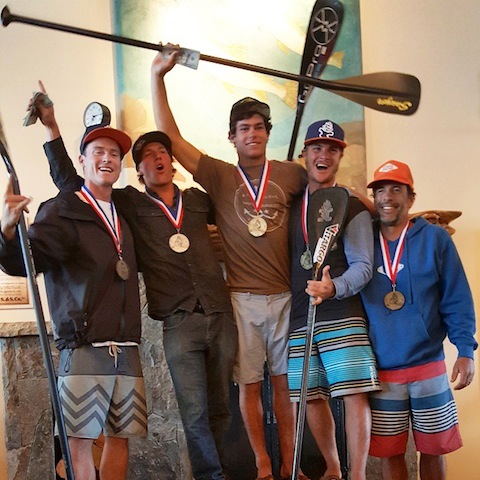 Men's Results:
1 Mo Freitas
2.Dane Jackson
3. Zane Schweitzer (Starboard)
4. Sean Poynter (Starboard)
5. Eric Giddens
6. Slater Trout (Boardworks)
7. Bernd Roediger
8. Masayuki "Yacu" Takahata
9. Toby Cracknell
10. Giorgio Gomez (Starboard)
Women's Results:

1. Rebecca Giddens
2. Fiona Wylde (Starboard)
3. Izzi Gomez (Starboard)
4. Annabel Anderson (SUP Think Tank)
5. Sage Donnelly
6. Candice Appleby (FCS)
7. Mariko Strickland Lum
8. Shakira Westdorp (Starboard)
9. Nadia Almuti
10. April Zilg
Last modified onTuesday, 23 June 2015 11:45

Bend, Oregon - I'm Paul Clark, the "duffel bag paddle boarder." SUP boarding is my way to find new places, rediscover old places with a fresh perspective, and challenge my own physical limits. Touring is my focus. Lashing multi-day expedition gear to the deck of my board is where adventure begins for me. I run rivers self-contained. I hike boards into the backcountry and portage overland to alpine lakes. I have descended the Baja coast down the Sea of Cortez and have circumnavigated the islands of Bocas del Toro in Panama. Athlete, photographer, and brand ambassador, my passion is to promote paddle boarding as a vehicle for exploration. Come along with me as I travel with boards, meet interesting people, and discuss topics relevant to adventure paddling.
Website: suppaul.com/
Email

This email address is being protected from spambots. You need JavaScript enabled to view it.