How SUP Yoga Makes You a Better Racer
Photo: Shutterstock
A huge part of paddle boarding is all about balance. When you're paddleboarding, you're standing on board balanced in the water. Even the slightest movement of the water beneath your feet could cause you to fall off balance and into the water. This is why paddle boarding can be a somewhat difficult skill for a newcomer to pick up if their board is not wide enough. It takes many hours of practice in order to refine your skills. Paddleboard racers take even more time in order to be able to both balance themselves in the water and be able to race with precision. One of the best ways to gain these skills is by practicing SUP yoga.
What is Paddleboard Yoga?
SIC Maui champion racer and SUP Yoga enthusiast, Seychelle. | Photos Courtesy: SIC Maui
SUP (stand up paddle board) yoga is typically done in calm water. You practice balancing your weight to ways that improve your paddleboarding by combining two main practices of yoga: hatha yoga and vinyasa yoga. Hatha yoga is a South Asian practice that is very relaxing while vinyasa yoga focuses on a continuous flow of poses combining it with breath. Those who are new to SUP yoga usually practice on the beach in the sand or in a swimming pool where the water won't be disturbed by small wakes to be able to gain the strength and flexibility required to maintain the balance and postures. After they've mastered the techniques, they can feel comfortable moving to the ocean or lake where the waters are a less controlled.
Paddleboard Yoga Perfects Your Balance
One of the main reasons why you might want to consider adding SUP yoga to your daily routine to become a better paddleboard racer is because this type of yoga will perfect balance. This is vital for racing since any number of things could happen. For starters, race boards tend to be much more narrow in width, making the stability of the board difficult. Or, you might be racing in a lake, for fun while on vacation in Hawaii, or for competition in the ocean, and you will need to have perfect balance in order to win the race. The yoga helps you to connect with the board itself and find balance no matter the kind of waves you are working with. What this does is create the bond between you and the board. You will start to feel a connection with it that allows you to overcome almost anything.
Photo: Shutterstock
It Changes the Way You Concentrate
Yoga, in general, takes a large amount of concentration. It requires you to focus on your breath, your core, your balance, and the forces around you. Looking at the wrong spot on the ground can cause you to lose your balance. You must be able to keep your body perfectly aligned with your neck and your spine. Yoga is all about strength, balance, and concentration. Since paddle board yoga changes the intensity of yoga itself, it requires an immense amount of concentration. At the same time, if you're on a lake or in the ocean, the waves, winds and currents are moving you during your practice and you're being carried with the tide. You have to juggle multiple things all at once. By practicing this day after day, you're changing the way that you're thinking which heightens your sense of concentration.
Paddleboard Yoga Predicts the Water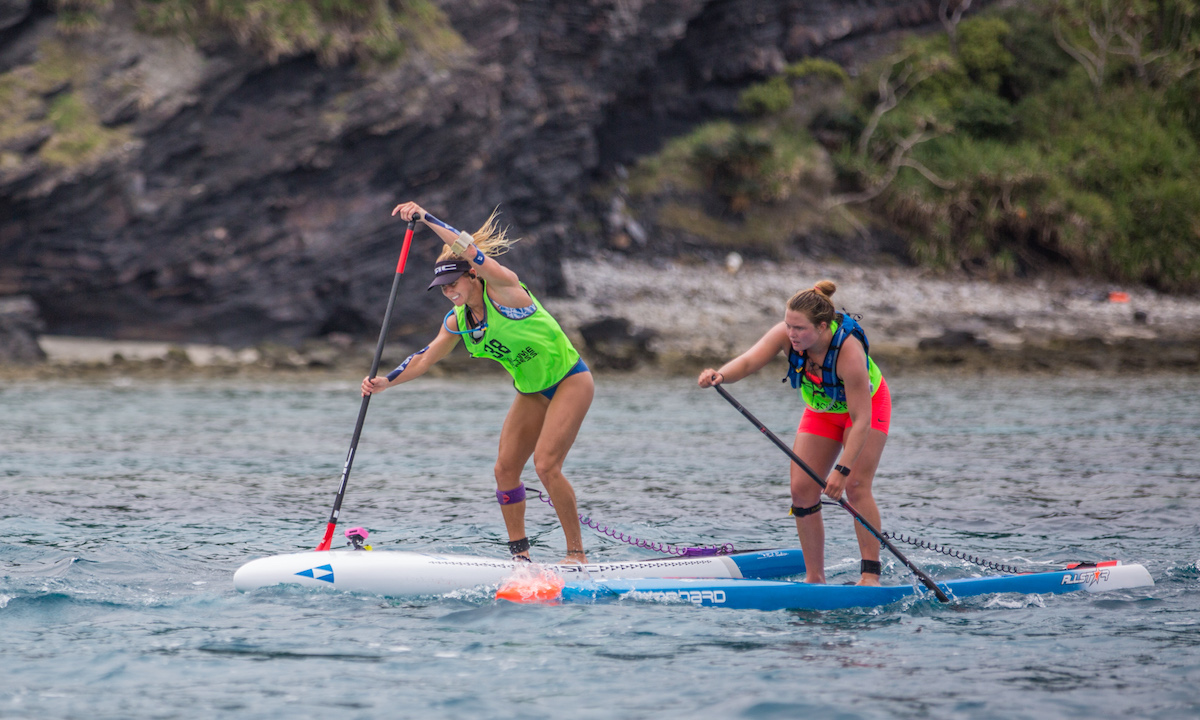 SIC Maui's Seychelle (left) taking her skills from SUP yoga to the race course. | Photo courtesy: Paddle League / Georgia Schofield
A good SUP racer knows his or her board like the back of their hand. However, a great SUP racer can predict the water beneath the board. They know how it moves and what it will do next. This is exactly what SUP yoga teaches you to do. Since you have to learn how to maintain slow movements over a period of time while everything below you is constantly shifting. As you practice yoga, you'll be able to predict how the waves will move beneath you since you learn to move with them.

To become the best paddleboarder you can, you need to learn to understand the importance of learning to concentrate, balance, and move with the water beneath you. When you combine each of these skills, you'll become not only a good paddleboard racer but a great one.
© Supconnect.com Copyrighted Exclusive Content
Last modified onThursday, 02 July 2020 11:28

Devin Caldwell is a young father, an avid traveler, and a lover of anything that involves being outside. His family and friends best know him by his love for good music and flexible legwear.
Latest from Devin Caldwell