8 Yr Old Paddles 11.8 Miles for Children's Hospital

Delaney Kuepper and friends finish the 11.8 mile journey.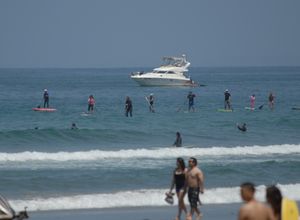 Delaney Kuepper finishes at La Jolla Shores, CA.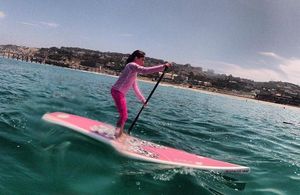 Delaney Kuepper during the 11.8 mile paddle.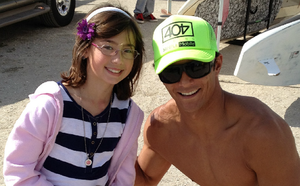 Delaney Kuepper meets elite racer Danny Ching.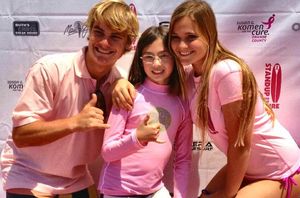 Delaney Kuepper with Zane and Shelby Schweitzer.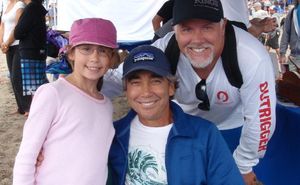 Delaney Kuepper meets living legend Gerry Lopez.
SAN DIEGO, California - Delaney Kuepper is one ambitious 8 year old girl. Just this past weekend she completed an 11.8 mile stand up paddle journey to help raise money for Rady Children's Hospital. What an incredible feat, especially for someone so young.
If you take a peak at the life of Delaney Kuepper, you will find that she is an extremely busy young lady. Along with going to school and all the typical responsibilities of an 8 year old, she also enjoys playing the piano, singing, acting, dancing and modeling. However, she has especially taken a huge liking to stand up paddle boarding. In fact, SUP surfing is one of her favorite activities. She is no stranger to the SUP world and over the past little while has had a chance to meet many of the elite athletes and legends in the sport, such as Danny Ching, Zane Schweitzer and Gerry Lopez.
During her exciting journey into SUP, however, Delaney came to realize that there are many other kids who do not get to enjoy all the fun like she does. Because of activities with her school, neighborhood and family Delaney has had opportunities to assist others who are less fortunate. Through those experiences and their impact on her, she felt inspired to find a new way to help out. With guidance from her family, she decided to give back to other less fortunate children by raising money and awareness for Rady Children's Hospital through her passion for stand up paddling. More specifically, she set a goal to do this by completing an 11 mile paddle in the pacific ocean from Cardiff Reef to La Jolla Shores in San Diego, California.
This weekend that goal became a reality. After much training and planning, Delaney Kuepper completed the journey in good weather conditions with family and friends always by her side. In her mother's words, "She paddled her little heart out, and finished all 11.8 miles on her own board, in about 3.5 hours!"
Together with the help of the local community and more specifically the stand up paddle community, close to $6000 was raised. The money will be directed toward assisting children who do not have insurance or the money to receive necessary medical treatments at Rady Children's Hospital.
Delaney and her family have expressed tremendous gratitude for all those who helped out and participated in any way. They are also determined to continue moving forward in an effort to know what other kids everywhere are doing to help people in need. With that in mind they would ask that anyone with information about kids doing community good, please send an email to Delaney and the "Kidz Who Care" organization at [email protected] so that together kids can continue to make a difference.
Congratulations on a job well done! Stand up paddling is fortunate to have such a person as Delaney in our corner.
.
Last modified onWednesday, 28 January 2015 12:36
Email

This email address is being protected from spambots. You need JavaScript enabled to view it.