Crossing the North Sea from England to Holland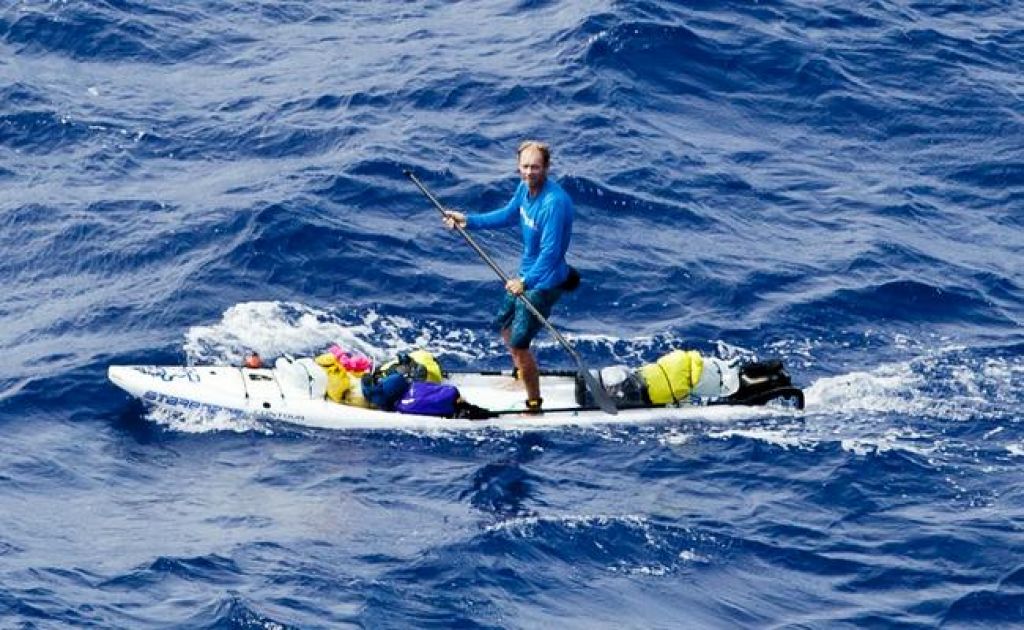 Bart De Zwart from his 2011 Big Island to Kauai crossing.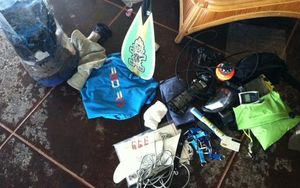 Supplies for the Journey from England to Holland.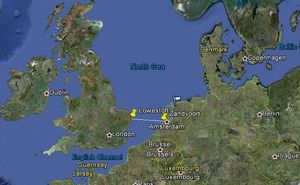 Map of the North Sea Crossing.
Bart de Zwart, a 42 year old man from Maui, is setting off on another long distance SUP Journey. Last summer he completed an unsupported, solo, non-stop SUP trip from the Big Island of Hawaii to Kauai. This time he will paddle across the North Sea from England to his original homeland of Holland.
According to Bart and his family, the plan is to cross on a 14 foot Stand Up Paddle Board beginning from near Lowestoft, England to Holland in Zandvoort at a designated location they call "THE SPOT". It is about a 100 mile (182 km) journey and this is the first attempt anyone has ever made at crossing on a Stand Up Paddle board. Just like his journey the summer prior, Bart will make this journey with no assistance, alone, and without making any stops. However, in order to make this possible it is necessary to plan very carefully.
Bart is an experienced waterman and has calculated exactly what he will need in order to complete this test of endurance. His supplies are limited but methodically chosen. One of the most important items, as explained in his blog, is an Eprib. This is a personal locator beacon with a GPS. This device will serve two purposes. The first is to help in case of a life threatening situation by sending a signal via satellite to a rescue coordination center. The second purpose of the Eprib is to use it to send a limited amount of messages to friends and family on shore to let them know his GPS position.
Bart has also chosen other navigational supplies, safety equipment, clothing and food. They too were included in his blog and are as follows:
Supplies & Safety:
2 GPS devices and maps, navigation lights on a little mast to be used only at night, smoke signals and hand flares, 2 compasses, charts and maps, VHF radio, a cell phone, back up paddle and an extra shaft.
Clothing:
Warm clothing in dry and wet circumstances, 1 mil short wetsuit and a 5 mil full wetsuit, wet shoes, beanie, rain trousers and a soft shell jacket to use against the wind and cold.
Food:
A mixture of freeze dried foods, nuts, dry fruits, granola bars and chocolate. Perpetuem liquid sports food and recoverite (liquid recovery drink) and electrolyte drinking powder. Fresh fruits and vegetables from England. Water - enough for the entire trip and 2 days extra in case of an emergency.
At this point in time, after waiting for a break in some easterly winds, Bart plans to depart for his crossing today, May 30th, 2012 from Lowestoft/Suffolk in England. He will be documented by English photographer Anita Harris and his progress can be followed on his blog at http://sup-crossing.blogspot.com/ . The paddle should take about 20-30 hours.
Good luck Bart! We will be following your journey and can not wait to hear the after report!
.
Last modified onWednesday, 28 January 2015 12:35
Email

This email address is being protected from spambots. You need JavaScript enabled to view it.