2nd Jr Pro SUP Fiesta Happens in Just Weeks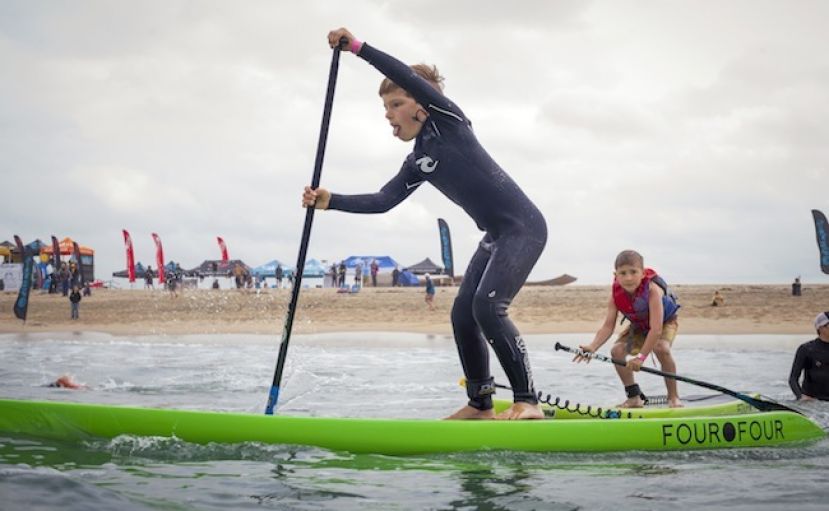 The 8 & under division is going to be stacked. Photo by: Jeff Berting
BOLSA CHICA STATE BEACH, HUNTINGTON BEACH, California - On May 4th 2014, the 2nd Annual Performance Paddling Junior Pro & Youth SUP Fiesta will bring together some of the top youth sup athletes in the world. There will be seven divisions of age groups in both SUP Surfing & Racing and a Junior Pro Invitational SUP Surfing contest with $5000 of equal gender prize money on the line!
There will be Junior Pro invites coming from Brazil, Oahu, Maui, Kauai, Molokai, Florida, Oregon, North Carolina, Utah and California!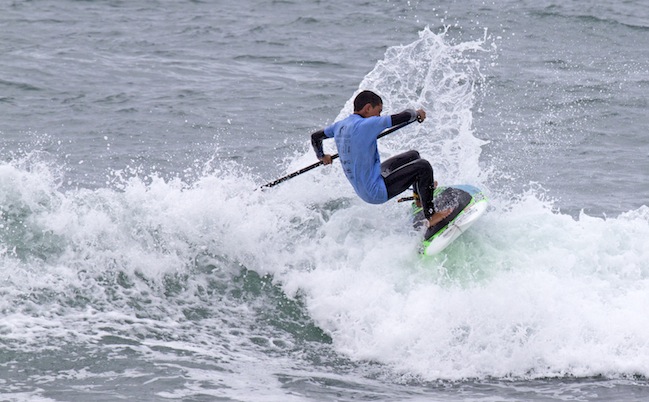 Riggs Napoleon will be returning again. Photo by: Harry Wiewel
The event features a Live-HD webcast with professional hosts, instant replays, and athlete video bios. There will also be an expression session filled with some of the top Stand Up Paddle Pro's!
Board length restrictions will be used to promote safety and proper stoke development within the youth of the sport. The WPA and other sanctioning bodies have adopted these age/board size classifications as an industry standard, and as the premier youth sup event, the 2nd Annual Junior Pro & Youth SUP Fiesta will be implementing these standards:
Race Boards must be 11' in length or shorter for the 8 & under and 9-11 boys & girls age groups.
Race Boards must be 12'6" in length or shorter for the 12-14 boys & girls, and 15-17 boys & girls age groups.
Just like last year, the Junior Pro Invitational will offer over $5000 of equal gender prize money (1st-$1000, 2nd-$750, 3rd-$500, 4th-350).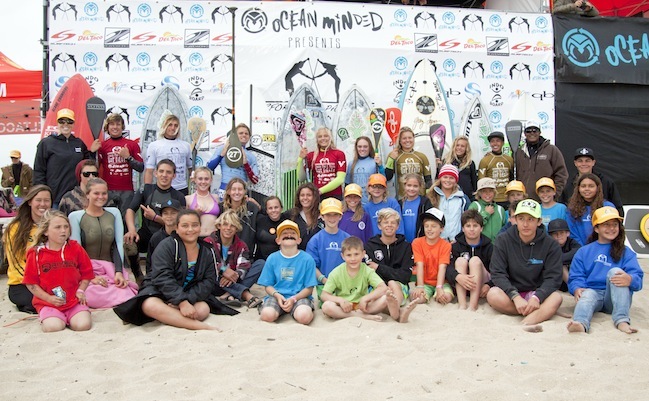 Group photo of the SUP Fiesta Grmos from 2013. Photo by: Harry Wiewel
Concerning equal gender prize money, event organizer Anthony Vela said, "We are proud to be one of the forward thinking events that rewards both genders equally. Airlines tickets cost the same, board costs are the same, the women should be able to help offset their costs equally. This is just one of many reasons why Candice and I feel strongly about offering the only equal gender prize purse for ANY sup surfing event!"
Along with creating an equal gender prize money opportunity, SUP Fiesta also is focused on making this an event to highlight those who will become the future of stand up paddling. Fiona Wylde, from Hood River Oregon, was the winner of last year's 15-17 girls SUP Surf Race and recently shared these comments about SUP Fiesta, "Candice Appleby and Anthony Vela are fueling the fire of stoke for young stand up paddlers with the Junior Pro & Youth SUP Fiesta." This is exactly what the event hopes to accomplish for all young competitors - a chance to feel the passion in the sport!
On the same note, long time surfer and paddler of Infinity SUP, Dave Boehne, had this to say about SUP Fiesta, "It's the premier junior sup event in the world. The perfect platform for the next generation." Dave will be one of the hosts on the Live-HD Webcast.
Key Notes About the Event:
The 2014 Junior Pro Invite List will be released next week!
It will be May 4, 2014 at Bolsa Chica State Beach Huntington Beach, California
Tune in and start using the hashtag #SUPFiesta14 with all your social media!
Enjoy a video from last year's event by Fin Film Company & Quickblade Paddles here: http://vimeo.com/66680809
There are NO beach entries. Divisions will be limited to 12 competitors!
Follow this link to register today! - www.performancepaddling.com/event-details

Thanks to the SUP Fiesta Sponsors Including: Surftech, Sweetwaterwear, Daphne's, Quickblade, Ultimate SUP Showdown, Bark, Infinity, SuptheMag, South Tahoe Stand Up Paddle, FCS, Boga, OnitPro, Victory, Surf Fur, Boardworks.
Last modified onTuesday, 27 January 2015 17:23
Email

This email address is being protected from spambots. You need JavaScript enabled to view it.