7 SUP Wonders of the World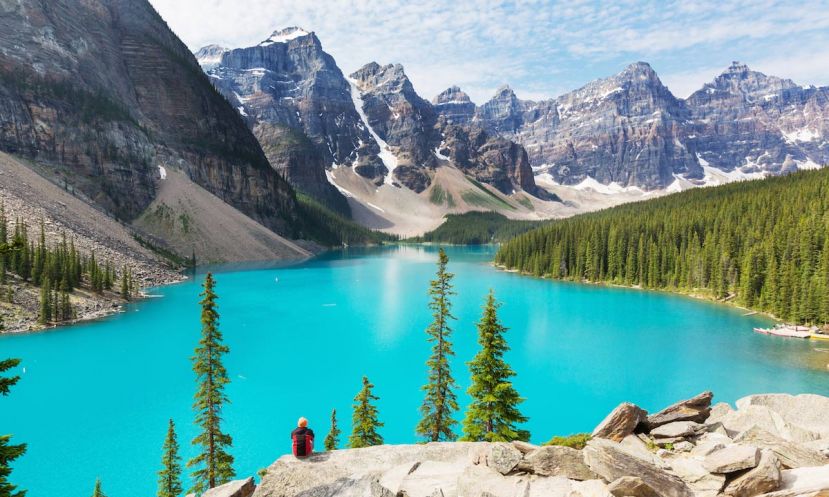 Moraine Lake in Banff National Park. | Photo: Shutterstock
SAN DIEGO, California - There are places in this world that are truly something special and stand out above the rest. For standup paddle boarding (SUP) there are such places that deserve recognition and we're dubbing them the 7 SUP Wonders of the World. Here they are:
Quick Answer:
The 7 SUP Wonders of the World
1. Lake Powell
Lake Powell is remarkable. The incredible canyons and natural landscapes are unlike anywhere else on earth thus landing Lake Powell on our SUP Wonders of the World list. You may have seen photos of the amazing red rock cliffs and beautiful, crystal clear, warm water but there is nothing like experiencing it in person. With an average depth of 300 feet, there is no shortage of water. Lake Powell is located in the Glen Canyon National Recreation Area on the Utah/Arizona border. There are over 94 major canyon sections to paddle at Lake Powell, with over 150 miles of lake to explore and constantly fluctuating water levels you will never have seen it all!
Learn more about this SUP Destination HERE.
2. Tahiti
Zane Schweizer cruising off the coast of Tahiti. | Photo: Ben Thouard
Tahiti in all its glory. | Photos: Supconnect / Ben Thouard
Tahiti is located in French Polynesia, a group of 118 islands and atolls located in the South Pacific. The scenery in Tahiti is jaw-dropping and the beauty that surrounds the island is a sight that truly is unimaginable until you actually go there. From shore, the view of the ocean and surrounding islands show its crystal clear waters and reefs and from the ocean, the views of the lush green mountains and valleys are absolutely breathtaking. That, in a nutshell, is why Tahiti joins the list of one of the 7 SUP Wonders of the World.
3. Thailand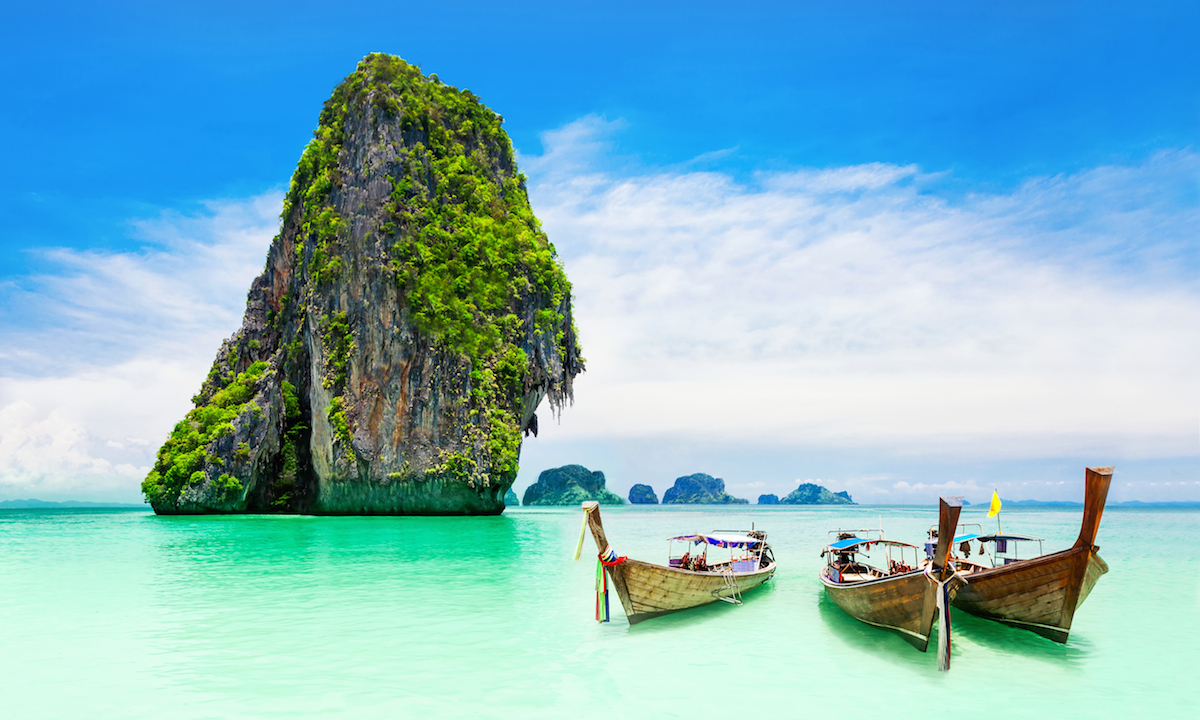 A scene from the Phi Phi Islands in Thailand. | Photo: Shutterstock
Thailand should be on your bucket list for places to travel even if you're not going there for paddling. But if you are, you're in for a treat. Thailand is known for its tropical weather and stunning beaches along with its ancient ruins and temples. Because of this Thailand makes our list of SUP Wonders of the World. The Phi Phi Islands in particular offer massive limestone rocks that protrude out of the ocean creating unmatched potential for exploration all while giving you sights worth drooling over. Planning a trip to Thailand, choose a trustworthy company like online travel agency MustGo, and enjoy all the delights the country has to offer.
4. Banff National Park
Lake Louise (left) and Two Jack Lake (right) are a sight for sore eyes. | Photos: Shutterstock
Banff National Park lies in the Canadian Rockies and is part of the UNESCO World Heritage Site. That statement alone should give you a clue as to why Banff National Park is one of the SUP wonders of the World. Moraine Lake and Lake Louise are just a couple of the many jaw-dropping lakes in the park that should be, if not already, are on your bucket list as a stand up paddler. Aside from the paddling there are tons of trails for hiking in addition to some great spots for camping. If you're looking for an adventure with breathtaking views then a visit to Banff needs to be on your radar.
5. Maui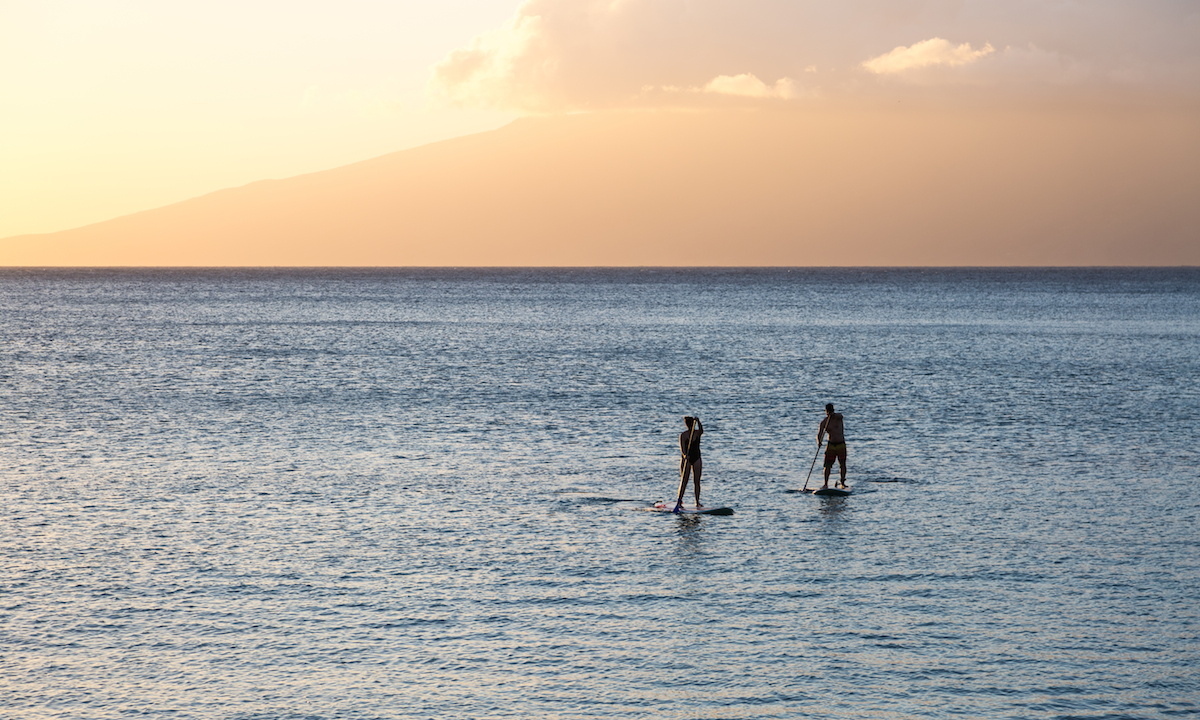 Sunset on Maui. | Photo: Shutterstock
Maui has it all. | Photos: Starboard / John Carter / Abraham Shouse
The island of Maui located in the Hawaiian Islands is one of the SUP Wonders of the World because of its diverse offering to standup paddlers. Flatwater? Check. Downwinding? Check. Racing? Check. Surfing? Check. The list goes on… Not many places in the world offer everything a standup paddler could want or need and the island of Maui fits the bill. If you're looking for a destination that has it all look no further. Maui is it.
6. Slovenia
Slovenia is a miniature, picturesque country located in the heart of Europe between the Alps and the Adriatic sea. Due to its untouched nature and extraordinary geographic diversity it is often referred to as the beauty-spot of Europe, a perfect place for stand up paddling.
Also known for its amazing water scenery with an abundance of SUP terrains as diverse as the country itself - from still Alpine lakes, emerald-green rivers, ever-changing intermittent lakes, to warm Adriatic sea and urban paddling in the capital's Old Town. Slovenia is one of a kind and for that it lands on our list of SUP Wonders of the World.
To learn more about this destination click HERE.
7. Lake Tahoe
Photos Top: Emerald Bay, Lake Tahoe | Jason Wilson / Shutterstock / Photos Bottom: Secret Beach, Lake Tahoe | Flux Photography
Lake Tahoe, need we say more? Lake Tahoe is any stand up paddler's dream, thus making the list of SUP Wonders of the World. Located in both California and Nevada in the United States, the surrounding scenery is gorgeous, the water is crystal clear and there is always something and somewhere new for you to explore. While the entirety of the lake is stunning, Emerald Bay in South Lake Tahoe is a standout. Emerald Bay was even made a National Natural Landmark in 1969. It truly is a must-see. Lake Tahoe hosts annual SUP events that draws in International paddlers, has great shops to visit and is just a great place to be.
There you have it. The 7 SUP Wonders of the World. If there's a place you think deserves to be on this list we'd love to hear your thoughts in the comments below.
© Supconnect.com Copyrighted Exclusive Content
Last modified onTuesday, 18 July 2023 16:51

Submit your news, events, and all SUP info, so we can keep promoting and driving the great lifestyle of stand up paddling, building its community, and introducing people to healthier living.
Website: supconnect.com
Email

This email address is being protected from spambots. You need JavaScript enabled to view it.