Paddle Boarding Tam Giang Lagoon, Vietnam
Sunset on the stunning Tam Giang Lagoon in Vietnam. | Photo: Shutterstock
PHA TAM GIANG, Vietnam - Hue city is renowned for being one of Vietnam's imperial cities with a unique landscape with the west being mountainous and the east so blue with the ocean. One of the more picturesque sights is Pha Tam Giang (Tam Giang Lagoon). Tam Giang Lagoon attracts lots of visitors to come and witness its legendary sunset when the sky turns purple with red-yolk sun going down and fishing boats sailing home. On the other hand, travelers also opt for watching the sunrise from 5am - 7am on the motorbikes.
Tam Giang Lagoon is 24 kilometers long with an area of 52 square kilometers and is endowed with pristine features. You might have to spend the whole day exploring the Tam Giang. Tam Giang Lagoon is a critical fishery area of Thua Thien Hue province where fishermen planted the salted water trees to mark and wire the fishing nets. The water here is clean and clear, jelly blue, yet quite shallow which is perfect for leisure SUP or SUP Yoga. This area with a vast coastline is also an important marine conservation pool of the entire province.
When you're here, it's best to SUP and then jump straight into the crystal blue water for a swim. Get ready for some crazy beautiful photos as well as a good cool swim and lots of sunshine.
Highlights
Paddle boarding the Lagoon. | Photos: Sunny Le
You can access Tam Giang Lagoon via Phu Bai airport of Hue City. You might have to take an international flight to either Ho Chi Minh City or Hanoi and then another domestic flight to Phu Bai Airport. Another feasible route is to land to Da Nang International Airport and then take a shuttle bus directly to Hue City via Hai Van Tunnel (90km away from Da Nang City).
When in Hue City, you can rent inflatable boards from W.A.O SUP Da Nang team (based in Da Nang City) and ask for transportation support from them to get to the starting point. One of the best starting points will be right at Veranda Resort - Hue.
The sun rises quite early during spring and summer time (5am - 6am) so it's best to start paddling during these hours in the months of February to May. For the rest of the year, you can start around 6am to get the best of sunrise. It's not advisable to paddle from September to November as it is the stormy season and the currents can be unpredictable.
Things to Note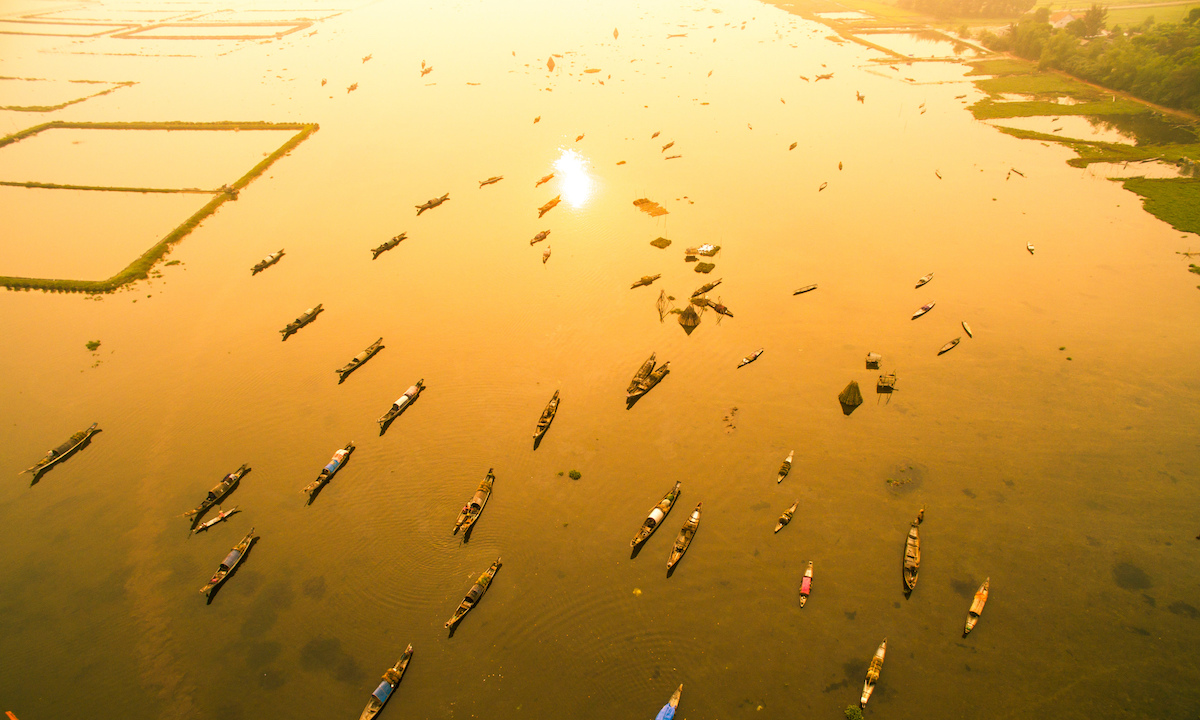 Sunset on the Tam Giang Lagoon. | Photo: Shutterstock
SUP is very new to Vietnam in general and the government only recognizes this sport to be a recreational activity on water instead of a water sport. Most of the resorts in Vietnam offer only kayaks. The limitation in sea emergency handling or rescue activities also poses barriers to grow this sport in Vietnam. Recently, there have been several efforts from local SUP clubs from both Northern and Southern Vietnam in trying to get more exposure for SUP. The sport is expected to boom in the next three years in Vietnam as this beautiful country, just like Philippines and Thailand, has a lot of gorgeous coastlines, lakes and rivers.
Domestic flights only allow 20kg (~44lbs) of check-in baggage so it's best to rent the boards from the local SUP clubs instead of bringing your own.
Get in touch with the local SUP clubs to check on the winds, waves and weather conditions at least 3 - 4 days prior to your trip to ensure you get the most of out it.
Make sure you have enough water with you as there are limited restaurants or cafes around Tam Giang Lagoon (it's a small fishing village).
There are limited accommodation offers around the area except for some pricey boutique resorts. So, it's best to stay in the motel, Airbnb, 3-star hotel in town and then arrange your own transportation to the lagoon. The cost ranges from $35 - $50 for a day trip (7-seated car with a local driver).
The best season to visit Tam Giang Lagoon is February - June (spring and early summer). It's not advisable to go during winter or raining season as it's always too cloudy or the water is too chilly with lots of seawinds.
My advice is to combine your trip with some paddling at Han River and Dong Nghe lake in Da Nang City. It will be a beautiful and convenient 5 day - 4 night trip there with lots of accommodation options in Da Nang city. You can also SUP in My Khe beach on the east side of Da Nang City.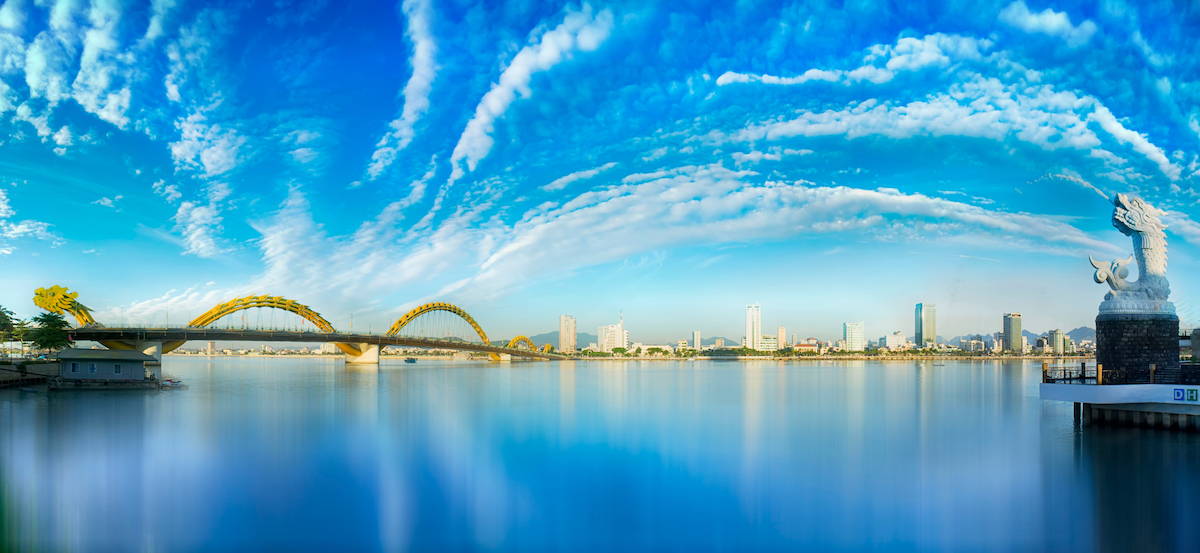 A view of Dragon Bridge from the Han River in Da Nang City. | Photo: Shutterstock
To explore more paddle boarding destinations, click HERE.
© Supconnect.com Copyrighted Exclusive Content
Last modified onWednesday, 06 July 2022 18:56
Email

This email address is being protected from spambots. You need JavaScript enabled to view it.