19th Annual Molokai To Oahu Paddle Board World Championships Pre-Event Breakdown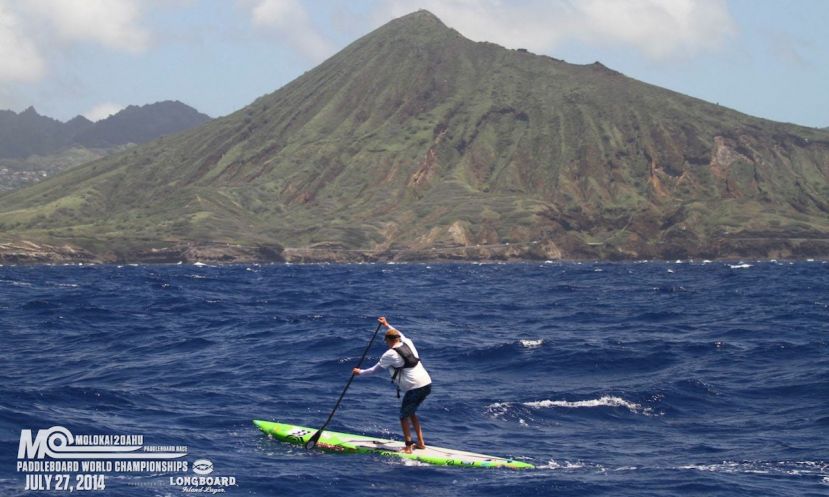 2014 champ Connor Baxter will be looking to take the title again this year in 2015. | Photo: © Angel King Productions.
All photos © Angel King Productions.
MOLOKAI, Hawaii - The 19th edition of the Molokai to Oahu Paddle Board World Championships (M2O) is ready to kickoff another exciting year of the legendary Ka'iwi Channel crossing on Sunday July 26, 2015. The 32-mile M2O race was first founded in 1997 and has grown from a grassroots challenge for local athletes to a world class event in prone paddle boarding and standup paddle boarding. This year is sure to be another record-breaking year as top athletes around the globe in each discipline have been training for months to prepare themselves physically and mentally for their trek through the "Channel of Bones." Here is a breakdown of what we can look forward to:
Venue Breakdown
The M20 crosses the infamous 26-mile Ka'iwi Channel, which translates to "Channel of Bones" and it certainly lives up to that name. The Ka'iwi Channel is one of the most dangerous bodies of water in the world having howling winds and open ocean swells making their way through the narrow channel between the islands of Molokai and Oahu. With the combination of these dangerous winds and waves the Ka'iwi Channel isn't a place for the ill-prepared whether it be physical or mental. This infamous channel has taken the lives of many and is to be crossed with extreme caution. That being said, the M2O is largely a downwind race and starts at Kaluakoi Beach on Molokai and finishes at Maunalua Bay on the island of Oahu.
The M20 crosses the infamous 26-mile Ka'iwi Channel. | Photo Courtesy: Molokai 2 Oahu
See more news for the M2O here.

Top SUP Contenders
This year, 300 competitors from 16 countries will come together to race to the finish line and attempt at breaking the current world records. This year will see past champions looking to reclaim the top spot and a new field of up-and-comers who want to put themselves to the test and see if they have what it takes. Here's who you should look out for:
Men
Connor Baxter
Just call this man the King of Ka'iwi. 20 year-old Connor Baxter (Starboard) is a house-hold name in stand up paddle racing and he not only is the winningest male in the SUP category at the M20, but he also holds the current record for the fastest finish when he won it last year in 2014 with a time of 4:08:08. Baxter is a beast and will be the man that everyone is looking to beat in the Unlimited SUP Division.
Travis Grant
Travis Grant (FCS) is also a champion at the M2O taking the win in 2013 and finishing runner up to Connor Baxter last year. Grant is one of the few guys who can and will take the title from Connor and with a commanding win earlier this year at the Carolina Cup, Grant has a ton of confidence and momentum coming into this race.
Kai Lenny
Kai Lenny (Naish) is the current record holder for the SUP men's stock record set in 2012 and he has only gotten stronger since then. Lenny has been training hard for this years race (just check out his Instagram to prove it) and is ready to come swinging out of the gates. Lenny has been relatively quiet this year and is due for a big win, could the M2O be it?
Livio Menelau
Brazilian born but now Hawaii resident Livio Menelau (SIC Maui) is our dark horse pick for this event. Menelau has a top 3 finish at the 2012 M2O and it's only a matter of time before he finishes on top. Menelau is a strong competitor and is likely to finish on podium once again this year.
Find a SUP event near you! Check out the Supconnect Events Calendar here.
Women
Sonni Hoenscheid
Germany's Sonni Hoenscheid (SIC Maui) is the woman to beat this year at the M2O. Hoenscheid is the current champ, but also her performances in other races this year have her riding with a ton of momentum. Hoenscheid's performance last year was commanding and she's looking to once again have the field chasing her tail.
Andrea Moller
Brazilian born and now Maui resident Andrea Moller (SIC Maui) is what you would call an M2O veteran. In 2015, she'll be coming back for the seventh time and looking for her third M2O title. Moller is coming off of her 7th consecutive win at the Olukai and has downwind paddling to a fine science. It wouldn't be surprising if she won her third M2O title this year.
Jenny Kalmbach
Kailua Kona's Jenny Kalmbach is another M2O veteran and 2015 will be her seventh year competing in this race. Kalmbach is a former M2O champ and was the first female to finish sub-eight hours in her 2009 victory. Kalmbach has been the runner up for the past two years, in 2013 and 2014, and you can bet that she's trained hard over the past year so that she can come out on top once again.
Terrene Black
Australia's Terrene Black is back in 2015 after missing the race last year in 2014. Black is the 2013 champ and is hungry to get another win here, especially after missing out on the race last year. Black is a fierce competitor and will be a major threat here in the Channel of Bones.
It is sure to be another exciting year at the Molokai to Oahu Paddle Board Championships and we can't wait to see how the event unfolds. You can follow the event LIVE as all the action unfolds by visiting the M2O Website here. In the meantime, check out the promo video for this year's event, race records and schedule of events below.
Race Records
Men's Unlimited record – Jamie Mitchell (Australia) 4:40:31 set in 2011
Women's record – Jordan Mercer (Australia) 5:22:31 set in 2011
12 foot stock board record – Jack Bark (California) 5:12:35 set in 2014
Women's stock board record – Kanesa Duncan (Hawaii) 5:53:49 set in 2004
Stock 2 team record – Jimmy Austin/Dolan Eversole (Hawaii) 5:04:48 2004
Stand up solo record – Connor Baxter (Hawaii) 4:08:08 set in 2014
SUP women's record – Talia Gangini Decoite (Hawaii) 4:55:02 set in 2012
SUP men's stock record – Kai Lenny (Hawaii) 4:22:14 set in 2012
SUP women's stock record – Rachel Bruntsch (Hawaii) 5:49:10 set in 2012
Stand up team record – Aaron Napolean and Riggs Napolean (Hawaii) 4:36:55 set in 2014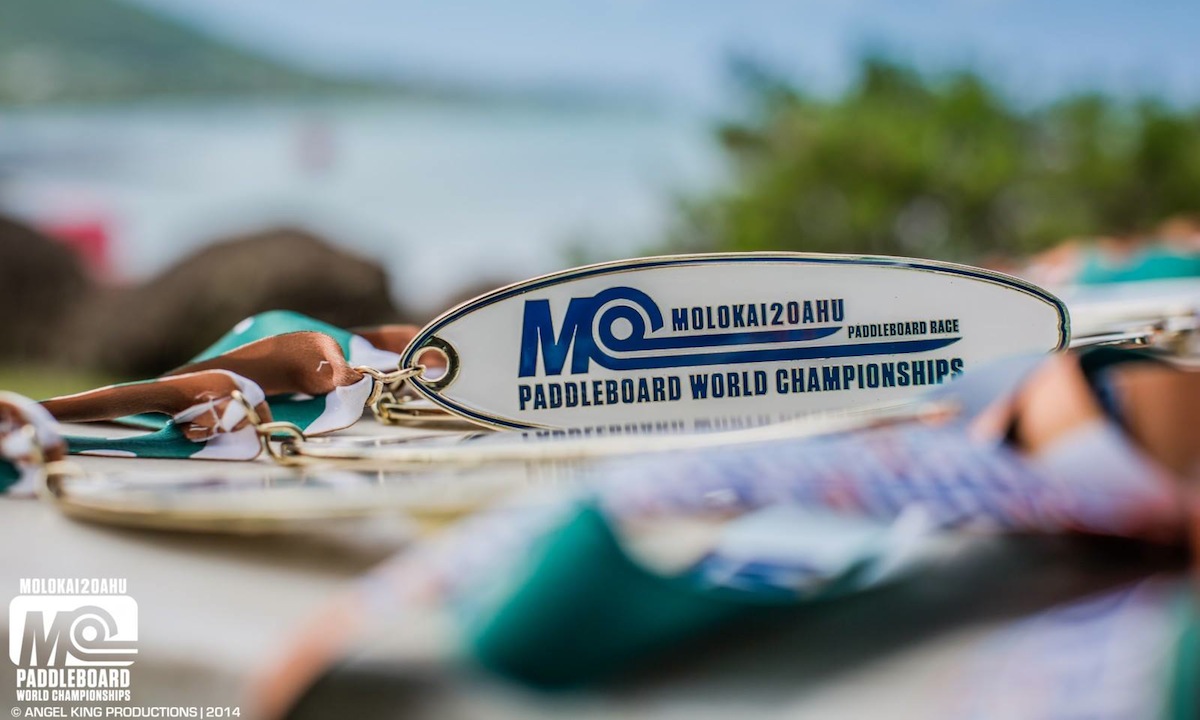 Who will win the M2O this year?! | Photo: © Angel King Productions.
Schedule of Events
Thurs, July 23th:
Race Registration and MANDATORY Check In
Location: Duke's Waikiki Restaurant (Duke Room)
Time: 11:00 am to 4:00 pm (you may come anytime during this time frame)
MANDATORY RACE CHECK-IN on Oahu at Duke's Waikiki Restaurant
Racers & boat captains are required to attend.
The process should take no more than 15-30 minutes.
Race numbers, race packets and final instructions will be issued to racers at this time.
Course rules, radio frequencies and docking instructions will be issued to all boat drivers.
Race officials, safety personnel and organizers will be on hand to answer questions and assist in last minute logistics.
Duke's will provide lunch discounts (50% in 2014)
Additional race t-shirts and posters can be purchased at registration
Come meet, greet and eat and CHECK IN!
Saturday, July 25th:
Pre-Race Meeting
Location: Kaluakoi Beach Area
Time: July 25th, 5:30pm – 7:00pm
Description: Final event briefings, instructions and weather check. ALL racers are expected to attend. FINAL timing and GPS updates will be handled at that time.
Dinner: Dinner will be offered to athletes, friends and boat captains for $10. Please prepare to pay in cash. Proceeds go to YOUTH IN MOTION in Molokai. There is no food service at Kaluakoi. Please plan accordingly.
Sunday, July 26th: Race Day
Molokai
6:45am Pre-race Pule' (Hawaiian Prayer)
7:30am Solo and Team Paddleboard Division Start
8:00am Solo and Team SUP Division Start
Oahu:
10:00am Event Expo Opens on Oahu at Maunalua Bay Beach Park
11:30am Top Finishers expected at finish line
12:00pm Lunch Service Begins
2:00pm Elite Winners Presentation (Media Event)
4:00pm Expo Closes/Lunch Service Closes
6:30pm – 9:00pm Awards Party at Outrigger Canoe Club*
*The Awards Party is FREE for paddlers, guests are $30 each.
(dinner includes two Kona Brewing beers). Tickets will be distributed at the door at the Outrigger Canoe club starting at 6:00pm.
Last modified onFriday, 24 July 2015 13:49

Submit your news, events, and all SUP info, so we can keep promoting and driving the great lifestyle of stand up paddling, building its community, and introducing people to healthier living.
Website: supconnect.com
Email

This email address is being protected from spambots. You need JavaScript enabled to view it.