5 Moderate SUP Yoga Poses For Intermediate Paddlers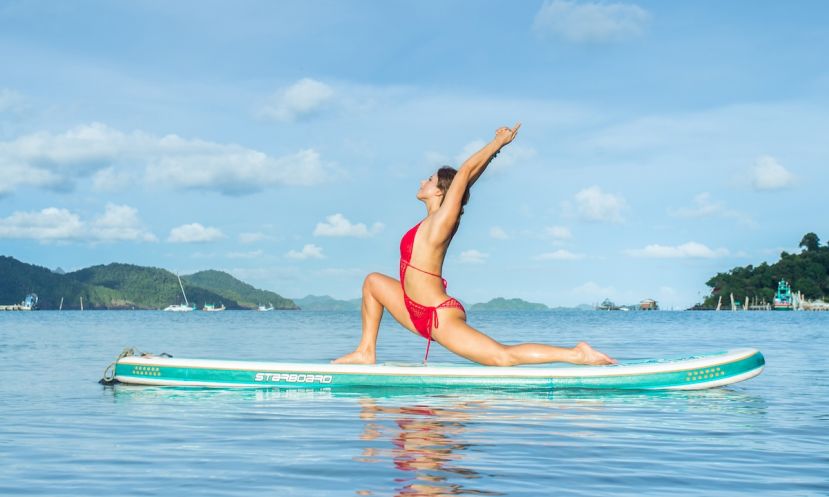 Dashama Gordon, SUP Yoga professional.
SAN DIEGO, California - Once you learn and get comfortable with beginner yoga poses, you should now be ready to take it up a notch and learn some intermediate poses. Dashama Gordon is one of the leading voices in the SUP Yoga movement and together with her sponsor Starboard SUP, Dashama has come out with a series of SUP Yoga tutorials where she shares some standup paddle board yoga poses. In this feature, Dashama goes over a few different moderate yoga poses to help you progress.
Mountain Pose
Start standing on your feet with your feet hip-width apart and your hands together near your heart. Take a few deep breaths here getting centered. From here, inhale and sweep your arms out and up, reach up to the sky, lift your heart, arch your back if you can and then exhale and bow forward with your palms touching the paddle board and then take a few breaths like this.
Loosen up your hamstrings as you bend forward, feeling stable and balanced.
Start standing, exhale reaching high and arching your back, on the exhale bend forward and put palms to the board.
Crescent Lunge
On your next breath, step your left foot all the way back into a nice low lunge, dropping your left foot down and your palms on either side of your right foot so that you're nice and stable. From here you have a few options:
Keep your hands on the board. That will help you to stabilize.
Extend your left arm up and keep your right hand on the board to keep you stable.
If you can, extend both arms above your head and up to the sky, lengthening the spine. Radiate your hips forward so that you feel the length of that left hip extensor.
From L-R: Option 1, 2, and 3.
Click here to see more SUP Yoga tipsClick here to see more SUP Yoga tips.
King Pigeon
The next pose will have you slide your right foot over to the right a bit and reach your left hand back towards your right ankle. This is going to open up the front of the left hip extensors and your quads. Pull your ankle in towards you and take a deep breath. Then, slowly release the foot, both palms go back to the board and step the right foot back going into a plank position. From here, take a nice deep breath in and then on the exhale lift your chest into a nice cobra position and stretch your spine.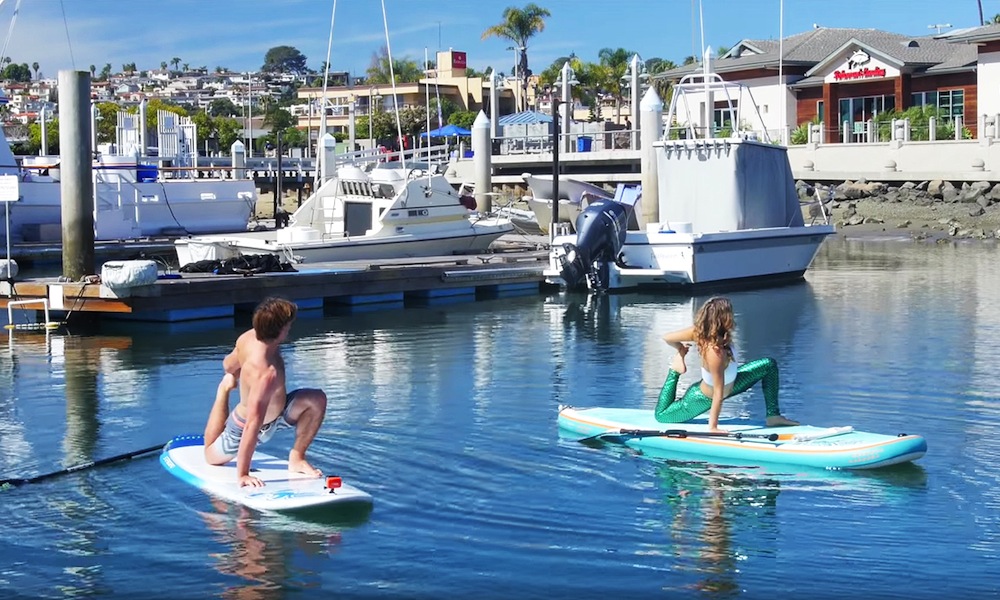 Dashama and Sean Poynter executing the King Pigeon Pose.
Downward Dog
Tuck your toes and stretch your hips up towards the sky and go into downward dog. Take a few breaths here. On your next breath, release and take your left foot forward and repeat the poses above on the opposite leg.
Pictured: (left) Downward Dog (right) Child's Pose
Child's Pose
Once repeating the poses above, lean back into a child's pose with your palms on the board in front of you and seated on your feet. This is a great option for anyone who has been paddling for a while or doing SUP yoga and you need a rest. Take a few breaths here and lift yourself up finishing with a Namasté.
To view more SUP Yoga tips from expert Dashama Gordon, click here.
Were these tips helpful? Let us know what you thought in the comments below! To watch the full tuturial from Dashama check out the video below!
Last modified onTuesday, 12 January 2021 08:07

South Florida, USA - Dashama is one of the leading voices in the SUP Yoga movement. Some of her credentials include: hosting Yoga and SUP Yoga retreats around the world; having her own SUP Yoga board made by Starboard; and being a contributor to several media outlets.
Website: dashama.com/
Email

This email address is being protected from spambots. You need JavaScript enabled to view it.