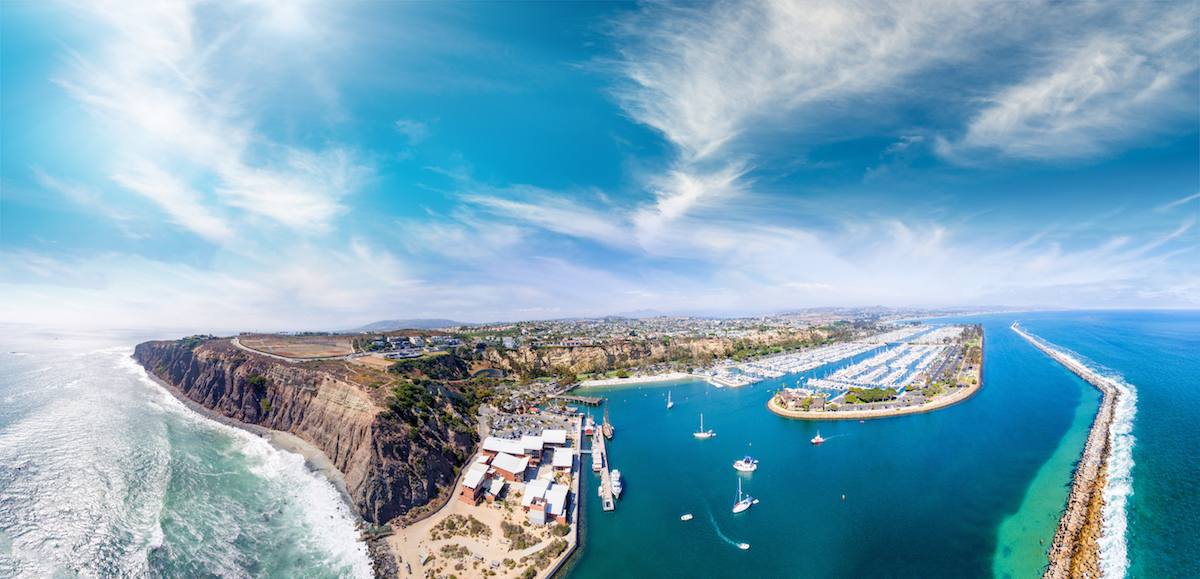 Aerial view of Dana Point, CA. | Photo: Shutterstock
SAN DIEGO, California - Planning on getting in a few trips in 2019? Well, lucky for you there are countless locations and destinations that are a stand up paddler's dream. We've compiled a few places where you're bound to have a blast at with beautiful scenery surrounding you. Check it out:
1. Orange County, California
Orange County, California is the West Coast's hub of standup paddle boarding. Much of the industry is located here and you've got tons of different options for paddling. Whether you're looking to surf, explore, race or catch some yoga classes Orange County has it covered. The coastline has miles and miles of surf that will suit all skill levels of surfers and the protected bays and harbors in Dana Point and Newport Beach are a dream if you just want to have some fun on calm flatwater. Plus, when you're not on the water there are tons of family-friendly activities like Disneyland and Legoland near by.
2. China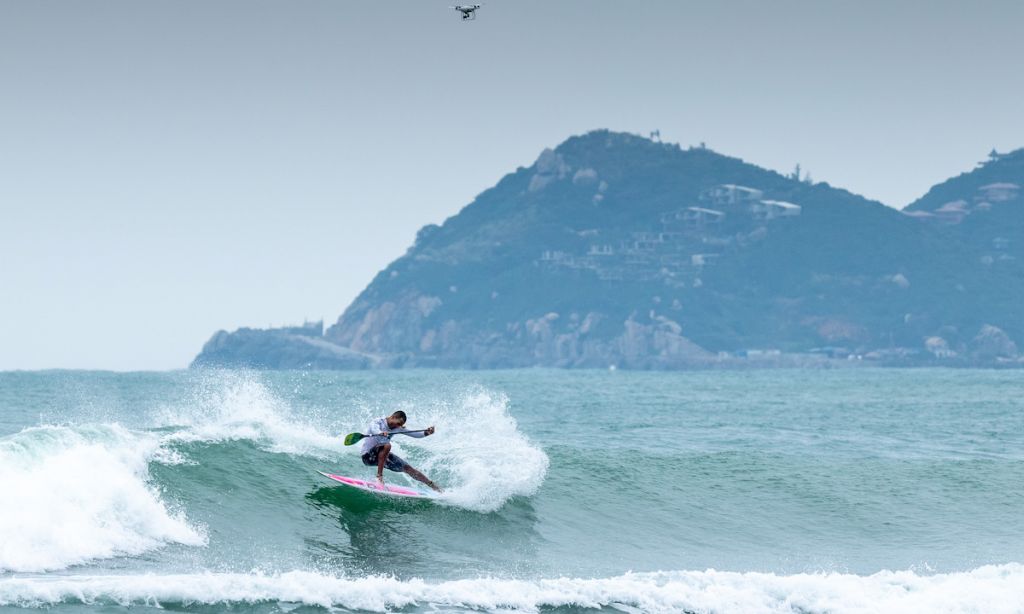 Brazil's Luiz Diniz surfing in Wanning, China. | Photo: ISA / Pablo Jimenez
After watching the 2018 ISA World SUP and Paddle Board Championships held in Wanning, China we knew we had to add China to our destinations list. With over 9,000 miles of coastline and dozens of lakes and rivers to explore there's endless opportunity to explore and likely find yourself an uncrowded spot as SUP is just starting to get introduced in that area. China is quite the trek for most of you but we suspect it will be well worth the adventure.
3. Japan
Left: Miyakojima, Japan. | Photo: Shutterstock / Right: Biwa Lake. Photo: Franz Orsi.
Although small in size, Japan is one place that has no shortage of places to stand up paddle board (SUP). As a nation completely surrounded by water there are endless opportunities to grab your SUP and find the perfect place to get on the water. Whether you're looking for that cityscape as a backdrop, you want to be somewhere remote with the bluest of blues water, or you want to paddle right up next to a historical landmark, Japan has it all.
You can learn more about this destination here.
4. Vancouver
Paddling Vancouver. | Photos: Shutterstock
Vancouver, British Columbia is widely regarded as one of the prettiest and most comfortable places in North America to spend time outdoors. Granted it's fairly far north, so it's quite cold for much of the year. But from spring through the early fall season, it's mostly lovely outside, and as a result it's something of a haven for travelers seeking outdoor activity. This includes some sport and action and, getting to the point, paddle boarding!
Vancouver has a lot of coastline for a single city, and with much of it being calm, somewhat insulated from the Pacific Ocean, there are several excellent places to paddle board. Jericho Beach is perhaps the highlight, both as a beach and as a place for SUP. It's a wide, accessible beach, with flat water and incredible views, meaning it's accessible, easy, and beautiful. English Bay is a good option for similar reasons, and is located alongside the famous Stanley Park. And Sandy Cove Beach is another terrific option if you'd like a different sort of view of the city, with more flat, warm water that's good for beginners. Frankly, just about any accessible beach or bay around the city makes for a decent option, which is why the city stands out as a paddle board location in the first place. And as another note, there are a few different places near these various beaches where you can rent a board and paddle.
5. Great Lakes
Left: Lake Michigan, Right: Lake Superior. | Photos: Shutterstock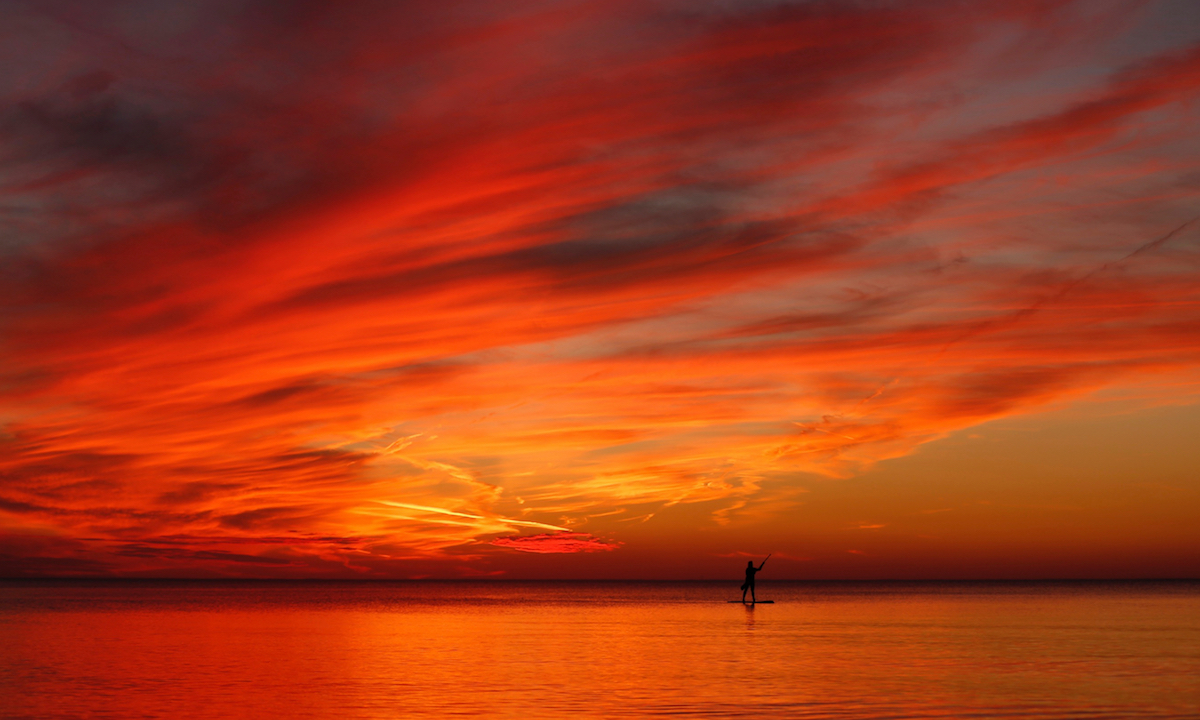 Sunset on Lake Huron. | Photo: Shutterstock
Covering more than 94,000 sq. miles make the Great Lakes (Lake Superior, Lake Huron, Lake Michigan, Lake Erie, and Lake Ontario) the largest fresh water system on earth. Now that's a lot of space to paddle. They're so big that they even generate swells from time to time and surfers are able to catch some pretty decent looking waves on the shoreline. Paddle boarders of all interests will find these lakes desirable as they offer just about everything you could ever want to do from your paddle board. Whether it's some fishing, expedition paddling, racing or surfing, the Great Lakes offer it all. Best in late spring through early fall, the Great Lakes are perfect, not to mention incredibly picturesque.
6. Paris
Left: Arthur Arutkin paddling in front on the Eiffel Tower. Right: Hundreds gather on the River Seine for the Paris SUP Open. | Photos: APP World Tour
Paddle boarding with a side of Parisian sightseeing? Yes please. Not only is Paris the city of love but it's also a city of paddle boarding. In fact, it's been home to the largest SUP event in the world, the Paris SUP Open, formally known as the Nautic SUP Paris Crossing. Not only is this city loaded with history and iconic landmarks https://www.supconnect.com/item/6572-7-famous-landmarks-to-see-on-your-sup but Paris is loaded with people who love paddle boarding. If you're looking for a Euro trip don't forget to bring your SUP with you!
7. Portland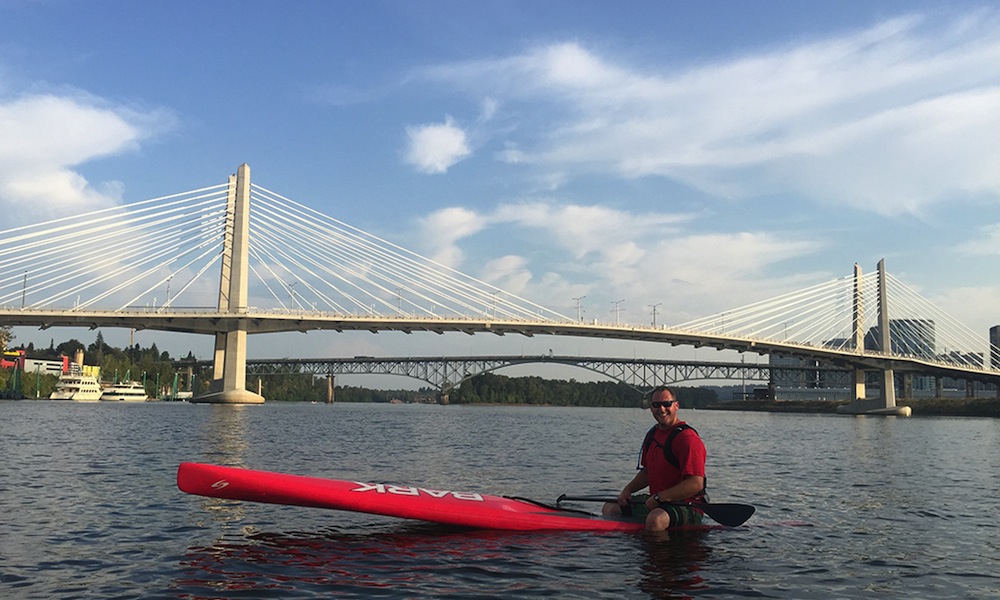 Brett Downen enjoys a paddle on the Willamette River. | Photo: Brett Murray
Not only is Portland the largest city in Oregon, it is also located near several waterways and lakes. The Willamette River bisects the heart of downtown Portland and is a local favorite due to its convenience to the downtown area, its relatively calm conditions much of the year, and its access to events like the Rose Festival, the Portland Jazz Festival, and many other annual events all of which can be experienced for free from atop a SUP. There are also plenty of SUP destinations just a short drive from downtown Portland that will appeal to all types of SUP riders including river rapid riders, downwinders, racers, and your everyday casual paddlers.
8. Brazil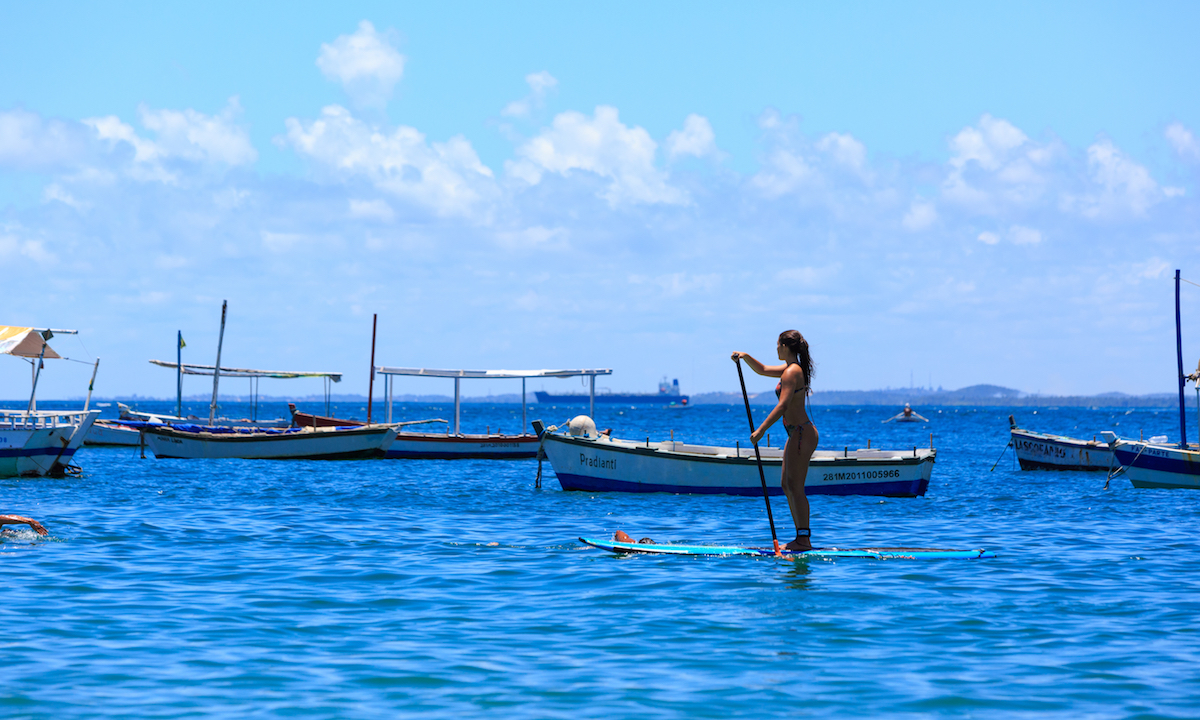 Sunshine and warm water in Brazil is all you need. | Photo: Shutterstock
Love warm water, culture, and sight seeing? Check out Brazil. Brazil has more than 4,600 miles of coastline, not to mention hundreds of miles in inland waterways to see. The warm water and tropical weather is an obvious draw and the coastline is covered with really fun surf and tons of exploring potential. Don't believe us? Brazil is home to some of the world's best paddle boarders so there's something in the water there that makes it an excellent place for paddling.
9. Spain
Left: Bilbao. Right: Gran Canaria | Photos: Paddle League / APP World Tour
History, culture, food, beauty. These are just a few words that describe Spain. So, if you're looking to visit a place with all of these qualities (and more) where you can paddle Spain is a contender for sure. There's surfing, racing, exploring and more that you can do from your paddle board all while you're getting in loads of fun when you're not on the water. Best time to go would be late Spring through early Fall. The weather is gorgeous and during this time the SUP scene is alive and well.
10. Colorado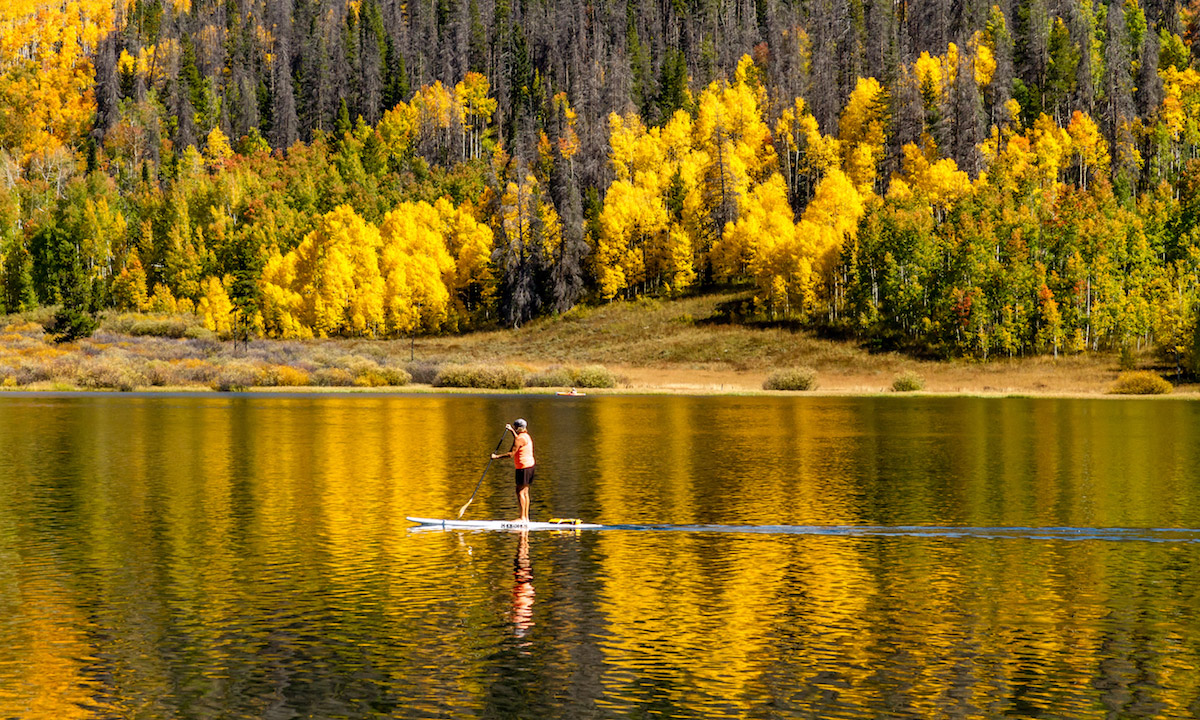 Aspen in the fall. | Photo: Shutterstock
If inland paddling is your thing than Colorado needs to be on your bucketlist places to visit with your SUP. From calm lakes to lively whitewater paddling there is no shortage of fun in this landlocked state. Even if you're a coastal paddler and haven't had much time on lakes and rivers, Colorado is an excellent place to try it out as the state offers something for all skill levels. Not to mention the surrounding mountains make for quite the backdrop.
As you're planning your vacations for the year and need some inspiration on where to go where you can also take your paddle board, let these ten locations be on your radar as they will no doubt show you a good time.
To see more SUP Destinations, click HERE.
© Supconnect.com Copyrighted Exclusive Content
Last modified onFriday, 11 October 2019 11:26

Submit your news, events, and all SUP info, so we can keep promoting and driving the great lifestyle of stand up paddling, building its community, and introducing people to healthier living.
Website: supconnect.com
Email

This email address is being protected from spambots. You need JavaScript enabled to view it.