World Champs Prevail At 2017 Sunset Beach Pro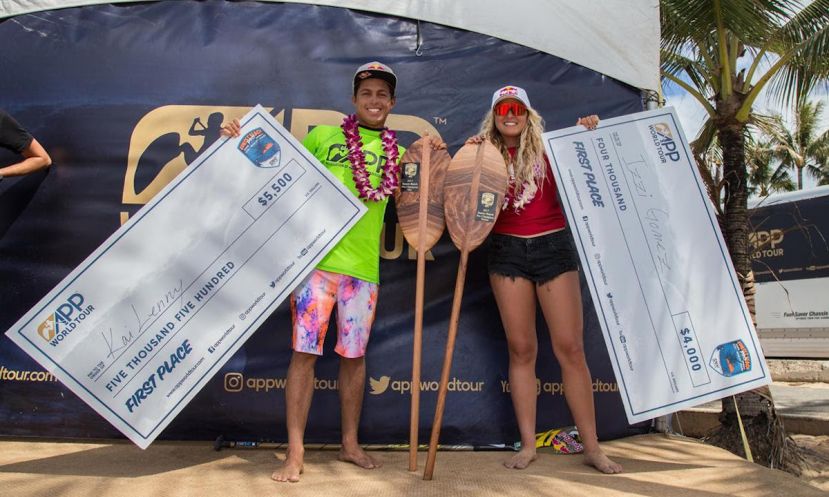 Sunset Beach provides an epic Finals Day for Stop 1 of the APP World Tour as Kai Lenny and Izzi Gomez are crowned Champions. | Photo: APP World Tour / Brian Bielmann
OAHU, Hawaii - Sunset Beach delivers great conditions for a spectacular finals day that saw dramatic action from start to finish and Champions crowned at Stop #1 of the 2017 APP World Tour.
The day started out with anxiety for organizers as there was only small surf on offer at daybreak, with the next swell scheduled to arrive the following evening, too late for the contest to capitalize on with the closing of the waiting period the 24th.
However, as the sun came up and athletes and organizers ramped up for the start of the quarterfinals, as if by cue, Sunset turned on and delivered what was a magical day of competition, propelling the performance from the last 16 Men and Last 4 Women to a whole new level.
After 4 epic days of competition at this iconic North Shore wave, Maui's Kai Lenny (Naish) and Florida's Izzi Gomez (Starboard) were able to secure victory at the 2017 Sunset Beach Pro and kick off their World Championship Tour season in style.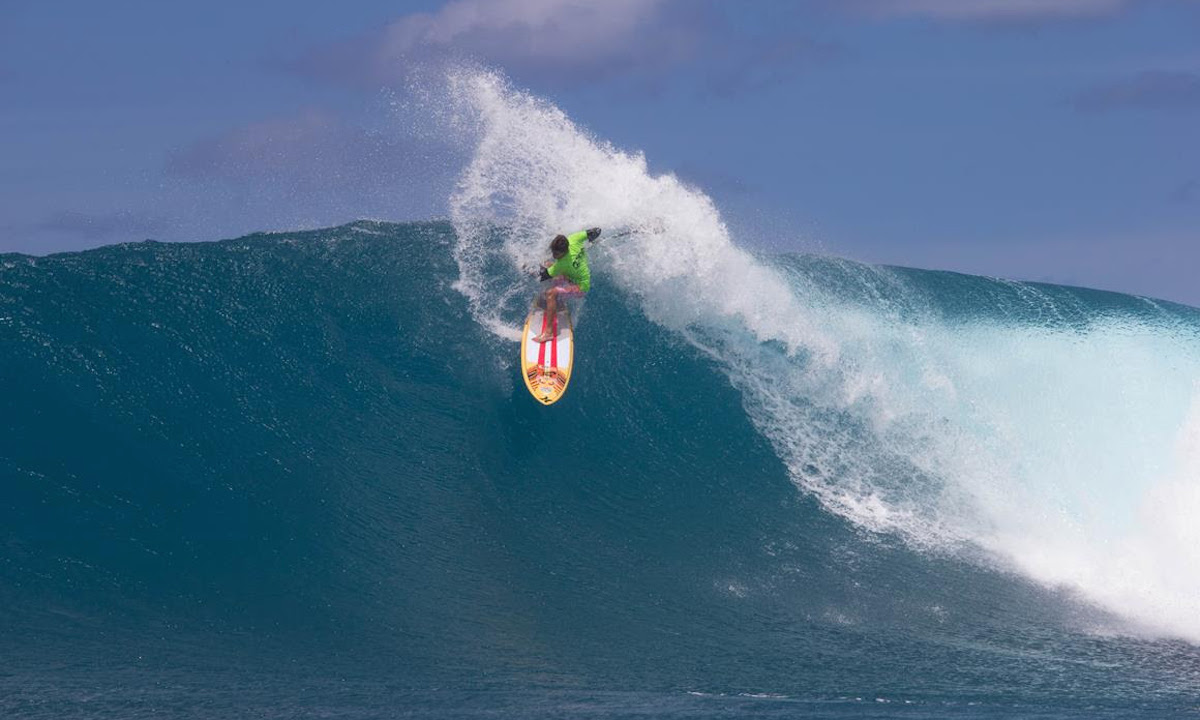 Kai Lenny reasserts his winning form, making a clear statement to the world at the start of the 2017 APP World Tour Season. | Photo: APP World Tour / Brian Bielmann
While Kai Lenny has four Surfing World Titles under his belt as well as four Sunset Beach Pro Titles, it has been two years now that Kai hasn't found his winning edge on the APP World Tour, with the Title going to Caio Vaz (SIC Maui) from Brazil in both 2015 & 2016.
However, as we kicked off the 2017 edition of the Sunset Beach Pro, it was clear that Kai Lenny had well and truly showed up and meant business, building momentum through the rounds on his way to the Final, and with a stunning and crisp display of performance surfing.
While his performances through the rounds were impressive, it was as if he found a whole extra gear in the final, combo-ing the field within the first 10 minutes and putting on a clinic of next level surfing. With a perfect 10 and an 8.5 in his scoreline, he posted not only the highest heat score total, but secured the well deserved victory at home at Sunset Beach.
The message was clear: Kai has been at the forefront of the sport since the beginning, but has once again surged forward, taking all his experience from his pursuits across the complete spectrum of sports he excels in and channeling them into a stunning performance today at Sunset Beach.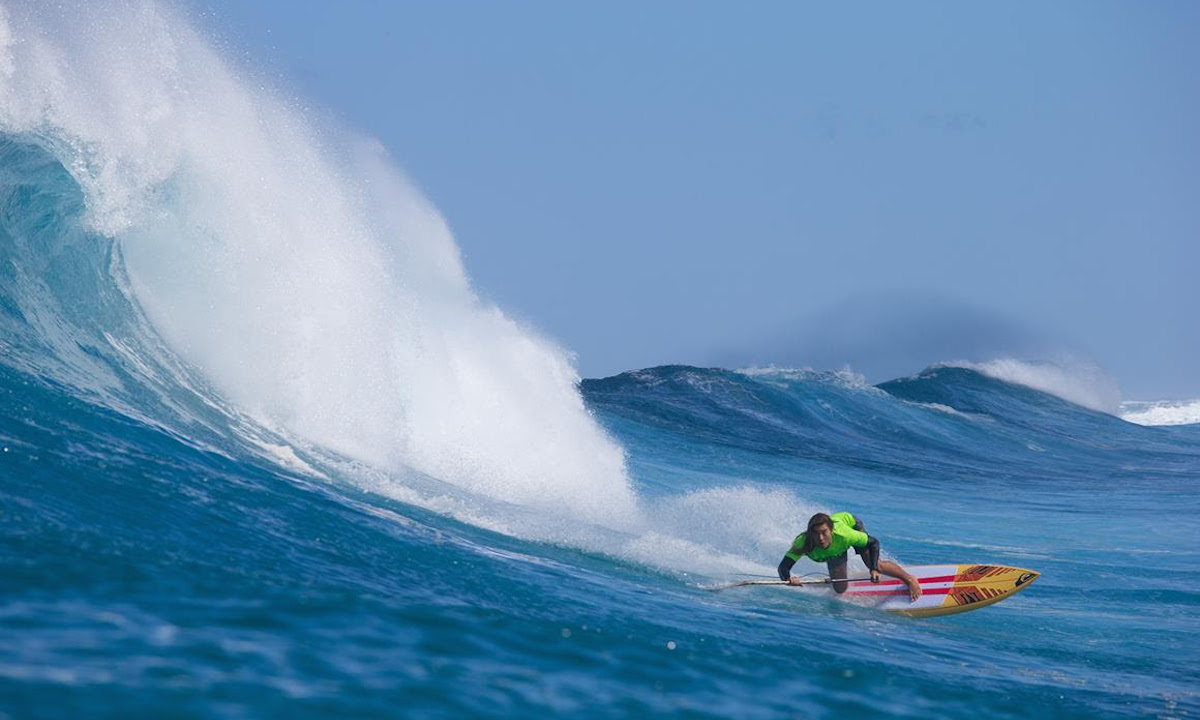 Bernd Roediger continues to go from strength to strength and confirms to the World that he is a major contender in 2017. | Photo: APP World Tour / Brian Bielmann
Bernd Roediger (Naish) has always been exceptionally talented and shown moments of brilliance on Tour, but this year at Sunset Beach he demonstrated a new level of maturity in his approach to competition and was without doubt one of the in-form surfers at every step of the event and one of the clear favorites for the win.
His wave selection, positioning and fluid, well timed approach earned him high score after high score, propelling him all the way through to the Final four. However, grace under pressure and hard earned competition savvy saw Bernd pull off the score he needed to move from 4th to 2nd in the dying minutes of the heat.
There is no doubt that Bernd is a major force to be reckoned with and will be one of the major threats this year on the 2017 APP World Tour.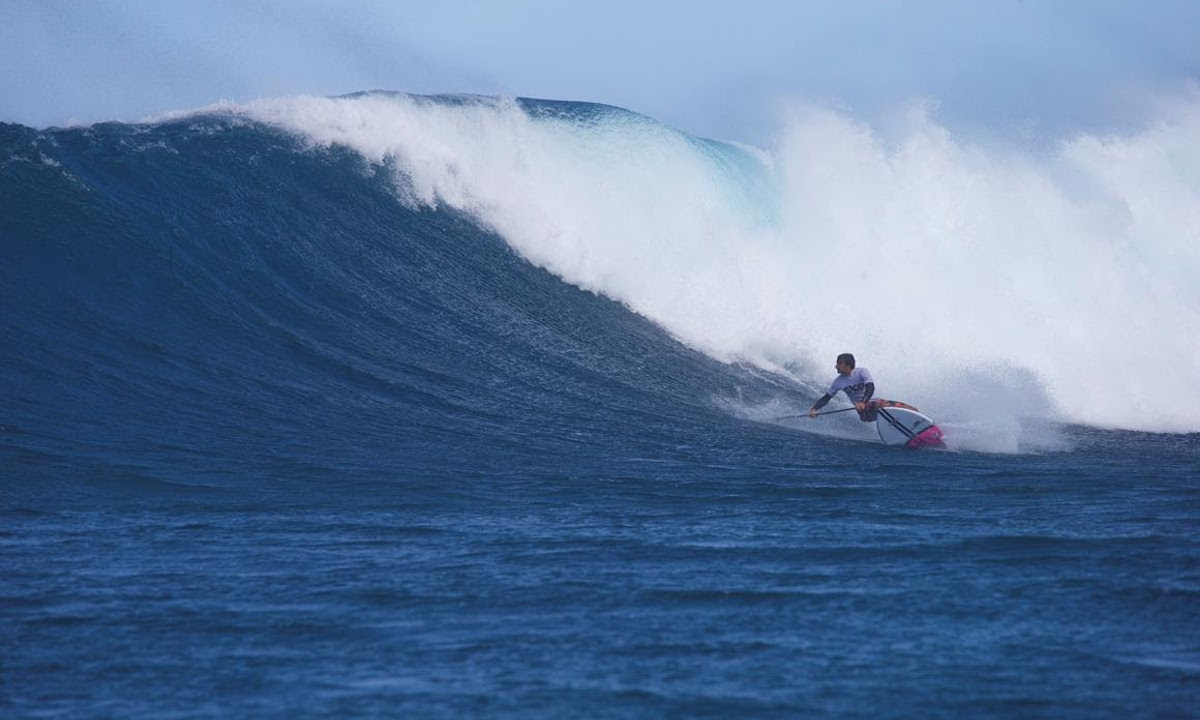 Giorgio Gomez puts on a clinic of backhand surfing at Sunset Beach to secure an impressive 3rd place finish. | Photo: APP World Tour / Brian Bielmann
Giorgio Gomez (Infinity) has stepped up his game this year and is looking stronger, fitter and more prepared than ever to take on the best of the best on the APP World Tour.
Sunset Beach is a tricky wave to surf on your backhand at the best of times, so to make it all the way through to the final and give the best natural footers in the world a run for their money on their own turf was an impressive achievement by the young Floridian talent.
Like Bernd, Giorgio capitalized on a late flurry of waves in the final to leap frog Mo Freitas to secure 3rd place for the event, and with that, a great start to the 2017 season. There is no doubt that Giorgio's fast paced critical surfing style will suit the beach breaks of New York impeccably, so he will be a force to be reckoned with and a real contender as we progress through the 2017 season.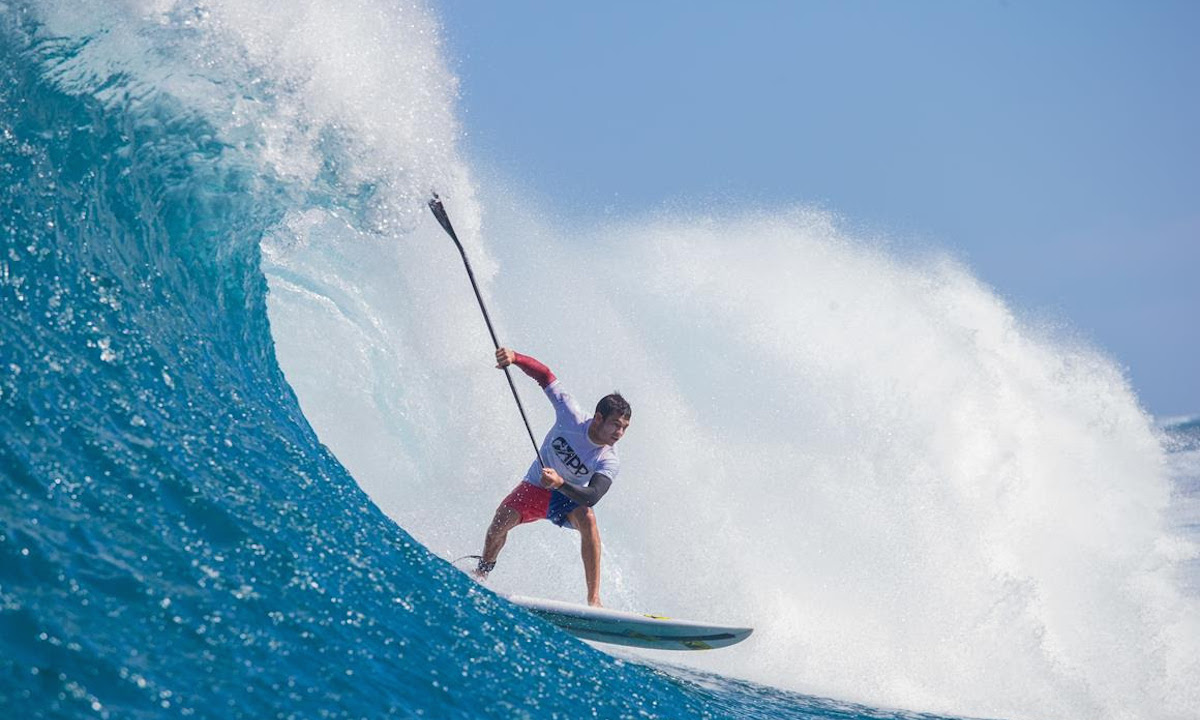 Mo Freitas put on an impressive display at the 2017 Sunset Beach Pro, with full rail, committed turns to secure 4th place overall. | Photo: APP World Tour / Brian Bielmann
Ever since Mo Freitas (Focus SUP) broke onto the scene at just 16 years old back in 2012 (when he won the Ubatuba Pro in Brazil), he has shown himself to be one of the most progressive, dynamic and competitive surfers on Tour.
Furthermore, born and raised on Oahu's fabled North Shore, Mo is no stranger to the power and complexities that Sunset Beach serves up on any given day. It was therefore no surprise to see Mo make it to the final four and once again make a statement with his unique brand of full rail, power surfing.
Mo was sitting in 2nd place until the final minutes of the heat, when the same flurry that got Bernd and Giorgio their final scores came through. Unfortunately for Mo, his two competitors got the better of the exchange, with Mo unable to capitalize on his wave, pushing him back to 4th place when the buzzer sounded.
While Mo would have been hoping for an event win, a Top 4 finish to kick off his 2017 season is a great way to start the year and we look forward to seeing a lot more of this young North Shore talent through the year on the APP World Tour.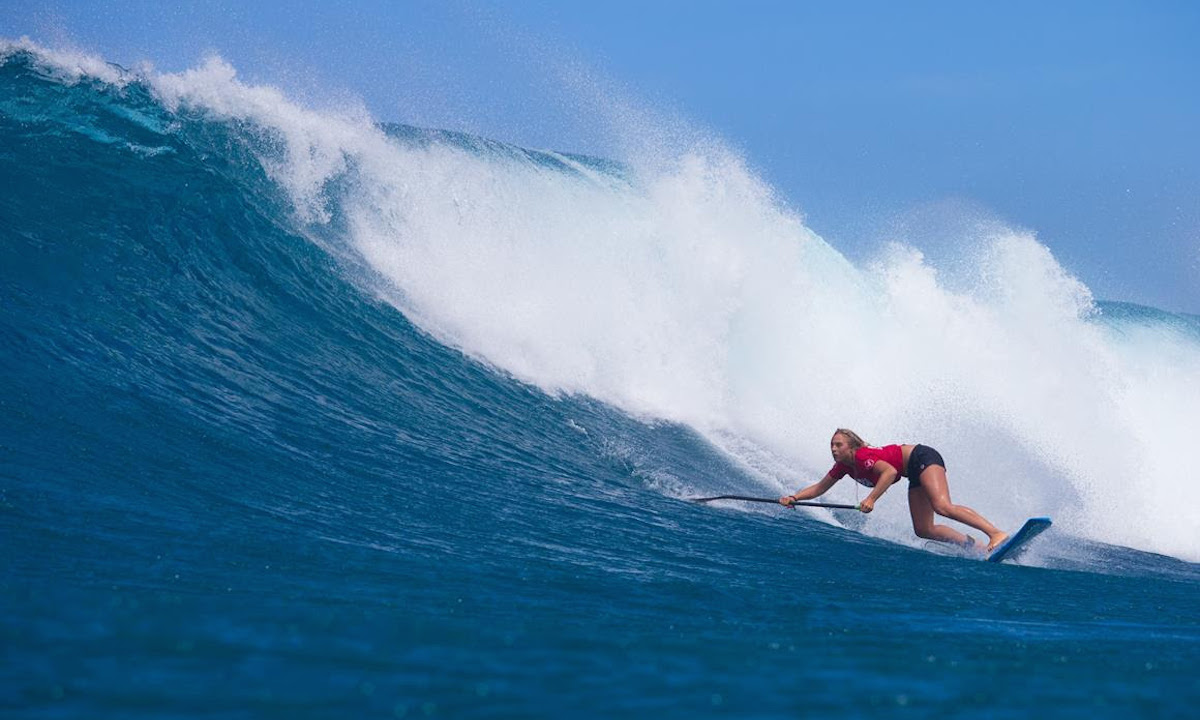 Izzi Gomez, starts the year off as she means to continue: on top, as she kicks off her campaign for a 4th World Title in 2017. | Photo: APP World Tour / Brian Bielmann
Izzi Gomez (Starboard) continues to hold the reins at the top of the Women's ratings, a position that she has held now for the past 3 years, and a position that she seems unwilling to relinquish any time soon, despite her competitors best efforts.
While the competition was certainly no walk in the park for Izzi (she had to go through the repechage to make it back into the Main Event and faced formidable competition in the Final), there is no doubt that the young Floridian's surfing continues to develop at an astonishing rate.
For a first year event for the women out at Sunset Beach in 2017, the APP World Tour was proud to witness its leading ladies not only taking to the water at Sunset, but put on a show to remember, and make a statement as to just how far the women's side of the sport has come over the past 4 years.
One thing is for sure, Izzi is still leading the charge, but right on her heels are some of the fiercest and most talented competitors imaginable, a fact that only further qualifies her incredible winning form.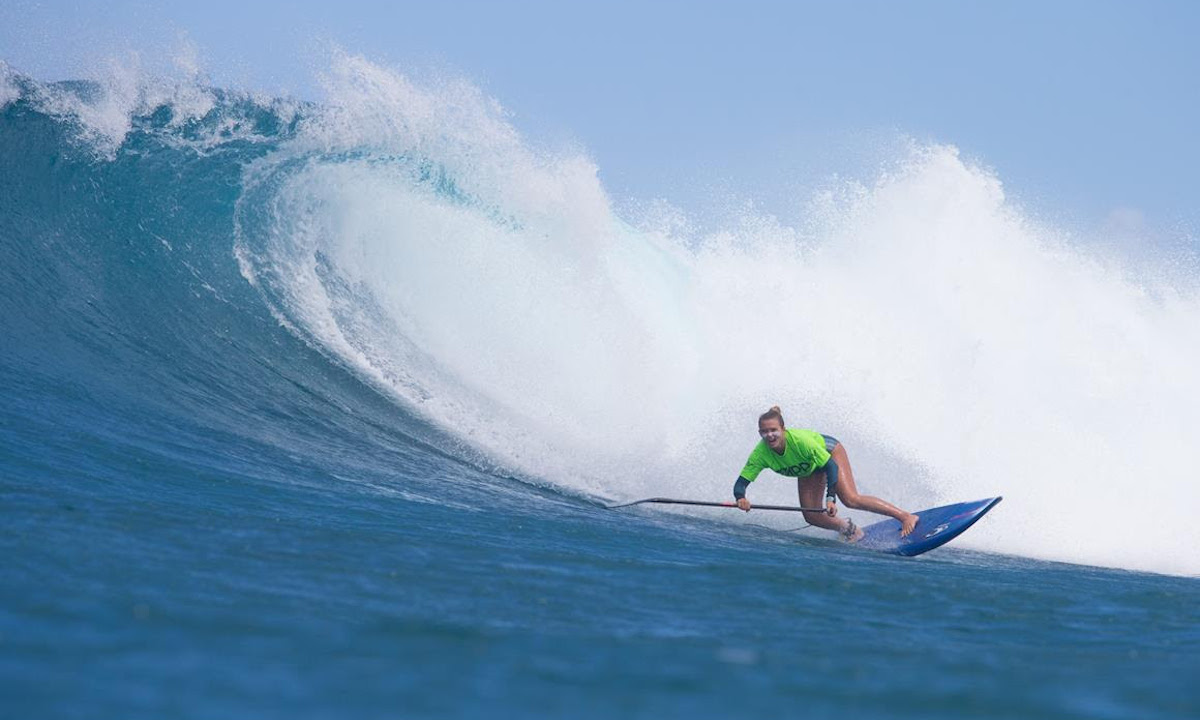 Fiona Wylde is a serious contender on the APP World Tour and will be vying for multiple World Titles in 2017. | Photo: APP World Tour / Brian Bielmann
Fiona Wylde (Starboard, Werner Paddles) had an incredible year in 2016, winning the Racing World Title and finishing 2nd in the Surfing to position herself as one of the most well rounded athletes in the world.
In 2017, she has started her year off with a bang, and while she wasn't able to secure victory at the Sunset Beach Pro, she was within inches of it and caught one of the best waves of the event and made a statement with her fearless, but calculated attack in the Sunset line up.
With the Overall World Title now Official in 2017, there is no doubt that Fiona is one of the principal contenders and she will be looking to consolidate on this great start to the year at stop 2 of the APP World Tour on Maui next month (the Maui Pro-Am: 10th - 12th March), an event that she won in 2016. Watch out for more on Fiona's incredible ascent in 2017.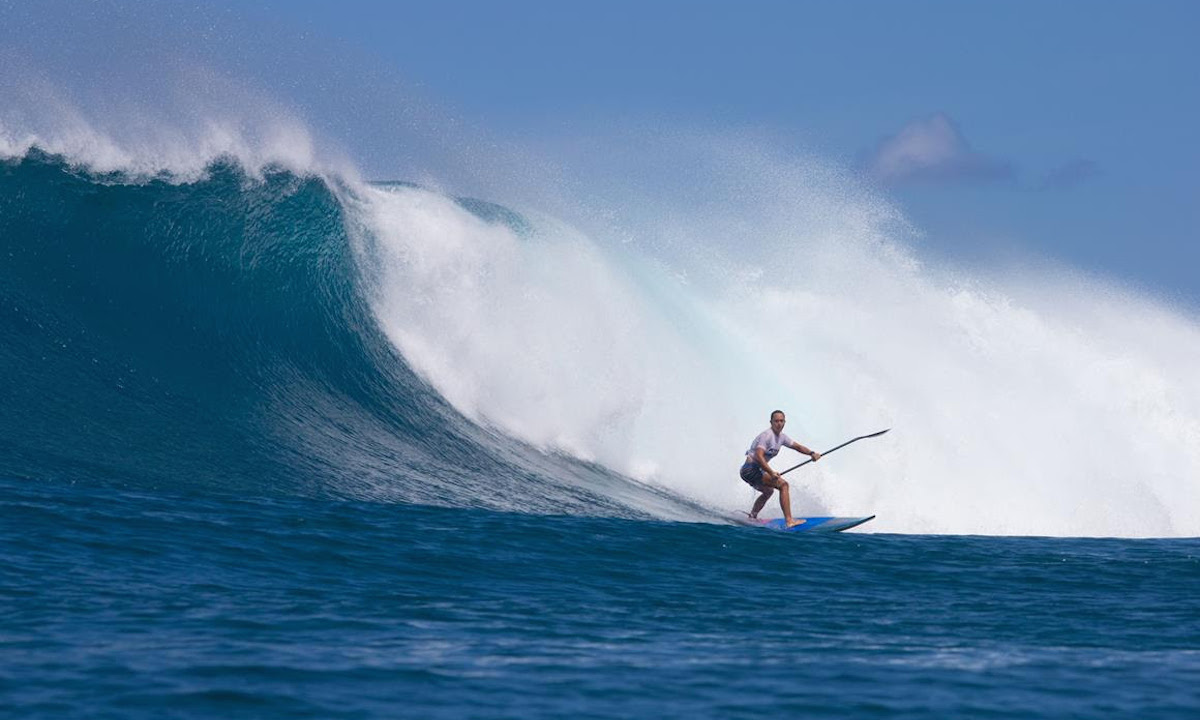 Shakira Westdorp once agains demonstrates that she is a major contender on the APP World Tour with a 3rd place finish. | Photo: APP World Tour / Brian Bielmann
Clearly reveling at the opportunity to take on the infamous Sunset Beach, Australia's Shakira Westdorp (Starboard) approached every heat with maximum power and commitment, making her presence felt throughout the early rounds to propel her into the Finals for the exciting battle that was to take place today at stop #1 of the 2017 APP World Tour.
Once in the Finals, she navigated the tricky line up to find some solid scores, but was unable to match the output of Izzi and Fiona, forcing her to settle for 3rd place overall. However, one thing is for sure - it will not be long before Shakira gets an event win on the APP World Tour and she remains one of the fiercest competitors on Tour and one of the most dangerous draws.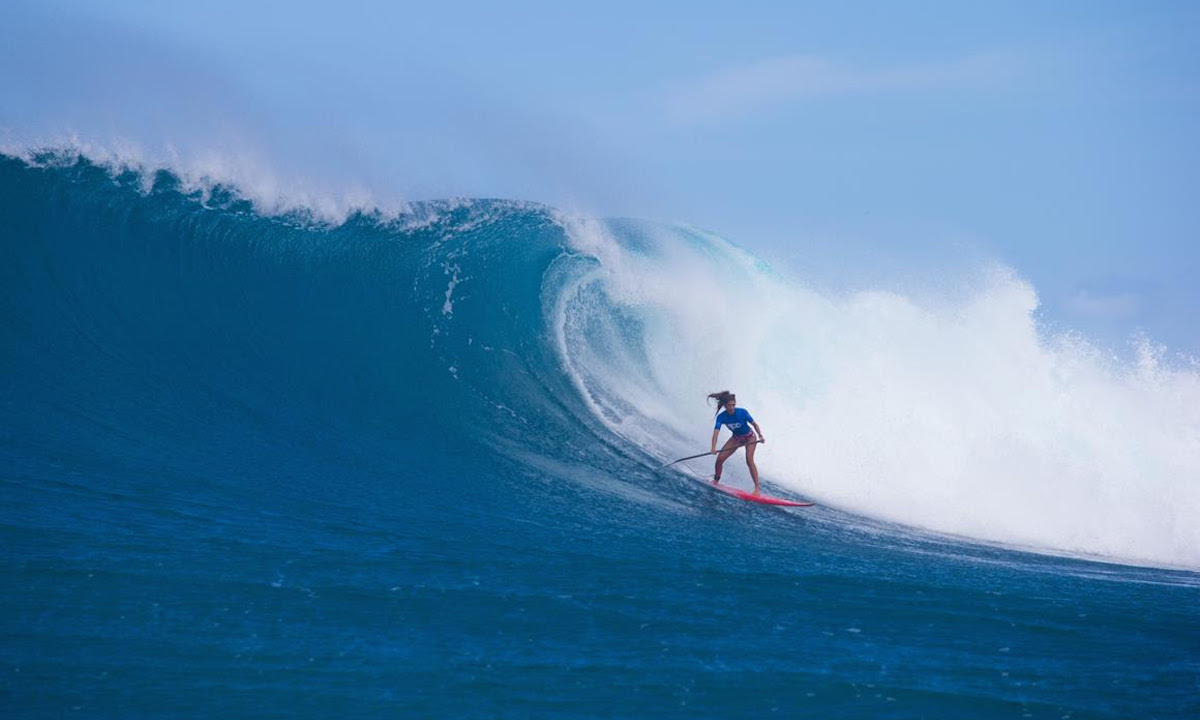 Nicole Pacelli finishes in 4th place at the 2017 Sunset Beach Pro. | Photo: APP World Tour / Brian Bielmann
2013 World Champion Nicole Pacelli was looking dangerous throughout the early rounds of the Sunset Beach Pro this year, clearly revealing at the opportunity to compete out at this iconic North Shore wave that she loves so much and excited to kick off her 2017 season with a strong opening event.
While she was clearly disappointed with her performance on the final day, Nicole once again showed just how talented she is and that she is every bit the Title Contender that she has been since securing her World Title in 2013.
A 4th place finish still allows Nicole the opportunity to build momentum throughout the year and to have a real shot at the 2017 World Title, something that is without doubt a major focus for this Brazilian talent as we kick off the 2017 season.
Follow Nicole's progress across social media channels at #appworldtour and check out all the highlights and replays in the video below.
About the APP World Tour and the Waterman League Group
The Waterman League Group is an event management and media production company headquartered in Hawaii focused on developing multi-disciplined water sports. The term 'waterman' refers to versatile athletes who can engage in various forms of water sports at the highest level.
As founders of the World Championship Tour for Paddlesurfing (also known as Stand- Up Paddling), the Waterman League has been crowning Men's and Women's World Champions for both racing and surfing since 2010, with flagship events across the Americas, Asia, Europe and the Middle East, now branded as the APP World Tour.
The APP World Tour produces a complete inventory of programming, including live and post produced broadcasts from all its events, with distribution to over 100 countries worldwide via premier global networks such as CBS Sports and supported by IMG Media.
Last modified onFriday, 24 February 2017 09:50

Submit your news, events, and all SUP info, so we can keep promoting and driving the great lifestyle of stand up paddling, building its community, and introducing people to healthier living.
Website: supconnect.com
Email

This email address is being protected from spambots. You need JavaScript enabled to view it.