Supconnect Awards 2020 Winners Announced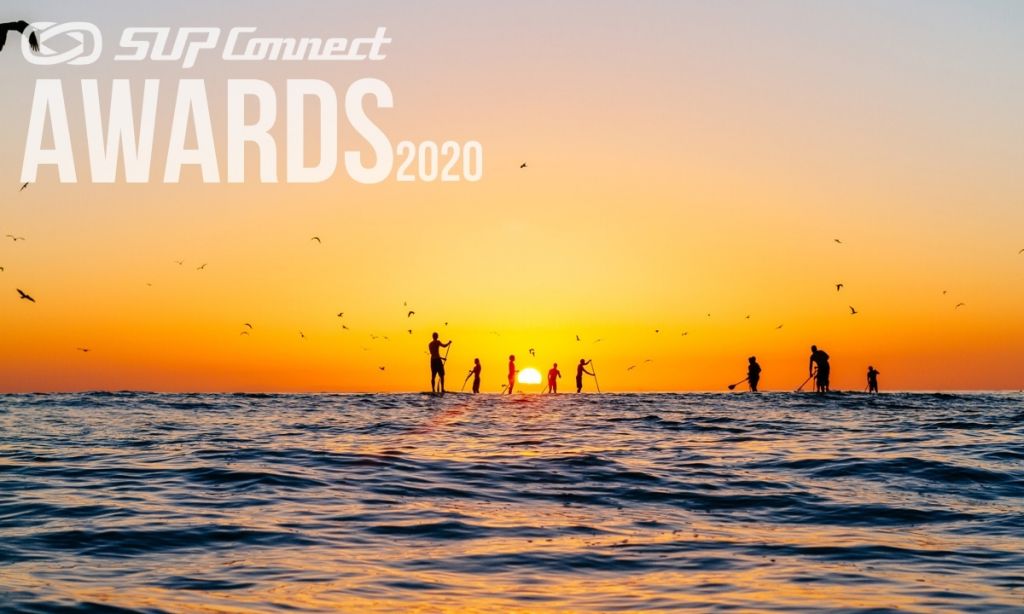 SAN DIEGO, California - After more than six weeks of deliberations and intense evaluations we are pleased to announce the winners of the 2020 Supconnect Awards. After nominating 30 or so men, women, groms and blogs per category, and an abundance of brands and shops in the stand up paddle industry we've finally narrowed down the extremely talented pool of nominees to the final chosen winners.
With over 120,000 views and more than 26,000 interactions of the Awards it has been a very meticulous journey to get to this point. In following our criteria for choosing the winners (Ambassadorship, Involvement, Performance and Support), to help us decide the winners of these awards, we here at Supconnect go through an extremely rigorous process in selecting the winners. We consult and receive feedback from our advisory board, whose members are made up of those who are passionately involved in the sport of standup paddling and who have a unique take on the sport, we take into account the many thousands of interactions with the Awards from fans and consumers, we add in our own feedback from our editorial board and we've also had extensive feedback and contact with brands and retailers in the industry. We've had hundreds of back and forth emails and personal phone calls to get the best feedback possible that we can on our nominees. So without further ado, here are the winners for the 11th Annual Supconnect Awards:
1. Mike Shoreman

Canada's Mike Shoreman is the inspirational powerhouse of the sport. Known as 'The Unbalanced Paddleboarder' he is one of the most respected names in the International SUP community. A true ambassador of the sport and former Paddle Canada SUP coach. Mike lost his sense of balance from a neurological condition in 2018. After retraining his brain to walk normally again Mike returned to the water in 2019 as the SUP Safety Expert for the Canadian Safe Boating Councils Media Day. His rise continued as he then won Canada's largest inspirational speaking competition. His award winning speech "PADDLES UP" went viral on several platforms including The Power of Positivity and Ashton Kutcher's site and has racked up 3.2 million views online. His speech unified the International SUP community with a movement where hundreds of paddleboarders raised their paddles up in their countries in support of those living with physical and mental health challenges. We can't wait to see what he does next.
2. Zane Schweitzer

Maui's Zane Schweitzer is also called "Zaniac." Putting aside the various rumors about the legend, here are a few things we know about the man. Among his sports, he windsurfs, surfs, foils, sup's, fishes, dives, dirt bikes, ... and on it goes. Always with a smile, a contagious good vibe, and up for whichever adventure you throw his way, he is a top-tier racer and one of the greatest progressive sup surfers in the world. He also is more than just a competitive beast though and is one of the pro ambassadors for Standup for the Cure, helping raise awareness for breast cancer research. Schweitzer also hosts youth clinics throughout the year where he shares his love, knowledge and passion with the next generation.
3. Itzel Delgado

Peru's Itzel Delgado was introduced to standup paddling when he was 14 years old and was instantly hooked after watching his father compete in the 2013 ISA SUP Games in Lima. Following his Father's footsteps, it didn't take long for Itzel to earn his place on the Peruvian National Team where he's since achieved a Silver medal at the ISA Games in El Salvador as well as a Bronze medal at the 2019 Pan Am Games. With a love for going fast, Itzel excels in distance racing but also enjoys adding surfing and foiling into the mix. Itzel has been quietly creeping his way up the world rankings on both the APP and Paddle League and will no doubt continue to make his country proud in the future.
1. Maddi Leblanc

If you google the word passion you'll find its definition means 'strong barely controlled emotion.' Enter Canada's Maddi Leblanc who breathes the sport of paddleboarding like air. Maddie started her training at age ten and as a young teen she founded her annual SUP race fundraising initiative 'On Board' which raises funds and awareness for cancer and honors her two close friends who she lost in 2011. She has raised over $40,000 for the Canadian Cancer Society and built a community around her. Maddi arrived on the racing scene in 2016. By the end of that season Starboard signed her as a team rider and is a WPA Level 1 paddle instructor. In 2018 she took the overall Elite Female Category with the Ontario SUP series. Recently Maddi represented Team Canada at the ISA World Championships in China. When she's not busy working on her Masters thesis she is on the water and she is motivating her peers to be the best they can be.
2. Vania Torres

Peru's Vania Torres is one of Peru's leading ladies in SUP surfing and has been making a name for herself on the international scene over the past few years. Since 2018, Vania has been consistently climbing the ranks on the APP World Tour and most recently had her best finish yet ranking #3 in the world. Vania is on the Peru National Team and has competed at both the ISA World Championships as well as in SUPs inaugural debut at the Pan American Games where she got the silver medal. Vania is one talented young lady with a bright future ahead of her. We won't be surprised if she rises to the top in the next few years.
3. Maggie Adams

San Diego's Maggie Adams is the founder of Blue Paddle SUP and SUP Chat. Maggie brings a spirit of inclusivity and fun to SUP, staying in the spirit of stoke and spreading joy wherever she goes. Whilst being a competitive athlete, racing herself mostly on a local level, Maggie never seems to forget that SUP is about the fun and the camaraderie that the sport supports. Always bringing snacks, extra gear, sharing knowledge...Maggie is a true SUPerSTAR!
1. Jade Howson

California's Jade Howson is a fierce competitor on the water but a total sweetheart on land that loves to play the ukulele and hang out with friends. Jade has been to most races in a year than most of us in a lifetime and (to make it all the more impressive) the grom likes to claim top results. With experiences on numerous local events and some top-tier competitions, the California paddler is becoming increasingly more competitive and an exceptional SoCal talent. At a very young age Howson claimed a Bronze medal for team USA at the ISA World SUP Championships in Denmark. She then followed up that Bronze medal with a Gold medal at the ISA Championships in Sprints in El Salvador last year. As she builds on these early accomplishments, Howson is a paddle powerhouse in the making and we can't wait to see her officially enter the big leagues as she graduates from her 'grom' status.
2. Campbell Carter

North Carolina's Campbell Carter recently turned 15 and has been racing on the East Coast for a few years. As a member of the Wrightsville Beach Jr Elite team and SIC Maui Jr team Campbell is definitely an up-and-comer to watch out for. Campbell is hardworking, dedicated, and focused on his waterman goals and works at Wrightsville SUP and trains at the facility under Jarrod Covington. He loves to be on the water and work with youth to share his love of the water. When not paddling, Campbell trains year around with crossfit, swimming, surfing, running, and outrigger and is a straight-A student!.
3. Zane Saenz

Oahu's Zane Saenz is a young ripper from the North Shore of Oahu who at 16 years old excels at all the watersports he is involved in. Whether he's SUP surfing, racing or foiling, he manages to make his radical and creative approach to riding waves look smooth and flowing. Zane recently won both the Mens SUP surfing and SUP foiling divisions at Braddah Mels Waterman Surfing Championships at Makaha and he also won the 2019 USA National SUP Surfing Championships U18. Zane's ultimate goal is to competes on APP World Tour full time and one day win a world title.
1. Starboard

Starboard is one of the most globally known SUP companies in the world. Starboard was founded and created by Svein Rasmussen, a champion windsurfer, in 1994. Starboard SUP is one of the leading innovators of Stand Up Paddling, with some of the most comprehensive range of shapes and technology options! You will find many of the top athletes in the SUP space riding a Starboard SUP, whether it be World Champion SUP racer Connor Baxter, or SUP surfing Pros and Champions Izzi Gomez, Sean Poynter and Zane Schweitzer. Starboard has a wide array of products ranging from expert levels to beginner boards and everything in between.
2. SIC Maui

SIC "Sandwich Islands Composites" is the vision of master shaper/designer, Mark Raaphorst. SIC boards are inspired naturally by elite racing, but also from a lifetime of lessons learned. These lessons have led to a reputation for some of the fastest, smoothest gliding, most maneuverable boards in the world. SIC is also seen as an innovator whether it is in composite or hollow construction, its Active Steering System and its futuristic Standamaran™. Whether you are a seasoned pro in either open or flat water racing or the weekend surfer. Whether you are looking for better fitness, touring or just all-around fun; SIC has something for you.
3. Badfish

Based in Salida, Colorado, Badfish SUP is a partnership between shaper and designer Zack Hughes and whitewater park designer Mike Harvey. Badfish makes SUP boards for whitewater rivers, flatwater and the ocean, with a mountain flavor. Badfish boards are designed to be stable for beginners and ripable for experts.
4. Red Paddle Co

Red Paddle Co. has been making inflatable SUP boards since 2008 and that's all they make. This focus allows Red Paddle Co. to look at the world of inflatable boards from a unique perspective and it allows you to own a product that is designed to give you the absolute best experience possible. Red Paddle Co. offers some of the best inflatables on the market offering extremely durable and well-constructed inflatable boards. Red Paddle Co. believes that owning an inflatable board should not mean you have to compromise on performance, looks or quality. They believe that the experience you get when you use one of our boards is that of an authentic SUP experience and not a low quality substitute to the real thing.

5. Sunova
Sunova Surfboards are the manufacturers of high performance composite sandwich surfboards. Under the tutelage of Shaper of the Year, and legendary shaper Bert Burger, Sunova have been pioneering the use of parabolic balsa rails and veneer skinned surfboards for over 20 years. Originating out of Mandurah, Western Australia, Bert has been leading the way in lightweight surfboards built with an emphasis on strength and flex to create epoxy surfboards which are not only strong surfboards lasting much longer than the industry standard PU boards, but high performance surfboards.
1. Riverbound Sports Co

Proprietors Teri and Corey Carlin run a small family SUP shop in Tempe, AZ and are one of the hardest working couples supporting the SUP Industry. They are great ambassadors of the sport, supporting SUPIA, the ACA and are a Certified Autism Center offering paddling experiences in Arizona. Whether you meet them in person, over the phone or online (the new COVID normal), they are great and friendly resources to renters, newbies, touring, fitness & race enthusiasts ~ near and far! They sell and rent a large section of brands: SUPs, Kayaks, paddles, safety gear and accessories. They even sell land and electric boards and paddles! As paddlers and official outfitters of many of our local waterways, they can tell you about, or take you to the best places in AZ. They provide lessons, and regularly host or sponsor SUP yoga, fitness and race events. They are service excellence winners with TripAdvisor and 5-Star rated on Google, and Yelp. They get countless referrals from happy customers.
2. 101 Surf Sports

101 Surf Sports (San Rafael, California) is a full service Water Sports Sporting Goods Shop specializing in Stand Up Paddleboarding (SUP), Prone Paddleboarding, Windsurfing, Kiteboarding, Surfing, and Kayaking. They offer the San Francisco Bay Area a full range of lessons, gear rentals, board repair, kayak storage, stand up paddleboard storage, boat storage, and guided tours. They carry gear from the premium manufacturers including Naish, Starboard, Jimmy Lewis, NeilPryde, O'Neill, SUPreme, SIC Maui, Severne, Carve Designs, Dakine, NRS, Bark, Surftech, and Focus Hawaii.
3. Blue Planet Surf Shop

Blue Planet Surf Shop is Hawaii's SUP and Foil HQ since 1993. For surfers, by surfers: BP offers the biggest selection of Stand Up Paddle and Foil boards and equipment in the state of Hawaii and possibly anywhere. BP has introduced thousands to Stand up Paddleboarding through free SUP Clinics, lessons, and instructional videos on YouTube. The staff's mission is to help customers have more fun on the water. The blueplanetsurf YouTube channel has a global audience with over 20,000 subscribers and features a new video every Saturday. Blue Planet founder/ owner Robert Stehlik co-hosts a weekly Stand Up Paddle training group, Hawaii WPA races, is a PSUPA instructor trainer, competes in international SUP races, and loves designing innovative gear for watersports. The shop carries Blue Planet boards and equipment for all skill levels from beginner to expert as well as quality gear from other brands, including Jimmy Lewis, Starboards, Da Kine, and many more.
1. Kevin Krohn
2. Tony Weaver

3. Keith Bolen

Congratulations to all of the winners of the 11th Annual Supconnect Awards. We couldn't be more pleased with the results and we hope you are too. Stay tuned for a detailed breakdown of why we selected our winners.

Also, be on the lookout for the People's Choice Awards where we recognize the top picks based on votes for each category!
Last modified onThursday, 13 August 2020 07:46

Submit your news, events, and all SUP info, so we can keep promoting and driving the great lifestyle of stand up paddling, building its community, and introducing people to healthier living.
Website: supconnect.com
Email

This email address is being protected from spambots. You need JavaScript enabled to view it.