Why They Won - Supconnect Awards 2019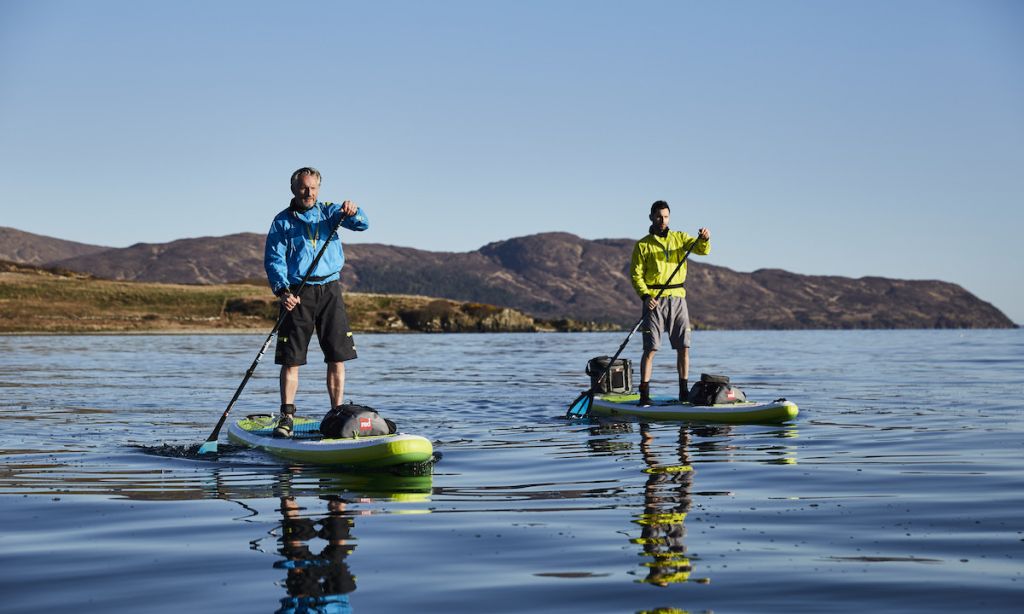 Photo courtesy: Red Paddle Co
SAN DIEGO, California - With the 10th Annual Supconnect Awards wrapped up and the winners announced we here at Supconnect wanted to give you a bit of insight on the deciding factors that led to the choosing of this year's winners. With over 100,000 views, 26,000 interactions, and countless phone calls, texts and emails with our advisory board and industry feedback, you'll be able to understand why we selected the winners below.
Casper Steinfath
Man of the Year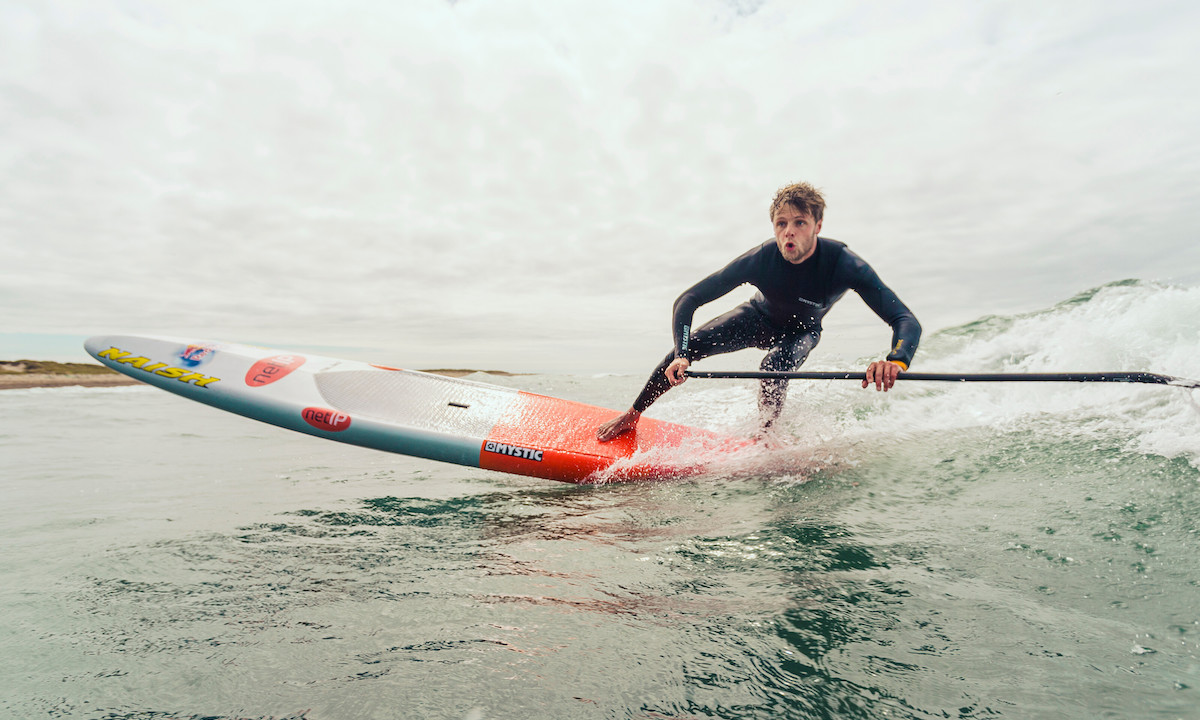 Photo Courtesy: Red Bull
Denmark's Casper Steinfath is the viking of the sport, having come from a frigid cold, country to become one of the most respected names in SUP. He has earned nearly every single title in Europe and is widely considered the greatest European paddler, if not at least one of them. Aside from his life as a competitive athlete, Steinfath is the Vice President for the ISA (International Surfing Association), which represents the sport in the eyes of the Olympic Committee, considering possible new inclusions of sports into the Olympic Games and he just recently organized a 24-hour relay event called the Midsummer Viking Challenge. Casper has time and time again been an amazing ambassador for the sport and has shown that he's in it for the long haul and is a perfect choice for 2019's Supconnect's Man of the Year.
Tarryn King
Woman of the Year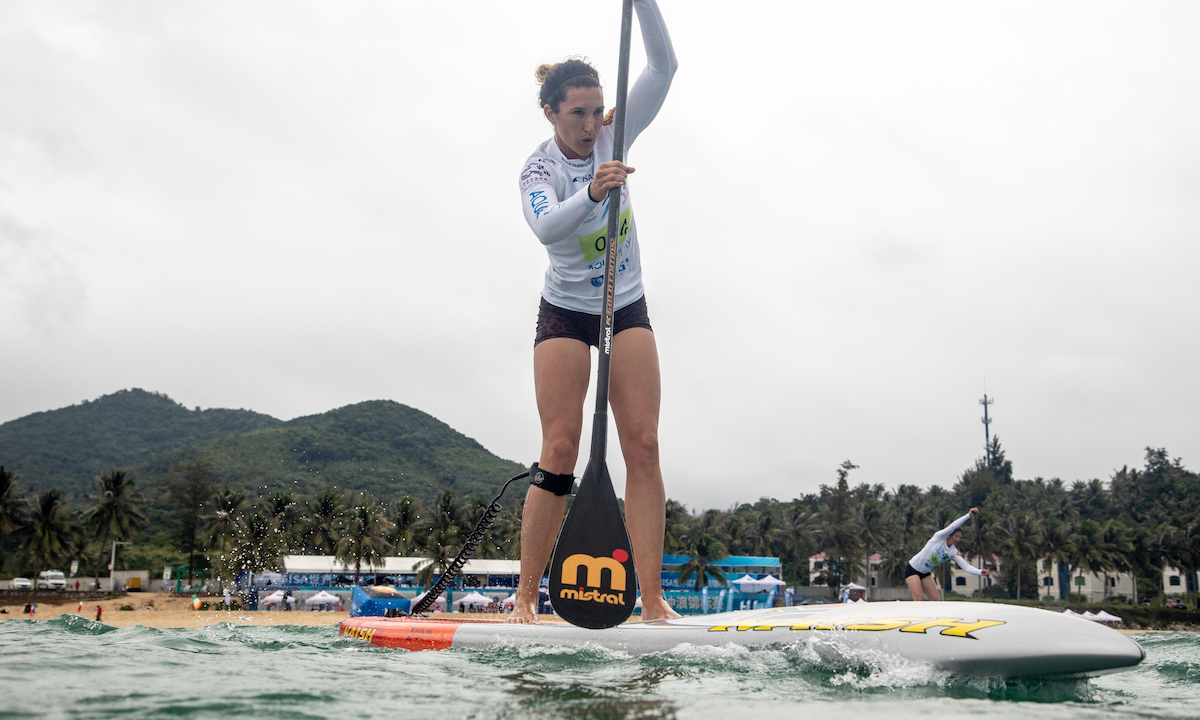 Tarryn King on her way to gold at the ISA Championships in China. | Photo Courtesy: ISA / Jimenez
South Africa's Tarryn King is well known in her local SUP scene in Capetown but really stepped up to the international stage at the 2018 ISA World SUP & Paddleboard Championships in Wanning, China. Tarryn wow'd by winning a Gold Medal in the Sprints, which not only was an amazing accomplishment for herself, but for her country as well with it being the first Gold ever for her country. But to make it all the more inspirational, Tarryn won the Gold only a year after giving birth to her first child. What a rockstar! When not racing Tarryn also loves to paddle out in the lineup and catch some waves and truly embodies all that we look for in Supconnect's Woman of the Year.
Annie Reickert
Grom of the Year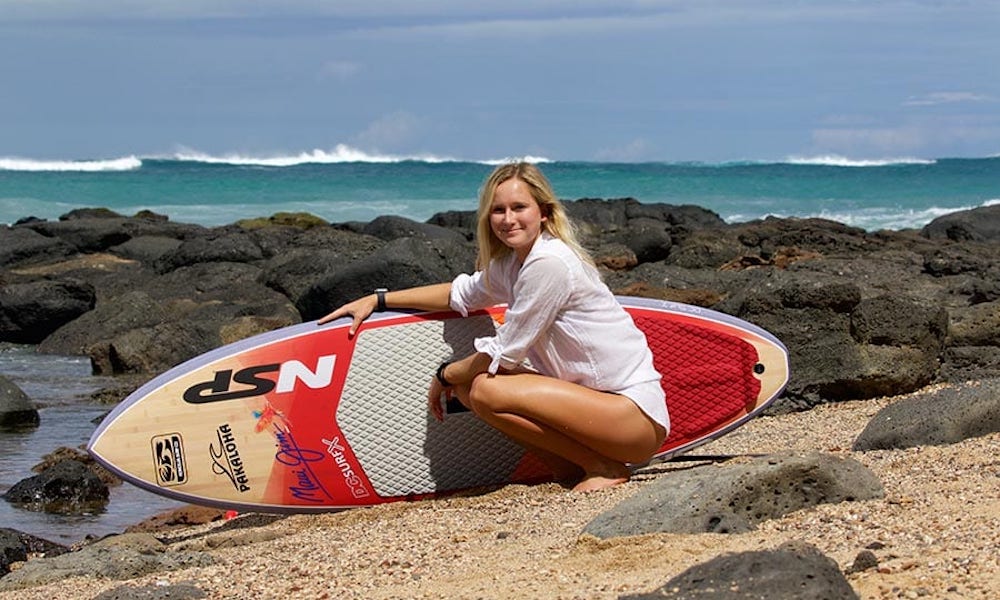 Photo Courtesy: NSP
Maui's Annie Starr Reickert was raised on the island of Maui so it was pretty much a given she would make her way to the water. Annie started surfing on the front of her parents' boards eventually graduating to one of her own and once she got a paddle in her hands, she was hooked on stand up paddling. Annie shines in both surfing and racing and has already started competing on the women's APP World Tour where she's been turning heads with her impressive skill set. To top it off, Annie has been one of the few females who have been at the forefront of foiling and was the first female to compete in the M2O on a foil. Annie loves charging big waves and she is soon to make her presence known worldwide. Congrats to our 2019 Grom of the Year.
Red Paddle Co
Brand of the Year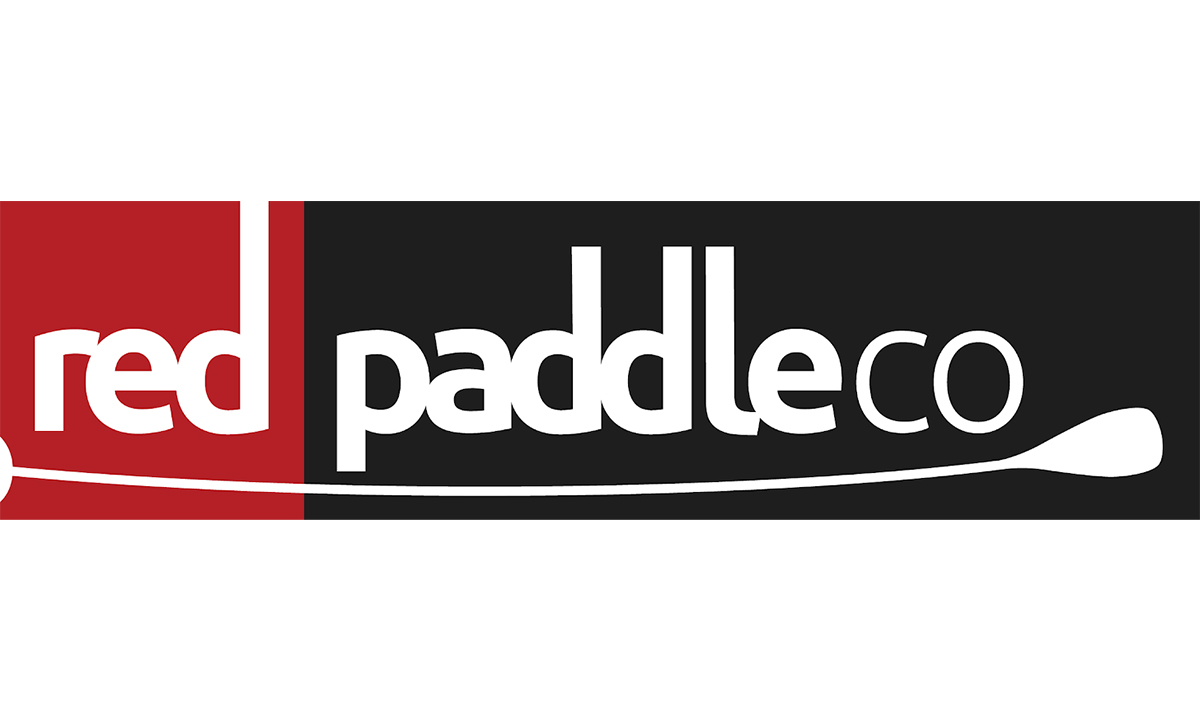 Red Paddle Co has been a staple of the paddle boarding community and has been at the forefront for innovation in inflatable paddle boards since the sport has gained in popularity over the past decade. On that point, in the past year they've launched a game-changing new technology dubbed 'PACT' which resulted in SUP's most compact inflatable on the market today. Red Paddle Co has always been focused on getting the community involved in the sport and has done a fantastic job of showing just how simple and fun paddle boarding can be. Through their various marketing campaigns like 'Just Add Air' and 'Adventure Calls', Red Paddle Co is driving the sport to the masses and encouraging the entire family to enjoy the sport together. Not only that, they've organized a series of SUP races, culminating in the Dragon World Championships, an annual team racing event that really brings the out the element of fun by racing in teams which not many events have. Red Paddle Co has also been a constant support of the SUP industry by partnering with various global media publications and has been ingaged with SUP's industry association (SUPIA) over the years. All that combined make Red Paddle Co our choice for SUP Brand of the Year for 2019.
Standup Panama
Shop of the Year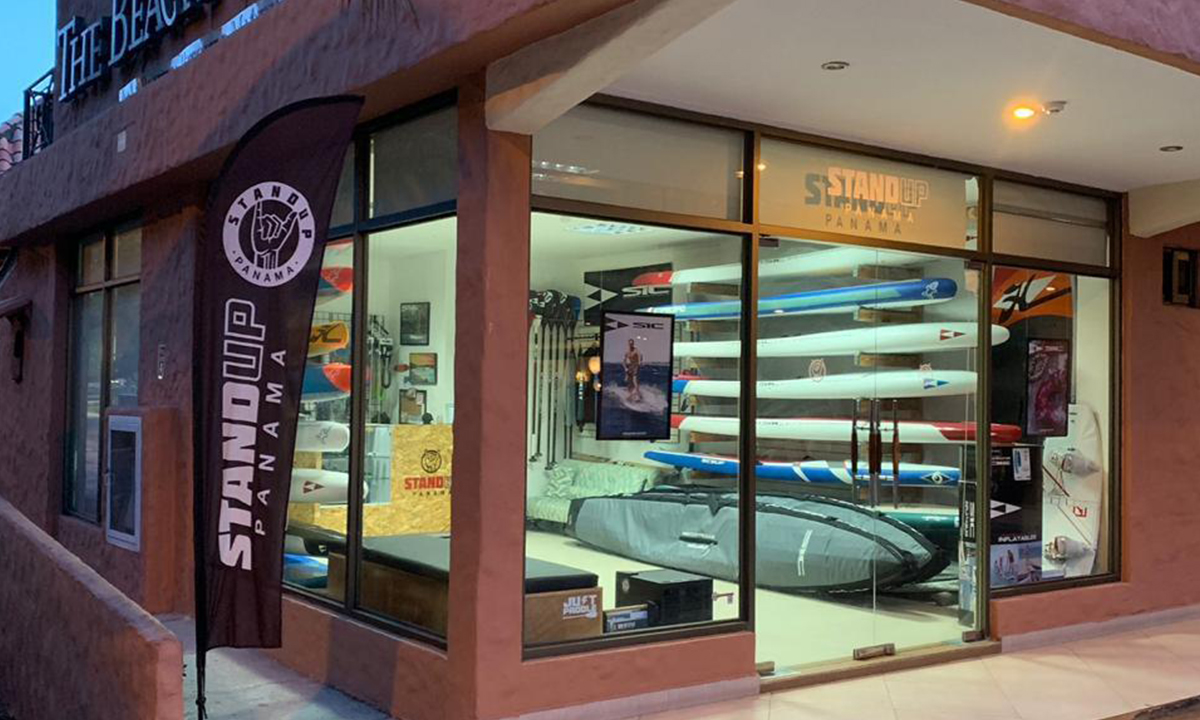 Standup Panama is making big waves by leading the way and establishing a paddling community in Central America. Standup Panama is family-owned and operated and owner Arturo has been an outstanding community leader, making a difference in such a positive way in the water/paddle sports community in Panama. Standup Panama has made itself known in their local community by coordinating SUP tours, hosting clinics and demos and working with some of SUPs top brands and athletes to organize events and clinics for local athletes and enthusiasts. The shop offers the best brands in the market and are always ready to give you the best advice for the sport. Standup Panama has worked really hard to create a SUP community in Panama and the support for this family-owned business really shines through and is why they are Supconnect's SUP Shop of the Year for 2019.
Leisa Bee
Sales Rep of the Year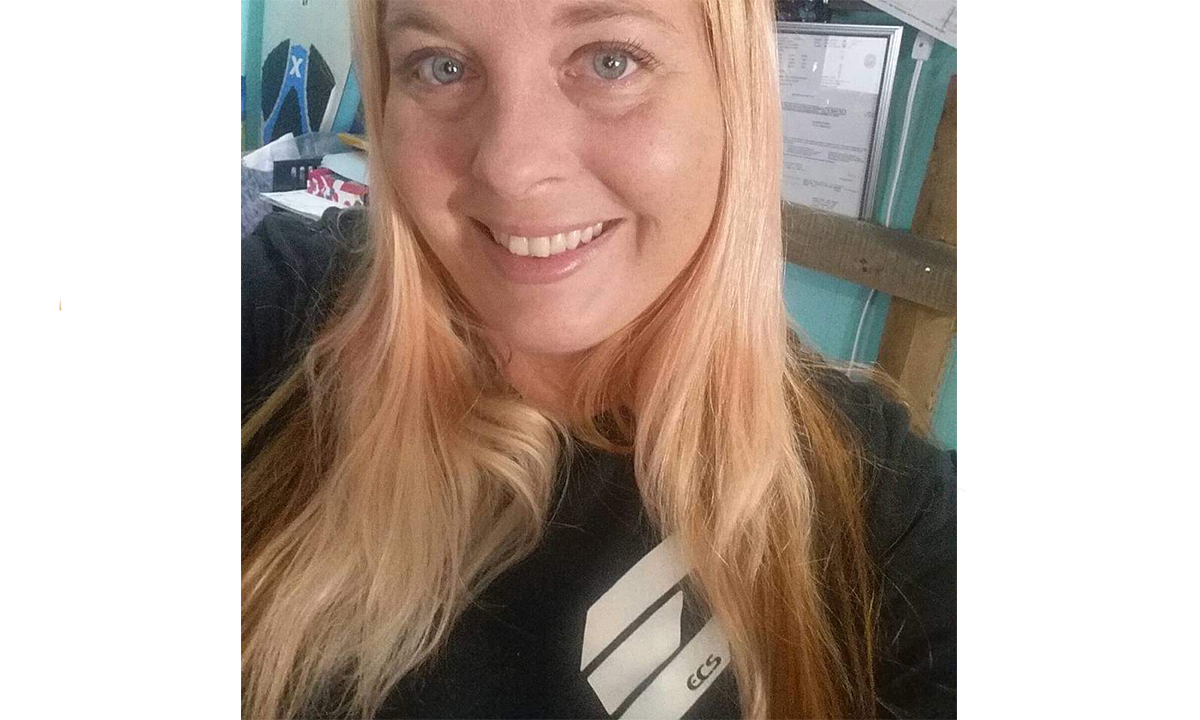 As a rep for ECS Boards Australia, Leisa always stays on top of shops' board needs and provides demos whenever needed. Leisa always makes herself available to the shops with any questions they might have and is extremely knowledgeable, providing support on every level. Fully invested into the community, she is also a part of the local Surfrider Foundation and a Clean Earth Activists promoter. Her dedication, community involvement and support make her the perfect fit for 2019's Supconnect Sales Rep of the Year.
TotalSUP
Blog of the Year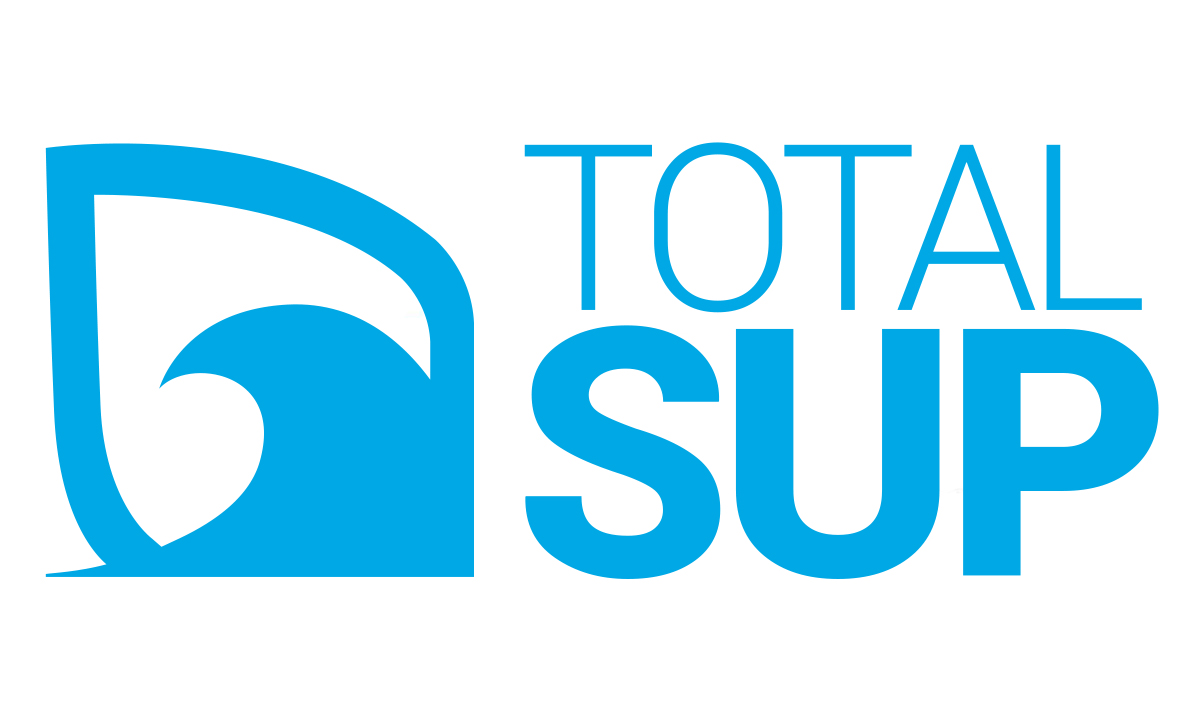 Established in 2012, TotalSUP has been a dedicated publication to the sport that we love. The crew at TotalSUP does an excellent job reporting on the race events throughout the year and is a great resource for the European SUP scene. To expand on that, TotalSUP is the only bilingual SUP publication. In the past couple of years TotalSUP has really stepped it up on the event coverage, offering and organizing live broadcasts of some of SUPs biggest events, but just as important, local and regional events as well. Kudos to 2019's SUP Blog of the Year.
Gear
Overall - SIC Maui Okeanos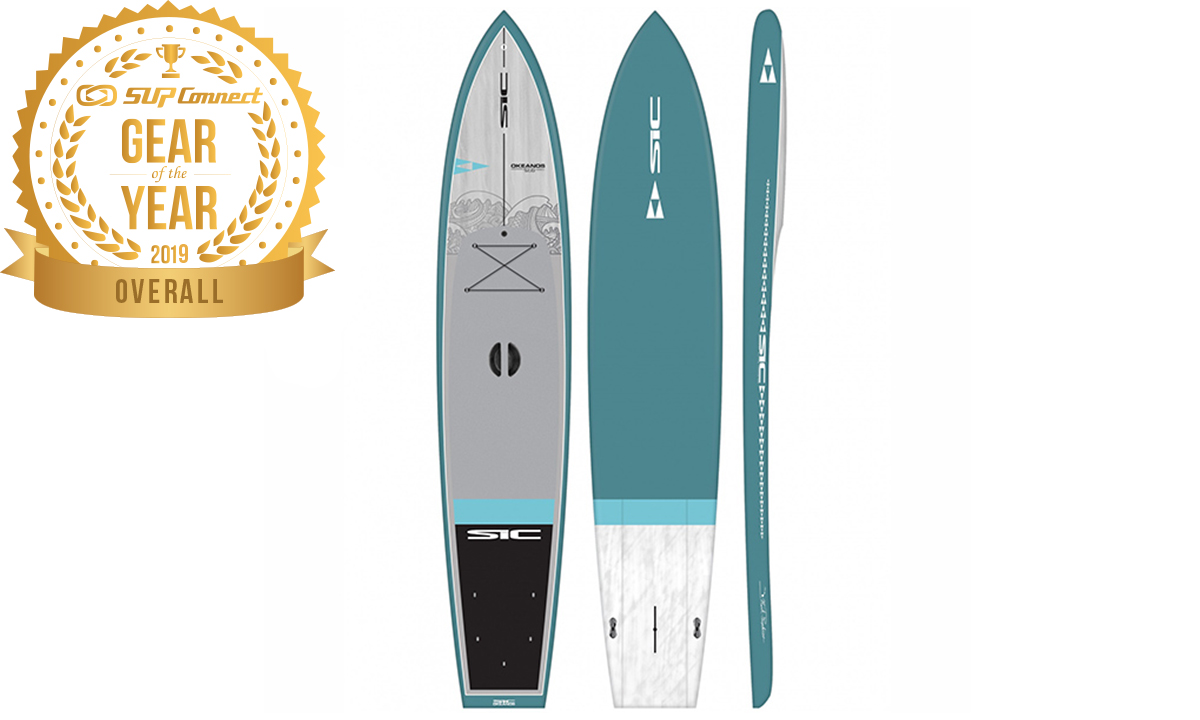 When you can't get a board out of your head because you remember how much fun you had on it you know you've come across something special. The Okeanos has been that board in 2019. The Okeanos is a beautifully done touring-specific paddle board that is versatile in use allowing for a guaranteed good time. It has a great platform for gear; it's stable; has great glide; comfortable deck; nice handle and stunning graphics. The SIC Maui Okeanos has left a lasting impression here at Supconnect and is ultimately why we're giving it the Supconnect Gear of the Year Awards 2019 for Overall Gear of the Year.
All Around - NSP Cocomat Cruise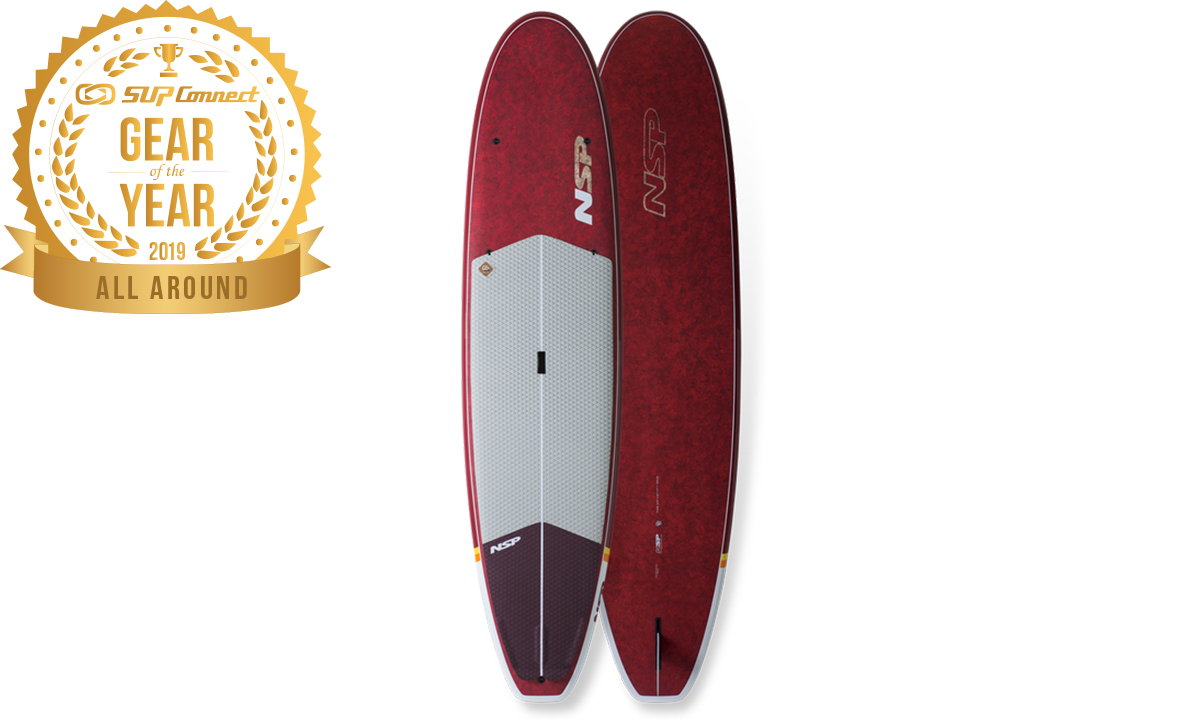 Beginner-friendly, stable and versatile are some of the characteristics that come to mind when thinking about about what an all around paddle board should be. The Cocomat Cruise is that and more. Yes, this board is beginner-friendly, stable and versatile but it's arguably the most environmentally-friendly board on the market right now and its lightweight construction and color combo make it incredibly appealing. The Cocomat Cruise is a great board for the whole family with plenty of flotation, great stability, and tons of attachments on the nose allowing for paddlers of all ages and skill levels the chance to have fun. For that reason, we're proud to announce NSPs Cocomat Cruise as the All Around Board of the Year for the Supconnect Awards 2019.
Inflatable - Body Glove Navigator+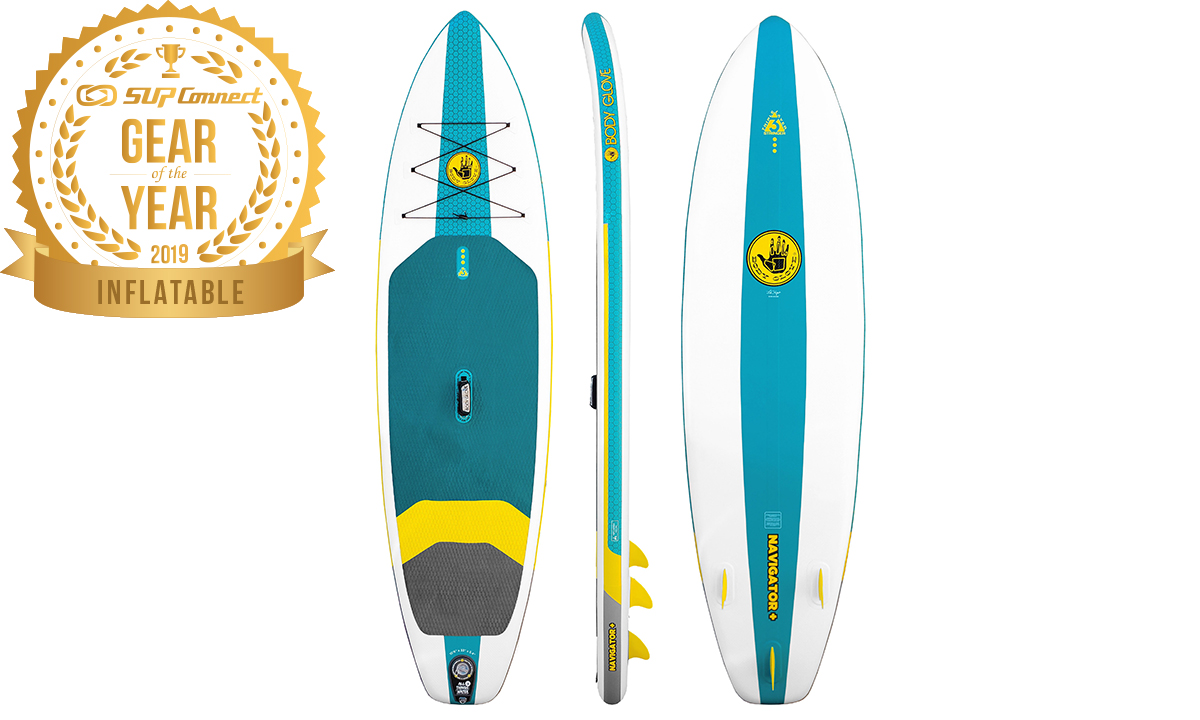 Nowadays, finding a quality yet affordable inflatable standup paddle board can be quite a challenge with the market heavily saturated in inflatable paddle board products. Enter the Body Glove Navigator+. This board is of exceptional quality and doesn't break the bank, which is pretty hard to find. After testing this board earlier this year we can confidently say that the Navigator+ is hands down one of the best inflatable standup paddle board models for 2019. The construction is very strong with reinforced rails and stringer and feels stiff. This inflatable has the perfect amount of rocker so it glides incredibly well for an inflatable and is also very stable with the square tail helping add to that stability as you cruise along. The board features some really nice add on's as well with a comfortable handle that is nice when carrying the board but it also features as a paddle holder when you want to be hands free. The graphics are beautiful and have a really nice color coordination that is attractive to both guys and gals. The board also comes with a full setup, a paddle, leash and pump and a nice portable carry bag making it a package that is hard to beat. For that, we name the Body Glove Navigator+ 2019's Best Inflatable for 2019.
Race - SIC Maui RS
Buzz and popularity by themselves are not enough to earn one of Supconnect's awards. But sometimes, all the chatter around a product has real substance behind it. And here is where SIC Maui's Rocket Ship, aka RS, has taken the world by storm. Tagged as an "All Water" Race Board, the RS introduces several variations of previous models in the SIC Maui line, but all in one crazy fast rocket ship. The squared tail offers plenty of stability on buoy turns and technical conditions; the deck has drainage holes to avoid the lower standing position from accumulating water; the lower deck lets the paddle stroke to engage with more power; and the combination of the bulbous nose, rocket, and rails all coalesce into one fast machine, rolling through bumpy rides and slicing through flatwater. Here, buzz and popularity are the byproducts of a truly extraordinary SUP race board, SIC Maui's RS, Race Board of the Year for the 2nd time in the Supconnect Awards 2019.
Surf - Starboard Widepoint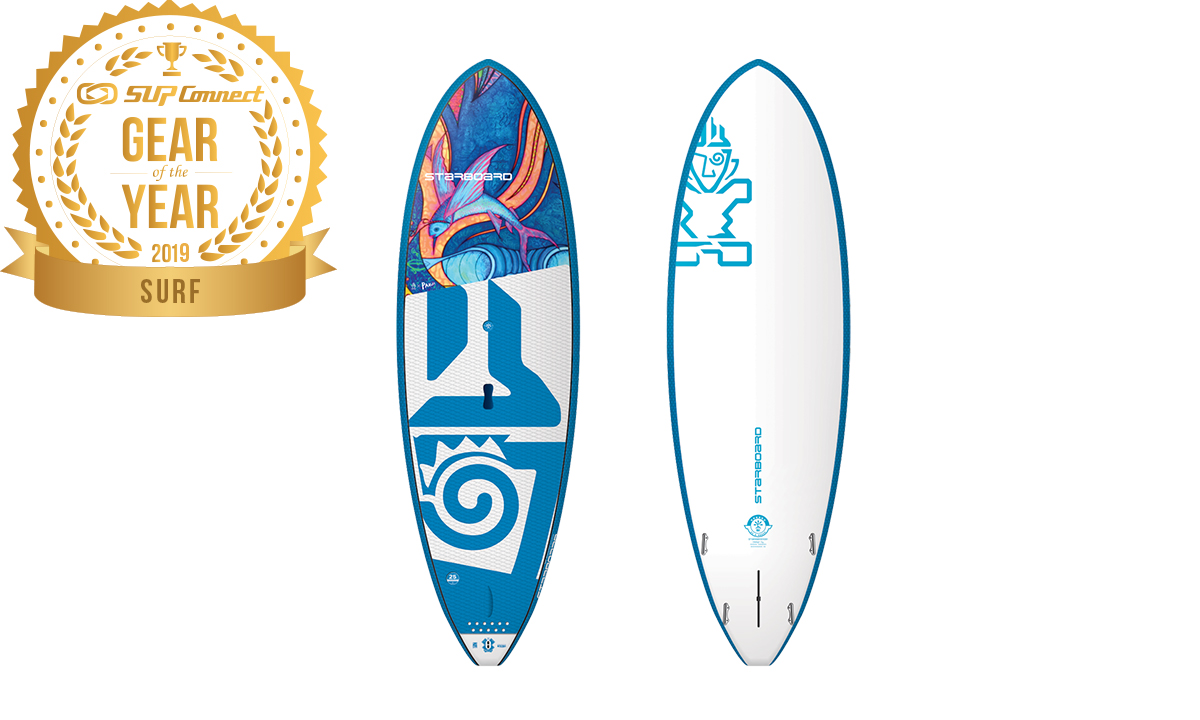 The balancing act between production and custom surfboards is no easy feat. Learning from the design features that empower the best surfers in the world to shine, but then importing them into a board for your average consumer to rip is one of the toughest challenges for board designers. And there are few products that strike that ever-fleeting balance. Starboard's Widepoint is one of them. With the wider nose, the board offers extra stability for the paddler. But at the same time, the foiled rails, pulled in tail, and play on rockers let surfers unlock that board's maneuverability, much like a pro. The intricate graphics add a beautiful touch making it more than just a surfboard but a work of art. With that incredible balancing act Starboard's Widepoint has earned 2019's Surfboard of the Year in the Supconnect Awards.
Touring - SIC Maui Okeanos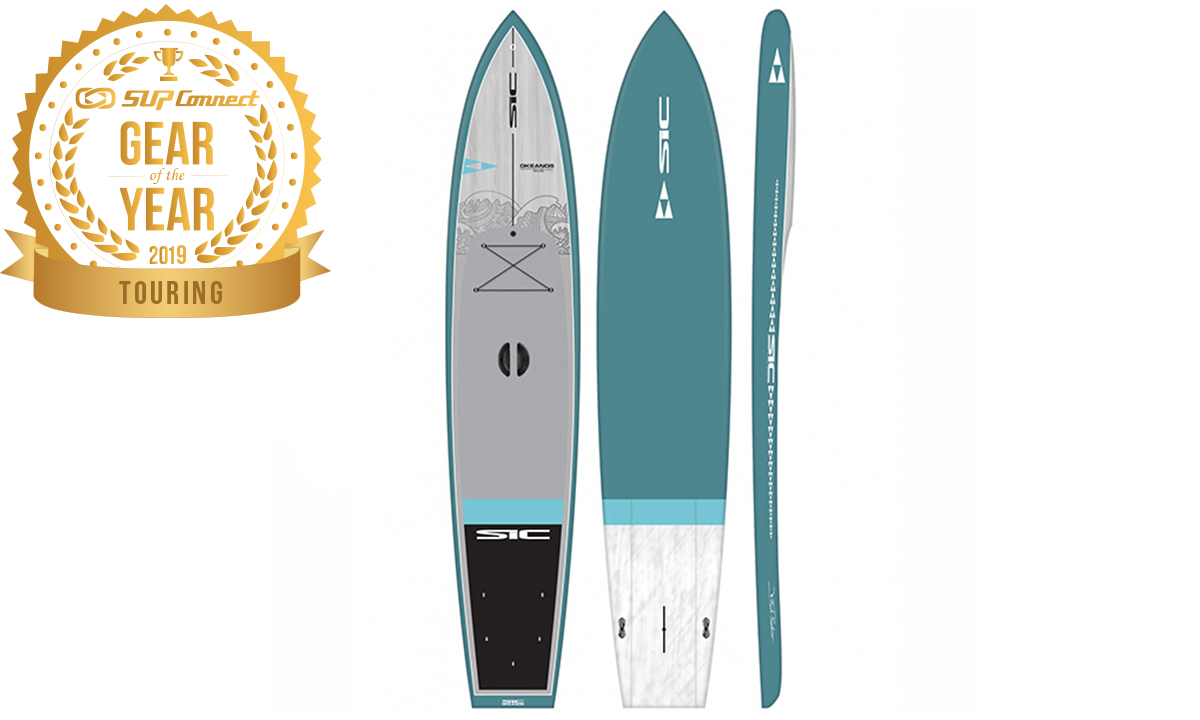 The SIC Maui Okeanos checks all the boxes of an excellent touring board. It has a great platform for gear; it's stable; has great glide; comfortable deck; nice handle; etc. but more than that, it's got the fun factor. When we tried this board as a prototype model we could not get it off our minds. The Okeanos is one of those boards where you're guaranteed to have a good time. The way the volume is distributed throughout the board makes for a very stable platform so you can have fun all throughout the board whether you are doing fancy footwork or loading it up with gear and going on an adventure. The graphics branch out from what SIC has done in the past and add a bit more flare to the look of the board and is a welcome addition to SIC Maui's classic solid colors that they're known for. The board works best primarily in flat water in a very competent way and for all the reasons above the Okeanos is awarded as Supconnect's Best Touring SUP award for 2019.
Graphics - Surftech Generator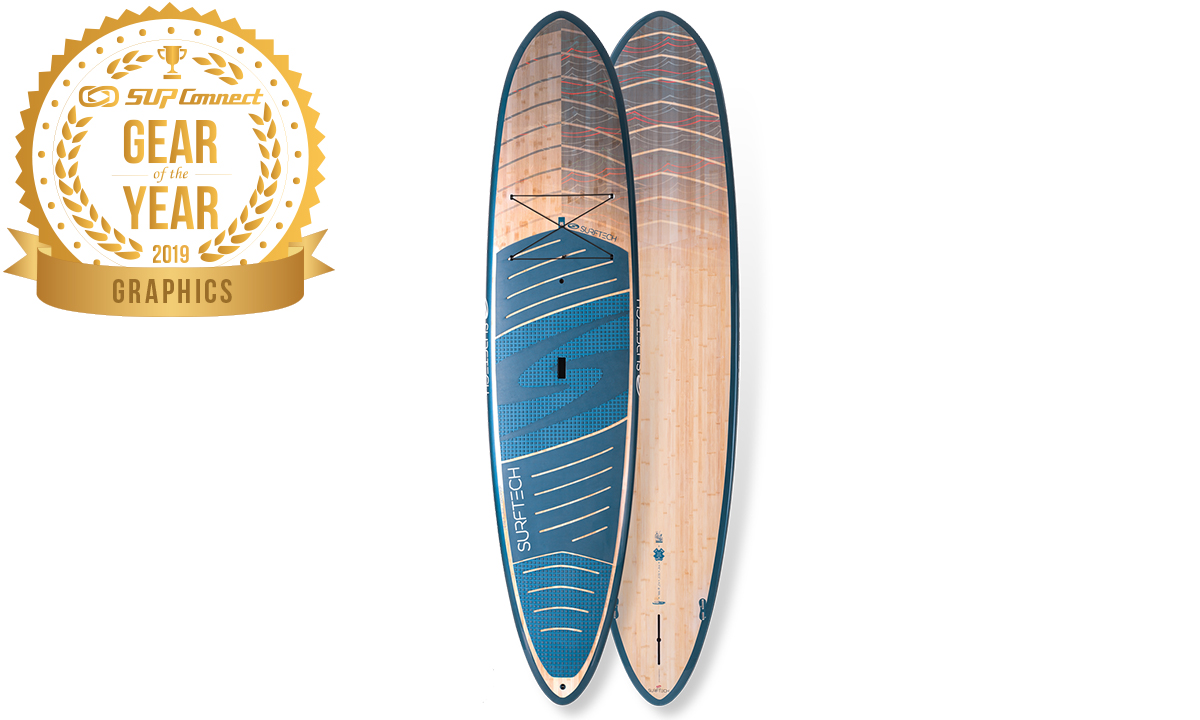 There must be a beautiful quote somewhere saying something like, "Life to be fully experienced must be wrapped up in visual and emotional depth" – some grand statement along those lines. However the words turnout, products sometimes do that to people. Their graphics and construction jump out of the shelf, immediately connecting at some deeper level. That's the Surftech Generator. The painfully intricate attention to detail, color coordination and construction are simply eye candy, evoking nothing short of an emotional tug to the heart. Every time you look at it you notice a new detail you hadn't seen before. Given that much thought and stunning execution, it's with a full round of applause that the 2019 Surftech Generator receives the Supconnect Award for Best Graphics in our Gear of the Year category.
Rental - Pau Hana Malibu Classic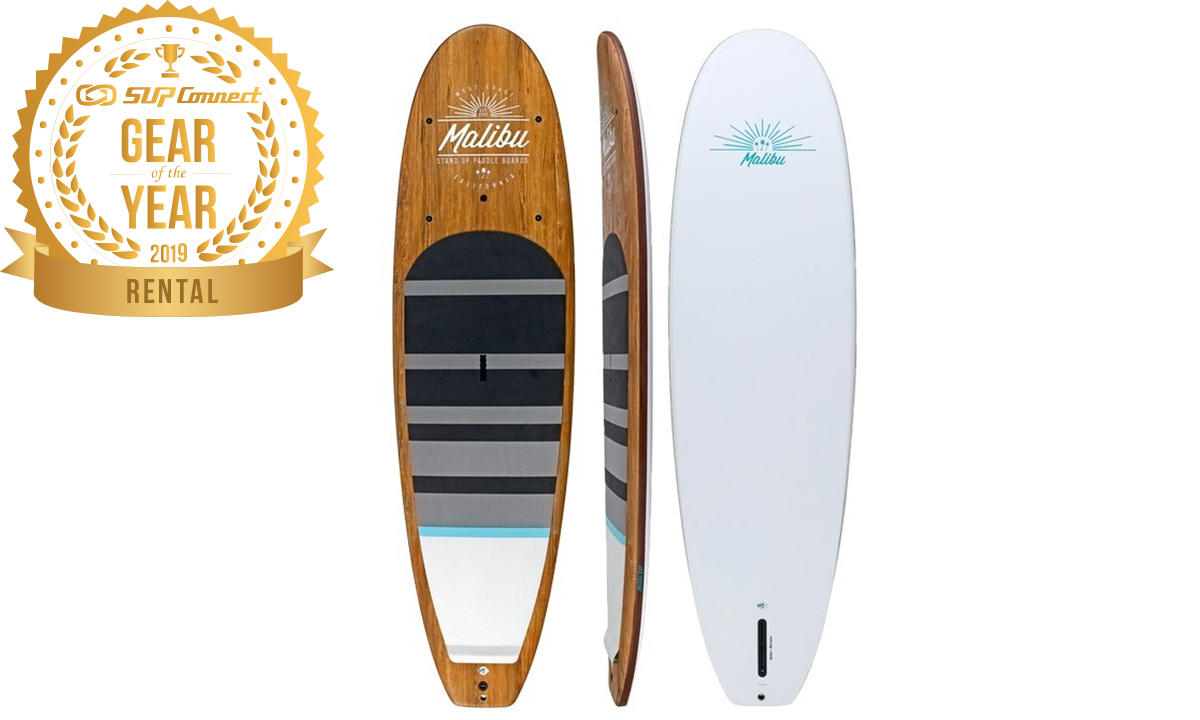 To be honest, it's quite strange to have an awards category for the paddle board rental market. And yet, when you think that half, if not most, of the people stand up paddling are on rental fleets, then it settles the score. It needs its own award. And what's more, the Rental Gear Award must recognize brands raising the bar of excellence in this tough category, where low price point meets product durability. The problem is that this combination in the past has almost always delivered ugly, ungodly heavy boards. Now with new innovations in building boards these unattractive, heavy boards are transforming into beautiful boards that are manageable for the average person to handle. Enter the Pau Hana Malibu Classic. It's very durable construction is not – we repeat, "is not! – ungodly heavy and has a really nice graphic design to it. With that, Pau Hana's Malibu Classic takes Rental Gear of the Year for 2019 in the Supconnect Awards.
Technology - Red Paddle Co. PACT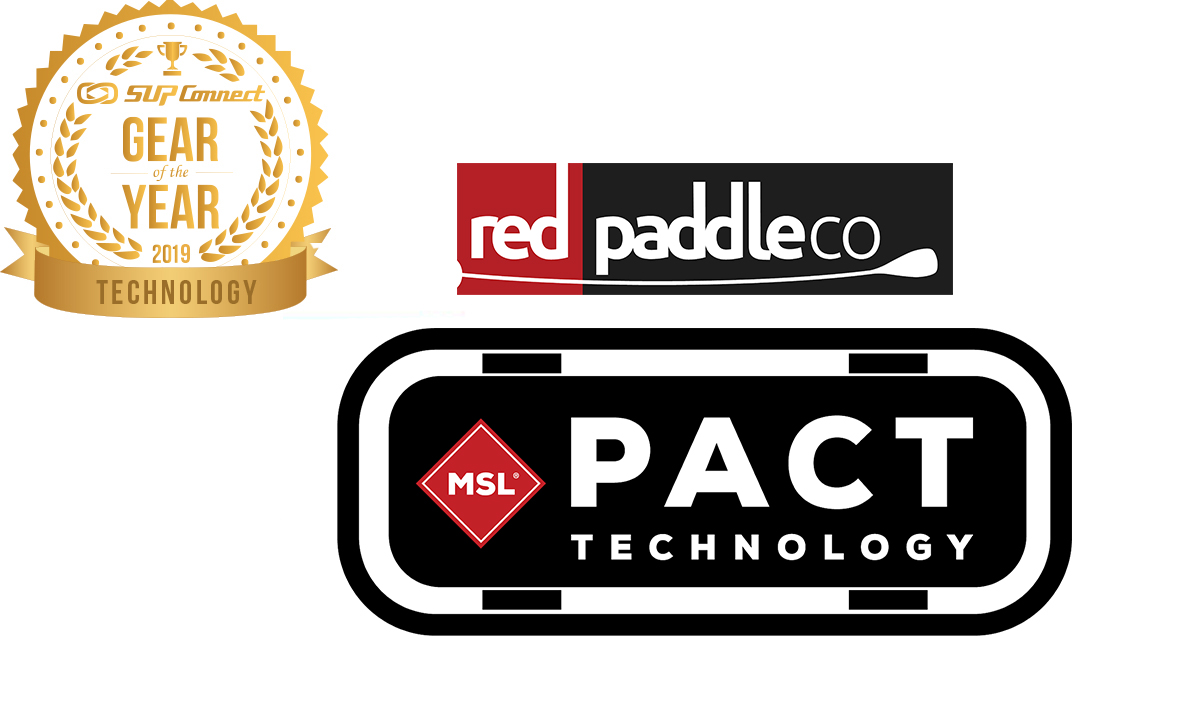 The team at Red Paddle Co are constantly on a quest for the next big thing in inflatable technology and in 2019 they hit a major milestone. They developed the most compact inflatable stand up paddle board on the market. How, you might ask? With their brand new PACTTM technology. With this revolutionary new technology Red Paddle Co produced a new board that is about half the size of most other inflatable backpacks. With this, the accessibility and portability of standup paddling has just gone up a notch and is why Red Paddle Co's PACTTM takes the cake as the Technology Gear Award in the Supconnect Awards 2019.
Accessory - Paddle Logger App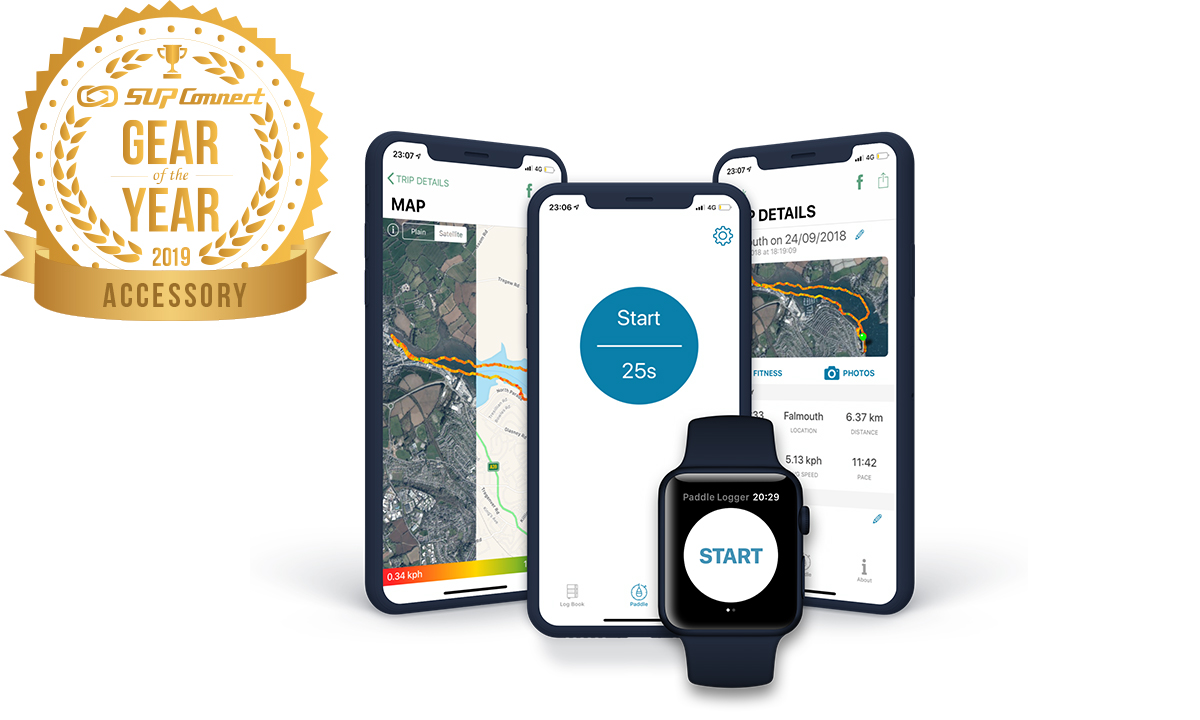 Standup paddling can be quite leisurely but also an epic body workout. And for those athletes, especially the multi-sport bunch storming the paddle scene, the Paddle Logger App is the perfect companion. As the only compatible paddle-specific app with the Apple Watch, Paddle Logger allows you to track your time on the water and gain insight on your performance metrics. This app is an awesome accessory for the multi-sport athlete who is serious into paddling looking to step up their game. And that's why the Paddle Logger App is winner of Accessory Gear of the Year in the Supconnect Awards 2019.
Last modified onFriday, 03 January 2020 09:56
Andre Niemeyer is Supconnect's Publisher, founding president of the Standup Paddle Industry Association, and an expert SUP surfer. He has a strong background in competitive longboarding and has competed and won some of the early sup surfing events in mainland US.
Website: supconnect.com
Email

This email address is being protected from spambots. You need JavaScript enabled to view it.