Paddle Boarding Nutrition With Pitaya Plus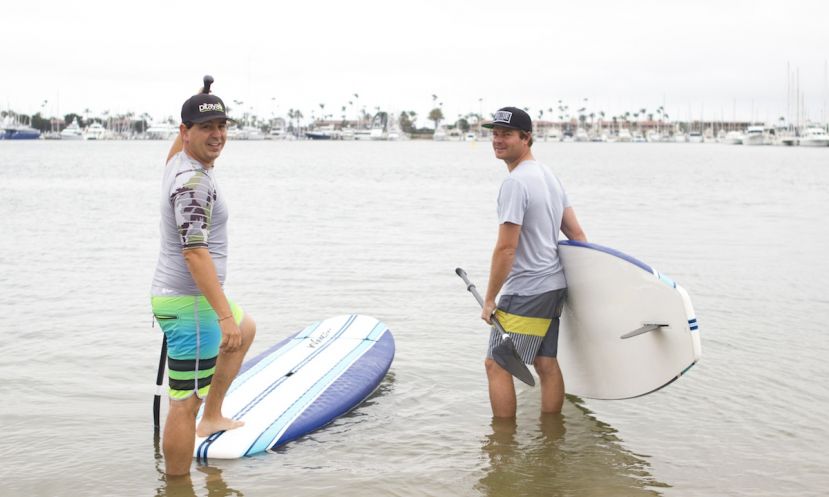 Pitaya Plus Co-founders Chuck Casano and Ben Hiddlestone
SAN DIEGO, California - You may or may not be familiar with Acai, a very popular natural energy berry from Brazil which was brought to the Americas by a couple of guys from Dana Point who discovered the fruit on a surfing trip in South America. The fruit has spread like wildfire and is the perfect treat! Now, imagine a super fruit like Acai - 10x more vibrant in color and size, rich in antioxidants, packed with powerful Vitamins C and B and active enzymes but still lower in sugar and calories.
You're left with Pitaya, the newest superfood to hit the market - exported to the United States solely by Pitaya Plus. Co-founder Chuck Casano discovered the fruit while working for a non-profit in Nicaragua, and alongside Ben Hiddlestone, the duo founded Pitaya Plus, the first company to successfully export the Pitaya Superfruit to the United States.

Despite its swelling national regard as the newest hot superfood, the Pitaya Plus operation has maintained its humble roots in La Jolla, California and operations are run out of Chuck's garage, and the team can often be found stand up paddling along the San Diego Coast in areas like Point Loma and La Jolla. We had the chance to pick the minds of Pitaya Plus co-founders and asked them about their product and their integration with stand up paddling. Check it out below:
Pitaya is bold and beautiful. | Photos Courtesy: Pitayaplus.com
Tell us a little bit about yourselves.
Chuck - I am originally from NY but have spent a good deal of my life abroad between Spain, Nicaragua, Chile, and Puerto Rico. I love traveling and experiencing new cultures. I have been married for 3 years and my wife Lauren and I just had our first daughter 3 months ago. I am lucky to live on Windansea Beach in San Diego because I get to see the Pacific Ocean everyday. I love any activity associated with the water.
Ben - I'm 33, originally from Sawtell, Australia but now live in San Diego with my wife Candace and kids Hunter & Logan. We met in NY whilst I was surfing around the world back in 2005 and the rest is history. I've been surfing since I was 8 years old so it's safe to say its a huge part of my life.

When/How were you first introduced to stand up paddle boarding?
Chuck - My brother-in-law brought one down to the beach for me one day. The surf was kind of small so it was a good option. I was hooked after catching my first wave. Having a paddle in your hand is like having a turbo booster on a longboard.
Ben - I was working in a surf shop in Montauk, NY around 2008. The owner had just come back from a trade show in Florida and was telling me how this was the next "Big thing" in surfing, I was thinking 'yeah right' but i guess he was kinda right.

What is your current SUP setup?
Chuck keeps his at the office. He has a channel islands Surftech with a Werner paddle.
Ben - Right now I call it the borrow a friends setup. I used to have a C4 Waterman 9'0" and Werner paddle but didn't have anywhere to store it in my new apt. Looking to get a new one soon!

Where are your favorite places to paddle?
Usually we paddle around Point Loma out past Ralphs and Dolphin tanks, or around the reefs in La Jolla where we have a home office.

Favorite discipline? (Touring, surf, race, etc.)
We just Tour and surf nothing serious.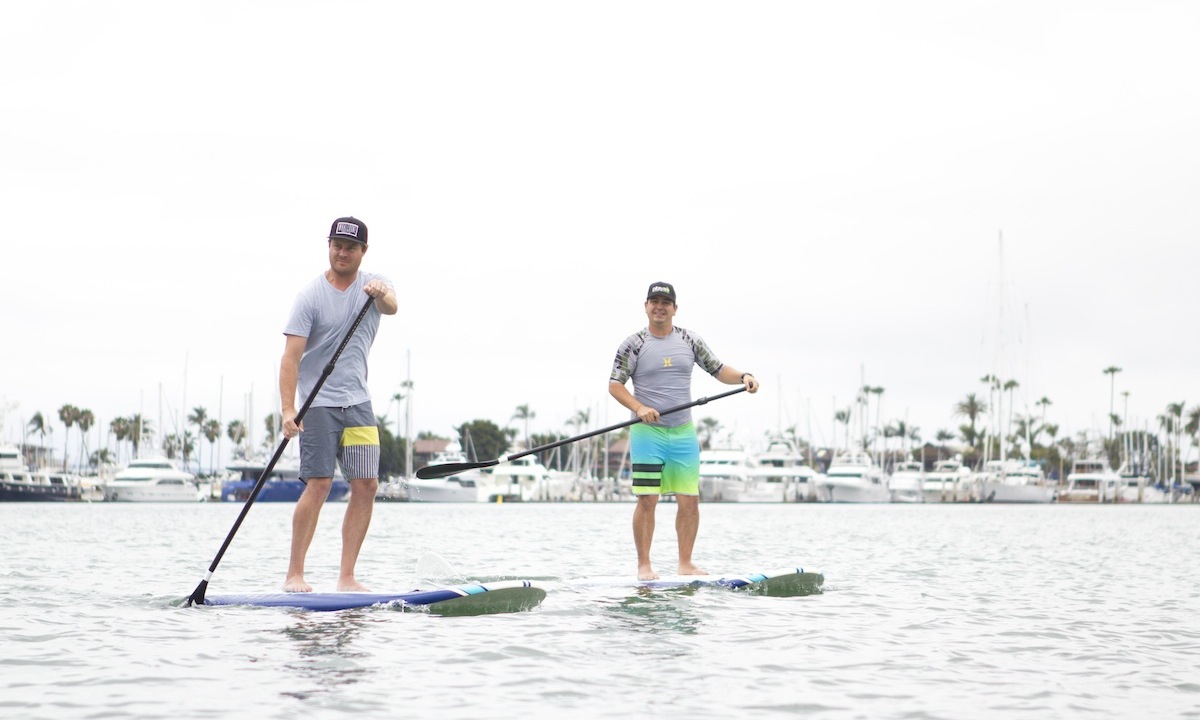 Chuck Casano and Ben Hiddlestone.

Tell us about Pitaya and how you started the business.
Chuck - I was working for a non-profit down in Nicaragua providing consulting to small farmers. I went to business school to be an Investment Banker, so it was a totally new experience for me. I loved working directly with the farmers and helping them grow their businesses. Once pitaya came in season it was everywhere. I ate it everyday and couldn't understand why it wasn't available everywhere in the US. Once I realized that opening a new market like the US to these small farmers could help provide better lives for their families, I went all in. It has been such a rewarding experience. We started this project with 10 small family-owned farms, and now we help support over 300 of them.
Ben - Chuck is actually my wife's second cousin so thats how we met. He introduced me to Pitaya in 2010 and fortunately the natural health and wellness industry. Its the healthiest job and lifestyle I've ever had! I have a degree in Industrial Design so I think it compliments Chuck's business background really well. The main goal for Pitaya Plus has been primarily give back to the communities we work out of, to introduce and educate everyone about the amazing health benefits of the fruit, and to promote a healthy and active lifestyle.

What does a typical day for you look like?
Chuck - My 3 month baby alarm goes off everyday @ 5AM. I load my daughter up in the stroller and we head to the beach to check the surf. I pass her off to my wife and grab either my SUP, surfboard, or running shoes depending on the conditions. I'll sit down and start working around 9AM. It takes me all morning to get through my emails. I usually blend up a pitaya bowl for myself and everyone else at the office/garage. The afternoon is either spent talking to our production team in Nicaragua or making customer calls. I love the extra daylight during the Spring/Summer, it gives me another opportunity to head to the beach.
Ben - I usually get woken up bright and early (5:30-6am) by my 1 and 4 year olds, check to see if there are any waves. If not I just hang with the family, blend up some Pitaya Smoothies and Bowls, then head to the office / garage. I usually grab a bite to eat in La Jolla somewhere like the Taco Stand or burger lounge. If the surf's good or if its super hot we'll sneak out for a quick surf/sup over lunch then keep working our butts off until 6pm. Go back home to the family and do it all again tomorrow!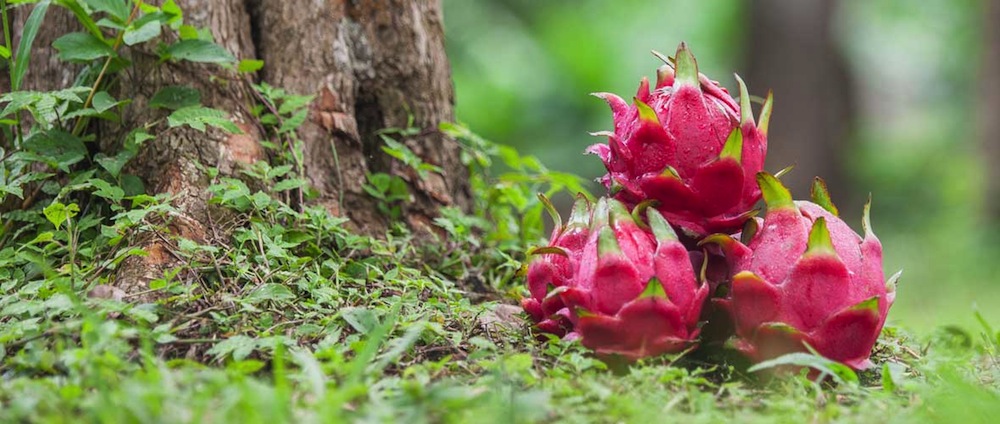 Pitaya Plus is 100% fruit! | Photo Courtesy: Pitayaplus.com

What sets Pitaya apart from Acai? Is it better?
The biggest difference between Pitaya and Acai is that we only have 1 ingredient, we're RAW and don't pasteurize, our enzymes are still active, we're 100% Fruit, and it's a good source of both fiber and magnesium. Other than that the health benefits are very similar.

Would you say that Pitaya plays a crucial role in your nutrition while balancing work/beach/home?
Chuck - I probably have pitaya flowing through my veins more than anyone else on the planet. My wife thinks I am crazy because I figure out a way to mix pitaya into everything, although she has never refused any of my pitaya concoctions. I just love how versatile the fruit is, and you can never eat too much fruit.
Ben- Yes! Of course I'm a little biased but it has helped me eat way more fruits and vegetable than I used to. I get almost all of my fruit and veggie intake from Pitaya bowls and smoothies and so do my wife and kids!

Would you consider Pitaya to be a good nutritional item for athletes?
Absolutely! Pitaya itself is a very balanced fruit. Giving you a nice steady stream of energy without weighing you down. Its perfect before, during or after you train or compete. The whole fruit is rich in Antioxidants, packed with Vitamin B, C, magnesium and fiber and thats before you even blend it with other ingredients so it only gets better from there!
To learn more about Pitaya Plus, click here.
© Copyrighted Exclusive SupConnect.com Content.
Last modified onMonday, 13 July 2015 12:57

Allie Beucler is orginally from Kona, Big Island and, as an islander, her life has been in the water – ocean more precisely. She has been a sponsored competitive surfer, represented the NSSA College National Champions while surfing for San Diego State University, and today remains deeply connected to the watersports lifestyle. Brown is both a shortboarder and a paddleboarder, loving to take out her inflatable SUP for a ride. With a journalism degree from San Diego State University and her passion for the water life, she brings an excellent combination of skill and passion to Supconnect.
Email

This email address is being protected from spambots. You need JavaScript enabled to view it.