Connor Baxter Makes History Winning 8th Straight M2M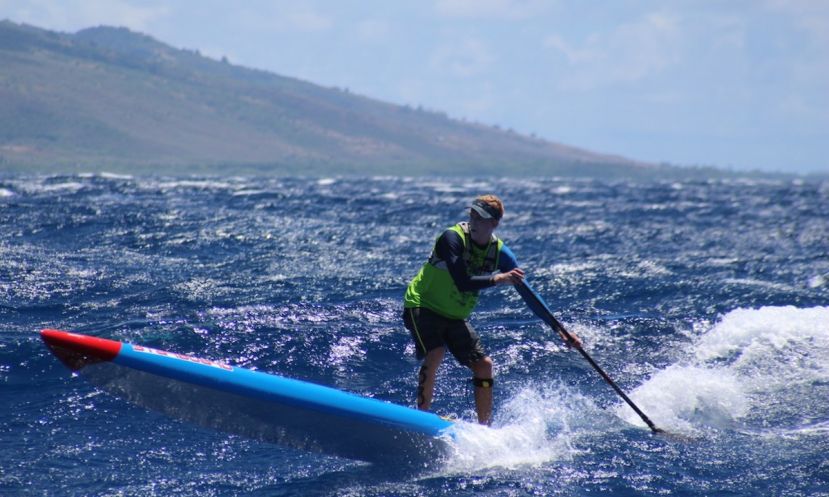 Connor Baxter. 2017 Maui-to-Molokai Champ. | Photo: Karen Baxter
MAUI, Hawaii - Connor Baxter just made history in the stand up paddling world as he just recently won his 8th consecutive Maui-2-Molokai event, claiming the longest winning streak in SUP. Here, Baxter recounts his historic win.
This years 8th Annual Maui-2-Molokai was another epic battle and channel crossing. Coming straight from Europe after two months of flatwater racing I was jumping up-and-down like a kid ready to race downwind. I got back to Maui on Wednesday night - so I only had two days to recoup before the race. I got a few warm-up Maliko runs in before Saturday.
The forecast looked great - Northeast 15-20 mph. The morning of the race we had to get to our boat at 6:30am. We loaded up the boards and headed up to Honolua Bay from Lahaina. The race was an early start at 9:30 am and my dad then blasted up to Honolua - for the start of the 27-mile, 3-hour paddle!
Connor Baxter riding bumps at the 2017 Maui-2-Molokai Race. | Photos: Karen Baxter
The wind was up early and I knew that there was going to be some bumps out there. I unloaded my unlimited and got warmed up for a bit before we started. On the start line I saw Travis Grant, James Casey and Kody Kerbox. I knew I was going to have to paddle hard and catch a lot of bumps in order to win my 8th straight channel crossing.
I jumped into the water and got cooled off right before the horn blew. I took off hard, but I knew it was going to be a long race and I just had to wait until the bumps. The wind was up and we got into some small chop and James, Travis and I started to pull away from the group. The bumps started to get better and better the more into the race I got.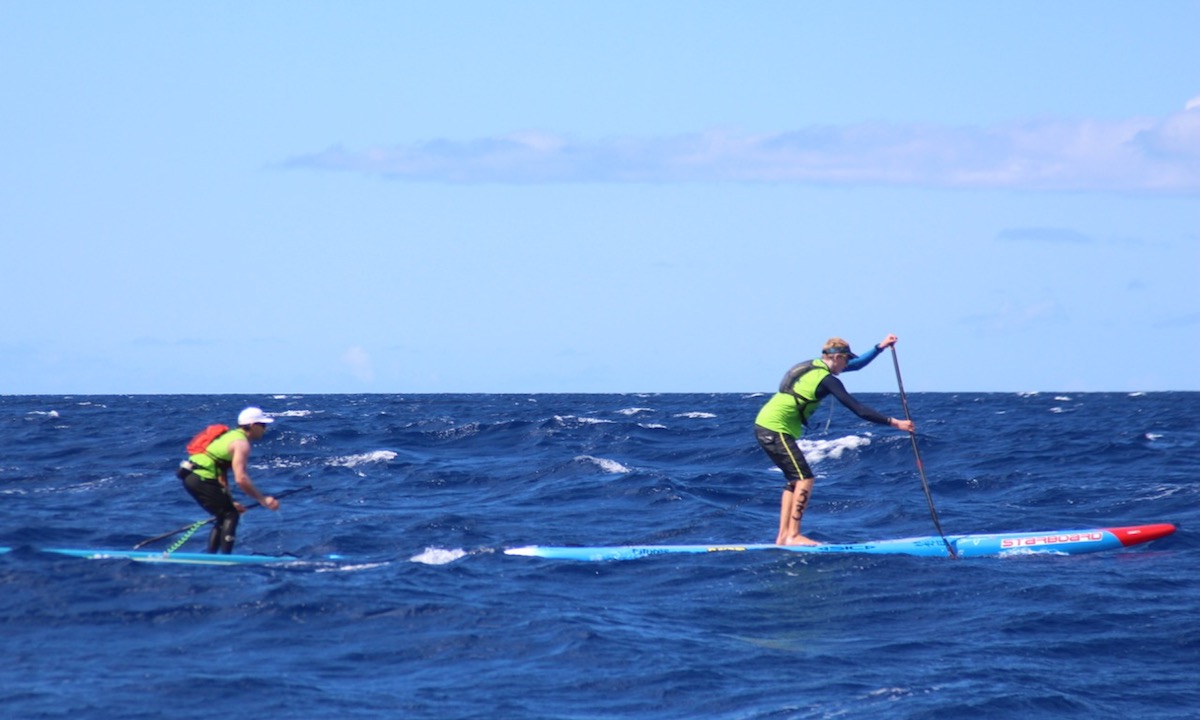 Connor Baxter and Travis Grant going head-to-head. | Photo: Karen Baxter
After the first hour, the three of us were still catching bumps next to each other and then Travis caught a massive bump and just ran with it. Once he got this gap I didn't stop chasing him until the last 6 miles. That next hour and half I was getting some insane bumps, but Travis just stayed the same distance in front. It wasn't until I got to the Kamalo Buoy when I just put my head down and started having fun. Getting some long glides and slowly catching up to Travis.
Travis went more North - more on an inside line - closer to Molokai. Whereas I stayed outside where the bumps were just going off. I got even with him with about 6 miles to go and I knew what I had to do. I got into my typical rhythm and just started to have some fun. I was getting some insane steep glides and surfing left to right. I noticed the warehouse building at the harbor and saw that I was a safe distance in front of Travis, which gave me chicken skin knowing that I just won my 8th straight Maui to Molokai! I finished with a time of 3:09 - not beating my record of 2:55 - but that day was nuking wind!
Connor Baxter coming in for the win (R) and Connor Baxter with his fellow paddlers. | Photos: Karen Baxter
I want to thank my sponsors for all their support – Starboard, Salt Life, Maui Jim Sunglasses, Futures Fins, Dakine, Hammer Nutrition, GoPro, Garmin, Waterman's Sunscreen, OnIt Pro, UB Super and Hi-Tech Sports.
Last modified onMonday, 17 July 2017 15:16

Maui, Hawaii - Connor Baxter is a highly accomplished stand up paddle racer and is one of the best in the world. His unique paddling technique is now named after him – "The Connor Baxter Choke Stroke" and people worldwide have adapted to his style of paddling. Connor was born on the island of Maui and raised on the water. When competing in a race, chances are you will see Connor finish on the podium. 
Website: connorbaxter.com/
Email

This email address is being protected from spambots. You need JavaScript enabled to view it.