US Army Veteran Paddles Cape Fear River
Recently forming the Stand by the Wounded nonprofit organization, Mark Gellert paddles down the Cape Fear River in North Carolina to raise awareness for critically wounded Operators in the US Army.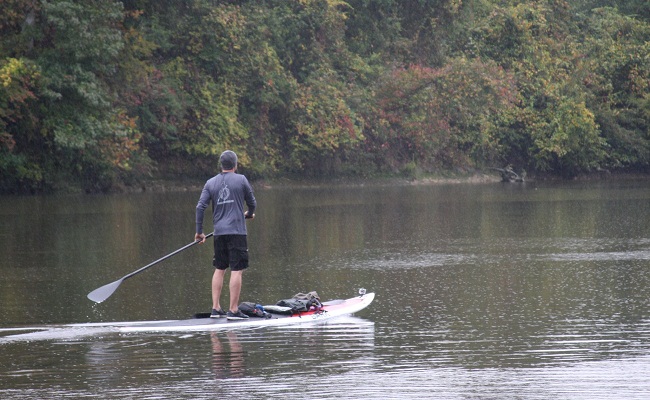 Gellert glides down the Cape Fear River on his Surf Tech Joe Bark stand up paddleboard.
Read about another stand up paddle journey for a great cause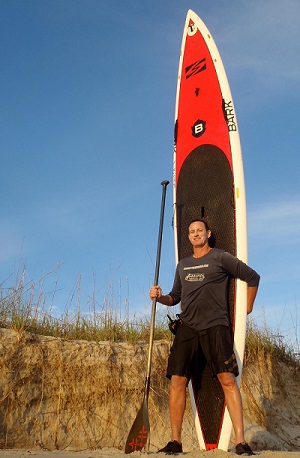 Pinehurst, North Carolina – Former US Army Special Operations Command member Mark Gellert became the first person to stand-up paddleboard North Carolina's Cape Fear River, October 12, 2011.

The solo Stand-Up Paddle, began just below the Jordan Dam in Chatham County, NC. Based on kayak estimates, the paddle was expected to last ten days, but at 5:53pm on the 6th day, Gellert completed the Source to Sea journey, entering the Atlantic Ocean near Fort Caswell, North Carolina.

Gellert didn't make the grueling 202-mile journey for the record books. He paddled from source to sea to honor the strength of wounded Special Operations members in the name of Stand by the Wounded.

The newly founded nonprofit organization, established by Gellert, aims to meet the needs of critically wounded Operators by addressing personal gaps throughout the often-isolating rehabilitation process.

During its short existence, Stand by the Wounded has provided two wounded Operators with Apple iPad tablets. With this tool, the injured warriors can access Skype and email, organize their treatment protocols, and put e-books, movies, and news sites within easy reach.

"This is the starting line for Stand by the Wounded," said Gellert, who also experienced traumatic injury during service. "My paddleboard journey was a demonstration of the solidarity with Veterans across the country."
For more information about Stand By the Wounded, please visit www.standbythewounded.com or www.facebook.com/standbythewounded.
.
Last modified onWednesday, 28 January 2015 13:20

After spending the first part of her life in Minnesota, Morgan traded in her snow boots for sandals and moved to sunny California. After graduating with a degree in Communication from The University of Southern California, she eventually made her way down south to San Diego and is taking advantage of the living by the best beaches and burritos California has to offer. If it's sunny, you can find her at the beach relaxing, or exploring the calm water in the bay via paddleboards and kayaks.
Email

This email address is being protected from spambots. You need JavaScript enabled to view it.