Suplove Stingray Tested at Hawkesbury Canoe Classic
Cameron McKay finishes the 111-km Hawkesbury Canoe Classic on his Suplove Stingray stand up paddleboard. Read on below for his account of the grueling paddle down Australia's Hawkesbury River.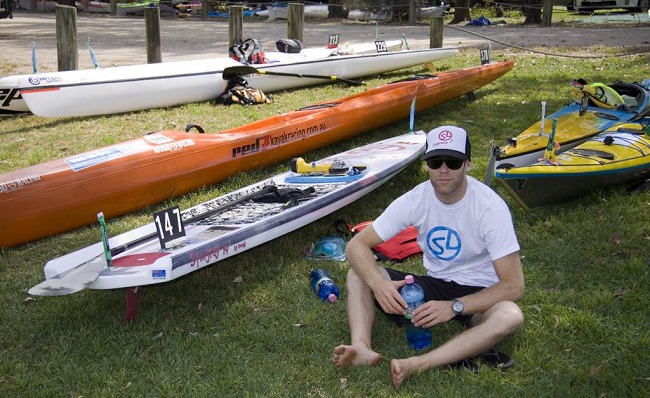 Cameron McKay sits with his Suplove Stingray amidst a field of canoes before the race.
Check out the review of the Suplove Stingray on SUPconnect.com
SYDNEY, Australia – The Hawkesbury Canoe Classic was held on October 22nd on the Hawkesbury River located in New South Wales, Australia. This year almost 600 paddlers participated in this 111-kilometer overnight paddle for charity. Only two participants competed on stand up paddleboards, Cameron McKay, who rode the Suplove Stingray, and Lanee Beashel, who became the first woman to complete the course on a stand up paddleboard.

Co-founder of Suplove, Stuart Murray, was the first man to complete the grueling 111-kilometer Hawkesbury Canoe Classic on a SUP in 2008. This year Murray coached and guided McKay through his efforts to finish the course, which he completed in a time of 15:32:30.

Below, McKay walks us through his epic experience on a stand up paddleboard in the Hawkesbury Canoe Classic.

I started early Saturday morning making sure all my nutrition, water, maps, GPS, torches etc. were packed and nothing left behind. I headed out to Windsor and headed through a lot of smoke as there were apparently 70 back burns being undertaken across Sydney.

Arriving at Macquarie Park there were crafts of all shapes and colours. With almost 600 paddlers in the race it was time to get in line for scrutineering.

With everything on the checklist ticked off, it was time to sit in the shade and try to relax. It was really hot even in the shade and without realising it I actually drunk 3 litres before the race even started.

As we headed off into the afternoon/night/morning into the wind and against the tide I tried to settle into a nice rhythm at about 7km/hr. Unfortunately I couldn't hold this as the Suplove Stingray just wanted to go faster and it was hard keeping it below 8km/hr. I knew this would come back to haunt me and it would not be the last time I saw a canoe/kayak/OC past me.

The first pit stop at Cattai was the first goal (12.4km) after getting into a good rhythm it came up pretty quick and as I was feeling good I decided not to stop and continue onto Sackville (31km).

I knew this was going to be the hardest stretch into the wind and against a full flowing tide. It was about 10:30-11:45 that I hit the first wall. After hitting lots of weed for about 15km and the unrelenting tide I started to think what was I doing. Then it all seemed to come together. Cleared all the weed and had two kayakers setting a nice pace that I could sit with and that pulled me over the wall.

I knew the next stretch to Wisemans Ferry (64km) would be the quickest with outgoing tide and only light winds. Getting into Wisemans felt good as I had managed to make up a little time. With a little stretching, warm clothes and some food I was off again to make the most of the last bits of the outgoing tide.

Even though it was all downhill from Wisemans I knew that this was the long stretch into the finish (64km-111km).

There are some interesting characters in this race and on this leg I met 4 guys from UNSW who had made their own 4 man OC and had attached a stereo to the ama, so this provided a good hour of entertainment.

As the sky started to lighten and I rounded the corner from Spencer I felt a big thud. Looked down and there were jellyfish the size of your head floating around; hundreds of them. All I could think of was the stories I have heard of people having to dodge turtles on the Maliko run and thought the last thing I need now is to rip the fin out and not be able to finish.

As dawn turned into morning I knew the finish line was just around the corner and would have the tide with me for the last hour or so. With the finish line in site and two kilometers to go I decided to put whatever I had left in me to sprint to the line. With cheers from the crowd and the announcer urging me on it felt good to cross that line.
Congratulations to Cameron McKay and Lanee Beashel for completing the Hawkesbury Canoe Classic on a stand up paddleboard!
.
Last modified onWednesday, 28 January 2015 13:19

After spending the first part of her life in Minnesota, Morgan traded in her snow boots for sandals and moved to sunny California. After graduating with a degree in Communication from The University of Southern California, she eventually made her way down south to San Diego and is taking advantage of the living by the best beaches and burritos California has to offer. If it's sunny, you can find her at the beach relaxing, or exploring the calm water in the bay via paddleboards and kayaks.
Email

This email address is being protected from spambots. You need JavaScript enabled to view it.