5 Destinations for SUP Fly Fishing in North Carolina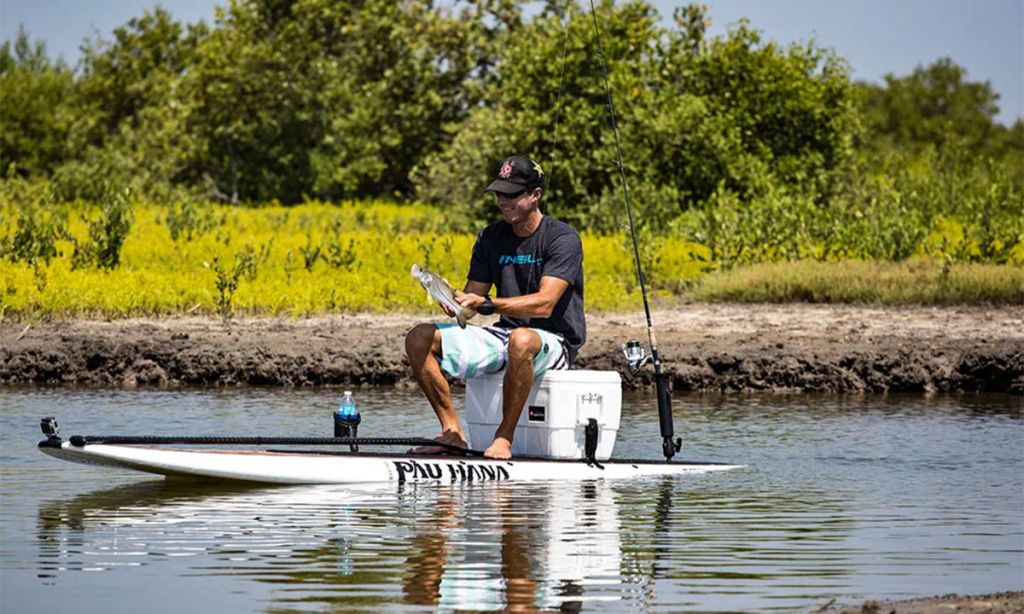 Photo courtesy: Pau Hana Surf Supply
Fishing on a stand up paddleboard is one thing, but fly fishing from a SUP is different. It takes ultimate focus and know-how to have the finesse to cast a fly and the balance to stay upright, all while battling the surrounding conditions. When done in harmony, these two skills have the potential to yield some incredible results.
North Carolina is home to some of the most desirable freshwater and saltwater fishing destinations and is also gaining attention in the SUP world for all opportunities to paddle within the state, from the mountains to the sea. We put this unique article together in hopes of inspiring fellow fly fishermen and paddlers to seek out these five destinations in North Carolina and give SUP Fly Fishing a try. Check out our top picks for SUP fly-fishing in North Carolina below.
1. Lake Norman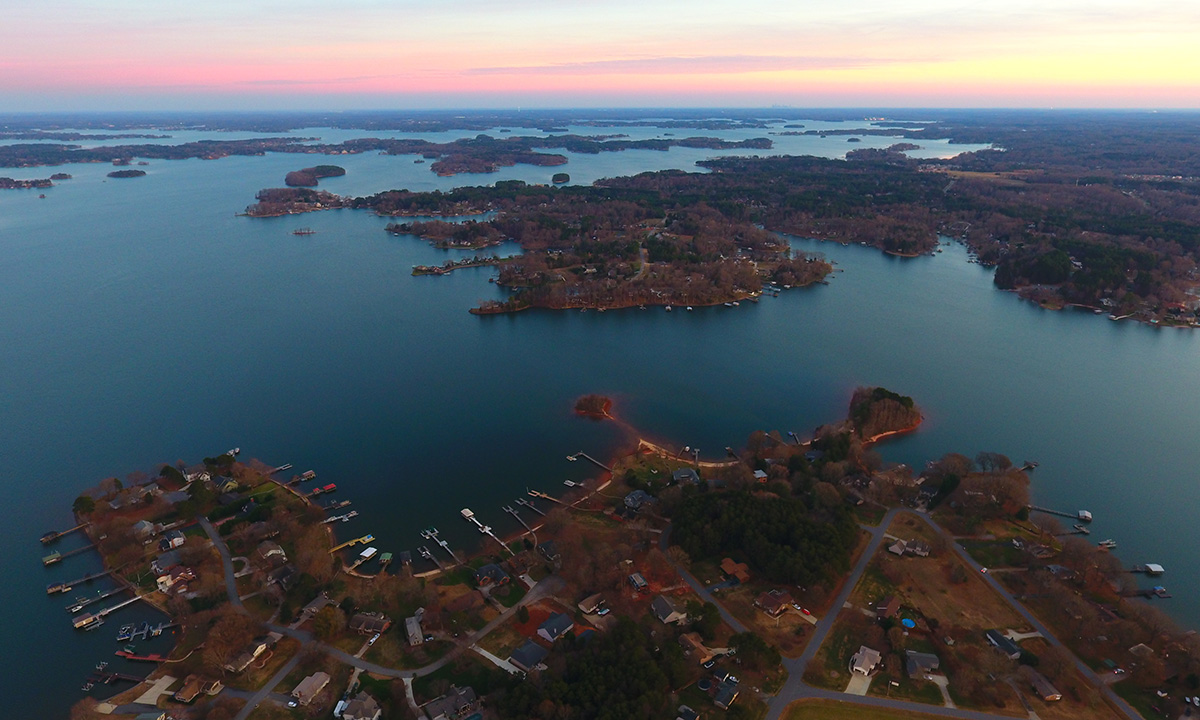 Aerial view of Lake Norman. | Photo courtesy: Shutterstock
You may be thinking, why Lake Norman? Isn't this lake filled with jet skis, pontoons, wakeboarders, and big crowds of people partying? While that may be the case in some areas of this massive man-made lake, you can also find yourself tucked away with no one else in sight. The ideal fly-fishing areas in Lake Norman are in shallow waters where trees are growing, and only a paddleboard and kayak can navigate. With less than two feet of water and a couple of flies, you have a good chance of reeling in a Carp exceeding 10 pounds. Access the lake at the Beatties Ford launch area; this access point has many quiet coves within half a mile.
2. Masonboro Island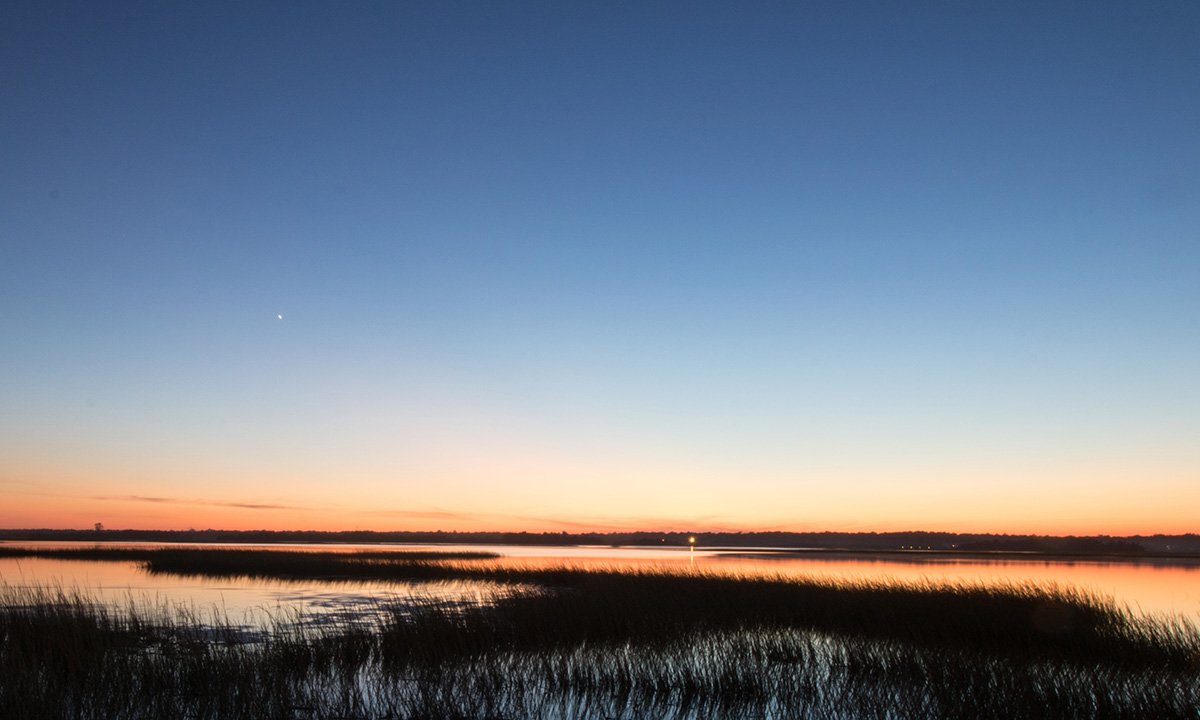 Golden hour at Masonboro Island. | Photo courtesy: Shutterstock
Moving to the coast, we have Masonboro Island. The island is local to me and one of the reasons I would find it hard to ever leave the Wilmington area. The uninhabited island stretches roughly 8.4 miles between Wrightsville and Carolina Beach. The number of SUPs around the island has been growing dramatically. Sightseeing is second to none, especially during sunrise or sunset in the summer. Wrightsville beach is North of the island, boasting an emerging SUP community.
Likewise, fly-fishermen are often spotted in the flats behind Masonboro Island to pursue speckled trout. Masonboro Island is a no-brainer for this list. For the quickest access, start at Trails End Access Area.
3. Cape Fear River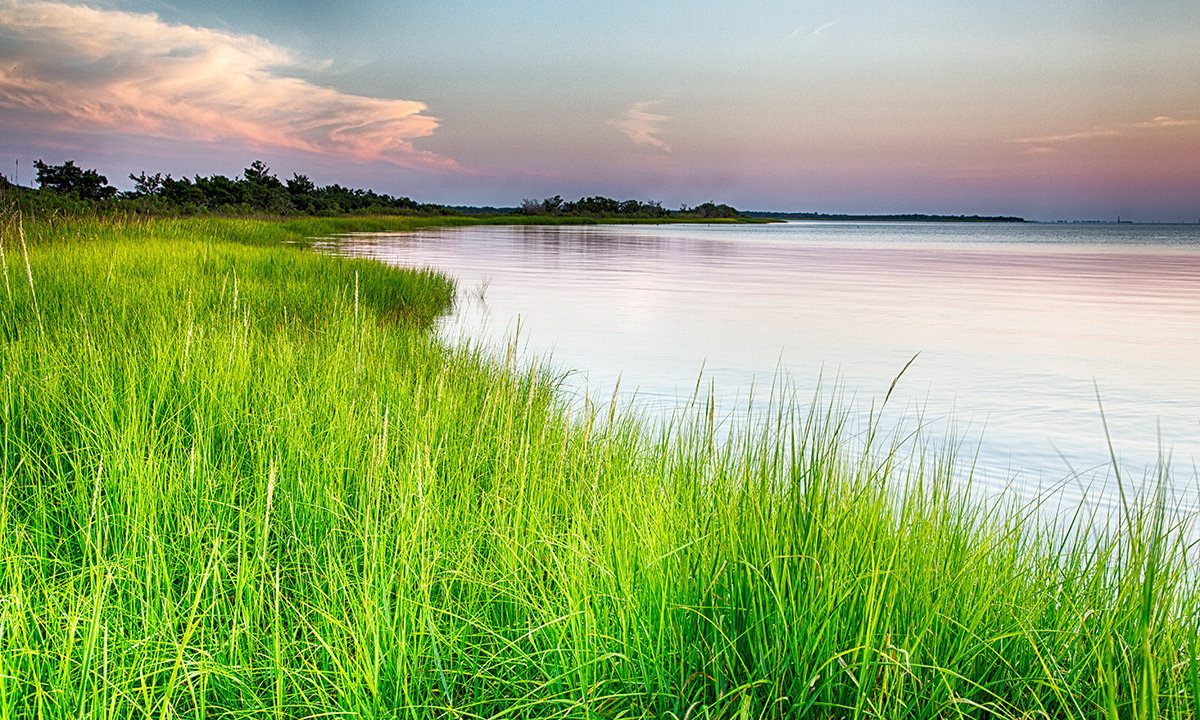 Cape Fear River marshlands. | Photo courtesy: Shutterstock
Another coastal destination, just a few minutes from my headquarters, is the Cape Fear River. The river is often overlooked for paddleboarding because of the nearby Intracoastal Waterway, Atlantic Ocean, and Masonboro Island, to name a few. Despite most visitors overlooking the Cape Fear, it is still one of the best places in the state to test your hand at SUP fly-fishing.
Targeting speckled trout with the fly rod from a SUP is an addicting combination. The Cape Fear River is a great place to start your SUP fly-fishing journey because of the number of access points, the opportunity to fish from the river, and the meandering creeks that empty into it. The ideal beginning point is Dram Tree Park when the wind is calm.
4. Cape Lookout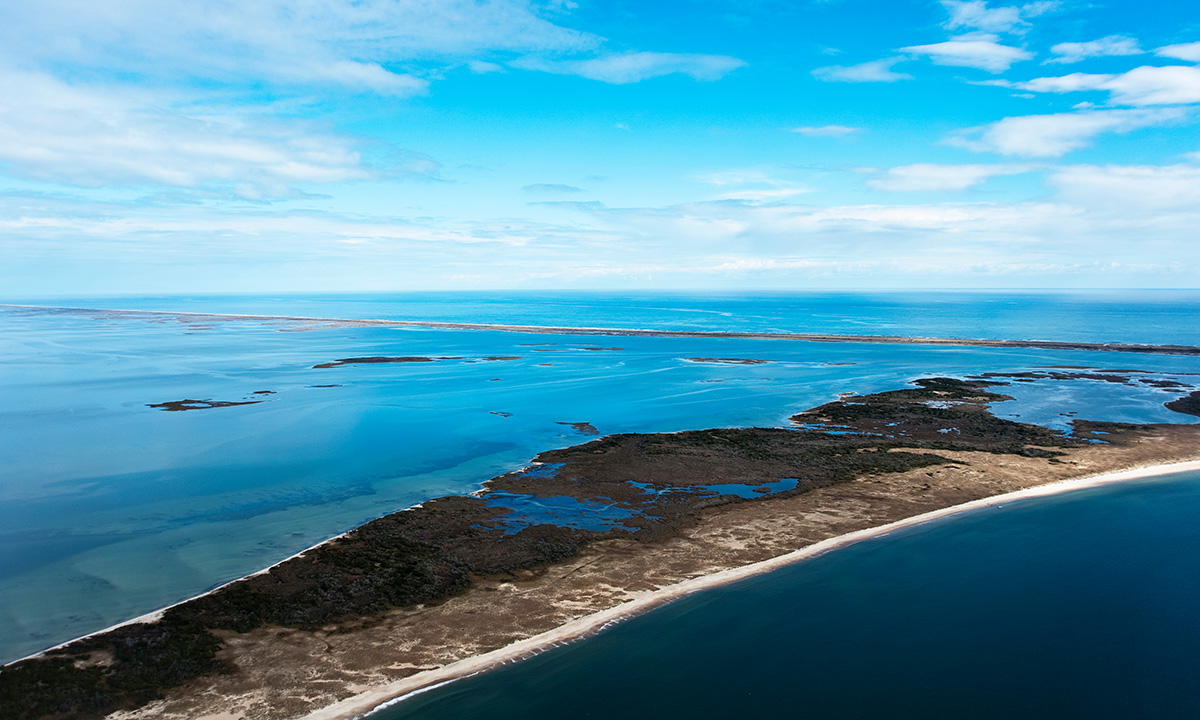 Aerial view of Cape Lookout. | Photo courtesy: Shutterstock
Cape Lookout is a remote barrier island located on the Southern Outer Banks. The only way to access the island is by boat or ferry, making it feel isolated and primitive. The island is home to various fish, including red drum, flounder, speckled trout, etc. The best part about fly fishing from a SUP at Cape Lookout is the opportunity to explore miles of uninhabited shoreline, only accessible by boat.
5. Jordan Lake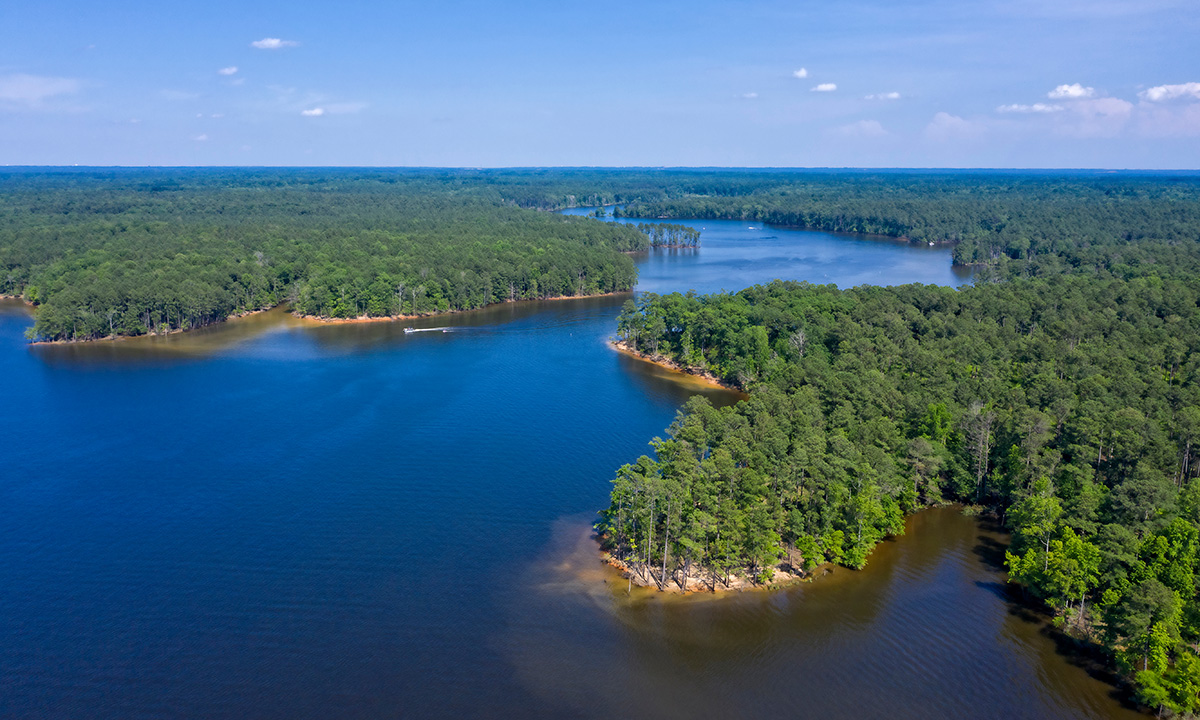 Aerial view of Jordan Lake. | Photo courtesy: Shutterstock
Last on the list is Lake Jordan. The lake is located in central North Carolina and is a man-made reservoir created in the early 1970s. The lake is home to various fish, including largemouth bass, crappie, catfish, etc. What makes Lake Jordan unique is its sheer size of the lake. At over 20,000 acres, there is plenty of room to explore. Fly fishing from a SUP on Jordan Lake is a great way to escape the hustle and bustle of city life and enjoy some peace on the water.
Final Thoughts
Whether you are an experienced fly fisherman or just getting started, North Carolina offers something. These five destinations are only a small sample of what the state provides in SUP and fly fishing. We hope this article inspires you to get out and explore some new waters in North Carolina. Let us know in the comments where your favorite spot to SUP and fly fish is in the state.
For more SUP Fishing tips and tricks, click HERE.
Last modified onThursday, 21 April 2022 09:47

My name is Tyler Brady, the founder of A Fellow Fisherman. I am a USCG Licensed captain and one who loves to fish whether it is in the surf, creeks, rivers, or the Chesapeake Bay where I grew up. I have assembled a team of fellow fishermen to help me assemble the ultimate website for fishermen.
Website: https://afellowfisherman.com/
Email

This email address is being protected from spambots. You need JavaScript enabled to view it.